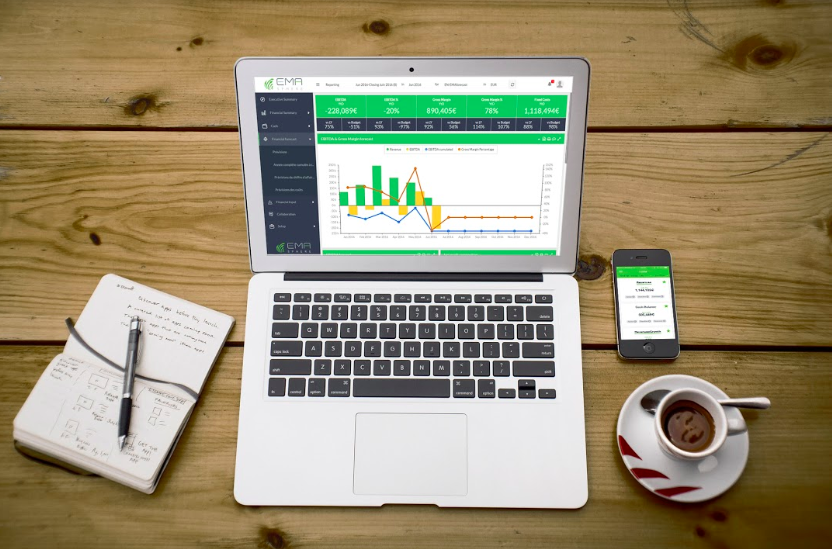 EMAsphere
Presentation of EMAsphere
EMAsphere is an online dashboard designed for SMB companies managers and accounting firms which aims at facilitating the monitoring of finance and operational key performance indicators necessary during the decision-making process. Data adapted to companies and line of business, automatically extracted from several sources including accounting generate current and future KPIs in a fast and interactive way.
The smart dashboard for smart decisions
EMASphere offers three types of solution: EMAfinance, EMAforecast and EMAenterprise.
EMAfinance which exploits data from the accounting system to display them and translates them in interactive tables and graphs including management KPIs.
EMAforecast which is an advanced version of EMAfinance which allows creating estimated budgets, business plans and scenarios and simulates instantly the impact inside the profit and loss account.
EMAenterprise is a more automatized and more complete version of EMAforecast which offers operational reports thanks to automatically up-dates of graphs and non-financials personalized KPI, financial & operational analytics and automatically multi-sources connection (accounting system, ERP, CRM, Excel, time monitoring, others metier system). This version offers also all functionalities available for EMAfinance and EMAforecast.
Use EMAsphere to:
Display data in tabular and graphical format, automatically updated;
Exchange information and assign tasks between users thanks to a collaborative tool;
Compare actual and forecast figures throughout the year;
Create business plan;
Develop a separated forecast for a specific project or a new activity;
Simulate the impact of it on the overall result of the company;
Keep control on the company's activities evolution;
Personalize KPIs' selection (financials and non-financials) and easy configuration of the key performance indicators based on operational data (number of customers, employees, etc.);
Follow the cash trend and forecast.
Enjoy an automatically multi-sources connection (accountancy system, ERP, CRM, Excel, time monitoring, others metier system)
Add extra-accounting entries allowing to add information which is not available in the accounting system (provisions, depreciation, etc.) or consolidation entries.
All of that in a maximum comfort of use thanks to its ergonomics. The web platform is fully compatible with tablets. An Android and iOS smartphone app is also available.
Advantages of EMAsphere
Ready-to-use and customizable decision-making platform

Available in a few days

Unlimited users number

Certifications:FEC, GDPR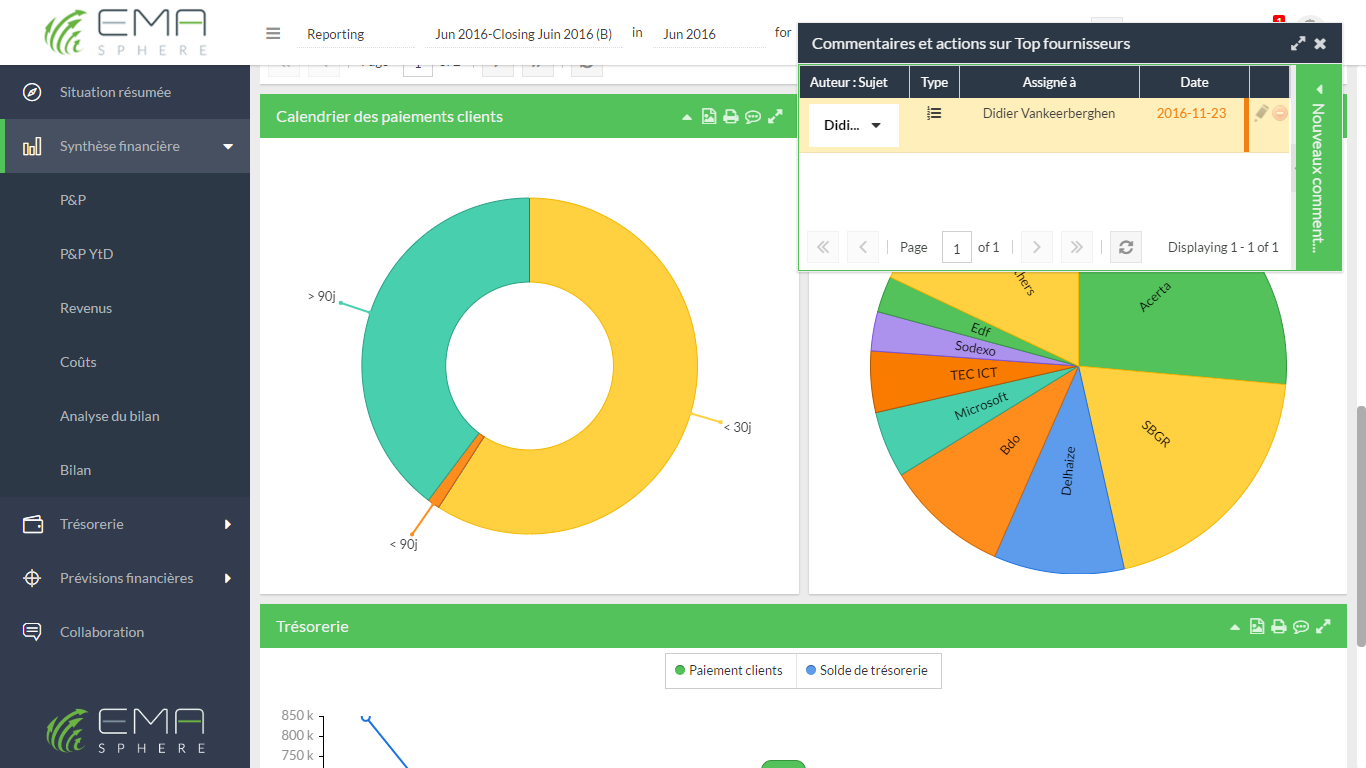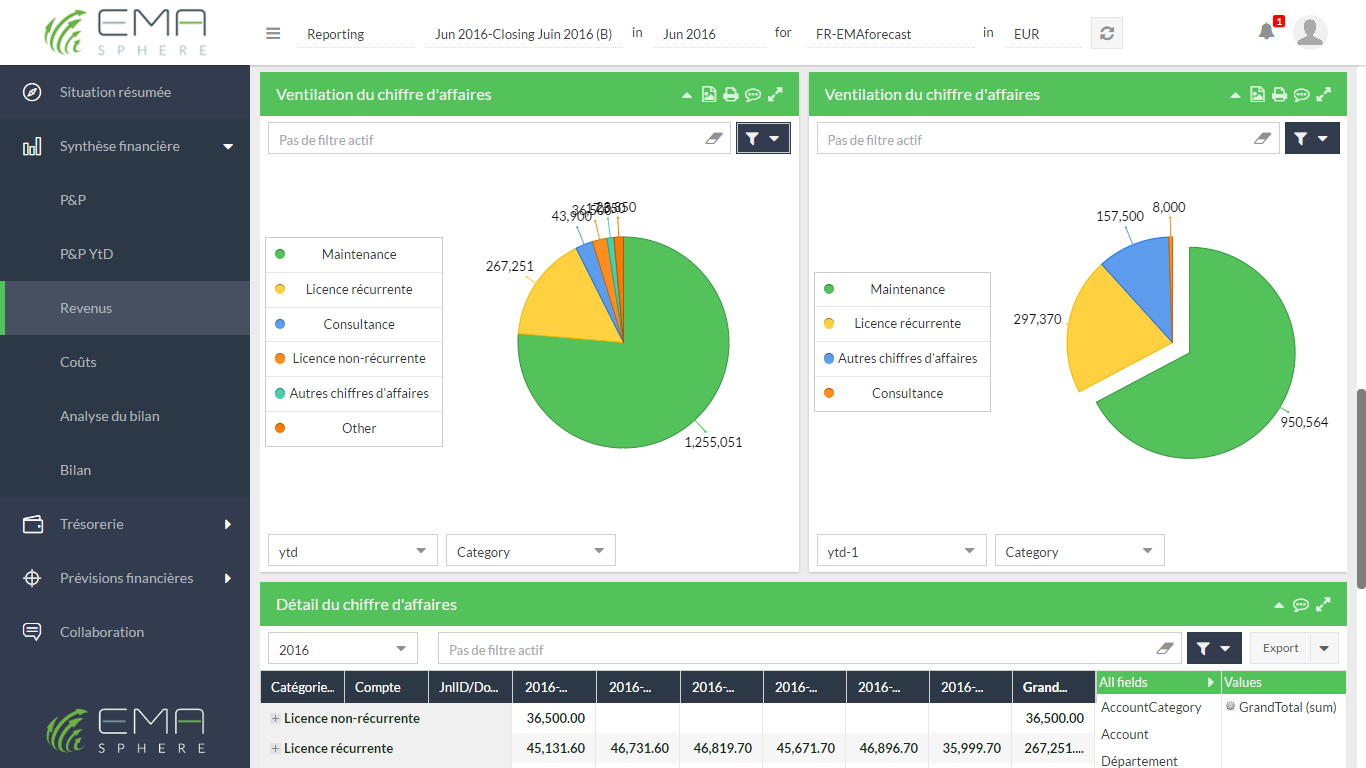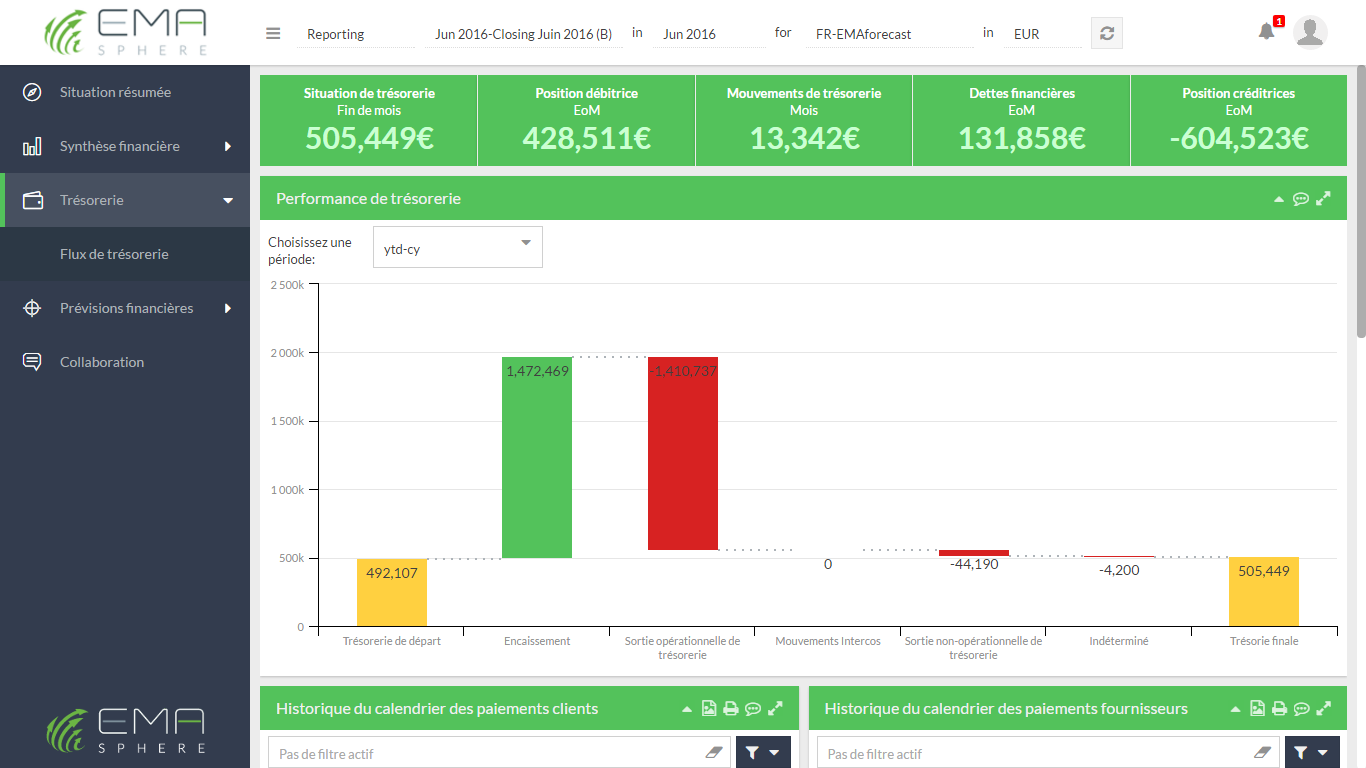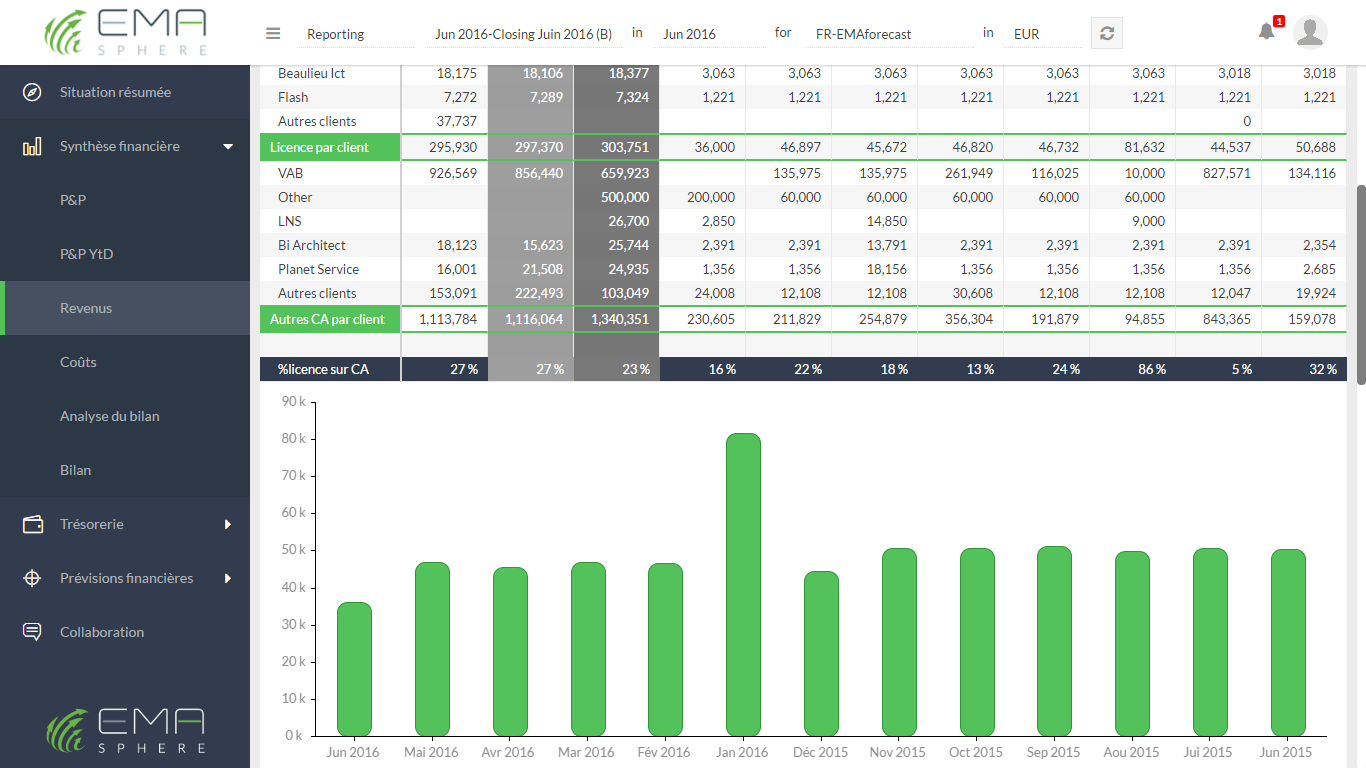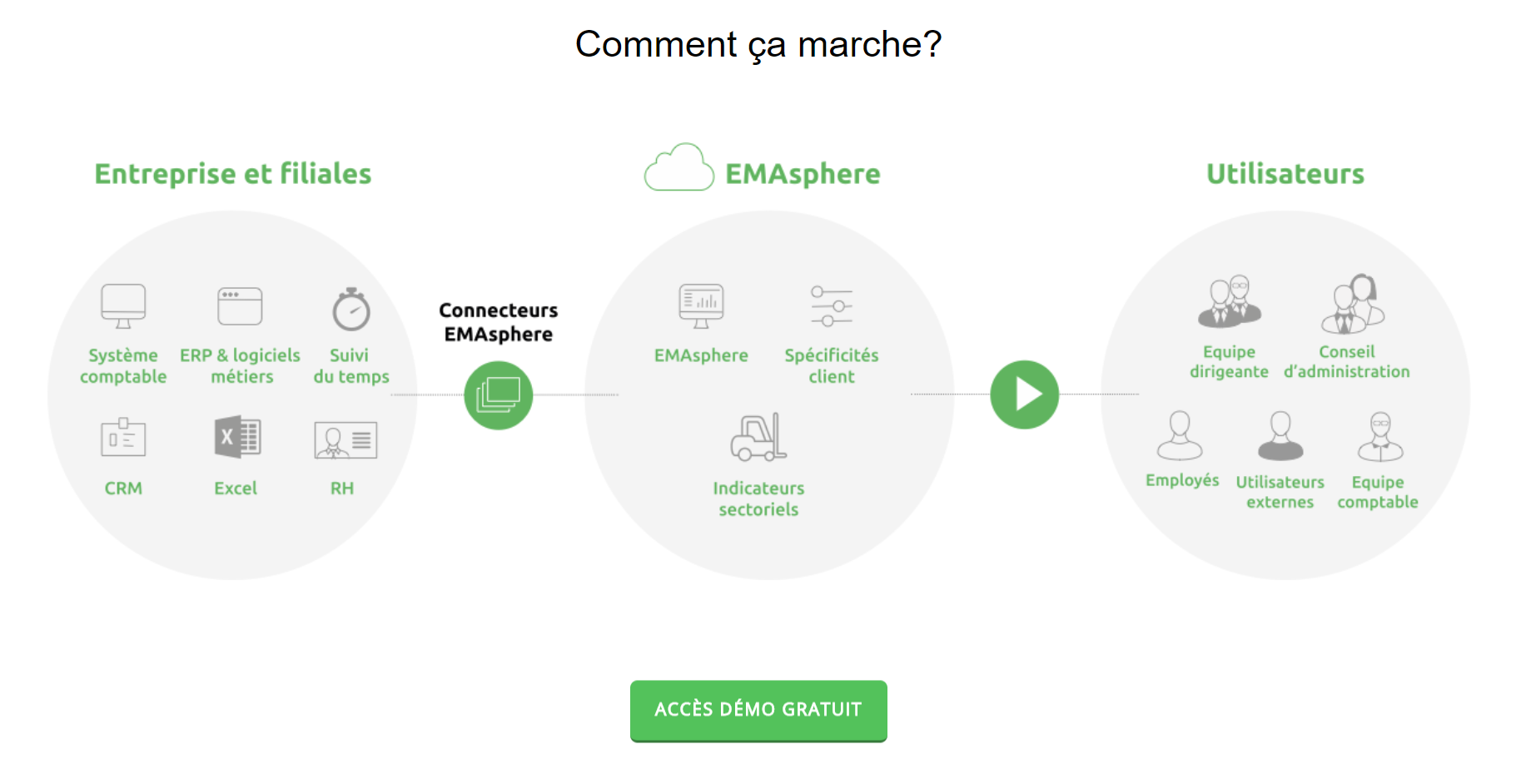 Prices and features of EMAsphere
Accounting
Consolidation and Reconciliation
Cost Centers and Analysis Centers
+ 29 other features
Customer reviews about EMAsphere (0)
No reviews, be the first to submit yours.