Zendesk
Presentation of Zendesk
Zendesk is a CRM platform that centralizes support, sales activity and customer engagement to deliver better customer experiences.
Agile, easy to use and fully customizable, the Zendesk Omnichannel platform appeals to large corporations and startups alike. With its roots in customer service, Zendesk adapts to any industry or company size.
The main features of Zendesk
7 solutions to switch from one channel to another without losing the thread of the conversations
Zendesk today consists of a suite of 6 tools dedicated to omnichannel customer service: support, guide, chat, talk, message and explore. All these tools allow you to communicate and interact with your customers in a relevant and efficient way, no matter where they call you: on your website, by email, on the customer support interface (ticketing tool), on social networks, etc.
Zendesk offers 7 solutions to interact with your customers and keep the conversations flowing. Support (email), Chat, Guide,Talk (Voice) Gather (Communities), Explore (KPIs and BI), Sell (commercial CRM) as well as messaging applications like WhatsApp, Facebook, Twitter, WeChat, Line... the Zendesk product suite is the right balance to meet complex needs while remaining operational and agile immediately.
Sunshine: a new day in the CRM world
Zendesk Sunshine is a real revolution. Integrated with AWS, it provides a complete picture of the customer through the use of data, regardless of its source. Its openness and customization make it possible to easily develop and personalize the agent space.
Time to Value: Zendesk's strength against its competitors
Thanks to Artificial Intelligence and self-service, you will meet the needs of customers who want to find information on their own. When requests require interaction with a human, the Zendesk workspace offers customization to
increase agent productivity,
reduce response times and
improve KPIs like CSAT, First Reply Time...
Omnichannel is not multichannel. Omnichannel does not only allow you to communicate with your customers through several communication channels, but it unifies them so that the customer can contact you from anywhere without it disturbing the support operators or the sales people. In fact, Zendesk centralizes all the customer data in a single place so that you never lose the thread, always know the context of the customer and respond quickly to his request. In the end, Zendesk allows you to considerably reduce the time spent with your customers and guarantee them a high level of satisfaction in order to retain them and engage them on new offers or products.
Future developments of Zendesk: Explore will become more and more important
Omnichannel allows you to capture a significant amount of data, especially since Zendesk easily connects with many online customer relationship and marketing tools. All this data centralized in the customer service tool is very valuable. This is why Zendesk has developed Explore: a business intelligence tool that allows you to exploit all this data to create dashboards. These dashboards allow you to make strategic and operational decisions much faster and to anticipate, for example, a peak of activity on the support instead of suffering it when the time comes.
Customize your tool to your colors
Zendesk gives you the possibility to have your FAQ and your knowledge base on an interface that is entirely personalized and in your colors! With over 160,000 customers worldwide, Zendesk is the simplest and most dynamic CRM platform!
The advantages of Zendesk
Stay in control of your operations with the agility and ease of use of Zendesk. It will only take you hours, not days, to set up your customer support.
100% SaaS, Zendesk will allow you to manage all your customer support channels (email, phone, contact form, Facebook, Twitter, chat etc...) in a single tool, all from your web browser or your smartphones (iPhone, iPad, BB, Windows Phone, Android etc...)
Thanks to its API, Zendesk connects easily with many online tools. Its marketplace includes more than 1,000 apps. The objective is to offer you solutions to reduce the friction at each step of the process.
Advantages of Zendesk
Omnichannel Approach

World leader, rapid changes

Certifications:GDPR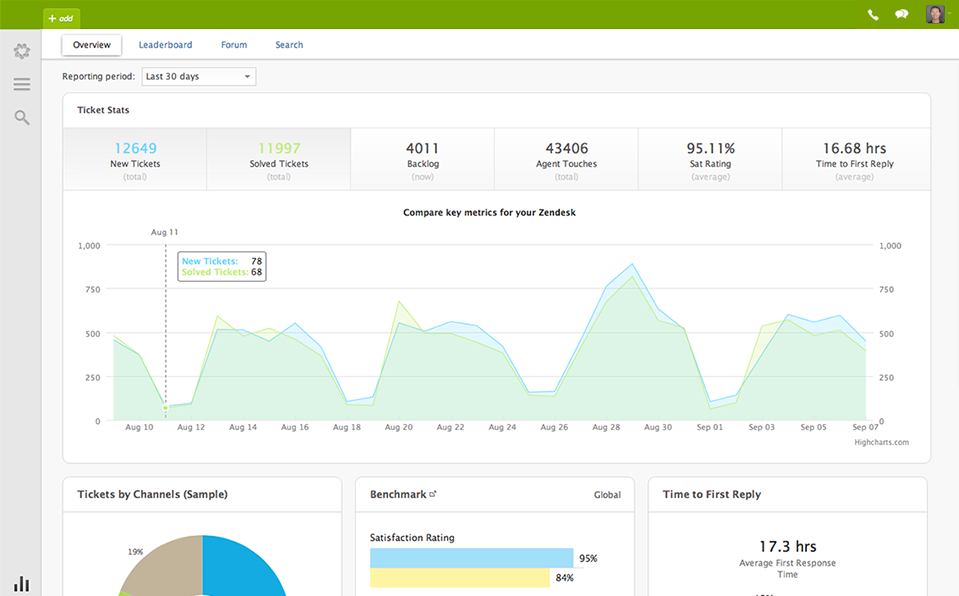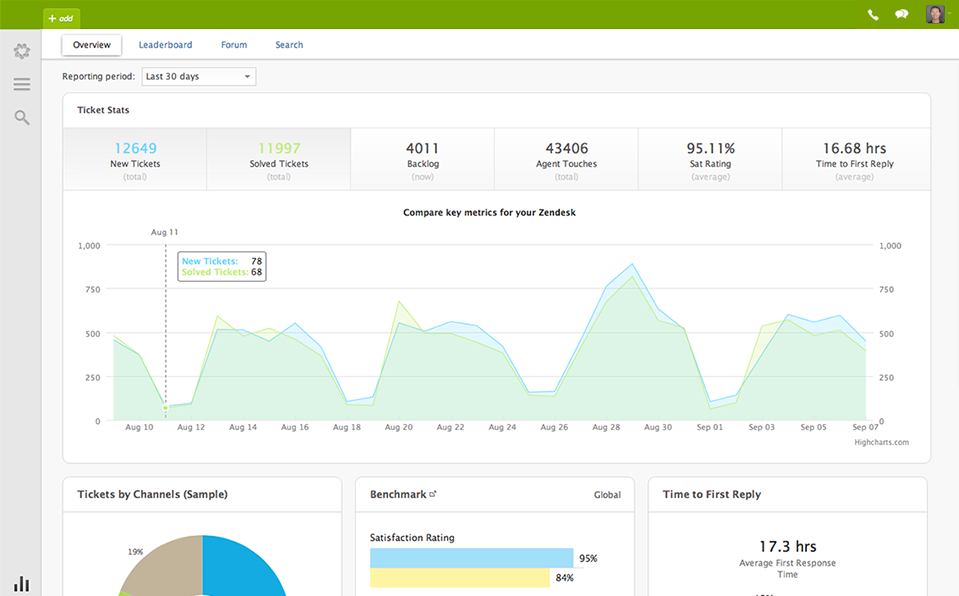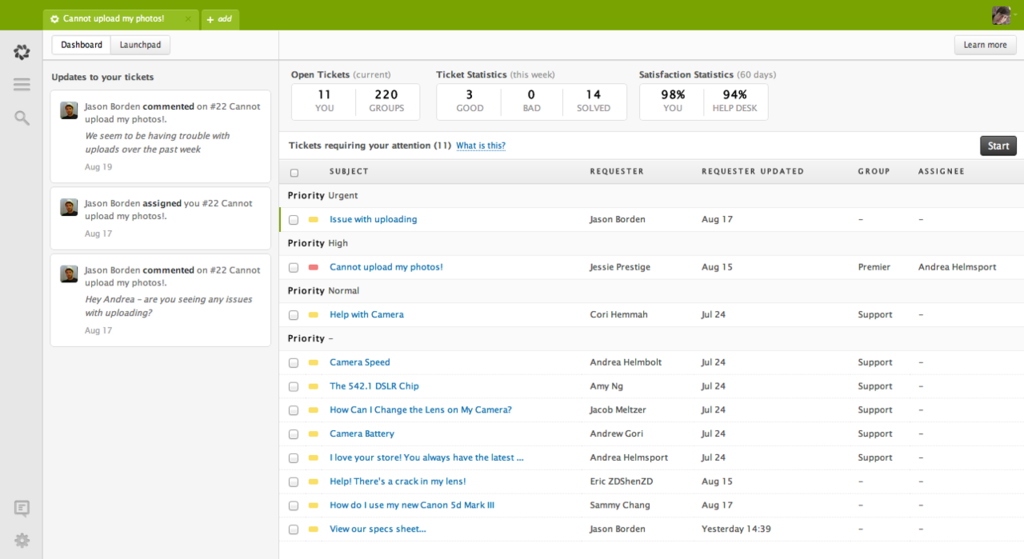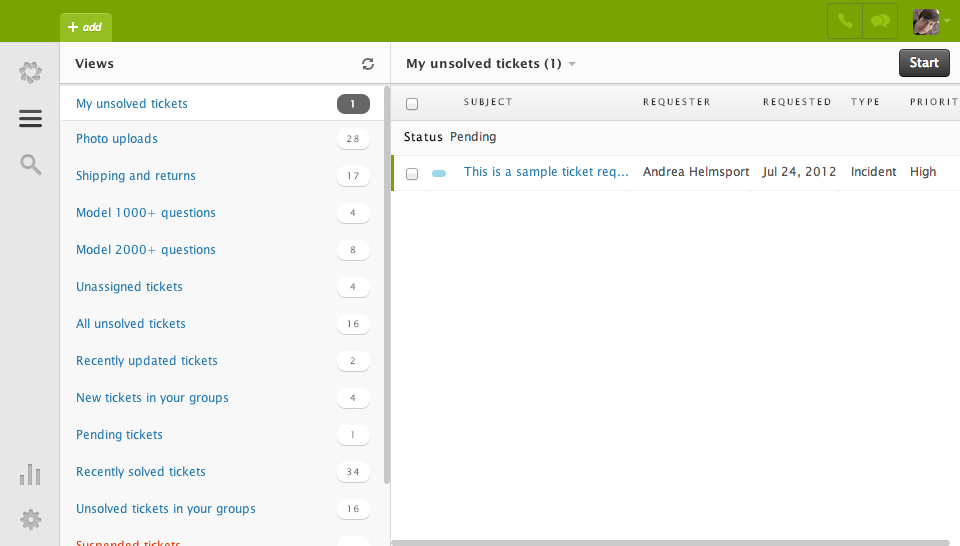 Prices and features of Zendesk
Application Customization
+ 28 other features
Application Customization
+ 28 other features
Application Customization
+ 28 other features
Customer reviews about Zendesk (0)
No reviews, be the first to submit yours.