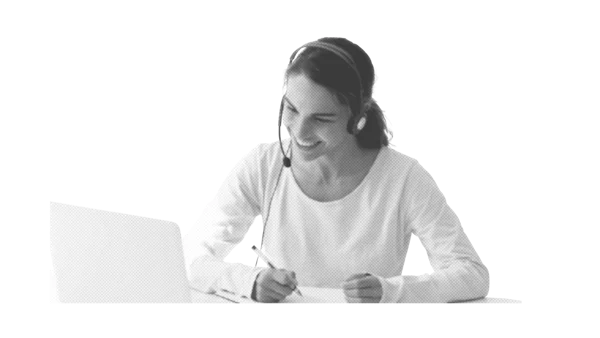 E-learning for Companies: How Online Courses Can Grow Your Business
You've probably heard of the words digital transformation too many times already. But did you know Education and business training are going digital, too? E-learning for companies can be a great solution to conduct professional training. Learning courses can adapt to the needs of your organization and offer innovative learning experiences.
Are you an HR professional looking to know more about the existing solutions to digitalise learning and further the skills of your colleagues? Or an employee wishing to add a valuable line on their C.V. without going back on a school bench? Perhaps you simply want to learn more about web-based learning for your business?
In any case, keep reading for a complete overview of the benefits of digital learning for companies, as well as a selection of the best e-learning solutions. But first, let's dive into the concept of online learning itself.
What is e-learning in business?
Definition
The term e-learning was introduced more than 20 years ago, at the dawn of the Internet's rise, by Eliott Maisie. This concept refers to online training, meaning any kind of learning done via the use of digital tools. Today, a bottomless pool of learning content can be accessed online, from any device, at any time, including videos, audio recordings and more.
The rapid development of technology has given rise to innovative ways of teaching: learners can now engage with interactive courses and learn at their own pace, thanks to custom learning programs.
Different ways to learn online
There is a wide variety of e-learning methods available. These leverage different types of technology and can answer different needs.
Educational software
Some of you might remember these CDs or even floppy disks. Whether you cherish the memories of your time spent playing educational games or loathe the thought of using these clunky, sometimes boring solutions, there is no denying that they've revolutionized the way kids in the 80s saw self-study.
Software designed to teach kids or adults are interactive, but often lack direct communication channels between the student and a human teacher. Moreover, they've fallen out of grace in favour of more dynamic online alternatives.
Online learning platforms
The unstoppable advance of the Internet has given many possibilities for e-learning to leverage real-time, interactive tools. Online learning platforms give learners access to an extensive range of material, including rich content like images or videos. Furthermore, students can communicate with a teacher or fellow learners using instant messaging and video calls for an even more collaborative and interactive learning experience.
Companies can create and maintain their own e-learning platform using Learning Management Systems (LMS). They allow people in the organization to access a shared database as well as communication tools.
Some advanced uses of web-based platforms can even include creating a fully functional virtual classroom, through which the teacher can schedule the meeting, share a presentation and interact with students in real-time.
Blended learning
Face-to-face interaction can't be wholly substituted by digital tools. Blended learning makes it possible to enhance and complete in-person learning by using technology to prepare students for classes or improve interaction in crowded classrooms.
This hybrid third way between full e-learning and traditional learning keeps the best of both worlds: it modernises teaching rooms while maintaining a sense of proximity and the human touch.
Other forms of digital learning
Mobile learning refers specifically to learning apps and other platforms that can be accessed on the go, via smartphones or tablets. They are the natural continuation of online learning, as the web lives increasingly on mobile devices.
Educational games have also seen a revival, as some have integrated features such as a live chat and multiplayer: some can even be called true MMO games and bring millions of players together.
The benefits of e-learning for companies
Digital learning opens the door to a large choice of learning experiences. These solutions can improve your organization in many ways, as they offer several advantages to businesses compared to traditional training sessions.
It is available anytime, anywhere, meaning that large or global companies can still guarantee equal access to all their employees to valuable learning material.
It can be used as a level to boost work commitment, as certificates of achievement and awards can be granted through the platform and used to promote employees internally.
Having a common body of knowledge accessible to each and every employee can foster collective intelligence, detect human potential more efficiently and help broadcast your corporate culture.
Employees can further their skills, and feel more engaged in the training program, as they are free to learn at their own pace.
Younger employees might be more inclined to use digital learning methods, as they are already used to getting most of their information from the Internet.
The sheer number of learning experiences on offer mean that your organization could create tailored content to adapt to their needs and business processes. A wide range of premade courses is also available on most learning platforms.
From a financial point of view, e-learning solutions are less costly than in-person training. They also require less effort to schedule and allow HR managers to track the progress of employees in real-time.
The best e-learning solutions
The best e-learning platforms for companies
There are many high-quality solutions for your organization to start harnessing the power of e-learning. Some of the best options are well-known and widely available.
Coursera
Coursera for business is one of the ways your company can implement digital training sessions. This highly reputable platform gives you access to recognized professionals with a deep knowledge of their industry. It also gives you access to metrics and analytics tools to monitor progress and engagement.
Skillshare
Skillshare for Teams is the e-learning solution provided by the popular e-learning platform Skillshare. It focuses on creating on-demand, bespoke courses for businesses that drive engagement and productivity upward.
LinkedIn Learning
LinkedIn Learning can be used by business customers as well as individual employees to further their skills. Their courses are built around the experience of relevant professionals and give you and your employees access to valuable, actionable insights.
EdX
EdX for Business can give you access to a large selection of online courses to grow the knowledge available to your company. Some of the best universities partner with the platform to create great learning content.
Design your own e-learning platform with Learning Management Systems
If you want to go even further, you can browse our picks for the best e-learning solutions for companies. A Learning Management System or LMS allows you to create your own corporate learning platform, by providing essential features such as:
Integrated gamification, certification and examination features,
Secure, centralized storage for all learning resources,
Tracking and analytics tools to build reports on the progress of e-learners,
Deep customization tools to create a unique learning experience,
Cross-device support.
What have we (e)-learned?
E-learning for companies can help you unleash the potential of your organization. Knowledge is one of the most essential factors of success for any business, and specialized solutions can help you build a unique e-learning platform to keep your teams up-to-date and on equal footing.
Leveraging digital learning technologies allows organizations to share their values and grow the skills of their employees in brand-new ways. Stay ahead of the competition with the most skilled workforce! Are you ready to start (e)-learning?
Best tools for you