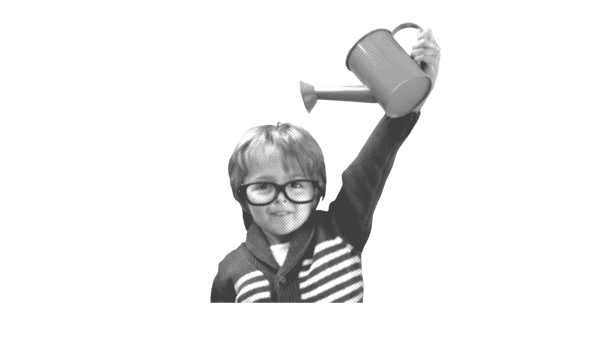 Manage Employees Efficiently Using HR Dashboards
When it comes to HR management, HR dashboards are one of the key tools to analyse, visualize data and take decisions to have a positive impact on your organization. They can be used to reach objectives from improving performance management to boosting employee satisfaction.
HR dashboards enable HR managers to respond to the new challenges of Human Resource Management in a changing environment. They help the HR department become more agile and proactive to lead change within the company and make data-driven decisions.
What are the objectives of an HR dashboard, how to use it? What challenges does it help your company solve? How to build your own HR dashboard? Let's explore Human Resource dashboards.
HR dashboards explained
The HR dashboard, a tool for daily use
HR dashboards are an important management tool to pilot the HR department's actions. It aims at presenting the work and results of the HR team to other branches in your company in a synthetic manner, including:
the employee headcount
the turnover rate
the absentee rate
This information is presented in a report made of tables and charts. These are built using performance metrics that have been defined according to:
the size of the company
its industry where you do business
the corporate strategy defined by your organization
What are the goals of the HR dashboard?
The goals pursued by the HR department are varied, and could be any of the following:
gaining insights to make the best strategic decisions
using analytics to understand and improve:

the evolution and distribution of the workforce
absentee rates
payroll management
employee retention, talent management and hiring processes

defining new goals
assessing performance and tracking objectives
analysing and reporting on the current state of the organization
communicating and informing people in the company, including top management and executives
The advantages of using an HR dashboard
Using an HR dashboard offers several advantages, such as:
a quick, synthetic and dynamic representation of:

the efficacy of HR management
social problems within the organization, which may or may not have been anticipated and affect employee retention or employee satisfaction

easy communication between the employees and their managers and the executive board
precise analysis thanks to the use of data and relevant metrics
a good basis to write other key reports and recommendations
These benefits make the HR dashboard an essential tool to help with decision making. Indeed, it provides an accurate, real-time overview of the current situation of human resources. Data and insights make it possible for HR managers to define a coherent strategy to take actions that will be grounded in the reality experienced by operational teams.
Examples of HR dashboards
Excel HR dashboard
Though there is countless specialized software to create an HR dashboard, it's also possible to use Excel to do so. Excel is still a widely used tool to create dashboards and present data, including employee data. Using Excel for this purpose has several advantages:
it's more cost-effective: your business probably also uses Excel for purposes other than building employee dashboards, so you most likely already have a licence
it's highly customisable: Excel can be used by skilful users to create specific dashboards and reports, depending on the needs of your company
However, it also suffers from important drawbacks, which are:
its poor user experience and steep learning curve: extensive training is required before being able to make the best use of the many features of the software and grasp its advanced functionalities
the time needed to modify the data: importing data into Excel can be finicky, as it's not always possible to import data from other software such as your CRM or ERP systems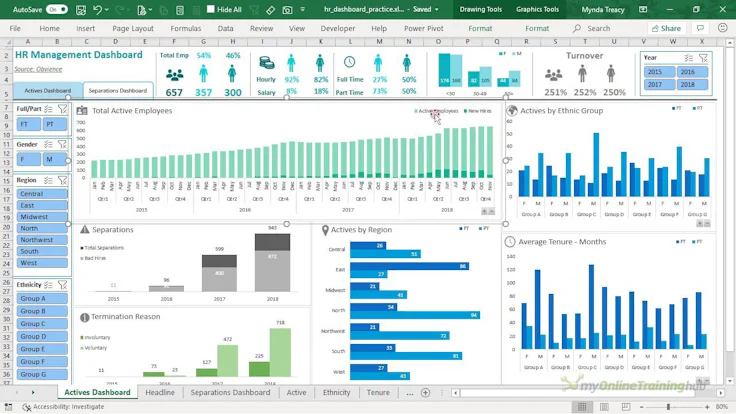 HR software dashboard
Dedicated HR software can help you create custom dashboards more quickly and efficiently than using Excel. These tools can offer benefits for employee management, such as:
an easy way to track important HR metrics: most metrics related to employees can be imported from other systems already in use within your company
quick dashboard and report generation tools: unlike Excel, this software doesn't require specific training to build interactive dashboards. This functionality is included in ergonomic ways such as drag and drop, and HR dashboard templates are often provided to get you started.
In the case of employee absenteeism, below are some examples of the type of graphs HR managers could access through a dashboard. This type of presentation offers a synthetic, clear outlook on related KPIs. It also provides a comprehensive overview of the evolution of employee absence rates over time.
It can then be used to create reports to share this information with other teams. Reports are a convenient way to present the insight you've gained from data analysis and highlight details, without granting access to your full dashboard.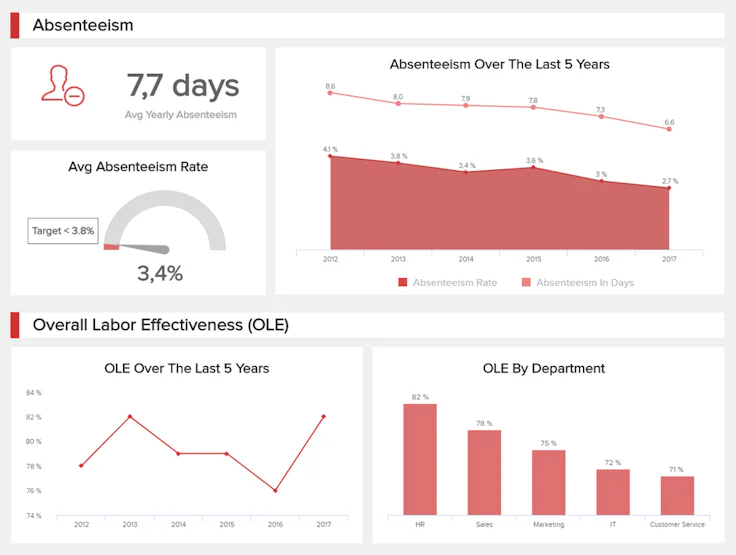 However, this type of software will probably be useful mostly to your HR department, though some data analysis and business intelligence features could be used by others. These are often an investment to make only after you've determined there is a true need for such a solution to be implemented by your company.
How to build an HR dashboard?
Determine your needs
Before you start building your HR dashboard, you should start by determining what the dashboard should be useful for. To identify areas it should help you track and the needs it should answer, answer these few questions:
Why is it important for your company to better pilot its HR processes?
What processes, in particular, do you need to have better control over?
How often will you update the data used in your dashboard?
Who will be using this HR dashboard? (HR professionals, key stakeholders…)
Define HR indicators
Why should you set HR metrics?
Choosing which metrics to track on your dashboard is essential. They should be in direct relation to your business, its goals and challenges, and can be tracked in real-time or in the short term.
During the creation of your HR dashboard, it is necessary to define the Key Performance Indicators (KPIs) you wish to measure and which will determine the success of your HR strategy.
Whether these aim to measure employee performance, recruitment or overtime hours, they should always be:
relevant: they should answer the needs of your business and the questions asked by executive teams
accurate in the way they reflect the importance and key aspects of the problem
suited to the current situation and your expectations
measurable: you should be able to quantify the data using numbers. Be careful not to use financial indicators, as you're trying to measure how close you are to success, not build a financial statement
clear and straightforward, so they are easily understood and analyzed
immune to tampering or manipulation
easy and quick to obtain: that way you can take corrective action more efficiently if needed
What are HR performance indicators?
There are many HR metrics to use depending on your goal, the needs of your company and the data available on your employees. For example, these include:
recruitment metrics

number of employees hired per year
number of applications per job offer
recruiting or employee training costs

employee absenteeism metrics

employee absence rates
absence causes
the average duration of absences

social climate indicators

employee turnover
employee retention
employee satisfaction
Choose the support
Whether you choose to use Excel or a dedicated Human Resource Management software, you should decide which tool to use depending on the needs of your business.
Good software should include:
an easy to use, user-friendly interface
functionalities that meet your needs (hr analytics tools, integration with your CRM…)
compelling visuals, or even hr dashboard templates
Making sure you choose the right tool to build your dashboard will save you time and money, and will allow you to make the best data-driven decisions.
Identify data sources
Where can you source relevant data from? And how to import this data into your dashboard to get insight from your metrics?
The data relevant to your KPIs can be collected from:
your CRM tool
your accounting software
your ERP system
To use this data for your dashboard, you will need to import it to your tool of choice.
👉 For Excel, you will need to import a file containing your data after exporting it from your database or software.
👉 If you're using a dedicated employee management software, you could set up a direct connection between your tool and the relevant databases.
Build the dashboard
All that's left to do is create your company's new HR dashboard! The first step is to determine how to organize your data.
You could use the following sorting methods:
define categories for your metrics. For example, you could sort employee data by department (marketing, sales…)
sort by the level of detail. This means using secondary metrics to further your analysis: you could sort payroll data by seniority levels for example.
sort by causality. Define variables which could have an impact on your data. Could absence rates be seasonal? Does your investment in a better company pension scheme increase employee retention rates?
Once you've sorted your data properly, choose the best visual representation to get the most information out of these numbers. As a rule of thumb, use:
line graphs to track an evolving trend
pie charts to represent a proportion of your employees
bar charts to compare different levels or repartition
HRMS: at the core of operational management
Human Resource Management System or HRMS is a type of software dedicated to HR professionals that can greatly improve the efficiency of HR departments. They can automate a wide range of HR processes, including recruitment and employee training, talent management and more.
They can streamline the creation of dashboards and custom reports with intuitive tools to automate daily tasks and powerful analytics tools. They help your company review important HR metrics in real-time to feed your thought process.
Our selection of the best HRMS software can help you choose the right tool for your business.
Find out early to act quickly
During the last few years, companies have embraced the digital revolution. Nowadays, Human Resource Management also implies the use of ever-more-powerful tools to analyse and track KPIs and manage employees efficiently.
Keeping track of the vitals of your business and using data and business intelligence tools to make informed decisions is key to anticipating change and reacting quickly. Detecting bottlenecks and defects in your processes early can help you be more agile and build a solid competitive advantage.
You should consider using the latest technology available to build an accurate HR dashboard: save time and money, foster employee engagement and attract talents with a cutting-edge HR strategy!
Best tools for you