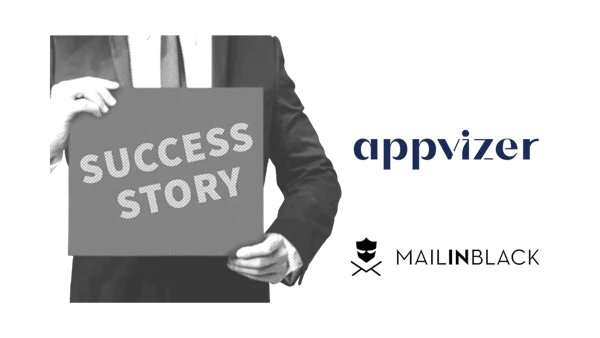 [Case Study] How Appvizer has helped Mailinblack achieve their conversion goals
In order to face the increasing cyberattacks and the heavy consequences they impose on organizations, the MailinBlack platform provides an effective and holistic response.
For the past 20 years, it has helped numerous professionals across various sectors improve their cybersecurity. To achieve this, it has deployed three perfectly complementary solutions: Protect, Cyber Coach and Cyber Academy.
To expand its visibility and connect its products with its target audience, Mailinblack chose to enlist the help of Appvizer, the media that digitizes businesses.
Discover through this success story how they managed to achieve these objectives together.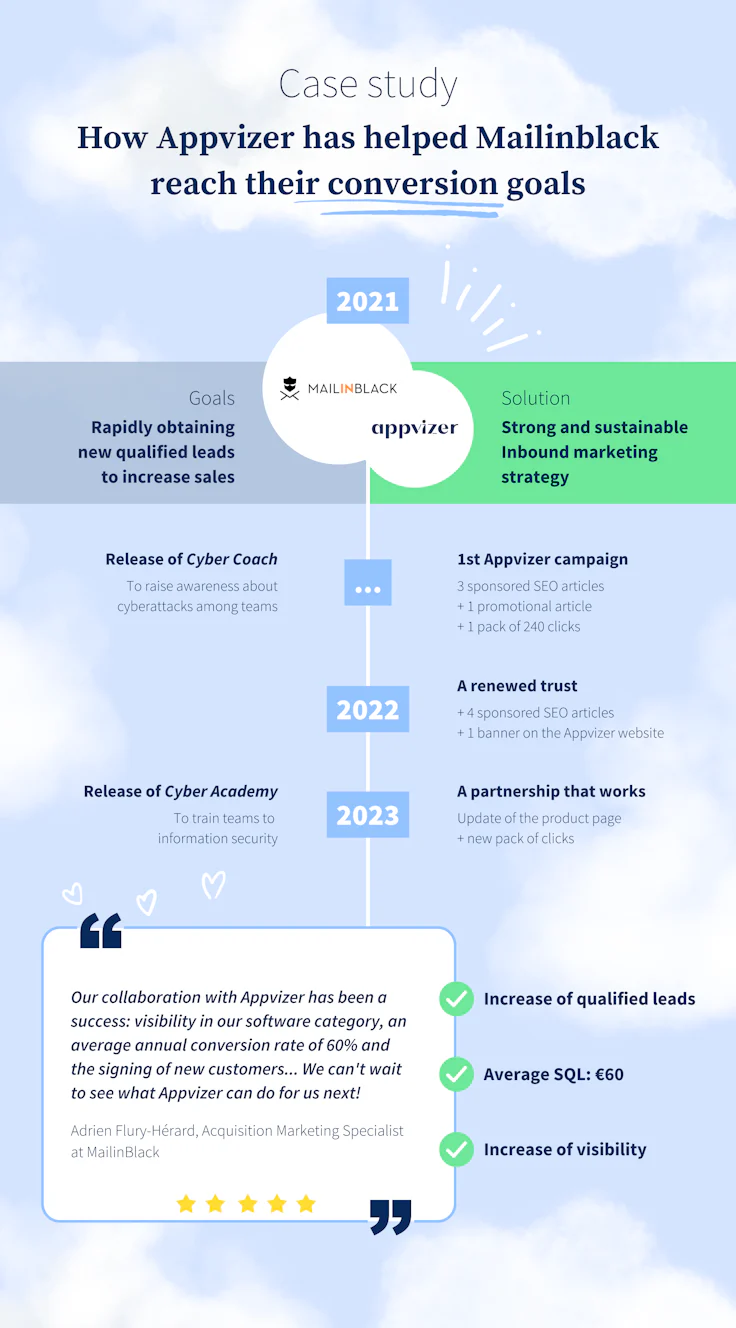 About Mailinblack
Founded in 2003 and based in Marseille, Mailinblack has developed various products dedicated to cybersecurity, specifically the protection of professional mailboxes.
Key milestones include:
2006: Release of Protect, the flagship software used to safeguard email accounts from cyberattacks such as malware, ransomware, phishing, spear phishing, etc.




2021: Mailinblack expanded its services with Cyber Coach, which allows for employee awareness through simulated ransomware and phishing attacks.


2023: Launch of Cyber Academy, a platform for training employees in computer security.
Mailinblack is a comprehensive suite aimed at making cybersecurity accessible to everyone, including smaller structures such as small and medium-sized enterprises (SMEs).
Marketing Needs and Objectives of Mailinblack
When Mailinblack turned to Appvizer, their primary objective was clear: to quickly obtain new qualified leads in order to increase sales.
Additionally, upon the release of Cyber Coach in 2021, the publisher also wanted to use Appvizer as a medium to expand their visibility and raise awareness among their target audience about this type of solution.
Furthermore, the campaign implementation needed to be seamless, with easy tracking of results.
Implementation of the Appvizer Strategy
The Chosen Strategy
Appvizer deployed a solid and sustainable inbound marketing strategy for Mailinblack, aiming to quickly capture quality leads while maintaining long-term performance.
2021: The First Campaign
The first campaign began in 2021, focusing on Protect. It included:
The writing, by Appvizer, of three SEO articles on topics related to cybersecurity and email protection. Mailinblack was featured in these articles through contextualized citations (thus, more enticing) and advertisements.
A promotional article, written by the Mailinblack team themselves, to increase awareness of the software (shared on social networks, in Appvizer newsletters, etc.).
A package of 240 clicks redirecting to the Mailinblack website.
Renewed Trust in 2022...
In 2022, Mailinblack chose to collaborate with Appvizer again, twice (at the beginning and middle of the year), by ordering the writing of four additional sponsored articles and a banner on the website.
This was primarily aimed at promoting the Cyber Coach service.
...and in 2023!
Finally, in 2023, the publisher updated their Appvizer product page to include Cyber Academy and recommended a package of clicks.
What Are the Observed Benefits?
Quickly Achieved Objectives
Our collaboration with Appvizer has been a success: visibility in our software category, an average annual conversion rate of 60%, and the acquisition of new clients as a result... We are excited to see what Appvizer can bring us in the future!
Appvizer effectively met Mailinblack's conversion goals by increasing its number of qualified leads. Furthermore, through its tracking tools, the publisher estimated the average cost per SQL to be around 60 euros. Therefore, Mailinblack is satisfied with achieving its objectives and the ROI-driven dimension of the implemented actions.
At the same time, Mailinblack has noticed an increase in visibility on its Appvizer product page, benefiting its overall notoriety.
A user experience-oriented platform
And all of this in a very smooth manner, as expected!
Indeed, Mailinblack appreciates the user experience provided by the Appvizer platform. The back-office is more suitable for their needs compared to other software comparators. They highlight:
Its ease of use,
Customization options,
Minimal constraints,
The natively installed tracking link.
The publisher particularly approves of Appvizer's latest feature, which allows for easier identification of post-view leads by cross-referencing platform-provided information with their CRM data.
Appvizer x Mailinblack: A successful partnership!
Companies are increasingly aware of the impacts of cyber risks on their operations. Faced with this reality, many seek information online to determine the necessary measures to adopt. Mailinblack aims to be there to answer their questions, demonstrate that cybersecurity is everyone's concern, and provide user-friendly tools.
Thanks to its expertise in inbound marketing, Appvizer has successfully connected Mailinblack with potential clients through a sustainable and ROI-driven strategy.
Best tools for you