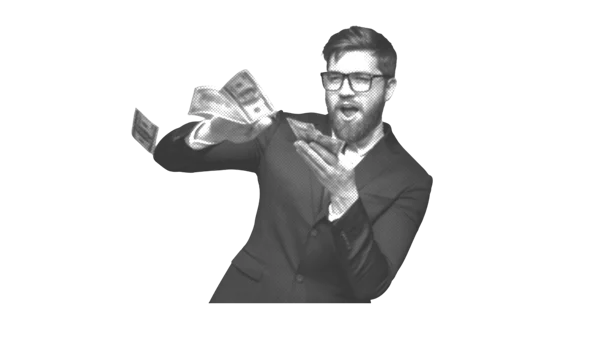 SaaS Companies: Is your MRR plateauing? Bet on a move up market to make profits go through the roof!
What's more frustrating than seeing your SaaS business' revenues plateau after experiencing crazy growth?
Not much, we admit. But you're a fighter and have every intention of leaving no stone unturned to make things happen.
To jump-start your precious growth, you might be thinking of moving upmarket, like 44% of companies (source: Paddle). It's a good idea, but it's not the easiest to implement. It's a long-term project, and you'll have to get the whole company on board!
But before you start, you need to weigh the pros and cons and have an idea of how to proceed. This is what this article is all about.
What do we mean by moving upmarket?
Pivoting towards premium positioning
Moving upmarket means taking your SaaS business to the next level by focusing your efforts on acquiring and retaining larger customers.
But, in what scenario would your company need to change its strategy? Every company, once it's gone through its growth phase, has a point where it reaches a plateau, where it stagnates.
It's common for SaaS companies to encounter this problem after reaching a certain amount in MRR (monthly recurring revenue) where growth begins to stall.
The need to change your positioning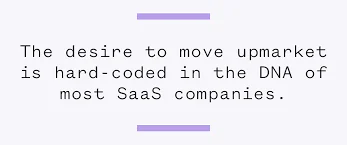 Why is this so common? When launching a new business, the most common strategy is to target a maximum amount of small customers:
on the one hand, because it allows you to establish your notoriety;
on the other hand, because small subscriptions are faster to sell and easier to set up.
So, what's the issue? The churn rate is higher with small contracts, because the smaller the organization, the more flexibility it has to change if the solution no longer suits it for some reason.
The other issue? As you may have noticed, acquisition costs are getting higher and higher. Online advertising costs are skyrocketing, and prospects and customers are less and less responsive to emails. What used to work for "cheap" can now cost more and make your entry-level subscriptions less profitable.
Undertaking a move upmarket seems like a cure-all for SaaS pros!
It's also an opportunity to ensure your product-market fit, i.e. the relevance of your product to the market, and to review your functionalities, your priorities, and your roadmap.
Improving your positioning: the pros and cons
Moving upmarket is a genuine transformation process that should not be taken lightly and requires a high degree of involvement. It generally takes a year or more, depending on the objectives to be met.
The Advantages
✅ Less competition
The majority of your competitors in the market likely focus their efforts on smaller customers, which are easier to acquire. Basing your strategy on larger fish only puts you in competition with a few players, as they have specific needs that only a handful will be able to meet, giving you more chances to differentiate yourself.
✅ Fewer customer accounts to manage
By catering to a target audience of companies with larger revenues, you won't have to chase after a multitude of customers as much. Opting for this strategy usually means seeing fewer customers (but not fewer revenues). We're switching to a mindset of quality over quantity!
✅ Longer contracts
Managing large accounts also has another advantage: contracts are often signed for longer durations, typically several years.
✅ More revenue
Making a move upmarket helps generate an average revenue increase of nearly 14% (source: Paddle).
✅ Longer customer lifetimes
Contracts signed with major accounts can be for several years. Beyond the potential savings of signing a long contract, adopting new software is always a big undertaking for large organizations. This means they have less flexibility to change it and stick around longer.
✅ Lower churn rate
The attrition rate is lower on large accounts, for the same reasons mentioned for customer lifetime.
The Disadvantages
😬 Higher acquisition costs
Unlike small businesses that usually subscribe on their own after reading content on your website or clicking on an ad, large accounts require more time (and money) to acquire. So you'll see your acquisition costs increase, especially during the transition.
😬 Longer sales cycles
There will probably be many people your company has to convince (we'll see this a bit later) especially since adopting a SaaS in a large company is a big decision. The sales cycles are longer and require more negotiations and demos of the service.
😬 Harsher consequences if a customer leaves
This is the flip side of the coin! Gaining a big customer means a lot of money coming in, but losing a big customer leads to a lot of money that's lost (makes sense!).
😬 More work to be done on customer satisfaction and retention
The stakes of keeping a customer are suddenly much higher. There's no way you're going to lose them after having fought so hard to win them over! So working on customer satisfaction is essential to increase retention, which takes effort and time.
😬 Process changes
We'll see this in more detail, but moving upmarket requires quite a few changes to your processes. For example, large contracts likely won't pay by credit card, and you need to be able to accept bank transfers or checks.
😬 Strategy and Product changes
You'll have to rethink many things from scratch! Your ideal customer is changing, so you have to adapt your features and your whole strategy to appeal to your new core target. It takes quite a bit of work and available resources.
So do you go for it (or not)?
It's hard to ignore the many potential benefits that come with moving upmarket. But before you can take advantage of them, there are many challenges to overcome and a host of pitfalls to avoid.
Also, the risk of failure isn't non-existent, and you should expect to put in a lot of effort and see your revenue slow down while you finalize the transition.
Your entire company has built its DNA, processes, and culture around low-budget customers, as have most of your competitors when they launch. Changing your ideal customer is almost like starting from scratch, and making that change takes time. You have to be well prepared!
Now that you've learned the pros and cons of moving upmarket, it's time to take stock of your business.
Which of these advantages or disadvantages will impact your business the most?
If your company has a strong desire to launch your move upmarket, you must anticipate a certain number of parameters to definitively approve the pivot you're making:
How long do you plan to spend on this transition (one year, two years)?
What are the resources you'll need to allocate to it?
Do you have the necessary cash flow to deal with a temporary drop in sales?
Asking these questions will help your company anticipate the future and determine if this approach is in line with your medium-term objectives.
The top reason given for not taking the step to move upmarket is the requirement of a different product in order to do so (38% of respondents…). This was closely followed by the perceived difficulty of hiring a sales team (…35% of respondents).
How to manage your move upmarket
Once you've properly assessed the impact on your acquisition costs, additional fees, and potential loss of revenue, it's time to get down to business.
1. Get to know your new ideal customer profile
If your software is as successful as it is today, it's because you were able to offer a product that was easy to use and accessible to the greatest number of people. And bravo for that!
Like many startups, small customers make up the majority of your portfolio (and there's nothing wrong with that). Having worked with them for so long, you know their challenges and needs, inside out.
But what about the big customers (current or potential)? If you now want to target them as a priority, you'll have to learn about :
their profile,
their expectations,
their needs,
the daily challenges they face, etc.
Having all this information is invaluable for the rest of the venture because all the following steps must be done with the image of your new ideal customer in mind, to be sure to address them in the most efficient way possible.
2. Adapt your product
If you hope to sell your product at a higher price to companies with bigger budgets, you will most likely have to evolve your product at different levels, to meet their expectations.
The best way to ensure a perfect match between your product and your customer's expectations is to have the product team collaborate with the sales team. Customer feedback will help guide them in proposing features that will hit the mark.
A Gartner study revealed that collecting customer feedback increases upselling and cross-selling rates by 15% to 20%. Also, companies that are actively engaged in listening to their customers reduce their retention costs by 25%.
Here are some elements of your product to pay special attention to.
User Rights Management
A large account implies a large number of users.
These users can have very different profiles, whether it is their position in the hierarchy, their role, etc. It is therefore really important for companies to be able to manage roles with a high level of granularity.
Some profiles can only consult, others validate or can modify.
Security
This is an extremely sensitive subject for large companies, and highly strategic, because protecting their data and those of their customers is essential in maintaining a good reputation.
This means they will be much more demanding on this aspect! Be prepared for their IT departments to challenge you on :
your security practices,
the use of two-factor authentication,
your compliance with state and federal data protection regulations,
where your data is stored, etc.
If you're not able to prove yourself on this, it can result in a no-go for your deals.
Collaboration and Workflows
The larger a company is, the more difficult it can be to collaborate and gain efficiency. That's why they expect a product that optimizes workflows and facilitates ways to collaborate by taking into account:
Validation workflows,
different teams and territories,
projects, etc.
Automation must be part of your software's DNA to save users time, so they can focus on higher-value tasks.
Integration with other software
At their scale, your customers already have a whole ecosystem of software at their disposal to carry out their daily activities.
In order not to waste time, think about providing APIs to connect your solution to any other software or at least the most popular ones.
3. Evolve your marketing strategy
To reach your target, you have to embrace this new high-end positioning and change the way you communicate.
Beyond adapted functionalities, these large companies must have the impression that you're addressing them, and not small businesses. To keep their attention, adapt your vocabulary and your content strategy by talking about topics that are of particular interest to them.
Put forward compelling arguments that explain the core issues that affect them and how your solution will help solve their problem. If the problems you solve save the company a lot of money, that's even more persuasive, and you'll have no trouble getting six-figure contracts signed.
So whether it's on your website, blog posts, network posts, or other content, show your ideal client that you fully grasp the challenges they face, that you understand them to the core.
Finally, demonstrate your value and highlight what differentiates you from your potential competitors. You need to be able to make it easy to understand why your prospect should choose you, and not another SaaS in the market.
💡Your marketing positioning isn't set in stone. As your portfolio of key accounts fills up, you will have a more precise idea of the different issues encountered and the real needs. This will allow you to adjust your positioning and your strategies, to become more and more relevant.
4. Don't forget to review your pricing
Ah, pricing! This element is so strategic and unfortunately not given enough attention.
Yet, the price of your software is a decisive factor in your customers' selection process. In addition to positioning you in relation to your competitors, it will play an important role in the perceived value of your product. Even if you offer the best product in the world, if its price is considered too low, prospects will tend to judge the quality as low as well.
Also, you have to be totally consistent with the target customers you want to reach. There is no real price limit for large accounts, so don't restrict yourself unnecessarily, even if the product seems expensive to you. The important thing is that the price seems coherent to your prospects and that the promises made are kept.
When setting your prices, also keep in mind that they must be scalable to accommodate the growth of your customers. As your customers grow, so do the fees, with the logical increase in the number of users. This is a good strategy to increase the return from signed deals and to avoid a shortfall in revenue.
5. Evolve your sales strategy
The foundation of your sales strategy is probably the one that requires the most changes when you move upmarket.
Establish a sales team
When your core target was small businesses, the vast majority of new subscriptions were self-subscribed, without direct human intervention, thanks to advertising, referrals, free trials, etc.
If these marketing levers can bring you leads from medium and large companies, these companies won't subscribe without having had prior contact with a salesperson. When large amounts are at stake, getting the best value for your money is essential. To make sure of this, your prospects may expect, for example:
advanced demos of your software,
performance projections,
personalized support, etc.
And yes, all this requires an available, structured, and well-trained sales team.
To do this, it's essential to create clear sales processes to harmonize sales techniques within your team. Define common vocabulary that resonates with the target audience and manage the sales pipeline more efficiently to close more deals.
Different people to convince
When negotiating with large companies, it is rare to deal with only one contact, and it is often necessary to convince several people:
the champion, the one who found your product and was convinced enough to suggest it to their company;
the decision-maker, the one who manages the company's budget and needs and who will make the final decision;
the influencers, those who have a say, because of their position in the company (IT, legal, etc.);
the end-users, the people who will actually use your solution.
These profiles have different needs and expectations, and it isn't always easy to juggle them all. Having a lot of contacts can also tend to slow down the sales cycle, so you have to play your cards right to create a sense of urgency and speed up the signing process.
The importance of user testing
Before launching a major rollout of a solution that will disrupt the daily lives of employees, major accounts must be sure of their choice. It is out of the question for them to launch a new software solution and then backtrack because it doesn't meet the needs of internal users.
Testing the solution on a small group (a team, for example) will therefore be commonplace with these clients before signing a large contract.
Offer various payment methods
Although small subscriptions can easily be paid by credit card, that is less true for annual subscriptions of 10,000 or 20,000 dollars, for example.
This means that you have to adapt and offer other more suitable payment methods such as bank transfers or checks.
Put as much effort into customer satisfaction as you do into sales
The role of a Customer Success Manager is extremely important in the sales team when you are moving upmarket.
By taking care of customers, a CSM will have a significant impact on the reduction of churn, and therefore on the financial performance of the company.
Moving upmarket: a huge business undertaking
As you can see, moving upmarket is quite a project! You must carefully evaluate the pros and cons, as well as your capacity and motivation to make this rather radical change.
Putting in place a good strategy will be necessary, but not quite enough. You'll have to get the whole company on board and instill a new customer culture. This may take time, but if you are well prepared, nothing is impossible.
And at the end of the road (with a little patience), your efforts will be rewarded and your vision of becoming a major SaaS company in your market will become a reality.
Best tools for you