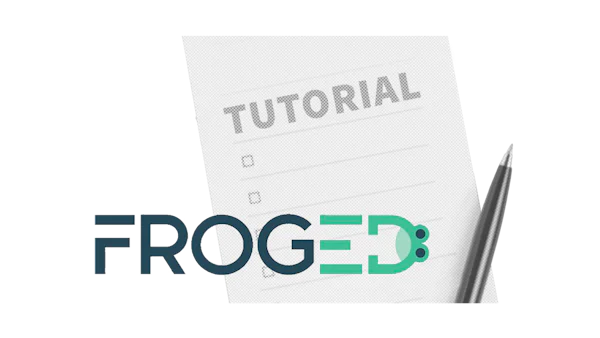 [Tutorial] The ultimate Guide to Build a Successful Customer Success process
Now we have started another year but the customers are still demanding your attention, a customer-centered business culture is now, more than ever, a requirement. Offering decent customer service isn't enough anymore. Customers need to be provided with a personalized service that is completely focused on their needs.
The focus on customer acquisition has now shifted towards customer retention. As Lincoln Murphy has said, "the majority of revenue from your relationship with a customer happens post-sale", and that is where Customer Success comes in.
Generating constant value to your customers will make them successful, which in return will make you successful too, to the extent that 90% of the revenue is within Customer Success.
In order to achieve customer success, you need to develop a great onboarding structure and boost your user retention rates.

If you're asking yourself if first impressions matter, let me tell you something: the first impression is everything for a SaaS.
Design a process to get your new users up and running in no time, dumping them into your product and hoping that they figure it out is a recipe for disaster (and a very high churn rate).
Your onboarding process, the first step of your customers' journey to achieving their goals, has a very big impact on your retention rate, as well as your revenue.
Let's talk about some practices that will help you turn your onboarding process from decent to excellent:
#1 Design multiple and flexible onboarding journeys
Some customers have different definitions of success compared to others, so they will find more or less value in each feature your product offers depending on that.
A great onboarding strategy needs to be aligned with your customers' goals. Educate them and help them make the most of those features that will give them the most value. Create different workflows with personalized emails and auto-messages for each group of customers.
It's also crucial to not force users into completing an onboarding experience. Some users are more hands-on and will want to experiment with your product on their own.
→ Create different workflows for different groups of customers with FROGED auto-messages and behavioral emails


2# Blended approach (mid or high-touch plus tech-touch)
Take advantage of both approaches: while tech-touch is very efficient, it's harder to build an emotional connection without face-to-face (virtual) meetings. It's important to create customer-CSM relationships for the long-term benefits, such as more honest feedback.

Use those meetings to focus on your customers' specific experience: use cases, friction points or difficulties, feedback, and product suggestions.
→ Automate behavioral emails based on your users' actions for an efficient tech-touch approach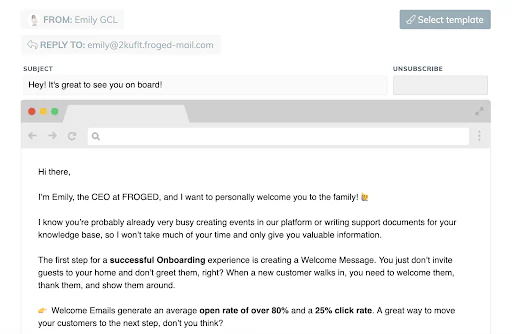 3# Reward smaller accomplishments to drive more value
Quick wins are visible improvements your customers can achieve that will have an immediate benefit for them.
Reward your customers when they complete smaller actions within their onboarding experience. Quick wins don't only make your customers more accomplished and motivated to keep using your product, but also are a great way to educate them on the benefits of those actions. Quick wins will build momentum by driving value to your users early on their lifecycle. It's a great strategy to improve user engagement and activation.
→ Show an auto message to congratulate your users when they complete a key action within their lifecycle
While customer acquisition is focused on getting more and more new customers, customer retention is on creating long-lasting relationships with existing customers to maximize their revenue.
Customer retention should be a priority for any SaaS company for two killer facts:
The success rate of selling to an existing customer is 60-70%, while the success rate of selling to a new customer is only 5-20%.

Increasing your customer retention rate by as little as 5%, can increase profits to 25-95%.
So, now that you know how important it is to nurture your customers' lifecycles and retain them, you need to work on how to do that. Here are some effective user retention strategies you should carry out:
4# Segment your customer base - Behavioral profiling
To communicate efficiently you need to send the right message for the right customers. Customers who receive irrelevant information have more possibilities of churning - the main factor why customers will churn is because they think the company does not care about them.

To avoid this issue, it's crucial to identify the different segments within your customer base. The key is to create segments based on:
Characteristics

: Tie together customers that have the same attributes and find more valuable the same functionalities




Behavior

: Segment your customers based on their usage of your platform, actions they have or haven't completed and when did/did not do so.
→ Create different groups of customers to track their unique behavior and engage accordingly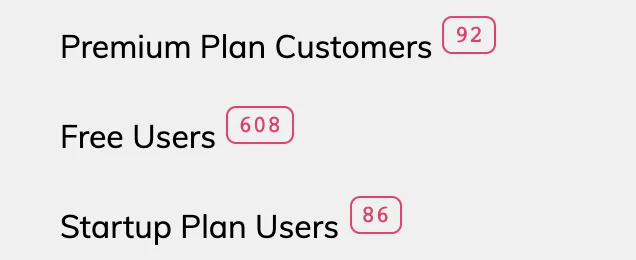 5#
Reach out to customers who are struggling
It's very important to reach out to users who are struggling and not performing as they should before it's too late and they have churned.

The key here is to be proactive and detect those warning signals that show you which customers might leave soon.


The most significant warning signals will be:


The usage frequency (how many times they log in)

The features used. Are they using the features that offer these customers the most value?
To engage efficiently with these customers, you can start by reaching out to them via automated emails and in-app notifications, if these messages aren't enough to reactivate them, try to schedule a call with them later on.
→ Be proactive by sending automated messages to users who are having a hard time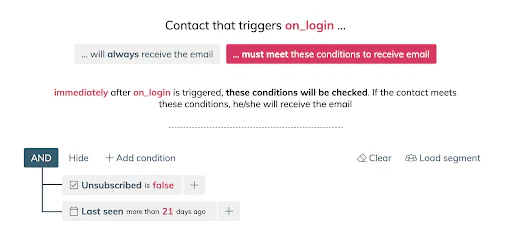 6# Educate your customers
In order to achieve happy successful customers, they need to be well trained. The best way to achieve this is through content such as blog articles and webinars.

Although these education resources might be very helpful, the best content you can provide to educate your customers is a well-structured and accessible Knowledge Base.
Well educated customers will know how to make the most of your product, and therefore, how to achieve success through it. Successful customers will make happy long-lasting relationships that will reduce your churn rate.
→ Offer at-hand educational resources and promote self-service to reduce support tickets with the FROGED knowledge base - it's fully integrated into the live chat!
7# Elevate your customer support
Although offering great education resources will highly reduce your support inquiries, it is still very important to implement a live-chat.

A live-chat allows your customers to communicate with your customer service, support and success team in real-time.

Nowadays, customers are expecting to have their problems solved in just a few minutes, sending an email 24h later won't cut it anymore. Customers don't want to wait, they want to have an answer quickly.


Live-chats are a great tool for Customer Success Managers that want to mentor newly onboarded customers about key features or teach long-time customers about new product updates.
Get in touch with your customers when they most need it, and take your response to the next level - don't only explain how to do something, show them a personalized use case based on their needs.

Replying to your customers inquiries quickly and with personalized messages focused on their specific use case will improve your customer experience. An amazing customer experience equals very happy customers and a low churn rate.

→ With FROGED support agents will have access to the users' contact information to offer the most personalized support. You will also have access to their event stream, in real time, and summary of events and key actions they have taken.
Sponsored article. Expert contributors are independent from the Appvizer editorial staff. Any comment and/or position is personal.
Best tools for you