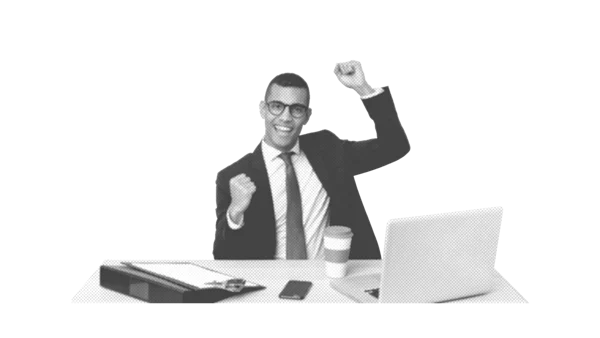 HRMS, ERP, now I know my ABCs: Definitions, pros, and cons of ERP and HR Systems
With the number of software choices that are out there, it's pretty easy to lose track of the meanings between acronyms like HRMS, ERP, and others. It can be even harder to understand what these software options can do for your business.
How can companies deal with complex work processes, databases of information, and overall work management? These are the kinds of things that software such as HRMS and ERP are designed for. By bringing more automation and technology into your organization, efficiency, and productivity are sure to follow.
If your job is to find out how to better manage your organization, this article will get you that much closer. Learn about the differences, pros, and cons between an HRMS and an ERP, and find out which software type suits your company best.
Is an HRMS an ERP? Not quite
To start simply, HRMS stands for Human Resource Management System, while ERP stands for Enterprise Resource Planning. Both can be considered to fall under the category of business management software. Although they share some similarities, they are different systems that will respond to different business needs.
HRMS
Today, a Human Resource Management System is a vital software tool for a business and specifically HR departments. HRMS solutions are made up of various modules or applications focused on automating the management, organization, and completion of a variety of core human resource tasks.
Some of the most common modules and functionalities of HRMS software may include:
Applicant Tracking (ATS) and Recruiting
Centralized HR information
Employee Development and Training
Employee Benefit Management
Onboarding
Performance Management
Payroll and leave management
Regulation and Policy compliance
These modules work together to improve efficiency, simplify employee management and automate repetitive tasks. Now, all that might sound wonderful if you work in HR, but how good is an HRMS at handling overarching business management, especially between different departments?
Human Resource Management Systems are specialized in a vast set of functions that are most useful to your friendly local HR department. Unfortunately, that means they don't quite offer the same overarching organization that an ERP might include.
ERP
Often used by larger companies, Enterprise Resource Planning software works similarly in the sense that it uses centralized information to manage diverse business aspects. In this case, this is where ERP shines, using data and analytics to achieve collaboration, organization, and key objectives across multiple departments. Often, this will extend across central business areas, including:
Accounting and Finance
Customer Management
Human Resources
Manufacturing
Sales and Marketing
Supply Chain Management
By using the data that is collected and analyzed, these different business areas interconnect easily. This lets decision-makers focus on the overview of the company to make the best decisions when allocating resources and making strategic changes.
And if you thought modules were behind us…surprise! This software is also modular, just like an HRMS, but with more extensive features that move beyond HR. These modules of course relate to the departments above, such as:
Financial (track data, ledgers, etc.);
Customer Relationship Management (lead generation, customer experience, etc.);
Workforce Planning (track employee attendance, time worked, etc.);
Human Resources (track employee data, features vary on the extent of the module);
Manufacturing (organize production stages, check item status, etc.)
Automated Marketing (lead management, social media automation, etc.)
Ecommerce (payment database management, site management, etc.)
Procurement (automate and organize steps of product purchasing)
Warehouse and Inventory Management (track inventory levels, organize warehouse tasks, etc.)
Order Management (track order data and status, etc.)
After all, you don't get known for being an extensive program without having a lot of modules. With all these potential features available, companies can expect to improve organization and planning while acquiring and using essential business data.
A Jack of all Trades: Integrated Systems
As you probably noticed before, an ERP system can come with many modules, including a Human Resource module. So, why would you need a standalone HRMS system if an ERP can handle it all?
Well, when it comes to ERP that already have an integrated HR module, they will have a lot more on their plate than just HR. Imagine having the choice to speak 1 or 2 languages incredibly well, or 7 or 8 pretty well. This is the same concept, with HRMS software being primarily designed for HR and managing people, while an ERP aims more toward the overall organization of a company.
Software up in the clouds or more down to earth?
Another important aspect of these types of business management systems is how they're deployed. Both an HRMS and an ERP can be implemented into your organization either by On-Premise or Cloud-based solutions.
With Cloud-based software, you will have easier access to your system from anywhere. This also means less maintenance for your in-house IT team, and more possibility to scale as you grow based on your new needs.
On-premise solutions can help when you want more control over your software while providing a more consistent connection to data. This also means that it might require more maintenance from your team in the long run.
Making the right choice for your company begins here. But of course, this depends mostly on the needs of your company and the deployment style that you prefer.
Pros & Cons: Which option is right for your company?
Human Resource Management Systems
When it comes to an HRMS, this might be the system type that works best for your HR department. Especially if this system is mainly going towards managing employees, with a focus on people and their information. A human resource management system will provide benefits like:
Deeper analysis and insight of employee information;
More employee engagement and self-service options;
More efficient recruiting, onboarding, and processes that focus on employees;
More extensive customization options than an HR module in an ERP system;
Faster deployment and adoption by employees since it doesn't touch every; department
Fewer business impacts in the future if the company needs to change systems
Despite the advantages that come into play when choosing an HRMS, there are of course downsides to choosing this type of software over an ERP system. These can include:
Over-specialization makes it unfeasible to handle multiple departments like an overarching system
Increased employee confusion if they need to work across different systems
Less collaboration between departments due to the singular HR focus
Enterprise Resource Planning
An ERP system becomes much more optimal when selected for its main purpose of automating, organizing, and managing overall company operations. In this situation, multiple departments can benefit from advantages such as:
Increased reporting and analytics by interconnecting data between departments in a central location
More options for scalability than an HRMS due to the wider extent of features
More flexibility in terms of usage
Increased collaboration between departments
Easier access to data that spans all teams and operations instead of going through numerous channels
Saving money by improving efficiency across various areas of the company
While the downsides of an HRMS are more restricted due to the reach of the software, the disadvantages that come from an ERP system can be more company-wide, such as:
Higher overall costs when it comes to pricing, implementation, and maintenance, which is remedied slightly by cloud-based systems, and SaaS offers
Increased employee training and difficulty in adopting a system that affects multiple departments
Often more complex than a standalone HRMS
HRMS, ERP, which to pick?
So, are you ready to take the leap of faith and pick a business software solution? Don't go just yet, there are still some important questions to answer.
Does the software we're selecting match well with the size of our business?
Are we focusing on organizing our HR department or multiple areas that need to interconnect?
Do we already have systems that could be replaced by an ERP?
Do we need a cloud-based solution or an on-premise system?
What are the specific functionalities we need to optimize our work?
When it's time to answer these questions and decide on a solution, including the teams and departments that will be affected is essential. In the end, the most important thing is to think back on the specific needs of your business. So, HRMS, ERP, or another software solution? It's your turn to choose.
Best tools for you