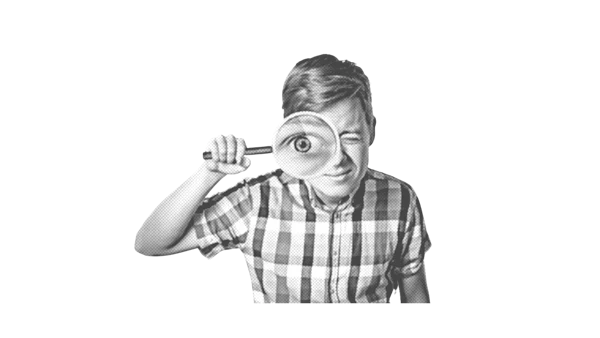 All About Recruitment Strategies
Motivated by the recruitment of the best talents, companies that are not used to searching for candidates, often lack HR reflexes on the job market, such as consulting their own archives, which can sometimes contain the right CV with the corresponding profile for the position to be filled. This environment can indeed be complex when one isn't familiar with distribution channels: have you thought about job boards, social networks, egional job platforms, trade fairs, cooptation, or specialized press? Recruiters, familiarize yourself with the best practices for effective recruitment:
Suggestion #1: Choose the right moment to broadcast your ad
Too early is not good, too late is even worse. The question of the perfect moment to advertise your job offer comes up regularly in the Human resources department or in the recruiter's head.
In the era of online recruitment, candidates who stay tuned to the market have set at least weekly alerts to receive interesting offers directly in their mailbox.
Some HR professionals consider preferable to post ads on Fridays: according to them, candidates have time to consult them over the weekend, thus allowing them to better prepare and take care of their application.
Other headhunters prefer to advertise their job offers at the beginning of the week, such as on Tuesday: according to them, the profiles already employed are mobilized by work meetings on Mondays.
Other managers will tell you to avoid posting offers during summer or school holidays...
What we think: it's the degree of urgency and exigency that commands! If you plan to hire an employee for the start of the September school year, you might as well advertise at the end of June to make sure to find the best talents.
Suggestion #2: Post the job offer on your career website
There is no need to develop a custom website, a recruitment software such as OTYS Recruiting Technology or Recruitee allows you to easily set up a recruitment space on your company's website to add value to your human resources department.
Advantages :
you have a functional career site on which to post all your job offers
you take the opportunity to communicate your company's values and commitments regarding the employer brand
you detail your recruitment process
you can receive an unsolicited online application
you centralize and manage all applications of job candidates within the same space
you centralize your online resume management
See Coca-Cola's career website: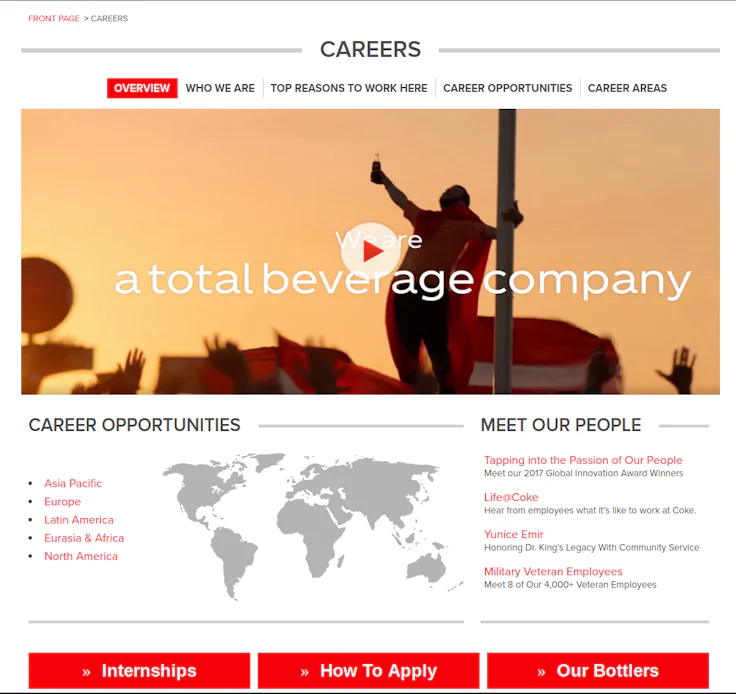 Suggestion #3: Share your job offers internally
Of course, you are not obliged to post your job offers internally to recruit new employees: however, it is strongly recommended.
You can promote internal promotion or mobility: your organization may have a pool of qualified candidates that you totally ignore.
Sometimes, it is better to train your employees on the new skills required for the new assignment.
This recruitment method has the advantage of minimizing the costs: if you map your employees' skills and performance on a regular basis, the matching profiles should stand out.
A simple email to managers asking them to broadcast the ad in your intranet/corporate social network will help you save time and money in the search.
Suggestion #4: Consider co-opting
General mobilization! Cooptation consists in using your employees' contacts books: they can recommend their own contacts to fill the position.
In a collaborative spirit, they can even make the first selection of CVs and send them to you. Isn't it easier to recommend a friend or salesperson with whom you have had an excellent relationship?
This practice makes it possible to attract certain skills: your employees know certain traits and attitudes of these "close" candidates.
Some personalities often make the difference in terms of integration into a new team or adaptability to the company's culture...
Suggestion #5: Multicast your ad on the jobs boards
Job boards are equipped with a resume database. After applying, job seekers will have a candidate area on the career website to consult the status of their application.
Some sites are specialized in a certain field or industry and allow you to consult offers by searching according to several criteria.
Let us draw up a non-exhaustive list of these recruitment sites, in order to observe the time-consuming nature of the task:
Monster
LinkedIn
Google for Jobs
LinkUp.com
CareerBuilder
Aileensoul
Glassdoor
Dice.com
Idealist.com
Craiglist
etc.
How to communicate a job offer on several job boards without spending the entire night there?
By using recruitment software: a dedicated tool, such as Beetween, allows you to spread your ads on these sites with a single click.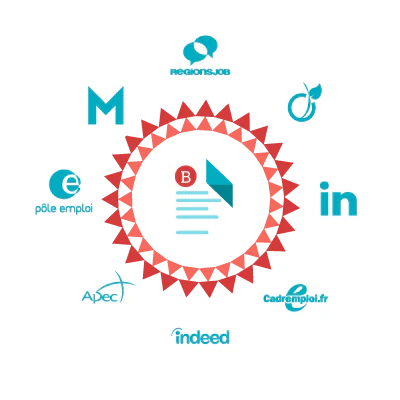 Suggestion #6: Target a recruitment firm that is an expert in the sector
You may consider this suggestion only if you are looking for a very specific profile, with unique expertise, or if you have extreme difficulty in targeting or finding candidates.
Be sure to choose a recruitment firm or well-known headhunter in the sector in which you wish to recruit: your interlocutor must have solid references and knowledge in the sector in question.
Disadvantage: the cost.
Advantages: the answers to your requirements, as well as saving of useless efforts on your part.
Suggestion #7: Think about schools and alumni networks
Research can be fruitful on the side of specialized schools: students are always looking for internships. You can, therefore, send them your internship offers.
Also, look in the alumni directories: you are likely to find profiles that are close to your request. The rest, you know it: it's up to you to be attractive in your direct approach by email!
Suggestion #8: Communicate your offer to professional associations
Professional associations are to be considered as a network: word of mouth and cooptation work at high speed.
Spread the word: there is often an employment committee to stimulate the market and help research candidates.
It also ensures that you send a targeted message to the desired sector.
Suggestion #9: Search in your own professional network
During a professional career, everyone gets to work with different, complementary job profiles and to interact with people whose skills vary.
These people can play the "matchmaker" to set you on the right track. If your job description details a mission that corresponds to your own profession, you have already forged professional links in your environment.
Look at your contacts on the LinkedIn professional social network: you will find an unsuspected richness...
Suggestion #10: Attend a trade show dedicated to recruitment
In each region, you can participate in job fairs, an event dedicated to recruitment. The aim is to boost the local labor market.
Set up your stand and organize your own speed-recruiting: meet potential candidates at the show and talk to them. A handshake and a more or less formal 10-minute face-to-face exchange can allow you to meet several professionals... and achieve success!
Top scenario: target a trade show specialized in the field you are looking for.
Suggestion #11: Publish your job offer in the specialized media
The specialized magazine press can be the opportunity to publish your job advertisement. It is imperative to carefully target the magazine's audience: do you want to recruit an executive? Remember to communicate only in magazines dedicated to the sector of activity you are looking for. Disadvantages: the cost varies and can sometimes be high; the advertisement has a limited life span. Advantages: you target the desired audience.
Suggestion #12: Take advantage of social networks
Some candidates take advantage of job opportunities shared by their contact circles on professional social networks such as LinkedIn or Viadeo.
Why not share your job offer for free on your own LinkedIn feed for example?
You can also observe the advertising offers specially designed for recruiters to reach specific profiles.
Think also of the groups and communities on social networks: they are targeted pools to whom to advertise your job offer.
Suggestion #13: Submit your job offer in temporary employment agencies
In some sectors, temporary work allows temporary workers to access permanent job offers: it is sometimes even easier to recruit from them for jobs such as construction related, for example.
The advantage is that you will find someone who is used to adapt to different corporate cultures because of their varied missions.
In general, due to their less comfortable situation compared to a permanent contract, applicants are likely to be highly motivated, provided that your proposal is attractive.
As with recruitment agencies, be careful with your budget, it is not free.
Suggestion #14: Use dedicated recruitment software
As we have seen above, this HR technology makes it easier for you when it comes to simultaneously posting your job ad on several job boards and allows you to create your own career site.
In the age of recruitment technology instruments, this software can help you save valuable time, refine your search and improve your recruitment performance. Of course, keep in mind that before investing it's always better to request a demo.
Overview of the additional possibilities of the Recruitee recruitment software:
more than 200 ads description templates to inspire you
the candidate can apply via his LinkedIn profile
publish your offer simultaneously on job boards and social media in affinity
management of advertising expenses (such as social networks) in the interface
incorporation of expert advice to post a free job ad
sourcing of candidates and collaborative selection with your colleagues
creation of a CV database
management and follow-up of exchanges with each candidate kept in history
email automation, etc.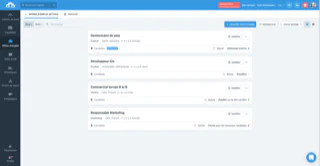 Zoom on the main Pros of using OTYS Recruiting Technology:
set of questions
management of the website
SEO optimization
social sharing
update CV through social
"easy apply" on LinkedIn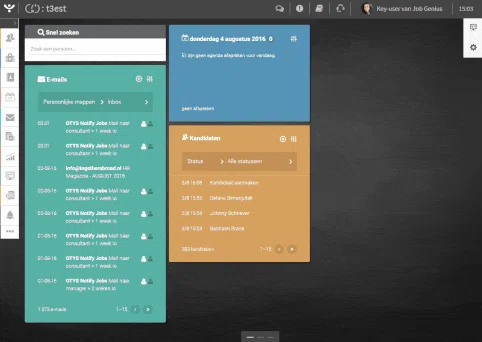 Focus on the main features of Beetween:
multi-sharing on job offers
research of CV online
performances reporting
collaborative platforms
creation of a database for resumes
flexibility of the software
Suggestion #15: Measure the effectiveness of yours actions
It is essential to identify the success factors and areas for improvement of a recruitment campaign.
Recruitment software provides you with statistics that allow you to:
analyze the performance of your ad promotion campaigns
identify the most effective channels of dissemination
observe your conversion statistics as on your career site for example
measure the speed of hiring
evaluate the performance of your own team
In addition, you can observe the remarks that candidates make to you: for example, you can detect a lack of information in your job advertisement if you notice the recurring question of remuneration (an attractive element for executives).
In this way, your recruitment department will be able to optimize its work as a recruiter.
Best tools for you