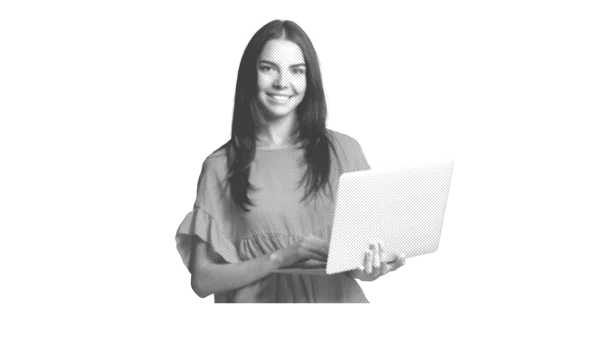 Online Interview Practice: How to Prepare for the Big Day
Online interviews, especially nowadays, have become the preferred method of most recruiters. It's easy, convenient, and saves recruiters, and businesses in general, tons of time, compared to traditional job interviews, that can go towards more pressing and important tasks. On the other hand, it's also a big plus for applicants too, they can show off their qualifications while feeling comfortable in a setting of their choice.
What's more, you can even replace the initial phone call with a candidate with one-way video questions and answers. Then move on to a direct face-to-face online interview.
But more importantly, whether you're a recruiter or applicant, what should you expect from online interviews? And the burning question, how do you prepare for them to interview with confidence? Well, keep reading and you'll find out!
How Does a One-Way Video Interview Work?
A one-way interview is essentially a series of steps, those being:
First, the applicant will get a unique link.

After clicking on it they'll be taken to the one-way interview portal.

They'll be shown a list of questions, sometimes the candidate can pick between multiple. There will be a time limit for the answers.

After the applicant's done and has pressed "submit", the recruiter will automatically receive a notification on an

Applicant Tracking System

(ATS), like

Greenhouse

, which puts all your various interview tools in one convenient place, thanks to its

various integrations

. It can save you a significant amount of time by allowing you to

structure the entire interview process

.
Following the response submission, the recruiter can review the answers at any time, and even get a second opinion by sharing the videos with other coworkers or managers. Then, after the initial pre-screening process is over, the chosen candidates are automatically invited to an online interview, where they can pick a time and date.
One-Way Interviews for Recruiters
As a recruiter, all you have to prepare is the pre-set questionnaire that the candidate will answer during their interview. You can either ask for the questions to be answered by video or written response.
Besides that, you can also determine the response time and the number of times a candidate can redo their answers.
After you've filled everything out, all you have to do is send the invitation from your dedicated recruiting software.
After receiving the recorded responses, you can then filter and select the most relevant ones according to positions. You can then decide to proceed with applications for a second interview, or reject them.
5 Tips for Recruiters to Get the Most Out of One-Way Interviews
Match your questions to your recruiting process

: make sure they align with your goals and know which points are the most important for you.

Don't be too over-demanding

: while one-way interviews are useful for both the recruiter and candidate, they're also new. Don't get too ahead of yourself, only ask the most essential questions and save the rest for a direct, second-round interview.

Pay attention to soft skills

: while you may get a basic idea of somebody from their resume, you won't actually know someone until you hear them speak. Keep an eye out for how they speak, think, and formulate thoughts and answers, and other characteristics that you can't get off a resume.

Think about the candidate's interviewing experience

: while the recruitment process is a test for candidates for a position, it's also a test for a company. Having applicants jump through too many confusing hoops can reflect badly on a company's "employer brand". Simple doesn't mean easy, ask tough questions but make the process straightforward to navigate.

Get multiple people involved

: having multiple people's input is always a good thing. By getting more HR team members involved in the decision process, you're more likely to make better recruitment decisions.
How to Prepare for a One-Way Interview? (Applicants)
Preparation
When you, the candidate, get an invitation with the link to the one-way interview, there will, most likely, also be a deadline stated. This means you can answer the questions at any time, and place, up until the deadline. All you need is a stable internet connection and a working microphone, no need to download anything.
Typically, most programs give you a test question, so that you can make sure you sound alright on the video. They also give some time before you have to respond to each actual question, allowing you to come up with ideas and start to formulate an answer.
Once you start answering the actual questions, you normally can't redo or retake, but this may vary depending on the recruiter's settings.
You may be asked to talk about previous professional experience, foreign language skills, or any qualifications relevant to the position you're applying to.
Note 💡: These questions, typically, aren't designed to trip you up or confuse you, they're just designed to get to know you better before moving on to the next interview, so be yourself!
After the Interview
After having submitted your answers, all you have to do now is wait for a response from the recruiter.
Also, don't panic, your recorded answers can only be used by the recruiter and specific HR managers. Your personal information is not allowed to be used or shared for any other reason. You can always ask for them to be deleted at any time.
5 Tips for a Successful One-Way Interview
Prepare like you normally would for a regular, in-person interview: facing interviews, be prepared to talk about everything from your strengths and weaknesses to your long-term career goals. Some of the questions they may ask you include:
What do you know about the company and the position?

Why are you applying for this position?

What are your qualifications?

Create an ideal and comfortable space where you can do the interview, make sure there aren't any distractions.
Practice in front of the camera: see how you feel and rewatch it to see how you look and sound. Make sure to smile and look open and inviting while looking at the camera. Also, double-check the way you speak, are you clear and articulate? Are you hesitating too much or using too many filler words?
Tip: Imagine it like a mock interview, like the recruiter is right in front of you.
Make sure the video quality is good: After you record yourself for practice, make sure the quality, sound, and image all look alright. If everything's right, you will be able to clearly see your face and hear what you're saying.
Be yourself! - You probably made it to this stage because the recruiter saw something in your profile that they liked. Besides your qualifications, they're also looking for personality and social skills, so be natural and be yourself!
Typical One-Way Interview Questions
Whether you're a candidate preparing, or a recruiter looking for some ideas for questions, here are some of the most commonly asked questions found in one-way interviews:
Why did you apply for this job?
What added value can you bring to this position?
How do you deal with conflict?
How do you work with others?
Where do you see yourself in five years?
How do you handle stress?
What was your biggest professional challenge? How did you get through it?
Use One-Way Interviews to Your Advantage
One-way interview programs can be powerful tools, for both recruiters and applicants. They let candidates make an impactful first impression, and even reinforce particular points that were limited by their resumes. They also allow recruiters to have a more streamlined recruitment process, and also easily collaborate with other HR team members to make better hiring decisions.
Now that you know more, it's up to you to pick the best system for your business!
Best tools for you