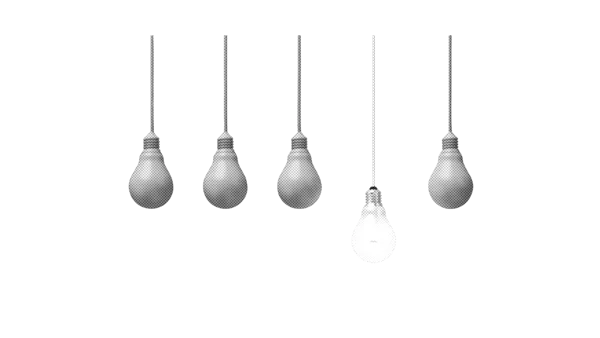 Marketing strategy: the key to making a difference
Before talking about how to implement a marketing strategy, it is important to start with a marketing strategy definition of the steps of implementing it.
Not to be confused with a marketing plan, which is more operationally oriented, a well thought out marketing strategy allows you to carry out your actions consistently and intelligently. To gain a competitive advantage, moving forward blindly is not an option!
But what are the various marketing strategies composed of? How do they serve the business goals of organizations? Why is it a prerequisite for good coordination among all marketing activities?
Let's take a closer look.
Marketing strategy: complete definition
What is a marketing strategy?
Although there are short-term strategies, a marketing strategy is about setting the framework for the established medium- or long-term marketing action plan.
It prompts organizations to ask themselves about:
the objectives of potential customers,
the target market situation,
the value proposition.
A good marketing strategy allows you to increase revenue by ensuring that supply and demand meet.
That's why you should define your marketing strategy before starting the operational phase. Through a marketing plan, you will be able to set your goals and define the steps to achieve them.
☝️Please note that the marketing strategy may apply to one product or a group of products or services, depending on the size of the company.
Why is it so important to build a successful marketing strategy?
Nowadays we are all aware that:
the market is increasingly saturated, and succeeding is increasingly complicated;
the consumer has gained power. Thanks to the development of digital technology, consumers can search for product information, read customer reviews, compare prices, etc. in just a few clicks.
Consequences?
The time when it was enough to launch a product on the market without any targeting strategy is gone.. Today, having a good product is not enough to sell: you have to have the right people in the right conditions.
Stop focusing only on the acquisition. Customer retention, with its undeniable benefits in terms of profitability, must become a top priority for companies.
Involving the entire organization in the marketing strategy has become imperative. Communications, manufacturing, market research, and development, customer service. Each division contributes to instilling a common understanding of the product in consumers.
The role of the marketing mix
Finally, it is good to remember that marketing strategy cannot be dissociated from the so-called marketing mix. Well known, the marketing mix provides a structured framework for companies to focus their thinking on four essential components:
product,
product price,
distribution policy,
promotion.
What are the different types of marketing strategies?
Which strategy to adopt?
As you may have guessed, each approach is different from one company to another, depending on the marketing goals target audience, and market, as well as the positioning chosen by the brand.
There are, however, several well-known and identifiable marketing strategies. Here are a few examples to inspire you:
Pull marketing 👉 Especially suitable for a young market with a growth dynamic, it consists of attracting the consumer through advertising and mass marketing.
Push marketing 👉 Rather adapted to an emerging market, it consists (unlike the previous one) in "pushing" the product towards the consumer, in particular using sales forces.
The differentiation strategy 👉 In a highly competitive market, the brand distinguishes itself from its competitors:

from above, by offering better quality products,
from below, thanks to lower prices.

The specialization strategy 👉 The company focuses on a very specific market niche.
The penetration strategy 👉 To enter a market, some companies opt for an aggressive pricing strategy to quickly win over as many consumers as possible.
Marketing strategy: the key steps to building it
To better understand what is involved in developing a marketing strategy or a digital marketing strategy, let's explain in detail the different steps involved.
1. Determining marketing objectives
This is where everything has to start. Every company must ask itself why it is implementing its marketing strategy because from this reflection must arise the actions to be taken.
2. Market monitoring and analysis
Before embarking on any marketing project, it is imperative to do some study work and market research. The SWOT analysis is very important!
3. Identifying the target customer
The target audience must be selected on the basis of the information gathered in the previous steps.
4. Choosing the right positioning
Once the company knows its market, its competitors, and its target audience, it's time to define its positioning more precisely.
There are many ways to stand out. Each organization has the task of positioning itself according to its strategic objectives, taking into account its strengths and weaknesses.
5. Implementing the marketing strategy
With all of the above in mind, marketers can put their strategy into action by developing and implementing an action plan.
A marketing strategy is constantly evolving
We've seen the main components that go into making a marketing strategy. However, the various processes are constantly evolving. Changing markets, trends, technology, consumer habits... you need to keep your focus at all times so that you don't get overtaken by events!
So keep this in mind: being a good marketing strategist, means constantly challenging your offer. The goal? To continue to reach the hearts of consumers.
Best tools for you