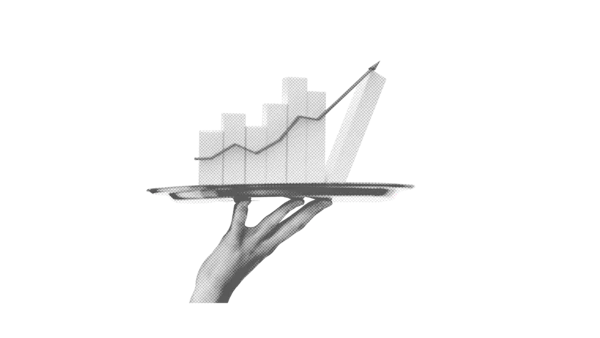 AARRR Metrics, The 5 Benchmarks for Rapid Growth
Learn about AARRR metrics, also known as Pirate Metrics, a customer lifecycle modeling method, and its application. We're talking about customer acquisition and retention, but not only that!
Digital companies, are you familiar with AARRR, a customer lifecycle modeling method?
You should be interested in it if you ask yourself these types of questions:
how many people visit your site or application,
how many of them become loyal customers?
at what strategic moments do you lose them?
Here are the 5 steps to follow in any Growth Hacking strategy, along with examples and tips to apply the AARRR model introduced by a businessman Dave McClure.
What does the acronym AARRR stand for?
AARRR: definition
We talk about the AARRR model, but also about the AARRR matrix or the framework applied in digital marketing.
It allows you to analyze the customer journey and measure the conversion rate of each of the 5 key steps of the funnel marketing, or conversion funnel.
The 5 steps of funnel marketing
Each letter corresponds to a crucial step that a persona goes through in his online user experience:
Acquisition: attracting prospects,
Activation: the first user experience,
Retention: user loyalty,
Revenue: the conversion of the freemium user into a paying customer,
Referral: the recommendation of your offer by your customer to others.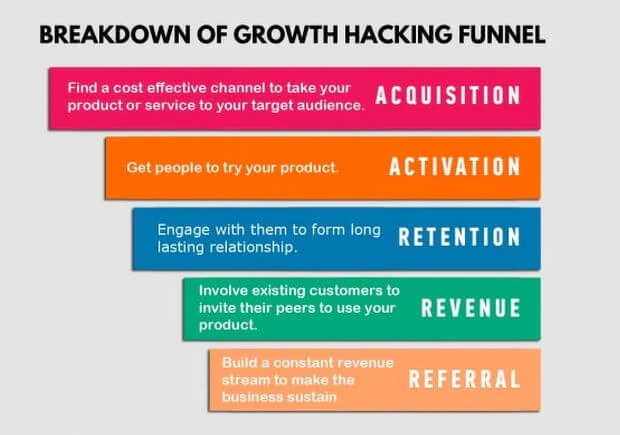 Who uses the AARRR framework?
It is used by marketing experts wishing to implement a Growth Hacking strategy, a method that is of particular interest to start-ups and SaaS companies, whose business model is based on rapid development at low cost.
Why and how to apply the AARRR metrics?
1 - Acquisition: attracting prospects, qualified traffic
Your product is great, it's a product/market fit, but nobody knows it?
The acquisition is based on all the means to make your target audience discover your company and its offer (product or service).
To do so, it is necessary to :
know your ideal customers (persona marketing) and their problems in order to offer them useful content;
identify the different channels where they are present to be sure to reach them, and their conversion rate;
launch as soon as possible an MVP (Minimum Viable Product), a minimalist but functional version of a product, interface, or service;
A/B testing on a regular basis in order to continuously improve the product and its ROI (return on investment).
2 - Activation: optimizing the first user experience
Once the various prospects have come to you, the idea is to push them to take action in order to bring them further down the conversion funnel by encouraging them to :
subscribe to your newsletter,
fill out a contact form,
buy a product.
To do so, you need to offer a browsing experience that is both enjoyable and engaging, by working on the design and copywriting (lead nurturing principle).
It also requires that the traffic that arrives on your site is sufficiently qualified, which is directly correlated to the acquisition part.
3 - Retention: keeping the user by developing customer success
Now you want your hard-won users to continue using your product on a regular basis.
How do you do this?
make sure that the user is aware of the functionalities that are useful to him, if need be, propose demos;
take into account user feedback in order to design a product that is always closer to what they want;
offer an ergonomic, user-friendly interface;
send emails and notifications if the user hasn't been active for a while to remind them that you are there to meet their needs.
4 - Revenue: monetizing user behavior
If generating revenue is vital for any company, in growth hacking, it comes in a second stage, after reaching a strong growth in the number of users.
How can user behavior be monetized? For example:
directly through a purchase or a subscription (for example the MRR, Monthly Recurring Revenue, or recurring monthly subscription),
indirectly through advertising on the site.
5 - Referral: transforming users into ambassadors
Encourage your users to become ambassadors for your product, in order to convince them to become users, and then customers in the long-term.
For example, set up a sponsorship system that benefits the sponsor, the sponsoree, but also the company, and encourage sharing on social networks.
Also, take care of your customer relationship by offering them a solution that addresses their problems, word-of-mouth will be effective!
To measure customer satisfaction, you can use the net promoter score (NPS), a good indicator to see your customers' predisposition to recommend you.
Optimize every step of your funnel marketing
All AARRR steps are interdependent and play a major role in improving your conversion rate.
However, you can prioritize them and focus on retention first and then return to the development of the acquisition later, if you have identified it as requiring priority action.
Last tips:
Be sure to identify the acquisition, activation, retention, and monetization rates by channel and persona, if there are several.
Unroll the whole funnel before making a decision to maximize your revenues: it may turn out that one channel or persona is ultimately more profitable, even though its acquisition or activation rate is lower compared to others.
Best tools for you