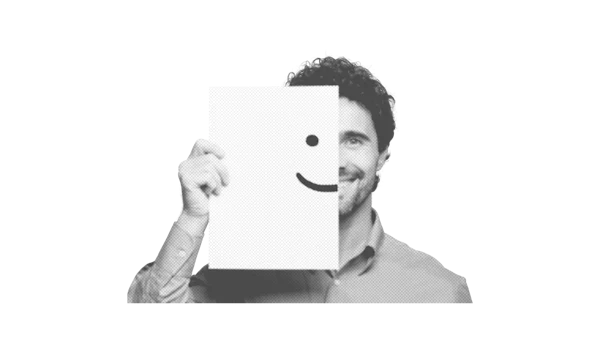 A complete guide to calculating NPS
Calculating your NPS has never been easier!
The NPS or Net Promoter Score is commonly used as a tool to assess customer satisfaction. It is a simple question that could measure a customers' level of attachment to a brand.
Today, many businesses base their customer satisfaction analysis solely on the NPS. But, is the NPS a good index of customer satisfaction?
Even though the NPS provides insights on a customer's overall satisfaction with a product or service, the result actually reflects a customer's ability to recommend the product or service, not their actual level of satisfaction.
Here is a complete guide to calculating NPS, how to analyze it, and tips on how you can improve it!
What is a Net Promoter Score?
The term Net Promoter Score* was introduced by strategy consultant Frederick F. Reichheld in the 2003 Harvard Business Review article: The One Number You Need to Grow.
It is a business metric that is particularly appreciated by the management and operational staff of businesses because it is easy to understand and implement.
To get a Net Promoter Score, businesses must ask customers the following question:
How likely is it that you would recommend our company/product/service to a friend or colleague?
This survey takes place after customers use a product or service of your brand.
The scoring for this answer is most often based on a 0 to 10 scale (0 being "Not at all likely" and 10 being "Very likely"). And, sometimes there are additional qualitative questions. These questions dive deeper into the "why" behind a customer's initial NPS rating.

© SurveyMonkey
The results are grouped into three segments according to the score :
promoters, for a score between 9 and 10,
neutrals or passives for a score between 7 and 8,
detractors for a score between 0 and 6,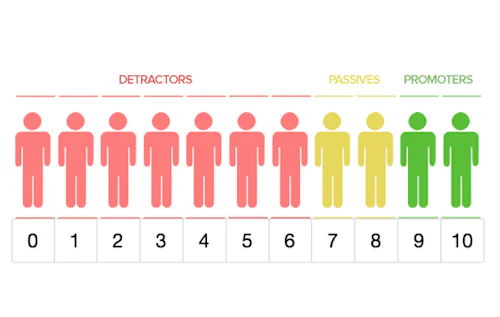 How to calculate your NPS
To calculate NPS, these are the two steps you should follow:
Calculate the percentage of promoters and detractors
Subtract the percentage of detractors from the percentage of promoters
The result of this subtraction is an absolute value placed between -100 and +100.
For example: if you have 45% promoters, 35% passives, and 20% detractors, your NPS is 25.
Generally, a number above 0 is considered a sign of good customer satisfaction, and above 50 is considered a positive score.
But what exactly does this score represent? Can it be considered as an overall indicator of customer satisfaction?
In reality, it is more complex to interpret than that.
What is a good NPS?
An NPS that is considered good is positive (> 0). However, variables such as the sector of activity or the culture of the respondents can nuance its analysis. Indeed, having expectations for a specific type of product or service varies, as does the peoples' ability to recommend them.
If a "good NPS" is generally above zero, it is interesting to observe the market and industry trends to make sense of them and set your goals.
Once you have identified what a good Net Promoter Score would be for your product or service, the mistake would be to try to simply raise that score. This would lead you to rely solely on numbers and thus ignore the entire strategy that has to be implemented.
Your strategy should focus on how you use and analyze this score. To do this, it is essential to know what indications this score gives, and how to read them.
The question should, therefore, be: what is a good interpretation of the Net Promoter Score?
How to analyze your NPS?
On its own, the NPS cannot be considered as a measure of customer satisfaction. Indeed, it is not intended to survey the degree of satisfaction of your customers, as it does not ask them for their opinions on a product or service directly.
It only asks them if they are likely to recommend a company/product/service to someone around them.
How do you interpret the different groups?
Promoters (9-10) are the most loyal customers of your brand and they recommend it to others. It is essential to focus on their satisfaction.

Why? Because they are the most likely to buy your product/service and recommend it to others. As ambassadors, they can fuel growth by bringing you new potential customers.
Neutrals or passives (7-8) are relatively satisfied customers. They are not very attached to your brand and they may stop using your product overnight without you knowing why. Moreover, they are open to other competing offers.


Detractors (0-6) are unsatisfied customers who are not willing to recommend your brand and will tend to talk negatively about it. Usually, they had a bad experience with your product or service and are disappointed. Getting their feedback is a way to build trust with your community and improve your products and services. This will help turn detractors into promoters of your brand.
Once you have a global understanding of this indicator, it is easier to initiate corrective action.
How to improve your NPS?
Achieving a better NPS is usually the result of measures implemented to improve customer satisfaction.
This is not about trying to increase the NPS score by focusing on numbers. It is about thinking about the factors that directly influence how your customers feel about your brand and your service/product.
Why would customers recommend your brand? Because they are happy with your product or service. Moreover, you provide the quality that they expect, and their customer journey is flawless.
The question then becomes: how can you improve the relevance of the analysis and the use of the NPS?
Here are a few ways on how to use a Net Promoter Score properly:
► Complete the investigation
Try to go one step further by asking a qualitative question. This will allow you to dive deeper into the "why" behind a customer's initial NPS rating, and therefore the reasons for satisfaction or dissatisfaction.
This can be a simple question, such as:
Why did you give this rating?
Or it can be additional questions that will be asked according to the type of respondents.
for detractors: "What did you dislike?"
for passives: "What would you like us to improve?"
for promoters: "Would you agree to give your opinion on... ?"
By doing so, you will be gathering valuable information, whether it comes from detractors, passives, or promoters.
► Systematize customer feedback
To get the maximum respondents, you can use the question at different stages of the customer journey, and not just in the after-sales phase, and take care of the sales engagement.
E.g. For a website, you can add a feedback question on all pages, during the different stages of the customer journey:
in a subtle way, on a white background, to not distract the user's attention from other CTAs on the site, such as a contact forms, trial requests, newsletter subscriptions, etc.
by using a direct question that is easy to answer;
by using a neutral scale
Here is an example of what an NPS question should look like: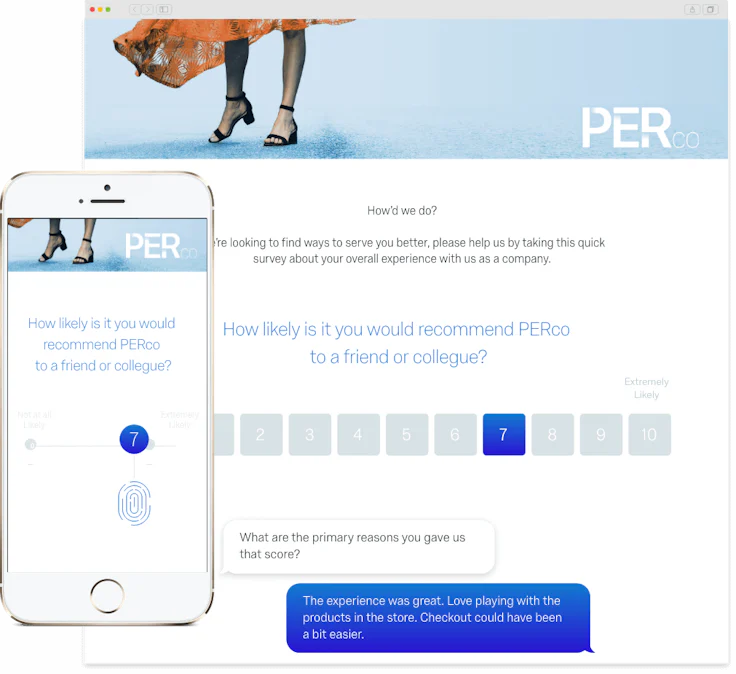 © Qualtrics
The goal is to have the issue addressed as soon as your product or service has been used. This is an incentive for your users and the answers will be more relevant for you.
► Fine-tune the analysis
The score is a simple measure, that must be complemented with additional information for it to be meaningful.
You must look for the following in your customer feedback:
verbatim opinions and comments;
feelings expressed by your detractors, often linked to a problem, the frustration of an unfulfilled need, a disappointment, etc. ;
the frequency of requests, whether one-off following a particular event or recurring;
elements that differentiate you from your competitors (prices, time to receive an order, etc.).
You will also endeavor to follow the evolution of the figures over time, adapting according to the indicators.
Finally, you will be able to set up an action plan according to the evolution of the NPS.
► Stay in touch with your customers
This is certainly the golden rule to follow in the end: collect as much feedback as possible from your customers, whether they are positive or negative.
Criticism of your brand is the most interesting in this respect. Listening to your detractors will help you to identify what is wrong, take a proactive approach and solve problems.
To do this, provide a system to receive their negative reactions, in order to defuse their anger in a controlled, non-public setting. You avoid the risk that they will disclose their negative feelings about your brand more widely.
Make sure that you restore your brand image with them, in order to boost their esteem:
value their reaction and thank them for their time,
consider the reason for their dissatisfaction as a starting point for reflection,
personalize your message and show them that their opinion is important,
keep them informed of the status of their complaints and be transparent to strengthen the bond of trust.
The personalization and high quality of customer support will put the ball in your court. If they are sensitive to your efforts, that's a bonus for you: they will potentially become ambassadors!
If you want to know how to reduce customer attrition, we invite you to check out this article!
To support you in your efforts, do not hesitate to use dedicated tools, such as :
It's all about the analysis
Now you have everything that you need to set up your own NPS!
However, this indicator does not say much about your customers' satisfaction.
The results of other KPIs or complementary indicators can be used, such as the Customer Effort Score, for example. This metric can be used to :
identify problems and needs of your targets throughout their customer journey,
uncover areas for improvement,
define a solid action plan to improve the customer experience, your quality of service, and customer relationships.
And you, on a scale of 0 to 10, how likely is it that you would recommend our article to a friend or colleague?
*Net Promoter Score is a registered trademark of Bain & Company, Inc, Satmetrix Systems, Inc., and Fred Reichheld.
Best tools for you