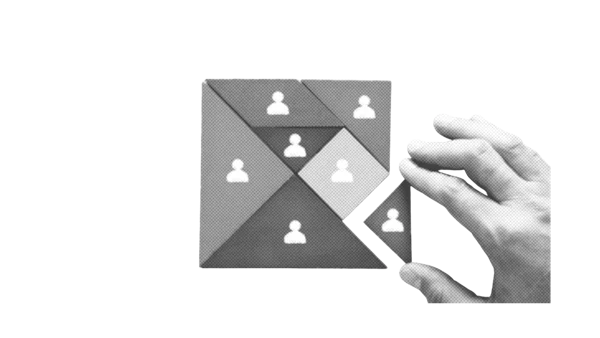 What is Sales Engagement? How to Engage Prospects & the Best Tools
What is sales engagement? All businesses dream of having engaged customers, acting as truly loyal brand ambassadors. This vision might seem unrealistic, but who said dreams couldn't come true?
However, it takes work to turn your hopes into reality. Sales engagement can only be obtained through consistent marketing efforts and smart customer relationship management.
Your brand must lend an attentive ear, provide support and deliver a great customer experience to build a trusting relationship. Are you ready to bond with your customers?
What is sales engagement?
Definition
Sales engagement describes all the interactions between a brand and its prospects and customers throughout the sales cycle. Businesses can maximize customer engagement by implementing marketing strategies designed to create more touchpoints with their customers. To better understand its customers and create more quality interactions that will boost customer loyalty and conversion rates, it is important to collect relevant data about the type of customer (customer persona) interested in your product or service.
The goal is to seize each and every opportunity to communicate with the customer to build an individual, personalized relationship with them, step by step. This marketing sales approach means to guide the prospect through the sales funnel, all the way to the purchase decision. Giving your prospects attention and support will plant the seeds of a loyal relationship with your brand.
Sales engagement in the digital age
Communication with prospects can be done through a wide variety of channels. The rise of digital tools has given ways to engage and gauge the behaviors of prospective buyers in real-time, thanks to new communication channels such as social media.
A multi-channel approach is thus essential to succeed in giving attention to your prospects whenever needed and at the most relevant touchpoints. To manage the complexity of today's communication tools efficiently, your sales reps will probably need the right tools.
Sales engagement vs sales enablement
Sales enablement refers to your ability to equip your sales team with the tools they need to manage leads and keep tracks of their interactions with each prospect effectively. With tools such as a CRM or even a dedicated Sales Engagement Platform, the insight they glean on each lead, prospect and customer can then be used to create personalized sales pitches or send relevant offers.
But before you can make use of some of the cutting-edge technology available to help your sales force, you should first understand how to manage customer engagement at each step of the sales funnel.
How to engage prospects at each step of the sales process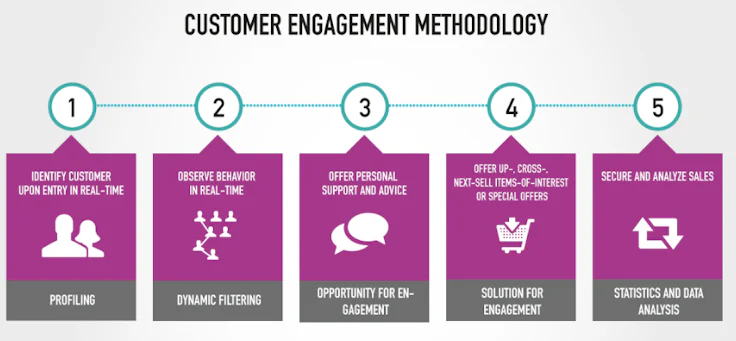 1. Lead generation
Customers are more and more subject to solicitations and their needs are always changing. Therefore, it has become essential for businesses to constantly review and adapt their lead generation strategies, meaning to update their lead acquisition and marketing channels to optimize their outreach.
Some of the best ways to grow and maintain a healthy lead database include:
Professional conferences and physical points of sales,
SEO, content marketing and inbound marketing strategies at large,
Phygital strategies, including implementing smart displays or interactive terminals in a brick-and-mortar store,
Emailing campaigns,
Ads campaign, including online advertisement (Facebook Ads, Adwords…),
Online forms, to participate in online contests or other events.
Working hand in hand with the marketing teams can ensure the channels used to market your products and acquire your leads are coherent and in keeping with your objectives, both in terms of brand image and ROI.
For rep activity and sales engagement strategies to be effective, it is paramount to unify your data and regroup all interactions with each prospect under a unique ID. Don't forget the data collected offline if your business possesses physical PoS.
Integrating lead generation into the sales process in advance will ensure rep activity is conducted smoothly, without fear of running into an impasse due to fragmented or missing data.
2. Lead management
Once you've successfully attracted the attention of a lead, you will need to get in touch, strike a conversation and create a relationship with the prospect. Lead management (also known as lead nurturing) is the process of guiding prospects through the sales process to convert them into customers.
Be careful not to taint this connection with a hasty sales move! Remain focused on the customer and their needs by providing attentive care, a great customer experience and meaningful content to ease them into the buying decision.
At this step, feel free to segment your leads into different brackets. Lead scoring can help you define the level of maturity of each prospect, to provide the most relevant sequence of content and information to nudge them towards the end of the sales funnel.
Once again, data is essential. Centralize your data using a lead management solution or CRM to score leads and keep track of their position within the sales funnel.
Calculating NPS helps you know about your customer satisfaction, and think about how to reduce customer attrition.
3. Onboarding
Once you've succeeded in converting a prospect into a customer, celebrate… and get to work! Indeed, this is only the beginning of a hopefully lasting relationship you'll need to foster and help blossom into a trusting bond.
A good onboarding process is designed to establish a strong foundation for a future relationship. To keep the new customer engaged, you should:
Reassure them, develop a trusting and intimate relationship: after making a purchase decision, most customers will experience doubt. Design scenarios to put them at ease and comfort their choice. Provide enticing, informative content to capitalize on the satisfaction of buying a new product, and make them dream of the many possibilities offered by your solution.
Put their engagement to the test and identify other needs: present extended services or related products to assess the level of engagement of the customer. Was this an impulsive, occasional purchase or could they possibly become a returning customer?
4. Customer loyalty & cross-selling
Acquiring new customers is costlier than working on customer retention. Furthermore, the average purchase price of returning customers is 15% to 25% higher than for new customers.
This is why loyalty marketing and efforts designed to enhance customer loyalty and reduce churn rates could offer great returns to your company. Your actions could be based on:
Understanding customer behaviors (average purchase price, purchase frequency buying habits…),
Fostering a long-term relationship,
Valuing existing customers,
Creating strong brand values to boost loyalty and engagement rates.
You should keep in touch with your existing customers to remind them of your services and give them attention. Communicating about your new products or sending personalized recommendations are great ways to assess and maintain customer engagement. Key vents (birthdays or other anniversaries) are opportunities to reactivate dormant customers.
For each type of customer, it's necessary to adapt your program, especially the loyalty program for b2b customers.
5. Referrals & brand ambassador
Brand ambassadors can accomplish things no marketing campaign ever could, as their testimony alone carries more weight and authenticity to their relatives or followers. For customers to reach this stage, perseverance and dialogue are key. The goal is not to conclude a sale but to provide regular attention and never feel distant. Good service and kind support will bring up customer satisfaction and with it the chance of customers turning into loyal ambassadors.
You should develop a sense of belonging to a group represented by the brand and who relates to its image, vision and values. Once they feel understood and represented by your brand, customers will start to enrich the conversation themselves. They will talk about your brand and its products to their own personal or professional network.
To identify your brand ambassador, you can conduct online surveys, offer to leave comments or reviews on your website, stay active on social media and even offer rewards for recommending your brand to others.
Sales Engagement Tools
Needless to say, to engage and keep track of your leads, prospects and customers, you will need to equip your sales team with a robust CRM solution. This helps organize your lead database and are a no-brainer for any seller desiring to offer products or services to customers.
But having a CRM up and running is a given nowadays. Going one step further, and really creating a bond between your organization and your prospects and clients can really make a difference and help you boost sales engagement. This is when a sales engagement platform could come in handy.
What is a Sales Engagement Platform?
A sales engagement platform is a solution designed to help sales teams make the most of the information they've collected on prospects. It integrates more channels directly within one unique tool to streamline sales activity and ultimately close more sales, more quickly.
Phone calls and emails can be managed from the same interface and directly integrated into the CRM for added efficiency. Follow-up and tasks can also be automated to save time and effort.
Getting started with Sales Engagement Platforms
The main features of a sales engagement platform include:
Phone call management: dial phone number automatically, record calls and access call history easily,
Email automation: use attractive email templates and analyze KPIs such as opening rates,
Task management: automate your workflows, assign a score to lead and conduct A/B testing and send personalized communications to engage prospects efficiently.
🛠 ZoomInfo is a tool used by sales leaders to generate, nurture and engage leads. It offers a wide range of solutions dedicated to sales professionals, from CRM and business databases to its own sales engagement platform, ZoomInfo Engage, to get a 360° view of your prospects.
Engaging prospects to accelerate your sales funnel
Sales and marketing teams know it well: it has become more important than ever to build a strong relationship with prospects and customers to stand out from the crowd and reap the benefits of brand loyalty.
To streamline your sales process and turn customers into brand ambassadors, it is essential to keep sales engagement in mind every step of the way. Use the best tools to give more attention to your prospects and stay relevant well after your first sale!
Best tools for you