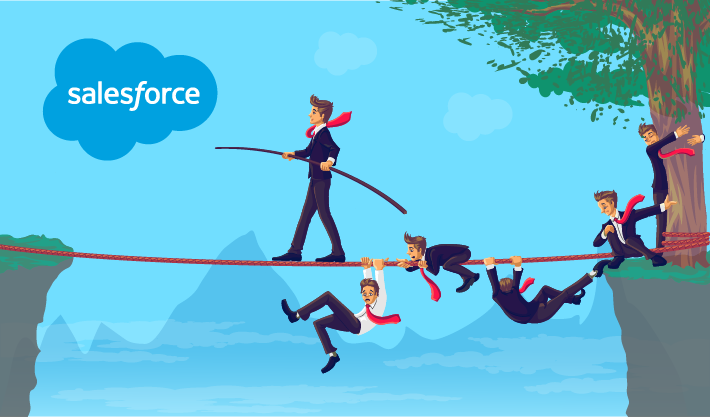 Sales Cloud
Presentation of Sales Cloud
What is Sales Cloud?
Sales Cloud allows you to manage and monitor your leads and sales pipeline precisely and efficiently. Automate less pressing administrative tasks and close deals quicker.
Work, and the way we look at it, has radically changed over the years, which in turn has caused a rush for companies to digitalize faster. Not every sales platform is able to evolve with your changing situation. That's why it's more important than ever to implement a solution that allows you to effectively organize your sales efforts, track the overall health of your business, and help with important decision-making.
Sales Cloud is here to help!
Sales Cloud Benefits
Connect your sales team to other departments (marketing, customer service, IT, etc.),

Get useful analysis that helps you make sense of the numbers, find hidden answers, and make smart predictions,

Grow and equip your sales teams with integrated onboarding, training, and coaching,

Manage business more quickly with smart tools like advanced predictions, lead management, the possibility to configure each transaction and set prices (in different currencies),

Use a collaborative social network designed for businesses,

Track transactions and find experts, competitive info, and other resources that you need to close more deals quicker, wherever you may be.
Salesforce Engage: Establish contact between your sales teams and clients in one click thanks to personalized sales campaigns made by your marketing team. With this, you'll be able to understand what attracts potential customers and take advantage of real-time sales alerts.

Salesforce Inbox: Simplify sales processes and easily access crucial customer data when you really need it. You can also anticipate customer needs. Everything passes through your inbox, wherever you may be.

Sales Opportunity Management: Optimize opportunity management, guarantee related product tracking, and stay connected with coworkers.

Contact management: Get a clear picture of your clientele, their activity history, main contacts, communication with them, and internal discussions about them.

Make informed decisions: Go from idea to action. Nothing is more satisfying than turning data into concrete ideas that everyone can access, wherever they are.

Clear decision-making: Salesforce dashboards offer even more clarity and transparency. You can even precisely predict sales figures and as a result, accelerate your sales cycle.
Sales Cloud Pricing
Sales Cloud SalesforceIQ CRM: 25€/month/user

Sales Cloud Lightning Professional: 75€/month/user

Sales Cloud Lightning Enterprise: 150€/month/user

Sales Cloud Lightning Unlimited: 300€/month/user
Advantages of Sales Cloud
Certifications:ISO 27018, TRUSTe, PCI-DSS, GDPR, ISO 27001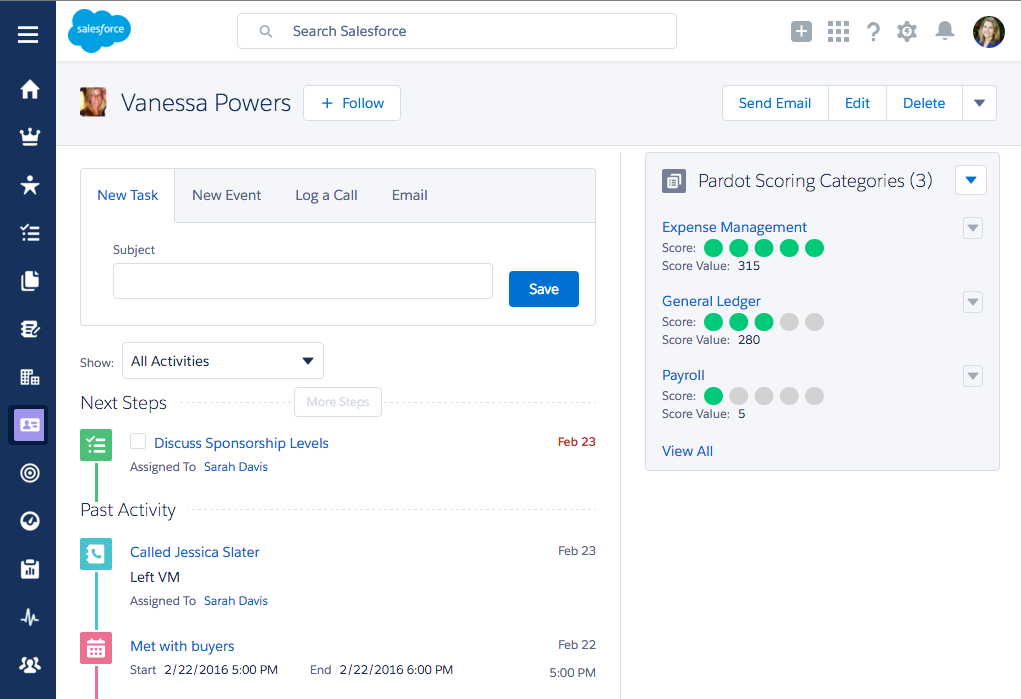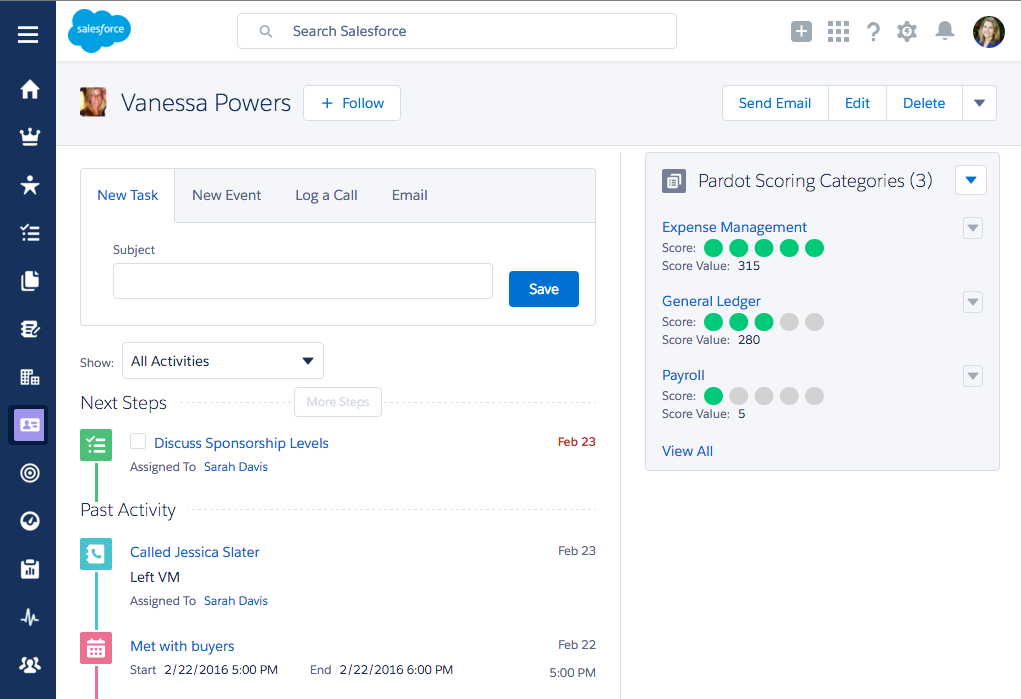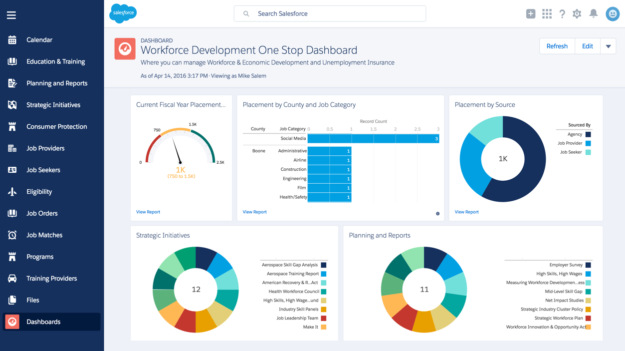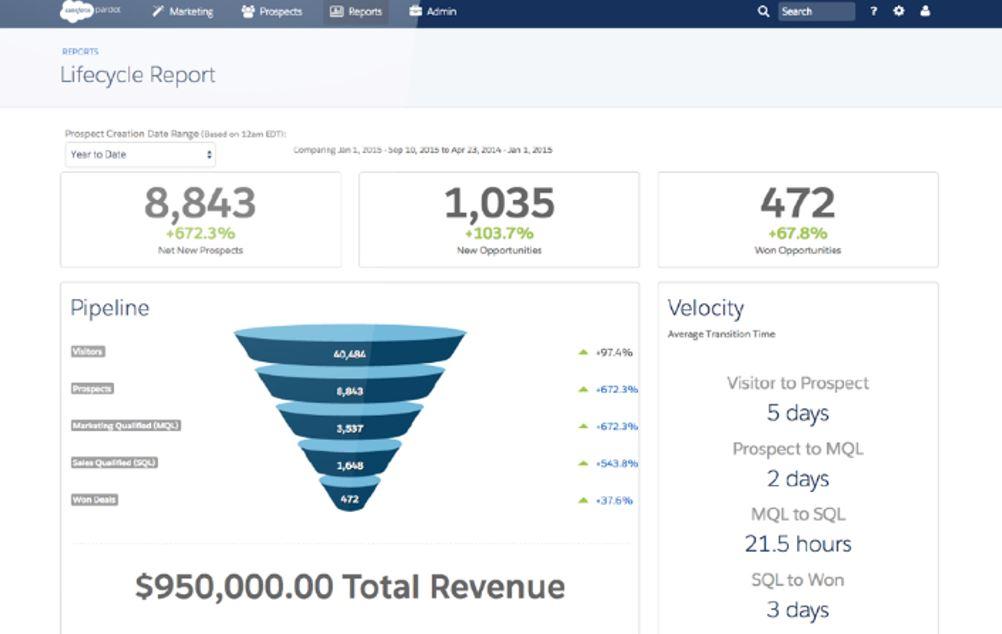 Prices and features of Sales Cloud
SalesforceIQ CRM Starter
$25.00
Application Settings
Multiple Currencies Management
+ 51 other features
Lightning Professional
$65.00
Application Settings
Multiple Currencies Management
+ 51 other features
Lightning Enterprise
$125.00
Application Settings
Multiple Currencies Management
+ 51 other features
Lightning Unlimited
$300.00
Application Settings
Multiple Currencies Management
+ 51 other features
Customer reviews about Sales Cloud (0)
No reviews, be the first to submit yours.
Our test on Sales Cloud
Sales Cloud is a CRM platform with many features that help you not only manage your customer relationship but also manage your teams and your notoriety.
The different offers offered by Sales Cloud make it possible to meet the needs of all types of businesses.
Sales Cloud is a complete CRM software and has distinct and very useful features. There are 6 main modules:
contact management

, with an overview of customers,

opportunity management

, with details of sales opportunities (stade, products, competition, etc.)

lead management

, with monitoring of the entire lead journey,

reports and dashboards

, with a real-time representation of your activity,

sales forecast

, with the possibility of viewing and adjusting the forecasts,

commercial collaboration

, with the sharing and centralization of information as well as the chat.
You can find these features through 4 offers. Only the most expensive one, the Unlimited offer, has all the features. It is also in this last offer that you will find 24/7 assistance, which can be very useful!
We find in the Essentials offer:
the management of the accounts, contacts, leads, and opportunities mentioned above

e-mail integration (Gmail or Outlook) with a complete overview of the different customer interactions.
In the Professionals offer, we find all the features of the Essentials offer but also:
recording and automation of lead evaluation, to follow your leads at all times,

collaborative predictions, for all of your sales teams.
In the Enterprise offer, we find, in addition to the previous functionalities, the automation of workflow and approvals.
Whether you are a startup or a large company, these offers can adapt to your needs and can evolve with you.
Sales Cloud doesn't have a free version and the prices are quite high, but the richness and power of the features come at a price!
Reviews on the web
Internet users tend to agree that Sales Cloud is a complete tool and very rich in features and integrations. Among the disadvantages, the complexity of the handling and the rather significant cost are elements that stand out regularly.
The solution obtains a very good overall score of between 8.5/10 and 9/10.
Complete

CRM and

many features

,

tailor-made

tool (modular and customizable) with the possibility of adding or removing functionalities,

a solution

adapted to all budgets

,

rich in

integrations

,

essential

tool so many salespeople already know how to use,

Mobile application.
The salesforce solution also puts everything in place to facilitate the upgrade of its users. Many video demos highlighting the advanced features of the tool are available on the official site.
Sales Cloud also greatly improves communication within teams thanks to a particularly effective integration with Slack, keeping in touch with your team members, and by extension your customers.
Our opinion on Sales Cloud
Salesforce Sales Cloud is the world reference in terms of CRM and is constantly innovating to meet the requirements of its users. This complete solution helps you both improve your customer relationship and accelerate your sales. The tool has many features and unfortunately, you can quickly get lost when you have never had the opportunity to use CRM software.