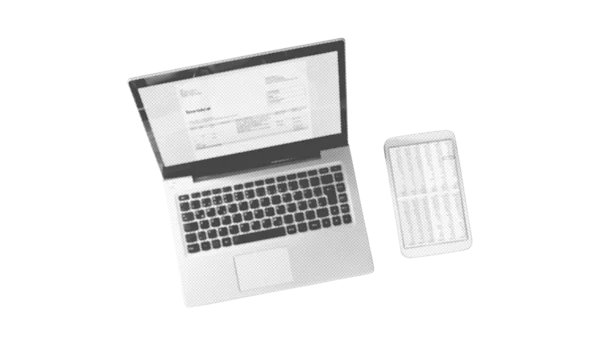 This isn't your first rodeo, and we all know that billing is an incredibly important part of managing and running a successful business.
Without billing, you'll be hard-pressed to track incoming and outgoing products or services, and more importantly, you'll be left with other questions…how are you going to get paid? Will bills be paid promptly? How can I make the whole billing process better?
Well, you've come to the right place. We'll make sure that by the end of this article you've got the essentials of the uses, the billing process steps, the best practices when billing, and more!
Billing for businesses in a nutshell
If you're reading this, you've most definitely heard of billing before. Just as a quick and simple reminder, billing is "the process of sending people invoices asking them to pay money owed".
Generally speaking, when a company bills a customer, they will send them an invoice. This document is essentially a list of goods or services that were consumed or purchased by a client. But, not all invoices are created equally, with different types of invoices for different situations such as:
Interim Invoice: an incremental invoice used for bigger projects, especially with various milestone payments
Pro Forma Invoice: an initial invoice sent to buyers before they've received their goods or services
Final Invoice: sent at the end of a project for any remaining fees
and many more.
So, billing sounds easy enough right? It can be, once you've got the process figured out and laid out for you! What's just as important is understanding why billing is so essential for businesses.
Main use cases for billing
While there are many uses for billing, there are some that you might not have thought about at first glance. All of these uses are key to helping your business grow and operating the intricacies of your work operations.
Maintaining cash flow
First and foremost, the most important point for any business is maintaining a healthy rate of cash flow. In other words, the amount of money that enters and leaves your business according to the various costs and transactions that your business makes. Not only does this mean you can pay back any debts, but plan for the future growth of your business!
Recording transactions
Due to the way the billing process works, by keeping precise records of your billing information, you'll be able to track various essential data points. You'll have the necessary information to contact buyers, know when payments should be coming in, and ensure that all your transactions are accounted for.
Managing business inventory
If you keep accurate billing and your business sells physical goods, you make it that much easier in the long run. Your business will be able to track outgoing and incoming materials and products as well as plan for future inventory management based on purchasing trends.
Gaining legal standing
Most of the time, clients shouldn't make any issues when fulfilling their payments. Despite this, you're eventually going to come across the one that is looking to pay less than was agreed upon. Luckily, invoices can be used as legal evidence of the sale and back up your claim if necessary.
Evaluating business data
Beyond keeping track of records and making sure payments come in on time, billing produces key insights into your sales and transactions. When data is evaluated effectively, a business can see which services and goods are most profitable, which purchasing trends stand out, and more, all of which help your business prosper in the long run.
6 billing process steps to reach payday
We'll divide the billing process into six steps that will lead you all the way from gathering information to bringing in that precious cash.
1. Collect relevant documents
The first step is for you to gather all the documents and information you might need for billing. This could range anywhere from any receipts and purchase orders, as well as emails, letters, or whatever else you might have that lists the client's billing information.
These documents will help you in case a client is unwilling to pay, so you can easily provide proof of the transaction. This also allows the provider of goods and/or services to ensure that the client is getting exactly what they requested without error.
Finally, it will ensure that you have the correct billing information for the next step if it's not already noted elsewhere.
2. Review the transaction information
This step is key to billing the correct amount and the correct person. Without the right transaction and billing information, you risk slowing down the process, missing payments, or even incorrectly charging clients.
But, what exactly is the transaction information that you need to review?
Client information (name, billing address, shipping address, email, phone)
Preferred or chosen payment method (cash, credit, single/multiple payments, etc.)
The costs of the specific services or goods provided to the customer
The majority of this information such as the client's contact information, chosen payment method, and other relevant information should be discussed as early in the process as possible.
💡 Remember that this step is only reviewing information that should be gathered when beginning your business transaction.
3. Create your invoice
Once you've ensured that you have all the information necessary for billing, it's time to create your invoice. Let's go over the key information that an invoice should contain.
Although there are various types of invoices, they typically contain similar information that is essential for any invoice, including:
a unique invoice number or code,
the invoice issue date,
company information (contact details, location, etc.)
the client's name and contact information (billing address, delivery address, etc.)
a detailed breakdown of services, materials, and labor in quantity and unit price/rate before tax,
the total amount to be paid after-tax,
payment terms (deadlines, methods, etc.)
potential late payment penalties
There are also many ways to create invoices. Your business might build its own template with business branding and style to offer the client.
It is also common for small businesses to use templates, online invoice generators, or even invoicing software for automating the billing and invoicing process.
💡 Whichever style your company uses, ensure that the invoice has the necessary information, looks professional and tailored to your business, and is easily understood by your customers!
4. Send the invoice to your client
It's time for the biller to get their invoice to the payer! There are various methods you can follow to send the invoice, although some are more suitable than others in today's digital age.
A letter through the post
A fax
An email
Sent through invoicing software
Your business is welcome to use whichever option works best. Despite this, it is preferable to send invoices electronically so that you don't encounter any delays or issues with a physical letter.
If your business is large enough that managing your invoices is becoming tedious and time-consuming, using an automated invoicing system that allows you to manage and send out invoices can be beneficial.
5. Record the billing transaction
You've made it through the tough part. One of the final steps in this procedure is to copy down the information for the transaction if it hasn't already been done.
The most simple way to do this would be to establish an organized online space to centralize your invoices. Alternatively, as mentioned previously, businesses can use invoicing software to keep track of invoices.
Recording these transactions is essential so to know when your business will be receiving payments. This also forces businesses to track their history by keeping detailed information on the previous work completed.
6. Get paid!
Finally, the money is on the way! At this final stage, once invoices have been sent out, it's key to track incoming and outgoing payments to effectively manage business operations.
Make sure that your company keeps an eye out for any outstanding or overdue invoices so that you can do a timely follow-up with the client to ensure payment.
6 types of billing
Progress billing
This method is often used in large-scale and/or long-term projects. Billing is then done in increments during the length of the project. Usually billed at a certain percentage of the final cost on a regular basis.
Milestone billing
In this type, businesses will bill clients after previously specified milestones have been met. Often this means that payments are made after precise deliverables are given to the client.
Sub-line-item billing
Often used in fields that require multiple project/work elements such as construction, this type bills based on the completion of different aspects of the work. Such as billing a client after completing the foundation, then the plumbing, and so on.
Recurring billing
As you can see in the name, this type works best for billing recurring services. This is used often in the SaaS (Software as a Service) industry, where customers often choose monthly subscriptions.
On completion billing
This method bills the customer once the work or service has been completed. Often this type is used for one-time goods or services provided, such as in most retail settings.
Prorated billing
This type of billing charges customers based on the actual amount of service or product that a customer received during the billing period.
For example, a customer subscribes to a $50 monthly service, after 3 weeks they upgrade to $100 per month. The customer should be charged for 3 weeks of $50 services and 1 week of $100 services for an approximate total of $67 for the month.
Best practices for your business' billing process
Agree on payment terms early
A great way to make sure that both parties (client and business) understand the transaction clearly is to establish payment terms early.
You'll have to discuss potential timelines, accepted payment types, how you charge for work, fees and penalties that could be incurred, etc. This makes it more likely for customers to know how and when to pay.
A common term for payment deadlines is "Net X". X being the number of days after the invoice date. For example, Net 7 is 7 days after the invoice date. Typical possibilities include Net 7, Net 10, Net 30, Net 60, and Net 90, although Net 30 is the most common.
Find the best time to bill
If your business wants to get paid on time, the best thing to do is know when to bill.
Some data (Vistr) suggests that you'll get paid faster if you send invoices on the first day of the month (if your company bills monthly) and send invoices on the weekend, or early Monday morning (if your company bills on a weekly or bi-weekly basis).
Although this can help, your business must also understand the clients, business, and industry practices. If your clients have certain set schedules for paying invoices, make sure to focus on billing based on their typical payment dates and policies.
Ensure your invoice has important information
We've already gone over the most essential information on an invoice. Beyond that, there are a couple of key aspects that can make it more likely for clients to pay on time.
Ensuring that your invoice mentions the payment terms, the due date, and is personalized with your company logo and style can go a long way. Beyond that, double-check to make sure there are no errors in pricing, client information, and terms before billing.
Go digital!
The easiest way to optimize your billing process is by using dedicated billing and invoicing software.
Often, invoicing software allows you to automate recurring invoices and reminders, process invoice payments, centralize all your documents in one space, and more.
This means that your business saves time, increases productivity, and reduces the hassle of the billing process.
Key takeaways
We've gathered that billing is essential for any business because it allows them to maintain cash flow, track transactions, manage inventory, obtain legal evidence, and get important business insights.
Don't forget the 6 billing process steps:
Collect relevant documents
Review transaction information
Create the invoice
Send the invoice
Record the transaction
Get your money!
With various ways to manage your invoices, different billing methods, and best practices to get paid on time, your business is ready to bill as effectively and efficiently as ever!
Software Recommendations