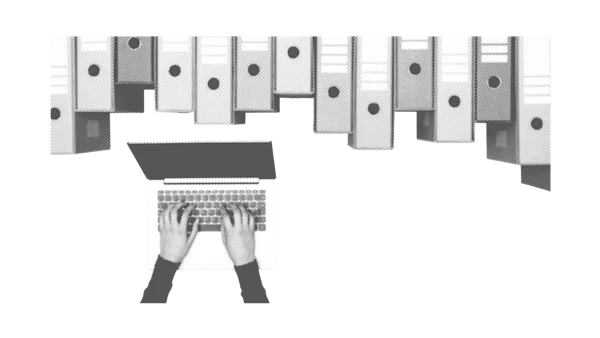 Top 8 Benefits of Document Management
Every day, companies manage thousands if not millions of paperwork and information, which is why it is imperative for a centralized and standardized document management process, in order to decrease time spent on searching, filing, and storing paperwork.
27% of senior managers reported they've missed client deadlines because they couldn't find a document (source: huddle.com). This is just one of the countless solutions effective document management brings to companies, it helps you save time, in order to achieve your goals in a timely manner.
Nowadays some of the best practices for effective document management involve the electronic management of documents (EDMS) and the implementation of DMS: platforms dedicated to correct handling of documents. These solutions allow efficient management of data by automating tasks, thus saving time, money, and reducing errors.
Find out about the 8 main document management benefits in this article!
Top 8 Benefits of Document Management
#1. Process Standardization
By implementing a standardized document management process, enabling them to establish and comply with distribution and storage procedures that comply with the ISO 9001 standard.

Its Enterprise Content Management (ECM) architecture becomes an asset in the event of an audit, all information is gathered and structured in one place and is available for the tax authorities; meaning that the audit can be carried out faster and easier.
#2. Productivity
If you're using an EDM, Workflows can be automatically set up according to rules within the organization, allowing every employee to have access to their functions, furthermore, administrators are able to open or limit certain accesses. This will enable companies to work better together and develop a more horizontal and collaborative work environment.
This type of environment is proven to make employees more productive, effective, and engaged with the work environment, due to its nature of feeding each member's strength for optimal results. Resulting in a company's profit, management growth, and overall good work environment.
#3. Agility
Optimal information handling allows companies to be more agile when processing customer data, thus enabling better customer relation service, leading onwards customer loyalty and long-lasting client/server relations.
Furthermore, agility in information enables companies to comply with regulations that if not complied with, can receive severe repercussions such as fines, sanctions, and revoking licenses.
#4. Better Collaboration
Working hand in hand with agility and productivity, document management allows employees to better communicate and pass-through information, this allows them to feel more engaged and work collaboratively instead of divided; allowing members to work together for the same goal and to strengthen their weaknesses by collaborating with others.
A better collaboration minimizes the risks of mishandling information, seeing as coworkers are involved in each other's work.
#5. Time/Cost Efficiency
Because document processing is standardized, time is optimized, and employees have time to focus on more important tasks, in the end allowing companies to reduce costs on materials and make better-informed decisions.
Storage space and inventory keeping costs are optimized and better managed allowing employees to be more efficient when looking for important information; enabling them to be faster and more focused on important tasks that will lead to happier customers.
#6. Easier document finding
Due to effective document processing, it will be easier for employees to retrieve information and commit fewer mistakes when utilizing documents; these mistakes tend to happen when there are copious versions of the same document in bad order or the original source cant be distinguished from the copies.
This type of mishandling has cost companies money and their reputation, because of lost customer information or bad processing of data, leading towards a bad service or lost customer documentation; making companies look unprofessional and overall bad quality; a situation that is fixed with the correct document processing.
#7. Improve Security
By establishing an effective document processing, it enables companies to set standards for their data, increasing control, and understanding the line of processing for each information. This allows companies to be in control of their information and guaranteeing customers the right handling of their most important documents and minimizing risks, such as:
data breaches,
lost information,
operational disruption, etc.
This kind of repercussion for poor management can lead towards enormous profit loss:
According to the 2018 Cost of Data Breach Study, the average cost of a data breach in the U.S. is $7.91 million
Furthermore, not only do data breaches cause profit loss that can eventually be repaired, but it can also bring reputational damage that then can lead to unrepairable problems such as bankruptcy or a negative public perception of the company.
Mistakes such as this let the public know that the company is not well damaged and is not trustworthy enough to handle customer information, for enterprises such as banks, a cabinet of lawyers, hospitals, etc. guaranteeing data security is a must for practice continuation
#8. Customer Satisfaction
As companies will be able to guarantee customers, data protection, on-time delivery, correct order processing, and reduced mistakes, users will feel satisfied with the given product or services and will increase their loyalty towards the company. Furthermore, incrementing its brand value, establishing itself as a quality business distinguished from its competitors.
This is one of the most important approaches a company must take into consideration for long term profitability and brand awareness; this is what evolves into free marketing strategies like, word of mouth, influencer marketing, and overall brand image recognition.
Disadvantages of Poor Document Management
Poor document management can lead to a loss in profits and customers. In the long run, these can cause bankruptcy, due to companies not working optimally and not taking cautious care of what is most important for the correct progression of a company: information.
Negative effect on customers
The compliance problem
Material and Human costs
Paper Waist
Un-Agile Company
Daily impact on your business
How can you improve your Document Management?
With today's technology, reaching effective data management has never been so easy with DMS (Document Management System), companies optimize their workflow by using numerous automation tools for automated data management, which can bring major long-lasting benefits for a companies best practice
This tool transforms the way companies manage documents by automation, safekeeping, and data collection; which is why it is of utmost importance to do a careful selection of the platform for your company.
Still not sure, compare different tools on the Appvizer page and find the perfect software for you!
Best tools for you