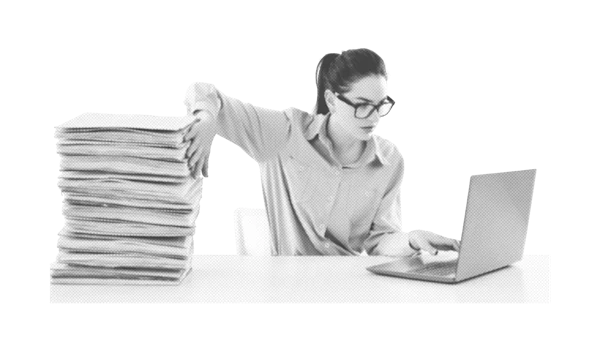 What's a Document Repository and Why Your Business Needs One
Storing, organizing, and managing access to your business's documents can be difficult and time-consuming. As part of document management systems, document repositories provide an easy and secure way to store all your documents in one central location.
In this article, we will tell you what a document repository is, how it works, and more importantly, how it can help your business improve efficiency, teamwork, and productivity.
What is a Document Repository?
A document repository is a shared digital document storage space that is managed by a select number of users who have full control of it. Managers can grant access to approved employees and set differing user permissions. Managers and teams use document repositories for a variety of reasons but mainly because they ensure protection of all the business's documents and files, and also guarantee that authorized employees can easily access them whenever they need to, wherever they are.
A document repository is a key part of a document management system and is crucial to providing efficient document management. Document repositories also greatly improve teamwork as they centralize all the documents employees may need to access, share and discuss: PDF files, emails, pictures, graphics, internal and external data, Word documents, scanned files, etc.
Benefits of Using a Document Repository
There are several benefits a document repository can provide to your business in terms of document security, access to documents, and team collaboration. Let's take a closer look.
Improved Organisation and Access to Documents
Dealing with a mix of paper and electronic documents usually makes file retrieval quite difficult and time-consuming for employees. They have to manually search through paper documents or request documents to be sent to them by email (which also increases the risk of a data breach).
A document repository helps your business keep documents safe, organized, and very easy to find. Employees can access them in a matter of seconds whether they work remotely or in the office, which saves them time and frustration. Not only using a document repository improves organization and eases access to documents, but it also helps prevent any document misplacement or loss.
Enhanced Collaboration and Version Control
When working within a team, it can sometimes be hard to determine if the document you're looking at is the most up-to-date version, which can lead to confusion and disorganization, and slow down a project's completion.
A document repository eases team collaboration by keeping track of edits and providing a document history, making sure team members always have easy access to the latest version of all documents.
Some document management systems even integrate with programs like Google Docs and Microsoft Teams and provide tools like live editing, comments, or file sharing. This can facilitate teamwork and coordination and speed up project completion.
Increased Security and Data Protection
A storage issue leading to data loss, or a data breach allowing an unauthorized user to access sensitive documents could be disastrous for your business.
A document repository is designed to protect your documents and data by putting in place security measures and safeguards such as password protection, data encryption, secure file transfer, managed access control, audit trails, and automated backups, for example.
Time and Cost Savings Through Streamlined Processes
When your employees struggle to find documents, have to request them or share them by email, and get confused with document versions, your business loses both efficiency and productivity.
A centralized document repository is an essential tool to streamline your workflows and save you time and money. Among other useful features, indexing - the process where files are categorized by metadata into the filing system - saves your team tons of time as it greatly improves file retrieval and is tailored to your business.
Ultimately, streamlined processes help employees easily access documents and allow them to get projects moving faster (and better).
Compliance with Industry Regulations
Every industry has different compliance requirements, and they can be quite complex. Non-compliance can set you up for legal issues, fines, or revoked licenses. It can also damage your reputation and take a toll on the success of your organization.
Document management systems that include a good document repository allow you to automatically organize, classify and store files per regulations and reduce the risk of non-compliance.
Scalability
Using a document management system rather than a mix of paper and electronic documents allows you to scale the system up and down alongside your business. The best document management systems allow you to add advanced features whenever you need them and offer different plans depending on your needs.
Use Cases for Document Repository
Here are five ways document management and document repositories are used by business owners and managers across industries.
Centralized storage and retrieval of important business documents

Important files, documents, PDFs, images, and more are all held in one centralized location and shared only with approved team members.

Sharing and collaboration on documents within teams or across departments
Less time spent on hunting for documents means team members get more work done, more efficiently.
Document version control and tracking changes

No need to track down the latest version of the document you're working on, the document repository keeps track of all changes.

Secure document sharing with external parties such as clients or vendors

In all business sectors, companies have to deal with a large number of external stakeholders. A document repository is often used to securely share documents with them by providing temporary access so that they can view, electronically sign and download the documents they need.

Document archiving and retention for legal and regulatory compliance
Businesses generate large quantities of documents quickly and need to archive contracts and other legal documents. A document repository can help to archive documents and organize them according to regulations.
Top Software for Document Repository
Here are some of our top picks for document management systems. All these systems provide an efficient document repository.
M-Files: Features, Pricing, and Review
M-Files is an online DMS (Document Management System) that is particularly suitable for midsize to enterprise-level organizations with advanced document management needs and automated business processes. It provides a user-friendly interface that makes it quick and easy for employees to upload, organize and find documents. M-Files comes in both cloud-based and on-premises versions.
Features:
Search function (based on the metadata associated with the document)

Optical Character Recognition

Document labels based on their content (customer, dates, project number, etc.)

Versioning control

Electronic Signatures

User permissions

Offline Access

Easy integration with Microsoft 365, Salesforce, Adobe Sign, Google Workspace, Sharepoint, Outlook, Dynamics 365 CRM, NetSuite, SAP, AutoCAD…

Collaboration tools
Pricing:
M-Files offers three different platforms and several add-ons. You'll need to contact the company for a customized quote based on what you choose.
A free demo is available.
M-Files Base:

on-premises only, basic functionality, includes metadata architecture, search, automated workflows, version control, Microsoft integrations, external database integration, community support…

M-Files Team:

cloud-based or on-premises, includes everything in the Base package, plus advanced search, importing tools, DocuSign integration, a reporting module, and standard support.

M-Files Business:

cloud-based or on-premises, all-inclusive, including advanced document comparison, support for self-hosted deployments, AI capabilities for personally identifiable information (PII) data, and automatic metadata suggestions.
The software also offers two add-on solutions:
M-Files Ment

for no-code document automation.

M-Files Hubshare

for enhancing the digital customer experience by creating custom collaboration hubs.
Our review:
M-Files offers one of the most organized and intuitive interfaces. With just a few clicks on the dashboard, you can access and upload your documents and search files by metatags or document text. This document repository also offers advanced security features, such as access permission management and encrypted data storage. Overall, we found M-Files to provide excellent features and a superior customer experience.
PandaDoc: Features, Pricing, and Review
PandaDoc is an all-in-one system designed to import, store, send, track, and eSign your contracts and other documents in a single, convenient location. PandaDoc's cloud-based repository allows you to import your documents in bulk, with multiple files as separate documents.
Features:
Bulk import
Filters
Document info at a glance
Audit trails
Search
Vast library of pre-designed templates to create documents
Add your branding to your documents
Real-time document tracking and reporting
Collaboration tools such as real-time co-authoring
Real-time email and app notifications
Pricing:
PandaDoc's pricing ranges from $0 to $59 per user per month for non-enterprise customers.
Free plan: $0/user/month. Includes uploads and e-Signatures (for up to 5 PDFs), payments, and mobile app.
Essentials: $19/user/month. Unlimited document uploads and e-Signatures, templates, real-time tracking and notifications, document editor, document analytics, 24/7 email, and chat support
Business: $49/user/month. Everything in Essentials, plus CRM and Zapier integrations, Salesforce integration, Custom branding, forms, bulk send, and more
Enterprise: Contact PandaDoc for a customized quote. Includes everything in Business, plus more advanced features, such as an unlimited number of team workspaces and more.
A free trial is available.
Our review:
PandaDoc helps small and medium-sized organizations store and organize all their documents in one place. We especially appreciate the various features that help with document creation, including customizable templates, drag-and-drop editors, etc. Plus, once the document is ready, you can send it directly and request an e-signature, all from the PandaDoc platform.
Zoho Docs: Features, Pricing, and Review
Zoho Docs is one of Zoho's best-known software tools. Zoho Docs is a comprehensive online document management system that allows you to create, create, store, easily share and collaborate on all kinds of files securely with your colleagues.
Features
Cross-Device Sync
Document Library
Document sharing
Versioning
Viewer
Email document as a link
Full-text search
Revisions & Versions
Shared folders
Spreadsheet editor
Word processing documents editor
Pricing
Free Edition: Free for 25 users, with 5GB free per user. Includes Zoho Office Suite, File versioning up to 25 versions, and secure file collaboration, but the file upload is limited to 1GB
Standard: £3.2/user/month billed annually, with 100GB storage per user. Includes everything in the free version plus enhanced security, better collaboration tools, reporting, and analytics.
Enterprise: £5.60/user/month billed annually, with 1TB storage per user. Includes everything in standard, plus more storage, better admin controls, an active directory, and single sign-on.
15 Days Free Trial available
Our review:
We find Zoho Docs to be easy to use and quite intuitive. It is a great document repository for organizations of all sizes that need to create, store and organize their documents on one signal platform with as little stress as possible. We especially appreciate its capability to integrate with other apps and tools.
Document Repository: Final Thoughts
A document repository is a key tool for businesses wanting to enhance the security of their documents and data, and improve the way they share information and collaborate.
It provides a secure, efficient, and flexible solution to address all your documentation needs in a central location and allows employees to gain efficiency and better collaborate within and across teams.
Best tools for you