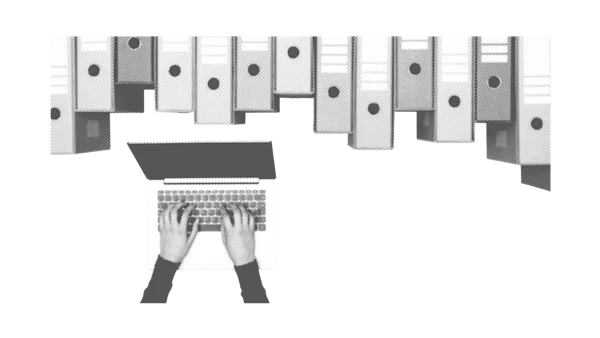 9 Best ECM Software Solutions for Efficient Enterprise Content Management
When it comes to ECM, there are plenty of solutions to consider and choose from. But we know you don't have time to try them all.
In this article, we have decided to try and review the 9 best enterprise content management systems - or ECM software - so you don't have to.
ECM: Enterprise Content Management Software
When a business can count on its Enterprise Content Management (ECM) system to securely manage and take advantage of the content and information embedded in all its documents, it can do business more efficiently.
ECM software solutions can handle the capture, reading and indexing of information that was previously unstructured and unavailable, such as Word documents, resumes, PDFs, emails and scanned images. They provide opportunities to use the information and streamline work, improve team collaboration, enhance customer engagement and automate business processes.
Let's take a closer look at the best ECM software solutions out there.
Top ECM Software Solutions
M-Files
M-Files is an ECM software that provides a unified view of all content. It can easily be customised and integrated with other tools to meet your specific needs. Easy to use, it is a real asset to all businesses looking to improve their operational efficiency.
Features
Easy search and retrieval of documents

Encryption

Advanced security features

Dynamic access permissions

A single view of all documents

Automated processes and workflows

Versioning

Collaboration tools

Integration

Cloud, on-premise, and hybrid installation
Pricing
M-Files offers on-demand pricing for 3 plans: Base, Team, and Business.
2 add-on solutions are available:
Ment

for no-code document automation

Hubshare

for enhancing the digital customer experience
Free demo available.
Appvizer's Opinion
M-Files is a great option for medium-sized businesses as it is affordable and offers extensive capabilities. We love how intuitive and easy to navigate the interface is, and how quickly we could find the information we needed.

Innovative document management based on metadata
Learn more about M-Files
DocuWare
DocuWare provides ECM, digital document management and automated workflow solutions to organisations of any size and across all major industries. It is available in 18 languages and supports cloud and on-premises deployments. Best for medium-sized and enterprise-level companies.
Features
Activity tracking
Content management
Data import/export
eSignature
Document capture, classification & automation
Secure data storage
Templates
Drag & Drop
File recovery
File sharing
Versioning
Pricing
DocuWare offers on-demand pricing.
Free demo and 30-day free trial available.
Appvizer's Opinion
We like DocuWare's ability to streamline processes. It is a powerful tool for routing paperwork through workflows and provides plenty of useful features to improve work efficiency and productivity.

Streamline Your Document Management
Learn more about DocuWare
Hyland
Hyland is a great ECM provider that offers useful end-to-end features. It provides robust service support, industry-specific solutions for services-heavy organisations and is best suited to medium and large businesses.
Features
Streamlined workflows
Insights and analytical reports
Collaboration tools
Intelligent capture
Content management
Process automation
Case management
Enterprise search
Retention and records management
On cloud or on-premises
Pricing
On-demand pricing.
Free demo available.
Appvizer's Opinion
Hyland offers powerful and versatile ECM solutions that easily integrate with other business apps and tools. Its highly-customisable ECM tools can fit into nearly any enterprise ecosystem but are better suited to large businesses.
Confluence
Developed by Atlassian, Confluence is a very versatile system that keeps all your information accessible and trackable. You can use it to create documents, organise knowledge and collaborate on projects. It provides remote-friendly workspaces and seamless connections across teams.
Features
Collaborative editor
Feedback
Mobile and desktop
Workspaces
Versioning
Blogs and discussions
Best practice templates
Granular permission controls
Hundreds of extensions and integrations
Enterprise-level support
Pricing
Free Plan: Free, up to 10 users, up to 2GB file storage
Standard Plan: Up to 50,000 users, 250GB file storage, about £37 for 10 users per month (billed annually)
Premium Plan: Up to 50,000 users, about £70 for 10 users per month (billed annually)
Confluence Enterprise: Up to 50,000 users, custom price
Free trial available.
Appvizer's Opinion:
Confluence is an excellent ECM that provides many useful features. We particularly appreciate how great it is at effectively organising large volumes of documentation. If you are a medium or large organisation aiming towards growth, Premium and Enterprise plans offer better scalability.
Laserfiche
Laserfiche is a robust Enterprise Content Management solution that mainly focuses on document capture and organisation to convert content into searchable information. It helps businesses of all sizes comply with regulations and improve teamwork.
Features
Content Capture
Archive
Workflow automation
Records management
eForms
Automated indexing
Collaboration tools
Analytics
SaaS, on-premises, and hybrid
Pricing
Prices per month, per user.
Starter Plan: £38
Professional Plan: £53
Business Plan: £60
Appvizer's Opinion:
What we love most about Laserfiche is its search capabilities as it can quickly locate specific information contained within large document databases. We also appreciate the ample training material that smoothes the learning curve. There are a few downsides, but overall, Laserfiche is a great ECM solution.
Alfresco
Alfresco is a full-service ECM system that is also provided by Hyland. It offers plenty of advanced features for efficient management of all your documents and content and helps organisations comply with rules and regulations. Alfresco is ideal for organisations that need high scalability, performance and 24X7 support.
Features
Versioning
Workflow
Document scanning and capture
Customisation
Fine-grained role and permission
Community support
Intelligence and analytics
Enterprise Collaboration
Digital asset management
Scalable and flexible
Easy integration with other apps
Automated lifecycle management of all documents
Pricing
Pricing is available upon request, please contact Alfresco for more information.
Free trial available.
Appvizer's Opinion
We were quite impressed with Alfresco's AI-powered features but found that the interface was not as intuitive as some of its competitors. We appreciate that it is easily scalable, which makes it a great ECM for medium and large businesses aiming for growth.

Alfresco Content Services
Elevate Enterprise Content Management and Collaboration
Learn more about Alfresco Content Services
Box
Box is a robust ECM software that also serves as a complete employee administration and collaboration platform. It is easy to use and manages the full content lifecycle. On a single platform, team members can access, share, review, and discuss projects, improving team collaboration and project workflow.
Features
Content management
Workflow automation
Collaboration tools
File conversion
Advanced search
Versioning
File locking
Pricing
Price per month, per user (minimum of 3 users), paid annually,
Business Starter: £4
Business: £12
Business Plus: £20
Enterprise: £27
Enterprise Plus: Custom Price
Appvizer's Opinion:
We love that this ECM solution is designed to serve as a complete administration and collaboration platform, which highly helps streamline operations, improve collaboration and enhance overall productivity across the team. Box could benefit from a few more useful functionalities but is an excellent ECM system, especially for medium-sized businesses.
SharePoint
SharePoint by Microsoft is a collaborative, cloud-based platform that functions as a single knowledge base. It gives businesses tools to organise and manage content throughout the content life cycle and integrates with all the Microsoft Office tools you're familiar with.
Features
Advanced search
Central Repository
Document IDs
Lists
Reusable settings
Analytics and Reporting
Access control and permissions
Collaboration tools
Direct Media Player
Media Libraries
Audit trails
Archive
Pricing
Plan 1: £4 per month/per user (Annual subscription)
Plan 2: £8 per month/per user (Annual subscription)
Office 365 E3: £18 per month/per user (Annual commitment)
Appvizer's Opinion
We can confidently recommend using SharePoint as your ECM system to quickly find information and empower teamwork. We appreciate that SharePoint is a platform you can build on, which gives businesses more flexibility, even though customisation needs improvement.
Nuxeo Content Services
Nuxeo by Hyland provides a cloud content services platform for large organisations. Nuxeo can manage all types of content, from your traditional PDFs or Word doc files to images, videos, audio, etc. regardless of file size or location. This platform is designed to help you automate and accelerate all document-based processes with workflow.
Features
• Classification
• Search
• Lock
• Editing
• Versioning
• Sharing
• Security
• Audit
• Workflow designer
• Records management
• Integration to key capture
• Integration to digital signature
Pricing
Custom pricing is available upon request.
Free demo available.
Appvizer's Opinion
Nuxeo is an ideal tool for larger organisations that deal with large volumes of documentation and want to extract more value from them. With a modern UI, Nuxeo is highly customisable to match your requirements and streamline your workflow.
Benefits of Using ECM Software
Increasing productivity and efficiency is crucial to every organisation. ECM software is one of the best tools to significantly improve business efficiency, reduce costs, enhance customer satisfaction and mitigate risks.
Here is how effective Enterprise Content Management software can help your organisation work more effectively and stand out against the competition. Your ECM software will help you:
Benefit from a single source of truth for collaborative work
Get more value from your data and documents
Reduce reliance on paper-based processes
Streamline document search and retrieval
Automate document-based workflows
Provide greater security for business-critical documents
Improve regulatory compliance
Enhance collaboration, remote work, and productivity
Reduce storage and operational costs
Improve document management & version control
ECM software solutions bring measurable value to almost any department within a company: accounting, human resources, sales, legal and more. Not only does it help organise large volumes of documentation, but it is also the key to improved collaboration and communication within and across teams.
Key Factors to Consider When Choosing the Right ECM Software
Scalability, ease of use, and integration capabilities
To support the potential growth of your organisation, make sure your ECM meets your needs now and in the future, whether you decide to open new offices or get more work done remotely. To ensure user adoption, it should also be easy to use and integrate with other apps and tools you already use in the office.
Vendor reputation and support services

If things go well, your ECM service provider will become a long-term partner. Make sure they provide excellent support and maintenance services and can solve new business challenges as you grow.

Mobile accessibility and customisation options

Mobility is crucial to any organisation that needs to access and share documents from any location. The right ECM software should also be highly customisable to meet your unique business needs (customisable workflows, document types, and access permissions to match your business processes…)

Evaluation of features, pricing models, and implementation requirements

Think long-term. Identify all your present and future business needs so you know what features and pricing models you need. Also, clearly define the objectives and requirements of your organisation when it comes to the implementation process.
ECM Software: Our Final Thoughts and Advice
There's no doubt that effective ECM software can be extremely valuable for medium and large organisations.
Our main advice is to identify your organisation's needs and key areas for improvement and take the time to select the perfect ECM software that will help you bring your organisation to new levels of efficiency, productivity and security, all while saving time and money.
Best tools for you