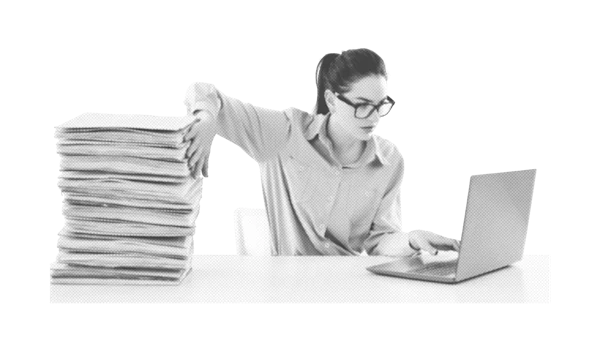 Mastering Document Workflow Management: A Guide for Project Managers and Businesses
In the digital age, effective information management is crucial for successful organizations. The ever-increasing deluge of data flooding businesses daily necessitates robust solutions to organize, automate, and efficiently control processes.
At the core of these solutions lies document workflow management—a potent asset for forward-thinking businesses. In this article, we will explore what document workflow management entails and why it is critical to modern business operations.
Understanding Document Workflow Management
Document workflow management is a sophisticated process that governs the lifecycle of documents within a business. It includes multiple stages:
Document Creation
Reviewing
Approval
Distribution
Secure Storage
Efficient Retrieval
Strategic Disposal of Outdated Information
A Document Workflow Management System (DWMS) is a technologically advanced software solution that simplifies managing enormous volumes of data. These systems not only ease the burden but also enhance compliance, security measures, and overall efficiency.
Delving deeper, a DWMS provides an automated and structured path for documents, ensuring each reaches the right person at the right time and in the correct order. This eliminates confusion, reduces chances of document loss or misplacement, and accelerates task completion, contributing to an effective and smoothly operating business environment.
The enhanced control and visibility offered by DWMS represent a significant leap forward in information management, providing businesses with the necessary tools to thrive in the ever-evolving digital landscape.
The Importance of Document Workflow Management in Business
In the business realm, document workflow management is not just a convenience; it's a necessity. As companies grow, the volume of documents they need to manage increases exponentially. Without an efficient system, this could lead to bottlenecks, errors, miscommunication, and delays—all of which can significantly impact a company's bottom line.
A Document Workflow Management System allows businesses to streamline processes, reduce human error, ensure regulatory compliance, improve collaboration, and simplify document retrieval. It acts as a central hub, providing better visibility and control over critical business processes.
Key Features of a Good Document Workflow Management System:
When evaluating a Document Workflow Management System, certain features stand out as particularly important. These include:
Automation: The primary feature of any good DWMS, allowing for the automatic routing of documents to the appropriate people at the right time.
Customizable Workflows: A good DWMS should allow for customization to suit individual business processes.
Security: Top priority in the face of increasing cyber threats. Look for features like encryption, user authentication, and access control.
Scalability: The system should be able to grow with your business to handle increasing volumes of data.
Integration: Seamless integration with other business software, such as CRM, ERP, or email systems, is essential for workflow management.
How Document Workflow Management Improves Productivity
#1 Productivity Enhancement
Document Workflow Management Systems catalyze productivity enhancement in the business landscape, offering several advantages:
Free up valuable employee time by automating repetitive tasks, enabling teams to focus on strategic initiatives, innovation, and client relationships.
Reduce time spent searching for documents, providing a structured and searchable database for quick retrieval, and minimizing errors associated with manual document handling.
Facilitate faster decision-making by streamlining the approval process and providing analytical data for continuous improvement.
#2 Faster Decision-Making
Importantly, Document Workflow Management Systems enable faster decision-making through the following features:
Digitally route documents to relevant individuals, complete with automated reminders to expedite approvals.
Streamline the approval process, ensuring swift decision-making and quicker responses to market changes, customer requests, and operational challenges.
#3 Analytical Data Collection
Beyond these immediate benefits, Document Workflow Management Systems also provide a wealth of analytical data that can be utilized for performance measurement and improvement:
Gain visibility into metrics like document processing times to identify bottlenecks and implement necessary improvements.
Continually optimize workflows, driving a culture of continuous improvement and high performance.
In summary, a Document Workflow Management System doesn't just improve efficiency—it revolutionizes the way businesses operate. By reducing costs, enhancing service delivery, and freeing up resources for strategic initiatives, it empowers businesses to compete effectively in today's fast-paced and rapidly evolving world. It's more than just a tool—it's a strategic asset that enables businesses to stay ahead of the curve and thrive in the face of change.
Optimize Your Business Processes with Efficient Document Workflow Solutions
The marketplace offers a wealth of Document Workflow Management Systems (DWMS), each boasting unique features and capabilities.
Let's delve into three top-tier solutions that have earned a reputation for their robust functionality and ease of use: M-Files, Avokaado, and Zoho WorkDrive.
M-Files: Top Features, Price Range
M-Files is an all-in-one tool that facilitates access to information through metadata and artificial intelligence. This innovative approach makes it an instrument in line with and adapted to today's challenges, which call for powerful software to process tons of corporate data.
The interface is user-friendly for employees and customizable to foster a healthy collaborative workspace.
What's more, their site includes many useful resources that can help you in your daily tasks (videos, podcasts, blogs, articles, etc.).
Key Features:
Automated Workflows

: Streamline document routing and optimize business processes with intelligent automation, reducing the need for manual intervention.

Version Control

: Manage multiple document versions effortlessly with robust version control, ensuring access to the latest approved content.

Compliance Tracking:

Stay compliant effortlessly using comprehensive tools for tracking regulatory requirements.

Integration Capabilities:

Seamlessly integrate with existing enterprise software, providing a versatile solution for diverse business needs.

User Management:

Administrators have full control over access permissions and document workflows.

Contest and Survey Tools:

Engage stakeholders effectively with built-in tools for contests and surveys.

Back-End Integration:

Streamline workflows and maximize IT investments with seamless integration with back-end systems.
Price Range:
M-Files offers a range of packages, making it suitable for businesses of all sizes.

Innovative document management based on metadata
Learn more about M-Files
Avokaado: Top Features, Price Range
Avokaado is a specialized Document Workflow Management System focused on contract lifecycle management. It offers robust contract drafting capabilities, structured approval workflows, and support for digital signatures.
The system prioritizes data security and compliance, providing valuable insights through data analytics and reporting features.
Potential users are advised to conduct thorough research and consider user reviews to determine if Avokaado meets their organization's specific requirements and goals.
Key Features:
Contract Drafting: Avokaado provides a robust platform for efficient contract drafting, minimizing errors and oversights during the process.
Approval Workflows: Avokaado offers structured approval workflows, enhancing the efficiency and traceability of contract approvals.
Digital Signatures: Supporting digital signatures, Avokaado expedites the contract signing process while ensuring authenticity and data integrity.
Risk Management: The platform offers features that can help identify potential risks in contracts, such as non-compliant clauses or expiring terms. This helps businesses proactively address and mitigate risks associated with contracts.
Integration and Compatibility: Avokaado integrates with other tools and platforms commonly used in business processes, such as CRM systems and document management tools. This interoperability enhances the overall contract management experience and streamlines workflows.
Data Security and Compliance: Avokaado places a strong emphasis on data security, employing measures to protect sensitive information and ensuring compliance with industry-specific regulations and privacy standards.
Analytics and Reporting: Avokaado provides insights through data analytics and reporting features. Users can gain valuable insights into contract performance, identify trends, and make informed decisions based on contract data.
Price Range:
Avokaado offers a 7-day free trial for every plan.
Pricing begins at 29€ for one user and goes up to 60€ per user for customized services.
Zoho WorkDrive: Top Features, Price Range
Zoho WorkDrive is a comprehensive Document Workflow Management System with advanced integration capabilities. It provides secure document storage, powerful search features, and seamless integration with other Zoho apps and third-party tools.
The platform includes sales and marketing tools for revenue generation and offers analytics for data-driven decision-making.
Zoho WorkDrive is scalable, and adaptable, and comes with an integrated suite of applications for smooth and easy collaboration across departments.
Key Features:
Document Storage: Zoho provides a secure and easily accessible platform for document storage, ensuring quick retrieval when needed.
Workflow Automation: Zoho allows for the automation of document-based workflows, streamlining various business processes.
Increased Revenue Generation: Zoho helps boost sales through its powerful sales and marketing tools, enabling businesses to reach more customers and close deals efficiently.
Streamlined Operations: Zoho provides an efficient business process platform, optimizing workflows and automating tasks, leading to enhanced productivity and reduced operational bottlenecks.
Seamless Mobile Accessibility: Zoho's mobile-friendly applications allow users to access critical business data and functions on the go, fostering collaboration and responsiveness.
Scalable and Adaptable: Zoho's platform is designed to grow with your business needs, offering flexibility and extensibility to accommodate evolving requirements.
Integrated Suite of Tools: Zoho's comprehensive suite of applications covers a wide range of business needs, promoting seamless data flow and collaboration across various departments.
Price Range:
Zoho WorkDrive offers pricing plans based on storage size and the number of users, catering to the needs of both small and large businesses.
Conclusion
In a world where data is the new oil, effective document workflow management is essential for businesses.
Whether you choose M-Files, Avokaado, Zoho, or any other solution, prioritizing streamlined operations, enhanced productivity, and collaboration will drive business growth.
Invest in the right platform to harness the power of your data and secure your business's success in the digital landscape.
Best tools for you