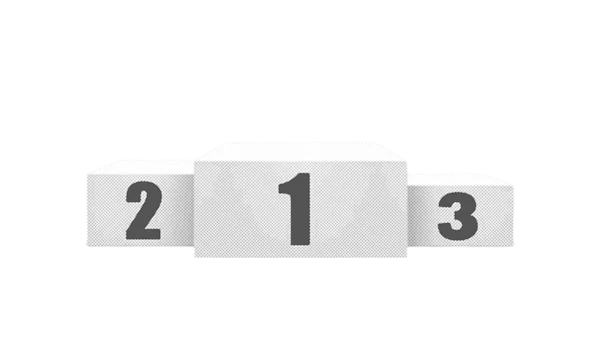 Interior Design Software Guide: Top Tools and How To Choose Them
Interior design is a growing profession that requires knowledge of new trends and an understanding of fabrics, materials, designs, color concepts, styles and aesthetics. All this combined has the potential to produce a beautiful and appealing interior for any decor.
Many companies in the architecture, construction and furniture retail sectors now rely on professionals from the interior design industry to help them to plan, draft and lay out the houses they wish to build or remodel. The latter know and understand both interior building regulations and the principles of good design at the same time and can enrich and innovate projects by the use of this specific knowledge.
However, there may be an easier way to have designs presented to clients without the help of an interior designer which can save said companies a lot of effort and resources: The use of interior design software may be one of the best ways to guide your clients in the development of your architectural drawings.
Definition: What is Interior Design?
Interior design is a trade that requires both artistic and practical approaches. It follows the creative process with the incorporation of knowledge, study and evaluation. All this is applied to create a visually appealing interior that is fully functional and improves the standard of living.
Interior design is of interest to everyone who wants to construct, restructure, renovate, furnish or redecorate interior space of any type.
On top of the need to keep in mind principles of color, shape or material design, planning a room or structure requires a thorough knowledge of building codes and regulatory requirements. Not only are these principles respected, but are now incorporating sustainability.
Benefits of an Interior Design Program
The design process is a delicate part of trying to close a sale with a potential customer. For a company to better design projects, home design software has been developed to support professionals in this very intuitive task. It comes along with several benefits.
Customer integration
With a design program, customers have the opportunity to imagine their new home and bring their ideas and those of the architects to life. Being able to show them through a realistic 3D-view of a room or entire house or apartment how their future home will look like, will increase both their involvement and motivation to purchase your services. They will also feel more integrated in the design process if they get the chance to suggest adaptations based on a 3D model rather than on a simple blueprint.
Automation of the creative process
Moreover, a professional software for interior design facilitates the daily work of professionals in the construction sector in three ways:
By automatically integrating the possible boundaries imposed by applying regulations, suggesting suitable layouts and blueprint elements or simply calculating surfaces, distances or angles, the various functions of a home design tool simplify the creative process.
The software helps you to organize and sort current, past and future projects, makes it possible to draw upon or re-use existing drafts and, by doing so, makes your designing more efficient.
Due to the savings in time and effort, the design process is shortened. This makes it possible to accelerate sales and focus to a greater extent on customers' needs and individual wishes.
Staying up-to-date
Many tools for 3D home design dispose of an integrated (and often collaborative) catalogue of furnishing and other interior design elements such as floors, windows and doors, which are ready to be drag-and-dropped into your room layout. In that way, you can get inspired by new interior design ideas, follow current trends such as the Scandinavian "Hygge" style or the rising tendency to sustainable design easily, present innovative solutions to your clients and keep your design concepts modern and up-to-date.
Backup of specific knowledge
Regardless of whether you are a homestyler, assisting decorator, real estate marketer or chief architect - you cannot be specialized in every area of the construction sector and know every single industry standard. Sometimes, all you need to finish a project is to be able to draw upon a small amount of specific information about or a particular method regarding, let's say, furniture design. Maybe you need to show a product to a potential client but you don't know a thing about architectural rendering and visualizing. With the help of a professional architect software, there is no need for you to take special interior design courses on this if your main field of activities is marketing.
What to Know Before Choosing a Design Program
Analyze your company
The functions design programs offer differ from one software editor to another and from one version to another. Know exactly what the possible weaknesses are in your company, what you want to improve and which tasks you would like to spend less time on. This will help you to specify the features you are looking for in a virtual room designer.
Take advantage of the free trial offer
Many interior design programs have a 30-day free trial period to allow you to test whether the respective software works for you. Taking advantage of this offer allows your company to see how it can benefit from using the software or if it needs to move forward and take a look at other tools.
After registering for a free trial offer, design your sample project or potentially use the tool on one of your current projects to see if there are any improvements in the design workflow and ease of application. This will ensure that the design tool is definitely worth the investment.
Review the home designer
Be sure to take a look at user reviews to see what others have thought of the design tools you are considering. Many CAD software programs look attractive outdoors, but they may not completely do the work you need. Take a look at the company's reputation to see if it is reliable in case you need software support and you need to be able to reach them.
Assess the costs
When you find this 3D design software that you are absolutely looking for, don't be discouraged by the price. Evaluate whether you necessarily need all the options included and check whether the editor offers different versions of their tool but also try to look at the bigger picture: It is an investment for your company and a successful implementation could result in higher returns.
Our Selection of Professional Interior Design Tools
Cedreo: Give your sales team a boost!
Cedreo is a professional 2D and 3D home rendering software that is most of all dedicated to sales people typically in the pre sales phase. With this design software, professionals can render a 3D model of the object. This home designer suite integrates tools like:
2D and 3D modelling from a variety of angles and views.
A night and day mode: All aspects of the house can be seen.
Landscape design: Cedreo can be used not only for interior spaces but also for outdoor layouts.
Adaptable to your project's needs: "Just" a new floor or complete bath design? Residential design or commercial center? Looking for a full office design or rather an inspiration for new wall colors? You got it all.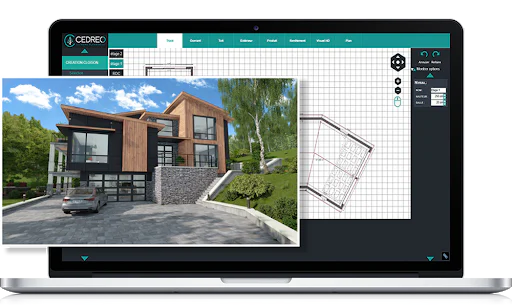 The software allows you to draft 3D models of the interior and exterior of a client's future home in less than one hour. The intuitive design of the tool and its ease-of-use do not require any profound technical skills or training which endows your sales team with the possibility to change the design solutions right in front of the client in case they are unhappy or unsure of a certain aspect of their home.
This speeds up the sales cycle as the client can suggest exactly what they want and can see it come to life in real-time while the responsibilities in your organization are clearly defined: The members of your commercial team are capable of designing a complete house in 3D, decorating and producing 3D visuals with no prerequisites and no third-party involvement while the architectural team can focus on technical refinement.
RoomSketcher: All-round design software
RoomSketcher is a home design software which offers a solid support for your living space design. Whether a complete building plan, bathroom design or a new kitchen design, one or two floors - the application is floor plan software, house designer and furnishing tool in one. There are basically no limits to the fantasies of your customers and many ways for you to help them create their dream home! With this house planner program you benefit from the following functions, among others:
3D design: photorealistic visualizations in the twinkling of an eye;
Numerous furnishing ideas: preinstalled templates and models provide inspiration;
Extensive catalogue for 3D objects: Furniture, decoration, roofs, wall coverings, fences, doors and windows...
Draw floor plans, create an aesthetically appealing 3D view and start designing the interior of the living area, bedrooms, kitchen and bathroom and whatever else your client wishes for!
RoomSketcher also offers you a mobile app which allows you to create a room, apartment or house plan while on the move. You can also outsource floor plan design to the supplier's own design services in case you encounter a bottleneck in processing your enquiries.
Sketchup: Keep it easy!
Sketchup is a basic 3D design software which is destined towards professionals in the construction sector who do not need an advanced CAD tool but rather wish for a program that is easy to use yet extensive in its functions.
This design tool integrates 2D as well as 3D visualization which can be easily exported for presentations, functions for scaled space planning, interior layouts and even the possibility to make your objects come to live by immersive virtual reality model viewing.
Sketchup is available both as a desktop and as a web application, the latter allowing you to view and work on your projects from any place and at any time. Also, you profit from unlimited cloud storage thanks to which collaborative design and sharing of your projects are just one click away.
Space Designer 3D: For those longing for more
Space Designer 3D is an example for a truly professional and advanced software which makes the lives of every demanding architect, room designer and interior decorator easier.
Whatever your project includes, a private villa or a city apartment, a canteen or a kindergarden, all relevant tools for commercial interior design as well as complete and extensive floorplan and blueprint drafts are included in Space Designer 3D.
Architectural visualization becomes more realistic than ever with 2D and 3D models, snapshots and renderings which can easily be merged into your own visual layouts. Also, it is possible to import plans and projects from other CAD tools your design firm may use such as Autocad.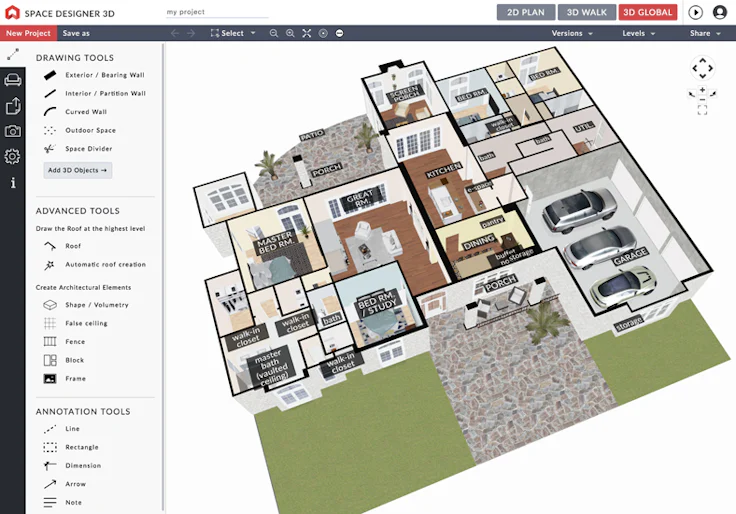 What is more, this pro tool serves as a collaborative and communication platform between designers, sales agents and clients by improving your workflow and efficiency. If you are in need of a highly advanced program and are willing to invest time to grasp all its functions and to spend an elevated price on it, Space Designer 3D may be the product of your choice.
Get Started!
Interior design software comes along with a variety of benefits for your everyday work: accelerated and automated design, support with applying regulations, immersive visualization and higher-quality room design projects which can be presented and sold faster. Especially when you are specialized in one particular area of the construction or design business you may benefit from the support a 3D design tool can offer you. What are you waiting for? Let's get started!

Best tools for you