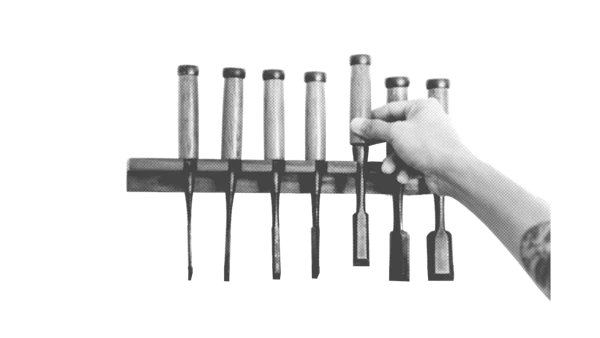 Best cloud based HRIS: features, benefits and prices
Ace your talent search and internal organization thanks to these cloud based HRIS software which will help deal from spotting and managing talents, to their onboarding, their leave, absences, time off, pay and more.
Everything is automated to simplify what was once time-consuming. Read more to find out just how much they can help you and your business' success with the applicant tracking system of leads, integration, employees, the onboarding process, thanks to customizable templates and finances thanks to tax calculations and more.
BambooHR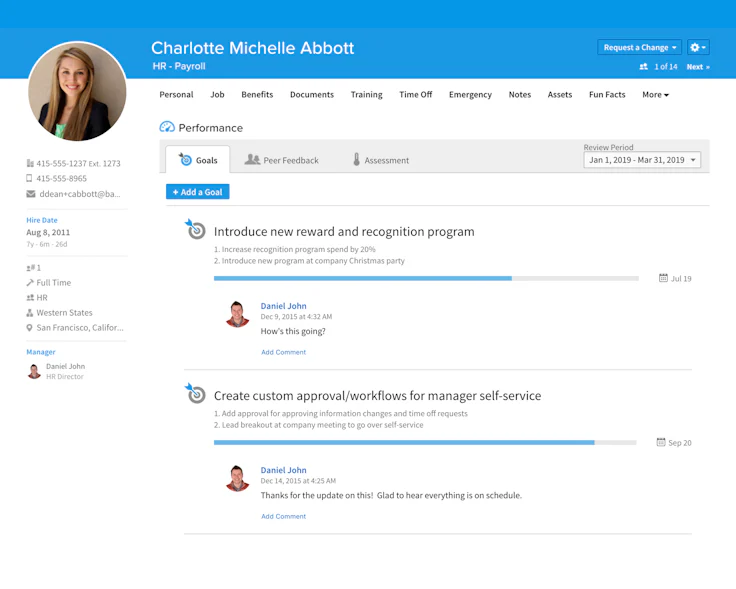 For whom? BambooHR is for small to mid-sized businesses
What is BambooHR?
BambooHR is a cloud based, intuitive system which help companies manage your employee's lifecycle from their onboarding to their offboarding.
Applicant tracking system

Mobile hiring app

Employee records

Reporting & analytics

New-hire onboarding
Employee records

: Say goodbye to the double entry errors, sticky notes and keep track of all your employees' records. Thanks to BambooHR, all that information is stored in the central database and connects with every other feature of the software and employees can be given access to update their personal info, to avoid high-cost and time lost.
Mobile hiring app

: Never miss any news updates or company announcements. Thanks to this app, you will always stay ahead of schedule and not be constrained by the office. Some things that are sometimes difficult to manage, which is the time off requests, have even been thought of when developing the app. Employee can easily ask for them and managers can quickly accept it. You can even document employees' progression. Finally, employees can fill out feedback surveys directly on the app, which is essential for the health of your work environment.
Approval workflows

: That dreading time, where you have to approve of workflows and seeing that pile of paper sitting on your desks, is no longer a threat, BambooHR lets you automate them and track them. Everyone from the managers to the admins can fill in their info to speed up the process and progression can be seen thanks to the progression bar and by whom. Remember, employee involvement not empowers them, but also helps you work as a team.
Onboarding

: One of the most important thing that adds errors and misunderstandings about the operative system of your company is now a thing of the past. New hires should not regret their decisions to work with you nor doubt your professionalism. BambooHR ensures that this process goes as smoothly as possible with New Hire Packet Templates, which helps customize their onboarding according to job types, departments and more, or send them this task to help them feel committed and know what to expect.
Full-service tax filling

: BambooHR takes care of your taxes such as federal state and local taxes. It gathers income and tax information to make the proper forms and submits them when necessary.
Payroll

: Employee can have access to their pay like deposits, withholdings in the pay info tab.
They have an essential and advantage plan that both include:
Employee Records

Benefit Tracking

Standard Reporting

Document Storage

Standard Access Levels

Standard Workflows & Approvals

Standard Email Alerts

Integration
Exelsys
What is Exelsys?
Exelsys is an HR platform to help you manage your employees, company and create better experience for your customers
Easy implementation

Clear interface

Support

Employee management

ATS
Data analysis: With Exelsys data smart, no need to worry about data loss because a copy is duplicated and synchronised with your data. You can even analyse employee's data thanks to their business Intelligence module and Microsoft Power BI tools.
Applicant tracking system: It is beneficial to track all the processes involving your requisition and on-boarding, in a single platform. And when you create vacancies on Exelsys, it automatically publishes them without to start over the process, allowing more candidates to apply. In addition, you could use keywords to quickly find CVs and forward job applications to other managers to make sure you are focusing on the right candidate.
Streamline: Every Human resource management is integrated in the system to streamline your entire admins tasks, which helps you take strategic business initiatives, as well as allocate tasks to employees.
Employee information management: Conserve important employee information like their contact and medical details, their qualifications and training, etc.
Payroll currency conversion: If you are an international with payroll in different countries, then Exelsys Payroll Sync tool automatically converts them in your base currency while saving that of the other.
Leave management: Managers can easily track their employees' leave and establish it based on years of service, seniority, position and more.
Employee expenses: Employees can enter their expenses 24/7 into the company's polycon and in any currency thanks to their multiple-tax/vat support and multi-currency conversion option.
Exelsys is based on the number of users and modules selected. Go to their page, request a quote to find out more.
Namely
For whom? It for medium-sized companies.
What is Namely?
Namely, is a cloud based software that helps companies manage their HR department.
Intuitive HR Technology

Employee Engagement

Benefits Insurance Expertise

Enhanced Payroll Services
Payroll benefits: You get to benefit from tax calculation, update and filing.
System of records: Which helps you manage your data in one place.
Employee directory and company resources: It stores the contact information from the job title, name, department, of every employee of your organization. Each member in the office can also access this information.
Anonymous Employee Reporting Solution: Employee can give employers honest feedback without fear of being pressured or of any retaliation, especially involving cases of harassment. Employees should be allowed to feel safe at work.
Basic: It costs $12/ month
For more information, don't forget to check Namely's website.
Sapling
What is Sapling?
Sapling is for any company looking to efficiently manage their company's team.
ATS

Employee experience

Onboarding

Integration

Payroll

Reports
Automation: To help reduce manual work and be reactive as soon as any changes such as benefits, compensation, payroll are made. You could choose to also involve your workforce to respond to them.
Expenses: Sapling curates expenses to help employees.
Importation: Sapling helps synchronize your recruitment data with the applicant tracking system and automatically take candidates data from Lever, JazzHR, LinkedIn and more.
Time off policies: You can manage and create custom policies for holidays, sick leave and everything else by setting the level of approval for each policy that can be automated or deny according to a certain period.
Performance management system: You can easily check in anywhere and anytime in a single platform. Regularly verify how performance is going by including frequent feedback, collaboration, which empowers and encourages your employees to work well and ameliorate their performance.
People Operations Platform:
It includes:
Onboarding & Offboarding

Employee Experience

Integrations & Single Sign-On (SSO

Profile templates

Smart Emails

Custom Workflows

Electronic Signatures
Essential Modules:
It includes:
Paid time off

Org chart

Surveys

Track and approve
Premium modules:
They include:
applicant tracking system (ATS)
Learning management system (LMS)

Performance management system

Learning courses
You can check their website to request a quote for each of their plan.
Workday
What is Workday?
Workday is a HR platform for medium to large enterprises that equally believes in company's inner wellbeing before business success.
Employee Experience Management

​​

Skills-Based Talent Optimization

Workforce Optimization

HR Service Delivery

Belonging and Diversity
Assistance: Workday makes it possible for workers to ask for help and support, as well as assist in employees' financial expense. Case management experience was made more efficient thanks to the HR service delivery application.
Workday Journeys: is there to support and guide employees who have been through changes like leave, virtual onboarding due to smart working. They basically help employers to stay involved with employees' wellbeing.
Diversity: Their VIBE Index™ & VIBE Central™ can help measure your scale of diversity, inclusion and sense of belonging and take care of any issue that is needed. Workday ensure inclusion and equal pay for equal work. A company is richer with people from all walks of life.
Support: Workday also believe in mentors, forums and resources for the right help and wellbeing of their employees.
Check their website to know more.
Best tools for you