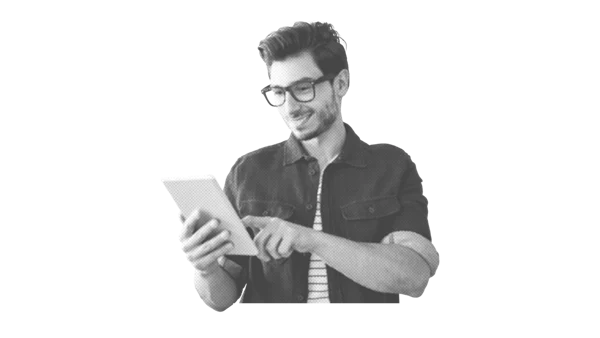 Digital Maintenance Work Orders for Increased Productivity…Tempting, Right?
For maintenance, construction, transportation, or energy companies, it's always important to look for ways to improve your work processes to increase productivity and take care of your customers... without neglecting your profitability!
It's essential to properly create and use a maintenance work order to better organize and supervise your service activities. They allow more fluid communication between all stakeholders and contribute greatly to the efficiency of your management teams and your field workers.
But, what is a work order, what exactly is its purpose, and what is the key information required? To become more efficient and offer the best quality of service to your customers, the key is undoubtedly to digitalize your work orders... Find out why and how!
First of all, what is a maintenance work order?
Let's start with the definition of a work order, also known as job order, or service order: it is a document that records all the information about a job to be done on behalf of a customer. A maintenance work order is most often created after a work request has been submitted.
A work order is essential when providing a service (installation, part replacement, repair work, assistance, etc.), often used in the field of maintenance, or more generally by service companies or facilities that are specialized in fields such as:
transport and logistics,
heating, ventilation, and air conditioning (HVAC),
cleaning or maintenance of green spaces,
mechanics,
production of electronic parts, etc.
In order to organize maintenance activities properly, maintenance planners and managers ensure the proper execution and optimization of work in the field. Among their tasks, they must establish and manage work order forms in the most optimal way possible.
The different types of work orders
When it comes to maintenance work orders, there are four common types that you may come across during your company's work operations:
Corrective maintenance (CM): this work involves fixing any issues that have come up to restore machinery or equipment to its original or optimal state
Condition-based maintenance (CbM): this work relies on using equipment data or sensors to look for performance issues or other problems when they arise
Preventive maintenance (PM): refers to the regular maintenance that is done to identify any potential issues beforehand, this can include inspections, replacing parts, and more.
Predictive maintenance (PdM): Similarly to other maintenance types, this work requires using equipment data and trends to predict when equipment will have issues
The flow of a maintenance work order
How does a maintenance work order come about from a work request? Work requests are often made by clients but can also come from internal staff, to fix any issues that might arise in your own equipment.
When transitioning from work request to maintenance work order, management approval should be required before preparing the true work order. This diagram helps illustrate the process from work request to work order: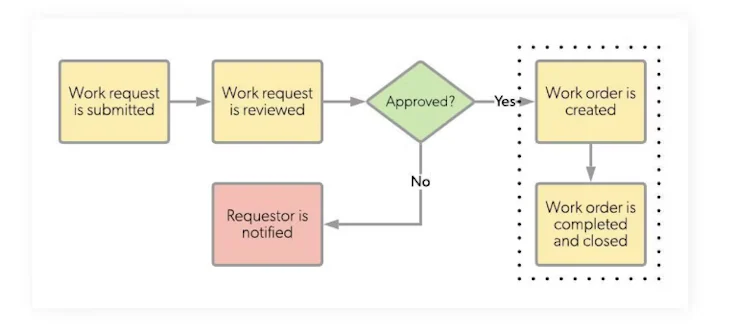 What is the purpose of a maintenance work order?
As we've mentioned, maintenance work orders contribute to good communication between field teams, management teams, and customers about the nature and conditions of the maintenance work. What else makes it important?
First, it allows your facility to standardize workflows and streamline the process of planning, assigning, and tracking tasks. It also serves to document resources used and track performance on your various projects and service calls.
In some cases, it can even be considered a legal or formal document used as evidence in the event of a customer complaint. Everything is recorded, step-by-step, from the exact time of the service to the site where it was performed, including the equipment used.
On top of that, maintenance work orders have practical uses for all parties involved:
For the technical team:
Access all the details of the job and previous ones, if applicable,
keep track of the hours worked,
use the work order as an intermediary between the service company and the customer,
validate the proper completion of work with the customer's signature.
For the team leader or the service company:
Follow up on the services provided,
track the work done in case of disagreements with clients,
collect reliable data on the hours worked by the technicians,
be proactive regarding future maintenance services,
increase confidence in the customer relationship,
grant more autonomy and responsibility to teams, while providing continuous service improvement.
For the customer:
Keep a history of the services obtained,
easily maintain contact with the service company,
have the possibility to provide feedback on the quality of the service received,
understand the price calculations and invoicing thanks to increased transparency.
What is included in a maintenance work order?
So, what does a maintenance work order contain? There is no standard format because each document can be adapted to the specificities and needs of the company. The layout is also very variable, above all remember that this document communicates all the work to be done, so make sure to focus on clarity!
👉 Here is a list of the most common information that can be found on a work order form:
a work order number for tracking,
the order date,
the maintenance location or work site,
the client's contact information,
the type of service provided,
a detailed description of the work to be done,
the materials used,
a timetable: expected start and end dates/times,
the total number of hours worked,
the history of other work previously done,
attachments (photos, plans, diagrams, etc.),
total labor and material costs, including any potential taxes
any final remarks.
💡 Tasks to remember when creating your work orders:
specify the expected start/end times of the service,
add pictures of the work done,
specify the necessary spare parts, if applicable
ensure the customer signs off on the work.
Example of a work maintenance order
The example below gives you an overview of the fields and data to include. Don't forget that this is just a sample layout. Your company's work orders may be created differently depending on your business needs.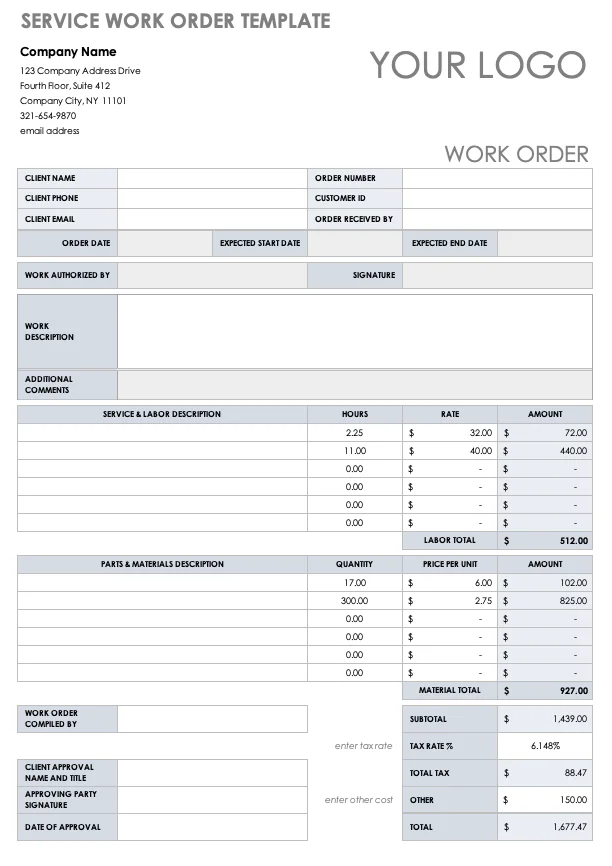 Digitalized maintenance work orders for more productivity
The advantages of digital maintenance work orders
Maybe you're one of those companies that use and manage their work orders on paper, there is no harm in that.
But, as you probably know, digital tools (and we're not just talking about Excel!) can help you streamline the management of your work orders. A real asset to improve the performance of your company!
For example, by using a computerized maintenance management system (CMMS) software, maintenance work orders can be accessed by everyone (maintenance manager, field workers, customers, and even your administrative and accounting departments), at any time, before, during, and after the service.
With digitized work orders, your business benefits from the following advantages:
save time and be more efficient,
limit duplicates and avoid human error,
simplify and speed up planning for maintenance work,
take advantage of centralized, complete, reliable, and secure data,
collaborate more easily between technicians, team leaders, and clients since everyone can access the same up-to-date information,
easily monitor the status (in progress, completed, postponed, etc.) of your customer requests and work
Not to mention that it helps convey a modern and professional image to your customers. They benefit from the traceability of work progress and have no unpleasant surprises when they receive the invoice. Nothing says customer loyalty more than a satisfied client!
How software can manage your work orders
More specifically, with digital management tools, work orders can be integrated into workflows in your IT system that track and automate many tasks. Although not all CMMS or field service management tools are made the same, common benefits are:
automatically updated databases with information to facilitate the entire follow-up chain,
less work when transferring work orders between the necessary parties, everyone has the same information (fewer losses and oversights, etc.),
notifications on progress and alerts sent in real-time,
pre-filled and customizable fields for easy reporting by technicians,
automatically generated reports for managers, who have better visibility of task planning and execution,
and more.
🛠 Your company will find similar functionalities in digital tools such as Praxedo, which allows service companies and maintenance teams to organize field time, track activity, customize and create maintenance work orders easily, and more.
Let's summarize!
A maintenance work order is the written record of the work between a service provider and a customer. This document gives an overview of the work to be done, when, with what equipment and workforce, and for how much. It is essential in many industries, especially for service and maintenance companies
For your organization to increase efficiency and productivity, equip yourself with a software solution to manage your work orders and benefit from digitized information exchanges: legibility, reliability, security, and data traceability are just some of the benefits for field technicians, their managers, the administrative and accounting departments, and clients.
So, don't hesitate to take a closer look at the software solutions, and ask for a demo to test them out!
To learn more, discover more CMMS software and field service management software in our directory.
Best tools for you