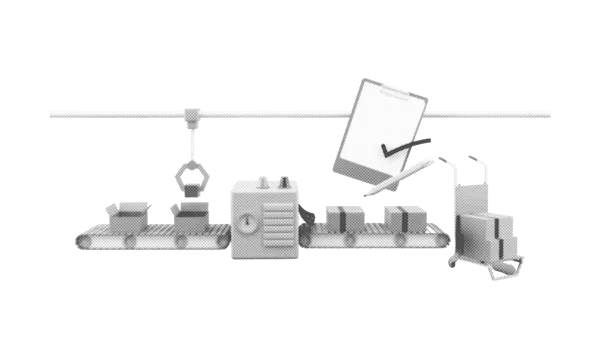 To give a precise definition of preventive maintenance is harder than it looks. Preventive maintenance consists of anticipating maintenance needs. The goal is to avoid production stoppages due to damage to a machine and minimize machines unplanned downtime.
Often opposed to predictive maintenance, preventive maintenance is less expensive and easier to implement than the latter. There are several types of preventive maintenance that ask for different technologies or expertise.
What type of maintenance is the best for you? What are the differences between predictive and preventive maintenance? Which tool to choose to organize maintenance operations in an industrial company? Appvizer answers your questions in this article.
Preventive maintenance: definition
What is preventive maintenance?
Preventive maintenance (also called preventative maintenance) can be defined as a "maintenance with the goal of increasing asset lifetime. It works by preventing excess depreciation and impairment or untimely breakdown." (source: UpKeep).
It is a type of maintenance planned in advance according to a schedule of regular interventions and predefined periods. This maintenance is made according to the machine manufacturer's recommendations.
It does not predict breakdowns, however it allows a serious follow-up of the state of your machines.
Types of preventive maintenance
Calendar-based maintenance is performed by scheduling regular checking of your company's equipment. It is a planned maintenance.
Usage-based maintenance is performed through the number of time employees use a machine. That is to say, reaching a certain number of uses, the machine will automatically schedule and ask for maintenance.
Predictive maintenance: the alternative
Predictive maintenance is an "advanced form of planned maintenance that monitors asset conditions in real time.".
This type of maintenance works through assessing the condition of the equipment to detect signs of failure and to anticipate them. In short, it allows a company to monitor the wear and tear of machine components that could potentially damage them.
The final goal of predictive maintenance is twofold: to reduce the frequency of machine breakdowns and, ultimately, to reduce the frequency of repair interventions.
Why use predictive maintenance ?
to anticipate a precise moment when a breakdown could occur.
to detect the eventuality of possible defects.
to predict equipment failure.
The predictive maintenance allows to plan future machine repairs at the most beneficial moment for the company. Usually this moment is when they have minimal impact on the production. The optimal process is to set up a predictive maintenance plan to achieve repair savings and improve productivity.
Predictive maintenance vs preventive maintenance
There are several advantages of preventive maintenance:
Following a scheduled maintenance: allows you to track the state of your equipment with a precise cycle and to regular check it
Reducing costs: performing periodic maintenance costs less than emergency maintenance. Preventive maintenance avoids facing bigger problems.
The expertise of a technician: shows more employee and customer safety. A professional can certify by himself the correct operation of the machine.
On the other hand, predictive maintenance allows:
to reduce the number of machine interruptions for maintenance operations
to minimize the number of breakdowns
to better plan future interventions
to better prepare intervention teams
to better share between maintenance professionals and production teams
to better anticipate and manage the needs of tool spare parts
However, predictive maintenance's costs can sometimes be genuinely expensive, especially for small companies.
Data at the service of industrial maintenance
Maintenance and IoT: a successful marriage
Data analysis is enabled thanks to the Internet of Things (IoT). We now speak of "maintenance 4.0" or "industry 4.0' thanks to smart data.
How does it work?
The sensors on the machines function as a real-time monitoring system of the production tools. They share the data to a software program so a technician can analyze it to:
determine the probability of a defect on a machine,
determine the defect type,
anticipate a breakdown,
to schedule a necessary maintenance on a machine to avoid downtime and not to block production
Other types of maintenance
Corrective maintenance is used following the detection of an identified problem or when a machine needs to be repaired. It includes:
palliative maintenance, which consists of temporary repairing one or several defects. The machine can then perform all or part of a function. It is similar to a breakdown service.
curative maintenance, which consists of restoring a machine to a given state that it can perform a given function.
Predictive maintenance makes it easier to monitor the maintenance of production tools but is complex and expensive to set up. On the other hand, preventive maintenance follows the opposite logic: simpler to set up, but ask for time and availability.
Companies now have at their disposal specialized software for Computer-assisted maintenance management (CMMS). These softwares help to set up a maintenance plan and to reduce its costs.
With the right tools in hands, it is easier to work and therefore, to progress.