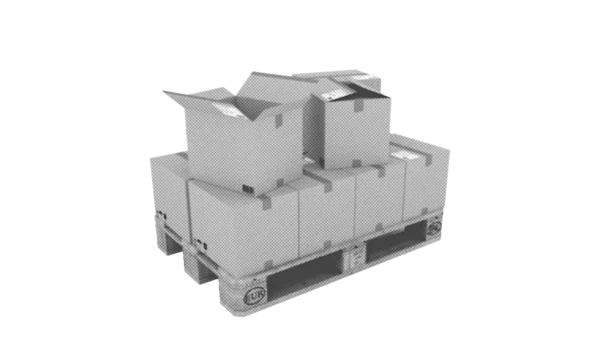 Everything you need to know about the Inbound logistic process workflow
Having a good logistics flow is essential for a company's business and global outreach. It is the liaison between companies and the world.
We have all ordered online before, or have at least once in our life. But, of course, it is not just about going to a website, clicking on buy and receiving the purchase confirmation in your email. There is also a process to that purchase. And that procedure is a part of logistics.
From the minute you click buy, there is a whole team working behind the scenes, to validate and do the necessary to get it to you as quickly as possible.
There are two types of logistics. You have the outbound logistics which focuses on delivering the finished goods to the customer for consumption, and then you have got the inbound logistics which deals with receiving raw materials to be stored to then transformed into a product.
In this article, we will focus on inbound logistics and its process workflow.
What is logistic workflow?
Logistics workflow is a step-by-step automated system which demonstrates the essential processes that goods go through in a company before arriving at the customer, i.e. the distribution center. It allows companies, buyers and sellers to make their workflows more efficient as it is important for materials to arrive at their destination as scheduled.
The manual entry of freight shipment processing decreases. Documenting the process simplifies the tasks required. The constant examinations of every step that those materials go through are less time-consuming.
This process reduces cost and meets the supplier's and your delivery schedule.
What is the inbound process in logistics?
Inbound logistics are the network flow and influx of raw goods and materials that go from a supplier to your business. Its process includes everything from transportation, to storage and delivery of goods that you receive from suppliers.
The way inbound logistics works is that it ensures that you follow the right steps so as not to increase any shipment costs and that you do not send the materials to the wrong destination. For this, you must check:
The sourcing and procurement: which is to determine and examine possible suppliers with whom you can manage and negotiate terms in logistics as well as receiving best prices.
Ordering/purchasing: which is to purchase the right amount of goods and materials for the company that you are delivering to, and see that the right quantity is received on time.
Transportation: which involves figuring out which mode of transportation to use, whether it be a truck, boat, airplane, train etc. to deliver the materials to the company. It also includes selecting the quickest transportation for goods reception, covenanting with carriers and arranging prices and routes with vendors.
The reception of the materials: which involves dealing with unloading the new materials that arrived by unloading the trucks that have transported them. Once that is done, the quantity of materials of goods in the truck should coincide with the order and that there are no mistakes.
The maneuvering of materials: every item you obtain must be placed and organized in the facility until they need to be used.
Put away: you take the materials from the dock and take them to the storage facility in their designated location.
Storing and warehousing: it is in this part of logistics, that you conduct the materials' delivery before they are to go to the manufacturers. It ensures that the storage conditions for the materials are met and that they are put where they should be for fulfillment. They make sure that the locations are coherent.
Inventory management: in logistics, it is ensuring that the type, amount of goods for sale and that the raw materials to produce those goods are aligned. It is the thinking of where to distribute and place them in logistics.
Expediting: it is to oversee the advancement of the materials and that they are properly making their way to your facility on time.
The tracking: it usually involves checking whether the orders have been shipped, how far along on the shipment journey they are.
The reverse logistics: if, for any reason, there was an issue with the materials such as defects, delivery problems, returns or repair, you must accept them back. It is also a great way for companies that focus on recycling to get used goods.
And, though, this is the general process, it depends on the amplitude of materials a company is receiving or shipping and the relationship they have with the buyer or the seller.
How do you do inbound logistics?
It is important to respect the steps of inbound logistics as it ensures that every material is delivered and the right supply at that, or it could surpass warehousing capacity, and you would remain with unused goods or materials. Miscommunication can also occur if there are no regular follow-ups. Thus, the steps which ensue are:
Purchasing: To start the inbound process, a company looks for sellers that can administer material or goods that they will need. Once the company is found, then, there is the process of price negotiations to buy the materials.
Receipts: After negotiations have been met, there is a record of the purchase order and the company gets a receipt as soon as it has made its purchase.
Shipment update: Once the goods have been bought, the company receives a notification, thanks to a tracking number, from the supplier letting them know that the materials have been shipped.
Arrival: The materials arrive at the dock assigned by the receiving company.
Collect: The receiving company's workers unload the materials, and check for the right quantity with a scan barcode to see if the conditions are met. If they are, then the materials can be taken to where the company needs them to be, like their warehouse or somewhere else.
How does the logistics flow work for international companies?
To be a successful international company, you should be involved in international shipments. At some point, companies from around the world will want to order goods from you, as you will want to receive goods. And those goods must go through some sort of process and meet certain requirements, especially when it comes to different countries' customs.
So, how does logistics work for international companies? You may read below:
Successful companies are dependent on successful deliveries and an efficient supply chain, which regroups the whole shipment series. And what is even better, is that it adds value to your company when the chain is uninterrupted. That means that there are no extra fees for delays and no disappointment on behalf of the customer.
And international shipment is no less demanding because delivering is no easy feat, there are rules and regulations to follow, and managing logistics documentation for international trade can be hectic. Fortunately, there are dedicated solutions that are designed to ease your task.
Each trade is specific to each country; it is essential to control the document chain linked to its international operations. Those documents can be used as proof, to allow a transfer of ownership, to ensure the goods, to condition a payment. So be careful.
Here are some tips for the documentation required:
You have the general documentation:
The proforma invoice, a commercial document that precisely defines the terms of the transaction.
The certificate of origin, which identifies the goods and their origin.
The packing list, drawn up by the seller, which details the goods package by package (number, weight, brands).
The insurance certificate, issued by the sender's insurance company, which covers the goods in the event of damage (note that some countries require the use of a national insurance company).
The documents for transportation: sea, air or land freight.
These documents might differ depending on the type of transportation, nevertheless, you will usually find these below:
For maritime transport: the Bill of Lading (or B/L).
For air transportation: the Air Waybill (or AWB).
For road transportation: the CMR consignment note.
For rail: the CIM consignment note or the International Consignment Note
It is indispensable to know the customs formalities of the countries through which your goods transit. The rules are more or less complex depending on the customs territory: exchanges within the EU will obviously be easier than those outside the EU.
Be aware of each country's obligations so that your goods do not end up being blocked at customs. Be careful, these obligations will also be inherent in the Incoterms (used to establish the obligations to be respected by buyers and sellers when agreeing to international trade contracts.) chosen as part of your sales "contract".
If these documents seem overwhelming, there are specialized digital platforms that can help you organize and centralize every document.
🛠 For instance, with TRADE.EASY, you can automatically edit proforma, invoices, and packing lists in your own image (logo, name, address, mentions...).
This solution makes it easy to keep track of your logistics and saves time in your international goods trading workflow. The list of actions to be carried out (related to formalities and other obligations) is automatically generated on the basis of your own processes.
It also centralizes all the data related to your business, to help you manage customs formalities, regulatory documents, deadlines, transport, and insurance according to the purchase and sale incoterms.
Using such a tool gives you a 360° view of each one's activity for better strategic decision-making, and to help you structure your work processes.
For more info, don't forget to go check them out!
Benefits of inbound logistics
Inbound logistics is effective because it increases the quality of products, and diminishes wasted materials. There are fewer shipment errors, which showcases your professionalism and efficiency. Inbound logistics spike your sales. Therefore, logistics decreases costs and enhances your company's savings. Business relationships are strengthened, and great service experiences for both parties run smoothly.
The benefits also include:
Prediction of raw materials costs
The processes are automated. Information is easily transferred, so it allows better cooperation between your team making logistics management easier
The deliveries arrive on time thanks to shipment notification updates which lead to, stronger buyer and vendor/ supplier relationship
The quality of the goods are better thanks to suppliers who investigate goods' quality by performing inspections
As every process of the materials' travel is supervised, supply chain problems can be spotted
Better inventory management and fewer warehouse costs due to overstocking.
Example of inbound logistics
You are a car manufacturer, and you are going to need car parts. To do so, you will need to purchase and source by determining which and how many you will need. A procurement team will seek prices, styles or parts, quantity and delivery date, etc.
Once they have found the suitable vendor, the purchase manager will handle the contract negotiations.
After this, a purchase record is generated and is sent to suppliers, as well as receipts being sent to buyers.
When it is time for the products to be delivered, the suppliers send notifications to the buyers via a notification used on your email thanks to a tracking number.
Then, once the products arrive at the docks, workers receive them and unload them, checking for any errors, making sure that the order is valid using scanning barcodes. And as they give their approval, the products are then taken to your facility or warehouse.
Once that whole process of receiving is over, there is a section which deals with reverse logistics, that is to say, companies that do not use everything in inventory can send them back to suppliers.
No matter how you look at it, logistics is the connection for the world. If there were none, products would most likely not be shipped, as people nor companies would invest too much time and money getting materials abroad. It would be time-consuming and probably lots of shipping mistakes. This would lead to companies losing money and customer satisfaction. So, to be efficient, and to ship internationally to a bigger market, logistics is the way to go.
Best tools for you