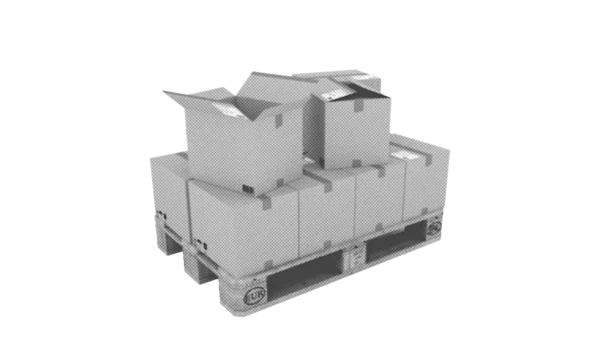 Streamline Logistics With Warehouse Management Systems (WMS)
Are you interested in implementing a Warehouse Management System (WMS) in your organisation? As a warehouse manager, are you facing new, increasingly complex challenges? Using WMS could be of great help.
In an era where parcels must be shipped ever more quickly and errors rates reduced to the minimum, efficient inventory management is key for customer satisfaction.
Keep reading to learn more about Warehouse Management Software: what is it, and what can it do for you? Knowing how to manage logistics in the digital age will take your business to the next level!
What is a Warehouse Management System?
Overview
WMS are solutions designed to improve all business processes related to the supply chain, specifically warehouse management.
These solutions allow companies to monitor their operations in real-time, from raw materials sourcing to order fulfilment. In other words, WMS can help you manage all kinds of flows of goods and services across a complex supply chain network.
The goal is to optimize and streamline the entire supply chain from the ground up, so your warehouses are used in the most efficient way possible.
WMS uses in logistics
In practice, WMS can make inventory management more efficient by:
streamlining processes and optimizing timings to produce, prepare and ship products more quickly,
enabling real-time tracking for pending orders,
tracking all the goods stored in warehouses,
monitoring the availability of resources and predicting peaks of activity to plan for recruitment and supplies,
making the audit of your inventory less time-consuming.
What are the advantages of using a WMS?
A Warehouse Management Solution offers multiple benefits, which result in added efficiency, flexibility and visibility to better control and manage warehouse processes.
Some of their advantages include:
tracking and monitoring the entire supply chain,
managing resources more efficiently, including human resources and materials,
reducing inventory costs by enabling just-in-time delivery strategies and finer stock adjustments,
tracking goods and information flows in real-time,
gathering data about the demand to understand seasonality,
reducing errors during order fulfilment and putaway,
optimizing preparation and shipping times.
By leveraging these solutions, you can expect significant gains in performance, cost management and customer satisfaction.
What does a WMS do?
The main features of Warehouse Management Solutions
WMS features cover most types of warehouse operations, allowing for a 360° control of your inventory.
Inbound logistics
Reception of the goods and material provided by suppliers, including quantity and quality checks
Data input (batch number, expiry date, serial number…) and real-time update of the inventory system to ensure consistent tracking
Automated labelling as the system generates barcodes, QR codes or RFID tags to identify goods and control all operations
💡 This data can then be used to create reports and track KPIs relative to the warehouse, which could highlight delays or discrepancies between the expected products and what was effectively received.
Outbound logistics
Automated shipping labels to track outgoing shipments
Edition of the required documentation, including certificates and bills of lading
Management of the loading and unloading process, to guarantee quality at each step
Workload management
Strategic storage policies can be implemented using precise criteria, such as product family, volumes, compatibility or the type of packaging
Cross-docking is made possible, meaning that goods can be carried directly to the picking and fulfilment areas if needed, thereby reducing inventory costs and shipping times
Inventory management
Graphical representation of the warehouse map, with access to the detailed composition of each storage area
Storage slot management to access and edit the characteristics of each storage slot (dimensions, type…)
Real-time inventory data to monitor resources
Inventory turnover tracking for enhanced decision-making and finer adjustments
Order fulfilment
Order pickers and automated picking management
Definition of the ideal path to fulfil orders more efficiently
Other features
Some Warehouse Management Solutions also offer advanced features such as:
Support for tracking on the production lines
Cross-warehouse tracking
Cross-organisation tracking
These can also be used to create custom dashboards, set alerts and make previsions using powerful algorithms.
Integration with other software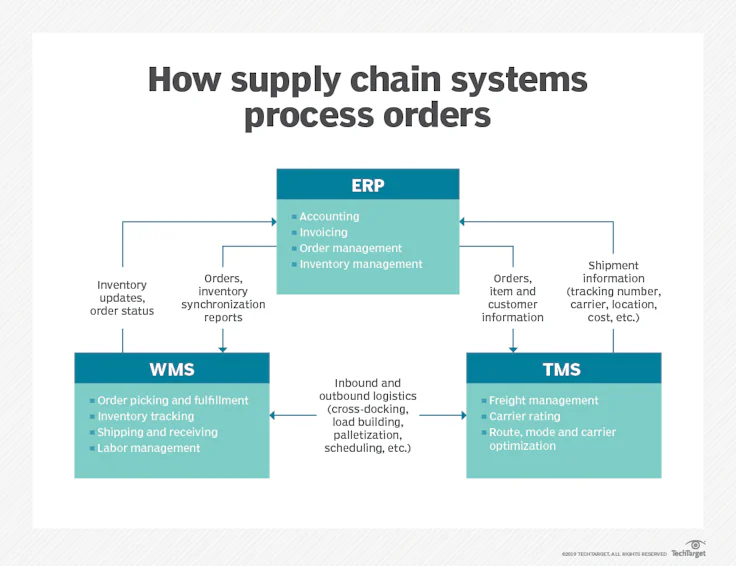 WMS can be integrated with a Transport Management System (TMS). These solutions complement each other, as TMS can help you optimize transportation once orders have left the warehouse, all the way to the last mile. This results in an even more comprehensive tool to manage your supply chain.
Warehouse Management Solutions can also greatly benefit from integration with Enterprise Resources Planning software (ERP). These are designed to centralize all business flux, meaning they can help you manage orders.
The ERP can communicate with WMS and pilot the fulfilment process by transmitting the specific details of each order. In return, the WMS can return the live status of the order and provide useful data to edit the receipt and other customer information.
How to choose the best WMS
Implementing a WMS within your organisation can take your business to the next level. However, choosing the right one from the plethora of available solutions can be tricky.
Start by writing down your requirements and define the budget you're willing to allocate to the project. Set objectives and settle on a licencing model (SaaS, lifetime licence) and software type (cloud-based systems, on-premise).
Cloud-based WMS offer the same benefits as other SaaS solutions. They live online and can thus be accessed anywhere, anytime. They are easier to implement and scale, and updates are done on a regular basis without the need for maintenance.
Consider the following criteria:
Does it integrate with your existing ERP?
Is it flexible and evolutive enough?
Is it suited to your specific business and industry?
Do you need to customize it to manage complex warehouse processes?
Is it intuitive and easy to use?
How long would it take to implement this solution?
Embracing the digital revolution for added efficiency
In the digital age and following the rise of e-commerce, swift order processing has become a requirement in order to meet customer expectations and provide quality service.
WMS solutions can automate and streamline order management, and integrate with other innovative tools to form an end-to-end solution for all your warehouse operations and beyond. Make use of these new opportunities to grow your business, improve productivity and reduce costs and errors.
Have you ever thought about using Warehouse Management Solutions? If you're using one already, share your experience below!
Best tools for you