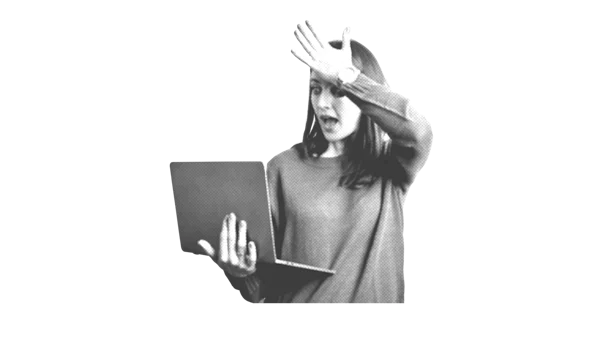 SaaS Companies: Watch Out for These 9 Marketing Mistakes
Nobody is exempt from making marketing mistakes, even the biggest companies will have the occasional setback. But as a cloud-based solution provider, startup leader, or SME marketing manager, you'll soon be able to plan your marketing strategy with confidence.
A software solution will sell itself with a solid foundation of marketing, branding, sales and product design. But along the way, it's important to know about the possible errors or mistakes that could arise.
Throughout this article, Appvizer is here to share 9 SaaS marketing mistakes to watch out for to help your company attract more customers and have the most efficient marketing campaigns.
If you are a SaaS provider for professionals, register your software and start generating qualified leads in a couple of clicks.
Optimize your SaaS marketing strategy and generate qualified leads in just a couple of clicks.
List your software
First of all: what is SaaS?
For the uninitiated, the abbreviation SaaS (Software as a Service) refers to the distribution model of applications or software hosted in the cloud or on an external server.
This type of model, which has been expanding for several years, offers advantages for users such as:
Easier implementation,
lower costs,
automatic updates,
scalability.
Although the examples in this article are mostly useful for SaaS providers, any marketer or business leader can benefit from them and keep the mistakes in mind to help define a flawless marketing strategy.
Mistake #1: Changing your objectives and strategy too often
The first mistake is instability during the decision-making process when setting objectives or a new strategy. It's normal to want to set new goals for your company due to the new data that is constantly coming in. However, changing goals and strategies too frequently is a sure way to minimize returns.
Sometimes, it's better to have an imperfect goal that is kept instead. This is because web marketing actions often take time to produce results. If you change your strategy more than twice a year you may never see the benefits.
How do you avoid changing too frequently?
To avoid this mistake, establish your strategies by using a decision funnel system:
The first thing you should do is gather all the people who can provide useful data: information about the market, the product, the competition, trends, opportunities, and threats, etc.
Next, you should create the strategy with the decision-makers only, formalize the proposal in a visual form (a whiteboard, for example) and have the team validate it.
Multiple iterations may be necessary to reach a consensus on the strategy. As a marketing manager, you must be able to integrate or justify the objections that will be raised by employees and customers.
Examples of Business Strategies and Objectives
Strategies
Objectives
Design the best product on the market

Conduct 1 demo with 10 prospects per week
Collect 20 positive customer testimonials
Get 5 free trial registrations per day

Offer software at the lowest price on the market

Reorganize development for lower costs
Reduce the marketing team to its bare essentials
Be positioned on the first page of Google on the query "cheap CRM" or other relevant software types

Become the reference brand in the market

Spend $50,000/month of advertising budget on acquisition levers and $10,000/month on notoriety
Mistake #2: Neglecting marketing organization and planning
To succeed in your marketing strategy, don't do things based on a hunch. You need methods, tactics, and experience to surprise the market and overtake the competition. The first mistake is wanting to start selling right away. As tempting as that may be, focus instead on prospecting and winning over customers.
Think about how you plan to attract and convince potential clients. Everything that is planned is controlled and has a better chance of leading to a persuasive result. For this you can:
Define your target (with personas for example) and then plan your marketing scenarios.
Avoid rushing, plan your marketing strategies while following your short and long-term objectives.
It is also important to delegate non-strategic tasks such as content design to focus your efforts on high added value tasks such as creating automation workflows that require a good knowledge of your product.
In terms of quality, it's recommended to:
Entrust the website design and marketing strategy to experienced industry professionals rather than to friends or acquaintances (if they don't have the same qualifications, of course).
Choose someone with experience to lead the project.
Verify everything that leaves production: spelling, content formatting, workflows, mobile device testing, etc.
Mistake #3: Forgetting the Marketing & Sales Funnel
The SaaS model follows common sense marketing concepts but has a drawback: converting a prospect into a customer can take time. That's why a large part of software companies still have a team of sales "hunters".
Here are the steps of a classic funnel for the SaaS model: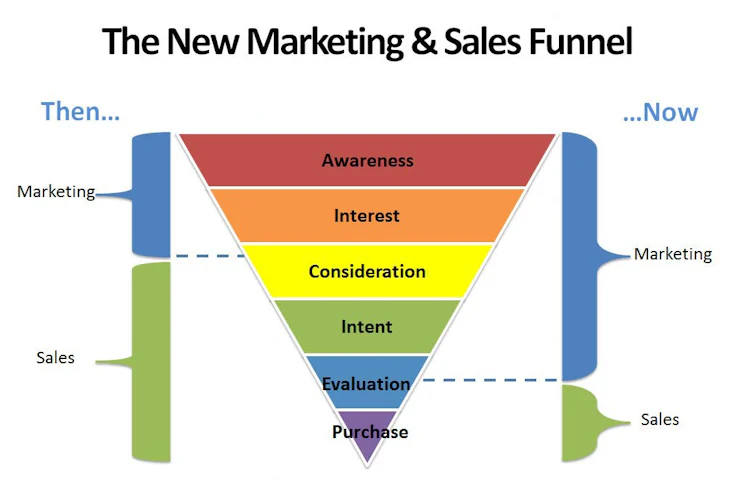 Whether your solution is a productivity application or an ERP system, each of your customers goes through this cycle. It's essential to apply your marketing tactics during the entire cycle.
Here are some ideas to attract prospects during each stage and then guide them down the funnel:
Awareness or Discovery. In this stage, try to:

Write editorial content on your blog and make use of content marketing. For example, an article for "Invoice templates" in which you suggest your invoicing software. Although it's increasingly hard to position articles on the first page of Google (strong competition from professional sites);
Use Inbound Marketing: white papers, downloadable templates, webinars, etc.
Reference or list your software on a software comparison site;
Create Communication campaigns (press relations, ads, etc.);
Purchase keywords on Google Adwords;
Target profiles on Facebook or Linkedin;
Interest. In this phase, offer things like:

1-minute product demonstration video;
Your Value proposition and customer benefits;
Comparative table of features and prices by edition;
Instant messaging on the site to answer questions;
Landing Page to download a white paper or enter a draw for a free license or subscription period;
Consideration. In this stage, you might go further by offering:

Free 30-day trial offer without commitment;
Customer references to reassure and convince;
Appointments with customer service;
Detailed product presentation;
Comparison with competing solutions;
Intent to buy. If you've reached this point, offer:

Easy and secure payment;
Quick registration;
No commitment;
Evaluation or Trial. During this stage, you want the client to have:

Perfect user experience;
Support available;
A potential call to the prospect after 7 days of product use;
Purchase. Congratulations, you made the sale! Now consider:

A Dedicated Account Manager;
Verifying project success with the customer;
Building loyalty with special offers, customer involvement in the product, or exceptional customer support;
Test and measure your marketing actions
Here are some additional tips:
Try various acquisition levers so that your team can compare between them. The most expensive levers are often the ones where the competition is fierce. Do your research to find less competitive levers.
Analyze, measure, and calculate the profitability of all your actions to base your decisions on facts rather than theoretical results.
Don't put all your eggs in one basket to help adjust your tactics and reduce the risk of dependence on an acquisition lever for example.
Mistake #4: Underestimating the role of your software in the marketing strategy
There is a surprising difference between European and American software publishers: European publishers develop complete solutions while neglecting the finishing touches, whereas American publishers develop simple solutions that are highly polished.
From a user's perspective, the second option is preferable because users would rather buy two well-designed software products than one that doesn't go the distance.
This shows how integral the product is in marketing.
How to reinforce your marketing with the product
✅ A Software solution must deliver on its promise.
If you promise to "simplify communication with customers" then you have to polish all the details as much as possible to solve the user's issue. This could be through an exceptional user experience, a flawless API, etc.
✅ Software should be highly aesthetic, intuitive, and modern.
You can even use the design of your software as a selling point by promising to turn tedious tasks into fun and simple actions.
✅ Software must be ergonomic.
Buyers are less interested in features than they are in increasing productivity and competitiveness!
✅ Software must be reassuring.
For the same reason that a luxury car door closes without loud thuds or issues, software must be fast, bug-free, compatible with all browsers, etc.
These points show that it's preferable to make a simple and polished product than an extensive product in endless development.
How to convey the value of your product
First of all, the perceived value plays an important role for users. The points mentioned above will create value in the eyes of interested prospects as long as you successfully highlight them on your website, demonstration videos, etc.
Value is also conveyed through words (see Mistake #8) and more specifically through the value proposition. Remember, you're selling a valuable solution to the user.
But keep in mind that what is most valuable for you might not be the same for your clients. Your company uses state-of-the-art technology? The company website was just redesigned? Well, all that may be less valuable for a customer that just wants to get through their workday without any software issues. Invest in what your users will value!
Mistake #5: Not focusing enough on differentiation
There are tens of thousands of SaaS software choices and sometimes hundreds in a single category. The fact is that many software options are similar in terms of price and features. When establishing a good strategy, it's vital to highlight the differences to help stand out from the crowd.
Most software solutions have 1 to 3 major differences in comparison to competitors. Those differences are also why the founders worked to develop the product. So make sure to show them off!
A potential buyer that goes to a software provider's website already has the name of one of the market leaders in mind 90% of the time. It could even be useful to offer a comparison between you and your competitors that, without lying, showcases your software's competitive edge.
Here are some different potential strategic areas that your SaaS company could focus on:
User Experience and Design
Data hosting security or hosting in a specific country
Service: support 7 days a week, in multiple languages, responsive, etc.
An innovative feature
The price
Mistake #6: Not being transparent enough
A lack of transparency can be reflected in various ways: non-visible prices, non-existent demo videos and screenshots, or the absence of customer testimonials. But, transparency is essential in a "Low Touch" sales funnel.
💡 Low Touch means that the interactions between the seller and the buyer are reduced to a minimum. In other words, the buyer is autonomous and might leave if they don't find the information they're looking for.
The move to full transparency, especially with prices, is a difficult one to make because software publishers might feel that:
Their product is too complex for a standard monthly or annual rate to be applicable;
They'll be stuck with a customer that they could sell more to;
If it isn't possible to show a price, you must show a pricing model and the services included.
Mistake #7: Underestimating marketing investments
The aspect of marketing budgets is often, once again, a central area of difference between American and European software publishers.
Between 1/3 and half of an American publisher's expenses might be spent on sales and marketing, whereas European publishers might invest almost entirely in engineering. In addition, too little investment in marketing won't often produce convincing results.
It's also common to see budgets that are too broad, which can result from a lack of strategy and tactics.
A software publisher's business plan must clearly show the amounts that will be invested in each different lever, with the goal of reaching company objectives and adjusting the strategy according to the results.
How to know where to invest your marketing budget?
Knowing where to invest isn't an exact science: you have to test things. A good practice is to set aside a budget reserve to be spent with the sole purpose of testing acquisition levers. Outside of this reserve, the rest of the budget invested in validated levers must be monitored with marketing KPIs. Check your margins regularly to avoid slipping into a money pit.
Mistake #8: Poor communication and content management
Communication is an art mastered by few, and it can drastically change your place in the SaaS market. So if you find a good communicator, hire them and pay them well!
Here are some examples of missteps and potential repositioning actions to gain visibility:
Missteps
Solutions
Broadcasting several messages. Ex: the cheapest, the most modular, ergonomic, etc.
Mass broadcast a single message. Ex: "Send Better Emails" - MailChimp
By sharing everything that mentions your software on social media, there is a risk of quickly disinteresting your audience.
Create a community and publish truly interesting content. If you share content that talks about your company, make sure it's outstanding. Example: press article or customer case study, etc.
Using jargon that only you and your competitors might understand such as solution, extranet, digital transformation, ecosystem, workflow, modular, scalable.
Simplify technical terms and orient communication towards usage: "automatic email sending after an action or a scheduled time period" instead of "email automation workflow" for example.
Lack of clarity in the marketing message on the website's first or main page. Ask those close to you if they understand what your software does in 10 seconds or less.
Display your value proposition prominently and clearly on the site's home page.
Wanting to sell the product during public corporate communication events. Example: "This month we are launching a new product with a promotional offer for the first 30 subscribers. Try it out!".
Go back through the marketing and conversion funnel and assess what stage you're in. If you are before stage 5 (Evaluation), then don't mention your offer. Instead, opt for influencer marketing such as a webinar, to give an example, where you can talk about an issue that interests your potential buyers. The only objective is to publicize and promote the existence of your product.
Attacking your competitors and their brand. This can be profitable in the short term but harmful to your brand, or in some cases even illegal. Prospects aren't foolish and will see either deceit or weakness in your product.
To position yourself above a competitor's brand, prioritize a well-made comparison and limit aggressive actions to a few months so that you don't damage your brand image. Impersonating your competitor is illegal.
Communicating alone.
Use the power of your community to spread messages and lean on partners to give power to your communication. Example:

Get happy customers to leave testimonials;
Set up a sponsorship system;
Make your code open source to create an engaged community;
Collaborate with online media.
Mistake #9: Neglecting customer loyalty in your business model
The battle to win over new customers is difficult, even if you automate the marketing funnel. So why let customers slip through the cracks? An attrition rate (or churn rate) between 0 to 1% should be the goal of any provider to continue growing the customer base.
Depending on the industry and business model, acquiring a new customer can cost between 5 to 25 times more than keeping an existing customer.
To reduce the churn rate, there are a few golden rules to follow:
Schedule a follow-up (at least once a year) between an account executive and the customer to eliminate frustration and establish connections.
Implement effective customer support that handles 100% of requests quickly.
Involve customers in product development.
Reward loyal customers with additional services.
In conclusion…
For a marketing plan to be successful, it must follow a reliable strategy while maintaining long-term objectives. The marketing and management teams must also be structured with efficient planning and organization methods.
Setting up a conversion funnel with marketing automation is also essential to attract prospects at each stage and then push them towards the next phase.
In the ultra-competitive world of SaaS, remember that the product is at the heart of your marketing. It must be well-designed to deliver value and be accompanied by a clear value proposition focused on customer benefits. To support these efforts, significant marketing investments will help produce convincing results.
Once a potential buyer is interested in a software product, the vendor must be able to show how it differs from other market solutions and be transparent about its pricing. In general, a publisher must pay attention when communicating to spread a clear, simple, and powerful message.
Finally, customer loyalty is an essential lever to gain customers as quickly as possible, at the best cost, and over the long term. Now, you're ready to set up your ideal marketing strategy to go off without a hitch.
Free content
Optimize your SaaS marketing strategy and generate qualified leads in just a couple of clicks.
List your software
Best tools for you