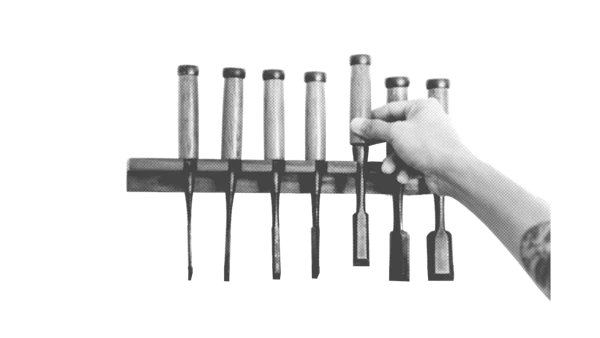 Tips to choose the best online invoice software: features, benefits and prices
Tiring, with its stacks of paper, but very important for a company's fruition and transactions' proof, many companies are seeking easier ways to manage their expenses and revenues, and nothing seems simpler than the mobility, accessibility and nonrepetitve factors that online invoicing software provides.
Online invoice software handles the bulk of what would have been your manual task, increases your company's organization, backs up all of your data on the cloud in case your computer crashes, so gives you that sense of security you need for such important documents.
In addition, an online invoicing software, a bug eradicator, with its easy integration, tracking system, automatic storing of customer/ client's information, and reminder, is here to help you stay ahead of things.
Read the article to find out more.
Bill.com
For whom? Bill.com is for small to midsize companies, accounting firms, Hospitality, Nonprofits, Professional services, etc.
Accounts receivable

Account payable

Credit & Expense Management

Automatic Sync

Data Integration
Intelligent Virtual Assistant: Bill.com automates and enters your invoices for you to review.
Dashboard: which streamlines impending approvals, sent invoices and payments.
AP & AR on a single platform: With Bill.com, you can accept payments in different ways.
ACH payment: Because of the Same Day and Next Day money delivery, ACH helps improve your cashflow with less cost and simplifies bank to bank transfers. It is quite advantageous and reduces the credit fees that you are accustomed to. With Bill.com, regardless of the amount, whether you are paying or receiving, you will always pay fixed fees per transaction.
Essentials: $39 user/month
It includes:
The choice between Payables or Receivables

Manual import and export of data CSV files into the accounting software.

6 standard user roles

Unlimited document storage
Team: It costs $49 user/month
It includes:
The choice between Payables or Receivables plus

Accounting Software Integration Essentials Plus

Sync with QuickBooks Pro, QuickBooks Premier, QuickBooks Online, & Xero

Custom user roles
Corporate: It costs $69 user/month
This package includes:
Both Payables and Receivables management.

Discounted approval-only role
Enterprise: Contact Bill.com for the price.
It includes:
Single Sign-On

Dual control

Multi-entity, multi-location accounting file capabilities

API access for custom integrations

API access for custom integrations
Freshbooks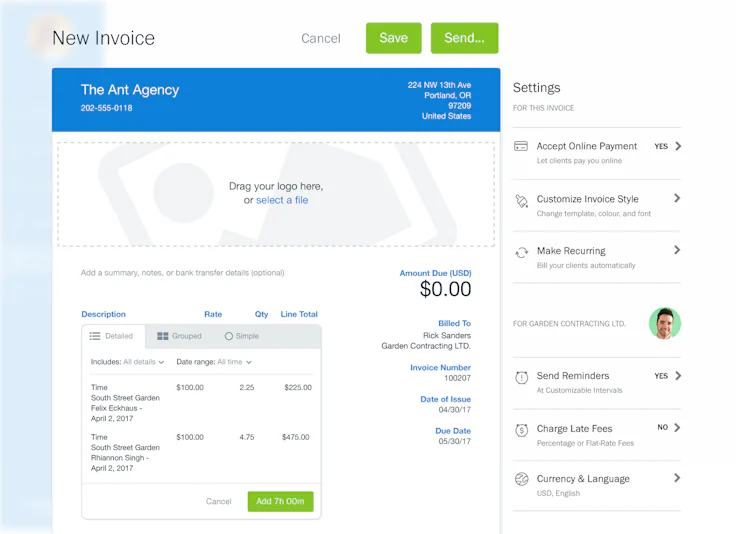 For whom? Freshbooks supports freelancers, self-employed professionals, businesses with employees and businesses with contractors.
🛠 Features
Integration
Expenses
Mileage tracking
Payments in multiple currencies
Time tracking
Estimates
Invoicing
Mobile
Reports
✅ Benefits
Workflow streamline: Everything from recurring invoicing, time tracking, project management is shown.
Webinars: Believing in client's success, follow-up and if you are new to Freshbooks, you can choose a Getting started, with 30-60 minutes live Q&A, which teach you the steps to commence your account.
Invoicing: You can customize your payment term, choose your own currency and preview the invoices before sending them. Once it is sent, Freshbooks keeps you notified of who has viewed the invoice or paid you, even as far as remind you of any late-paying customer.
Deposit requests: There is no need to pay for more than is required to accomplish a project or wait until it is finished, thanks to the 'deposit' option on your invoice.
Retainers: Thanks to the retainers, a client doesn't need to spend more money than necessary and a worker, gets paid for the exact amount of hours they have put in. It is the funds solicited from the client, which is for the initial expense of a project or service you owe a client. And, if there are any changes, you just
Expense tracking: Never feel overwhelmed again, with tracking too many credit cards bank statements on different bank applications, as you can connect your bank account or credit information to Freshbooks. You'll be, automatically, up-to-date with your spending, anytime, anywhere, as well as ready for tax time thanks to their categorization of all expenses and mobile app. You no longer need to dread tracking expenses left and right.
Billable: Add the track time, rates and expenses to invoices and get paid for the work you've put in.
Time tracking app: It is an affordable billable hour calculator, available on all platforms, such as macOS, Windows, Linux, iOS, etc. and allows you to log in your billable hours and turn them into invoices.
Integration: Clients can choose their own method of payments.
💰 Prices
Lite: It costs $60 per month.
It includes:
Sending unlimited invoices up to 5 clients
Tracking unlimited expenses
Sending unlimited estimates
Getting paid with credit cards and banks transfers
Tracking sales tax and seeing reports
Accessing anywhere on iOS and Android
+
Add-ons:
Team members ($10/person/month)
Gusto payroll (See Gusto Pricing)
Plus: It cost up $10/ month
Its features include:
Send unlimited invoices to up to 50 clients
Automatically track expenses
Send unlimited estimates and proposals
Get paid with credit cards and bank transfers
Set up recurring billing and client retainers
Run business health reports
Double-entry accounting reports
Invite your accountant
Access anywhere on iOS and Android
Mobile mileage tracking
+
Add-ons:
Advanced Payments ($20/mo)
Team members ($10/person/mo)
Gusto Payroll (See Gusto pricing)
Premium: It starts at $20/mo
This package includes:
Send unlimited invoices to an unlimited amount of clients
Track Bills, Bill Payments & Vendors with Accounts Payable
Track project profitability
Customize email templates with dynamic fields
Customize email signatures
Automatically track expenses
Automatically send late payment reminders and bill late fees
Send unlimited estimates and proposals
Access anywhere on iOS and Android
Mobile mileage tracking
Hiveage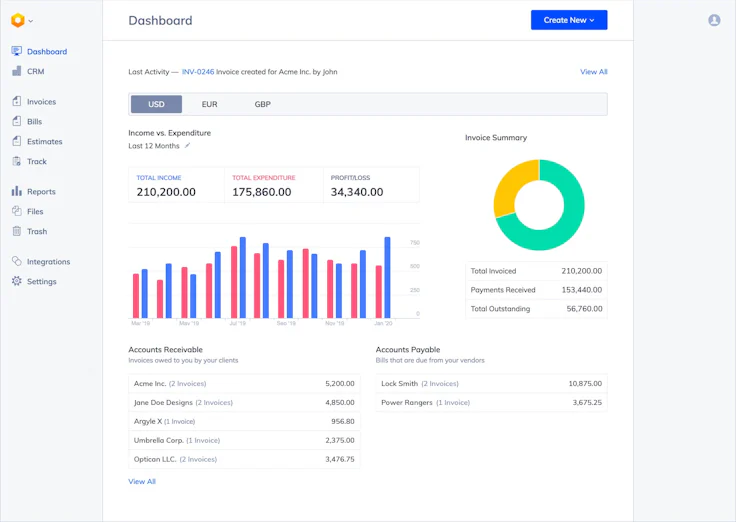 For whom? Hiveage is fit for freelancers and small businesses
🛠 Features
Invoice making
Estimates
Recurring billing
Time tracking
Mileage tracking
Financial reports
Expenses tracking
✅ Benefits
Invoice app: Thanks to its easy layouts, it allows doing everything from branding, logo, currencies, taxes and discounts in just a few minutes. In addition, it possesses a built-in payment option.
Estimates and quotations: Clients can now accept the estimates you have created and prepared online, to facilitate an easy conversion into invoices.
No software installation: It is cloud-based, therefore, you do not need to download and install anything to get access to your Hiveage account.
Available on any device: It is accessible for Android and iOS alike and usable from your Mac, phone or PC where you can directly send invoices. It is just convenient for business people who are constantly on the go.
Storage: Hiveage software uses storage to secure your data and keep them safe.
💰 Prices
Free: It is for new entrepreneurs and costs $0 per month.
The package includes:
5 clients
Unlimited Invoices
Unlimited Estimates
Unlimited Time Tracking
Unlimited Expense Tracking
Payment Gateways
Basic: Ideal for freelancers. It costs $16 per month.
It includes:
50 clients
Unlimited Invoices
Unlimited Estimates
Unlimited Time Tracking
Unlimited Expense Tracking
Unlimited Recurring Billing
Financial Reports
Payment Gateways
Pro: (Recommended). It is perfectly valid for small businesses. It costs $25 per month.
Not only that, but it includes everything the basic includes plus the additional:
Send emails from your domain
Customize email notifications
Automatic payment reminders
Plus: It is for thriving businesses' owners. It starts at $42 per month.
The package includes everything that the Pro has, plus the personalized support to migrate data from other services.
Invoicely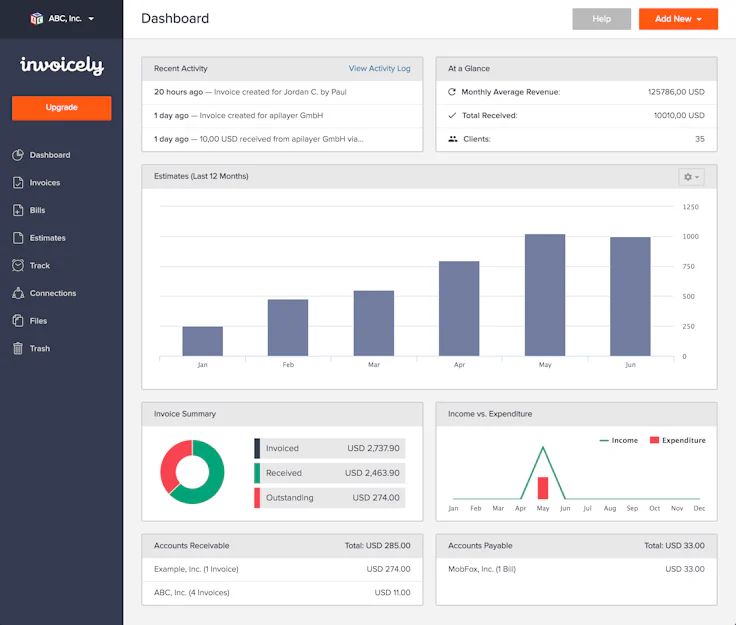 For whom? Perfect for small businesses, create free invoices under 60 seconds with Invoicely.
🛠 Features
Customizable invoices, estimates and account statements
Dashboard
Receivables and Payables
✅ Benefits
Activity log: Trace every single invoicing, billing and payment activity
Invoicely mobile app: It makes it easier to create invoices on the go.
Estimate conversion: You can create estimates, send them to the clients and once they have accepted them, directly convert them into invoices.
💰 Prices
Basic plan: $9.99
Professional plan: $19.99
Enterprise plan: $29.99
Unlimited monthly invoices
Square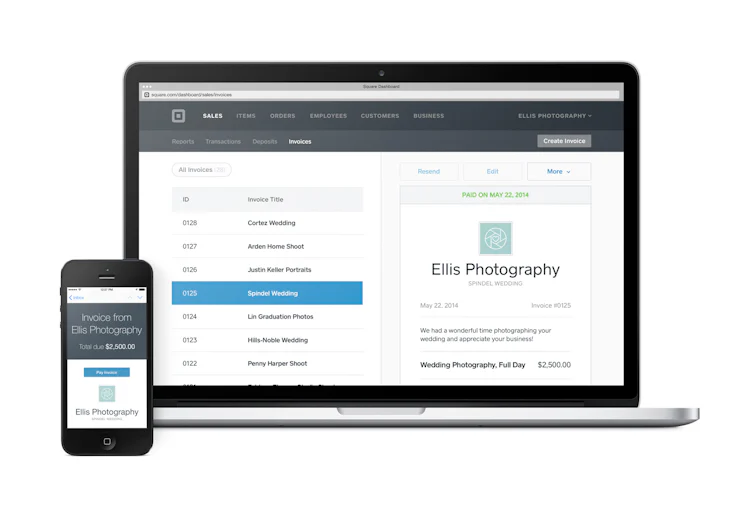 For whom? Square is an online invoicing software for freelancers and small businesses.
🛠 Features
Digital invoices
Billing & Invoicing
Data Import/Export
Recurring/Subscription Billing
Reminders
✅ Benefits
Invoicing app: Create invoices in no time and anywhere.
Square payment in your own website: Using the Square-provided Web Payments SDK and the server-side Payments API, you can take payments with Square on your website.
Square invoice API: which automatically facilitates payment between sellers and buyers. It simplifies the invoice management process and reduce your application development costs
Easily manageable: Keep track of which invoices have been paid and which are not. With mobile invoicing, you can sort your invoices by paid, unpaid, overdue, sent, or draft, right from your phone or tablet.
Convenient for clients: Clients can easily and securely pay mobile invoices online from their phones or computers with their debit or credit cards. If they'd rather pay by check or cash, their payment can easily be logged in the system.
💰 Prices
Free: It costs $0 per month.
It includes:
Unlimited invoices
Schedule recurring invoices
Collect deposits
Schedule automatic reminders
Status tracking in real time
Unlimited estimates
Reporting in real time
Cash flow
Plus: It costs $20 per month.
It includes:
The free plus:
Milestone-based payment schedule creation
Sending and reusing custom invoice templates
Custom fields
Reporting
Cash flow management
Zoho Online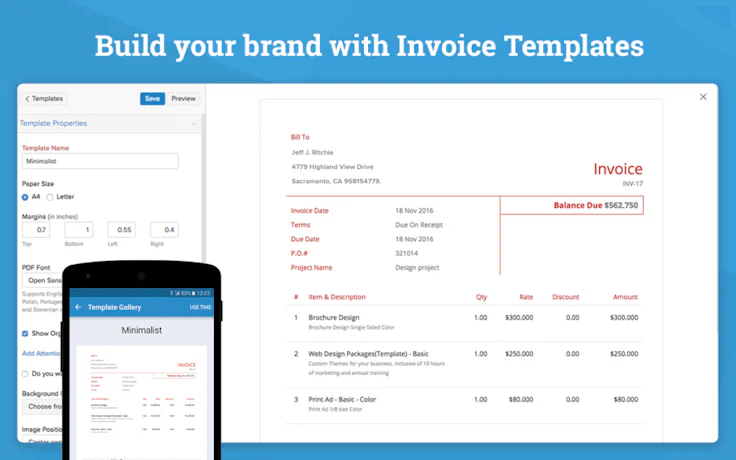 For whom? Zoho Online is a cloud-based accounting software for small businesses to help manage your finances and
🛠 Features
Customizable templates
Multiple currencies
10+ languages available
Schedule recurring invoices
Estimates
Invoice conversions
Offline payment recording
✅ Benefits
Invoicing: Send and accept payments online. You can customize invoices in multiple currencies, in over 10 languages for better communication and understanding with clients. Zoho lets you schedule the time you wish to send the invoices and recurring invoices, to not have to redo each one, when it comes to regular customers.
Estimates: Zoho Invoice can plan discounts, terms and conditions and more. You can provide blueprints of the project to be done and approved by the customer. Once the acceptance phase is over, the customer uses Zoho sign integration to sign the estimate to then transform it into an invoice.
Templates: Choose a ready to use invoice that best represents your business and customize it.
Automation: Phone calls are a thing of the past, especially when it can be done online. Your reminders are now automated, recurring invoices lets you rebill your customers for recurring expenses and payments.
Mobile: Zoho offers an iMessage app with a touch ID pass code verification for you to use anywhere, anytime securely to track the time for your projects, choose the template of your invoice and the currency you wish. This ensures security for your financial information and is also available on Apple Watch.
💰 Prices
It starts at $0 which is just perfect for small businesses.
The package includes:
Create invoices, retainers and credit notes
Multiple currencies, languages and tax laws
Payment reminders automation
Customer self-service portal
Integration with other business applications
Best tools for you