11 Top Tier Time Billing Software in 2022
Odds are that your HR department isn't still manually tracking employees and client hours, your business is most likely already using time billing software but still wants more adapted software.
Whatever your situation is, time billing software can help most companies save time, track work hours more effectively, reduce payment errors, and give a more complete vision of your business operations.
We'll give you everything you need to know to understand time billing software and eleven of the top software choices to revamp your business.
What is time billing software?
This type of software works by accurately tracking the hours that employees work, whether on specific tasks, certain projects, or with certain clients.
Through time tracking, business departments can save time, increase productivity, and visualize hours worked much easier, therefore making payroll payments, or client billing for billable hours a breeze.
Key features of time billing software
🔑 Streamlined time tracking and management
Being able to easily track the hours spent on work activities is crucial. The best options offer various options to identify between billable hours or not, tracking across different projects, and options to overview team and individual hours.
🔑 Invoicing and billing
The more extensive software choices will offer additional invoicing/billing options which could range anywhere from invoice creation and customizable templates to billing calculations and payments. Overall, these features provide more support for intra-business transactions
🔑 Reporting features
Software that includes multiple report creation options, post-project billing reports, etc. helps extract a simplified and organized view from large amounts of data. This way, your business can manage workforce planning and even client reports more efficiently.
🔑 Project management functionalities
If your company deals with projects, tasks, sub-tasks, and the like, it is beneficial to look for software that offers task management and assignment for employees. Otherwise, you may need to rely on multiple software options working together to achieve your desired results.
Time Billing Software Comparison
BeeBole
🤔 What is BeeBole?
BeeBole is a time billing software aimed at all sizes of companies with various needs. This software is meant to be modern and easy to use with capabilities for time tracking and project management.
Also, no matter where your employees are from, they can take advantage of the multilingual and multi-currency features.
⚙️ Main features
Use any device to track employees' total hours, breaks, attendance, and more. (no internet connection necessary);
Manage employee scheduling while tracking overtime, breaks, etc;
Access exportable and custom reports for employees, teams, and department hours, absences, billing costs, etc. to accurately manage your payroll;
Track your projects with factors like status, budget, profitability, billable/non-billable hours, etc;
Get overviews and breakdowns for time, costs, and billable hours and manage user roles and permissions for teams and employees;
Secure and compliant with GDPR and DCAA standards, alongside data encryption, secure backups, and more;
Integrate Beebole with your Google Workspace.
💡 What we think and Software pricing
For its features and pricing, Beebole is a good option for many businesses. It's simple enough not to be bogged down by complex features but extensive enough to give your company the essentials it needs for time tracking. Despite this, it lacks in-software invoicing options, reducing the options to bill clients directly.
Beebole offers full access to all the features for 30 days. Beyond that, pricing is $6.99 per user, per month for unlimited clients, projects, tasks, customizable reports, and more.

Bill4Time
🤔 What is Bill4Time?
Time billing software is used in a variety of industries, in Bill4Time's case, their solution targets small to large law firms and practices.
Their software goes beyond time tracking, including indispensable capabilities for firms such as expense tracking, billing and invoicing, project management, document management, and more.
⚙️ Main features
Track and review billable and non-billable hours, internal non-client time, and more with simultaneous run timers, multiple time entries, and automatic conversion from appointments to time entries. Then, review it all with daily and weekly time summaries;
Track internal or client expenses with mobile snapshots and customizable expense types;
Easily invoice and bill clients with secure client portals by creating professional invoices quickly through fully customizable templates, easy-to-understand invoices, and various online payment options without third-party services and compliant with IOLTA, ABA, and state bar guidelines;
Manage client relationships with centralized client information such as files, notes, contacts, account managers, outstanding balances, etc. with access to budget comparisons and different billing rates;
Project management through email collaboration, custom priority task lists for specific projects, automated workflows, and more;
Track accounting aspects like outstanding balances, credits and debits, pending projects, and balance adjustments with easy import with a connector for intuit QuickBooks;
Manage all your client documents with powerful search features, a centralized repository and unlimited uploads and document storage.
💡 What we think and Software pricing
Bill4Time provides more in-depth features that specifically target firms, making this option best suited for businesses that require extra client management and compliance features.
Bill4Time offers three plans for various levels of support, with 10% saved for annual payments:
Time & Billing ($29 per user/month): accounting, reporting, payment processing, invoicing, encrypted backup, document management, and more.
Legal Pro ($49 per user/month): Time & Billing features plus contingency billing, UTBMS Codes, LEDES Exporting, Evergreen Retainers, trust accounting, conflict checking, etc.
Legal Enterprise ($89 per user/month): Legal pro features plus custom LEDES export, custom data fields, and a dedicated account manager.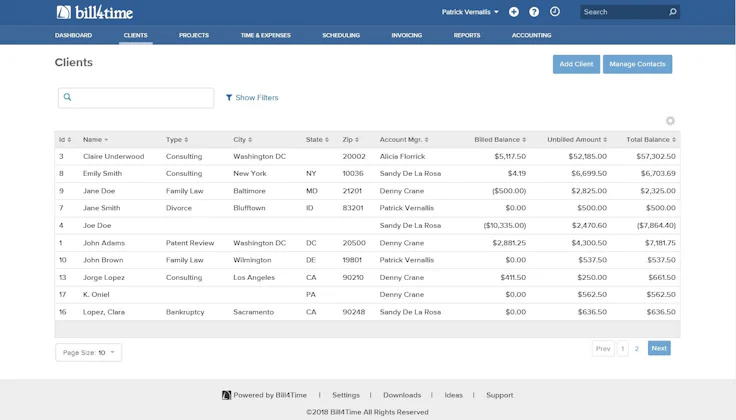 BQECore
🤔 What is BQECore?
BQE Core software offers time management, expense tracking, and billing, but is generally a business management platform with other features such as project management, and even AI capabilities.
Originally, this software was created for architects and engineers, but this solution also works well for accountants and CPAs, consultants, legal professionals, and government contractors.
⚙️ Main features
Unlimited customizable dashboards that let you track real-time date through widgets like unbilled time to maximize revenue and profit and loss comparisons to track company health;
Create smart and streamlined timesheets to track time off, time worked on projects with DCAA-compliant time tracking, and get necessary info for payroll and invoicing;
Expense tracking through mobile apps, and receipt captures;
Set up automatic and recurring billing and invoices with customizable templates, split billing, ePayments, multiple contract types, and more;
Monitor projects by connecting budgets, schedules, and teams while managing project tasks, time worked, and costs;
Optimize accounting with profit and loss analysis, resource allocation tools, and automated reporting;
Integrations with your most-used tools such as QuickBooks, Dropbox, Office 365, Google Drive, Xero, Stripe, and more. If you need more, you can also use BQECore's API for other integrations.
💡 What we think and Software pricing
BQECore provides a variety of software features and integrations that make it great for those combining multiple software. The wide feature range is useful if you need a full business management solution with other options like BQECore CRM, and BQECore HR.
Their platform is based on per-user pricing, but for exact pricing costs and to build your plan, you'll need to request a quote from BQECore.
Elorus
🤔 What is Elorus?
Elorus is a time billing and business software for project-focused teams such as marketing agencies, software teams, consultants, and designers or branding agencies.
The software is built to save time, increase productivity, and simplify business processes through invoicing, time tracking, project management, and team-focused capabilities.
⚙️ Main features
Create personalized and branded invoices that will be automatically calculated based on rates, time worked, and expenses through normal or recurring schedules. Also, access key business information through the sales reporting library;
Track time with a button and create timesheets to track billable/non-billable hours, that you can share with clients through the client portal;
Visualize overviews of your projects with detailed reporting;
Manage your project and team by assigning roles and user permission levels, setting rates, real time monitoring on time spent and current tasks, logging expenses, and more;
Manage expenses effectively through custom reporting, bulk expense exports, receipt uploads, project-linked expenses, specific expense categories, and scheduled recurring expenses;
A client portal where your clients can make payments, view the status of your projects, and access shared client statements or documents;
Popular integration possibilities with project management tools like Jira, Trello, Slack, or asana, and payment tools like PayPal, Stripe, and more.
💡 What we think and Software pricing
This program is great depending on the number of clients that you have. The extensive features can be difficult to get used to at the beginning, but there is multichannel customer support if your business ever needs help.
All plans include unlimited projects and invoices, recurring invoices, expense and time tracking, estimates/quotes, reporting, team management, a private client portal, online payments and payment reminders, and multiple currencies.
Plan pricing depends on how many clients you've invoiced in the past year, with slight discounts for annual billing.
Free: up to 5 active clients.
Starter ($9/month): up to 25 active clients.
Standard ($19/month): up to 500 active clients.
Premium ($39/month): unlimited clients.
Any extra user is +$6 (for monthly billing).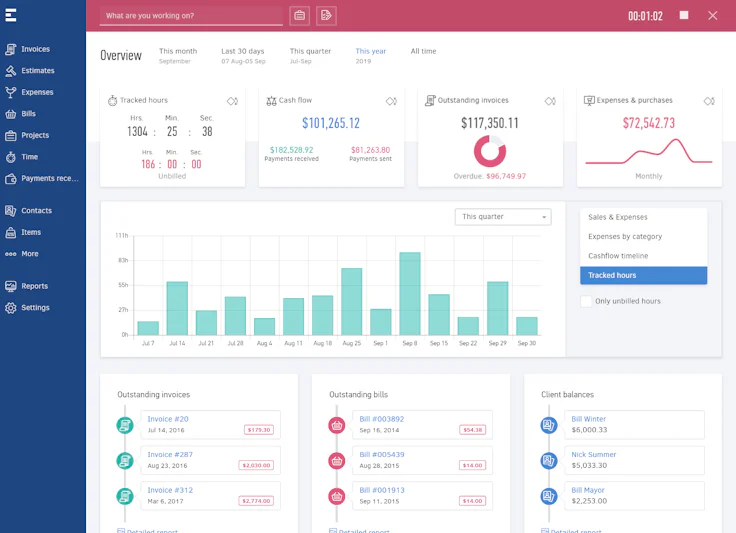 FreshBooks
🤔 What is FreshBooks?
FreshBooks is primarily an accounting program with time tracking and billing features. It's built for business owners and accountants but can also work well for freelancers, self-employed professionals, businesses that work with contractors, and more.
FreshBooks also has a dedicated app store, allowing the software to integrate with popular integrations to help with payments, payroll, and more.
⚙️ Main features
Time tracking features with easy-set timers to follow time worked on tasks, integrations with other time management tools like Asana, Trello, browser integrations, and more;
Generate custom invoices with billing for expenses and work done, request upfront deposits, ACH and credit card payments, and even automatic follow-up with clients for reminders, late fees, and more;
Track expenses by automatically updating through a connected bank account or credit card, upload mobile receipts and categorize expenses that you can mark as billable for clients;
Track projects in a centralized place for file storage, and profitability tools such as income and cost breakdowns, profitability summaries, and detailed reporting;
Accurate accounting reporting and bank reconciliation with various key features like a balance sheet, accounts payable, trial balance, chart of accounts, general ledger, journal entries, etc;
Direct payments through FreshBooks Payments with major payment gateways and no hidden fees.
💡 What we think and Software pricing
FreshBooks is a great option for accounting-focused businesses that also want time and billing features. Although the software does have project management features, they aren't as extensive as other solutions.
The software has a 30-day free trial for the different plan options. Yearly pricing gives extra savings, but for a limited time, new users get 70% off for 3 months. Add-ons for additional team members incur $10/month.
Lite ($15/month): Unlimited invoices for up to 5 clients, unlimited expense tracking, unlimited estimates, credit card and bank transfer payments, mobile app access, etc.
Plus ($25/month): Unlimited invoices for up to 50 clients, automatic expense tracking, automatic receipt capture, unlimited estimates/proposals, recurring billing and client retainers, business health reports, etc.
Premium ($50/month): unlimited invoices for unlimited clients, accounts payable tracking, project profitability, custom email templates and signatures, automatic late payment reminders, and fees, etc.
Custom Pricing (request a quote): lower card transaction rates, start with 2 team member accounts, a dedicated account manager, migration support, custom onboarding, no FreshBooks branding on client emails, etc.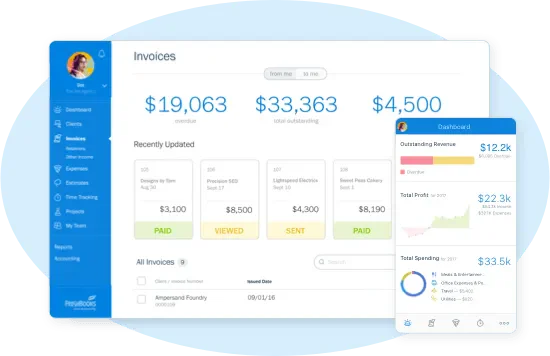 Harvest
🤔 What is Harvest?
Harvest is a more lightweight time billing software that keeps its focus on time tracking and invoicing. Unlink other software choices, project management is not a major aspect.
All types of teams use this software, with over 70,000+ companies using it around the world in creative services, architecture work, engineering and design, management consulting, and web development/IT.
⚙️ Main features
Time tracking from anywhere with a browser, desktop, or mobile access, time your tasks which can then be assigned to a project or client;
Gain business insights through reporting and analysis with budget updates to manage project profitability, track workforce capacity, see internal costs and past project data, and more;
Transform tracked time and expenses into invoices;
Integration support with connections for time tracking in other tools like Asana, Trello, Slack, etc., payment or accounting gateways like QuickBooks Online, Xero, Stripe, PayPal, and more.
💡 What we think and Software pricing
Compared to other software options, Harvest's lightweight format might not be enough if your business wants more advanced features. On the other hand, simplicity can be effective. The many integration connections and Zapier possibilities make up for the lack of options such as customizable invoices, etc.
Harvest offers two plans that offer all the features of the software:
Free: 1 Seat, 2 Projects.
Pro ($12 per seat per month): Unlimited seats and projects.
There is a 30-day free trial and 10% discount for annual billing.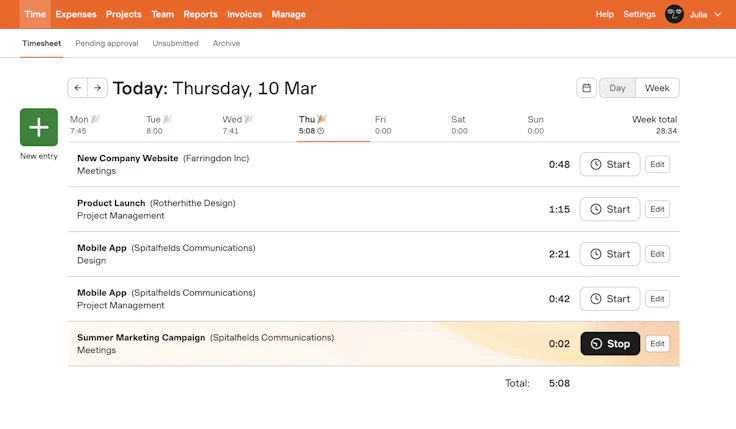 Hubstaff
🤔 What is Hubstaff?
Hubstaff is an employee-focused time and billing software, especially targeted toward businesses that manage field or remote teams.
While the platform contains various features that are shared between some products, we'll focus on the time tracking, billing and invoicing, and workforce management features that are available on all Hubstaff products and Hubstaff Time.
⚙️ Main features
Track work hours spent on projects and tasks and record them in online timesheets with review, approval, and reject functions for payroll payments;
Review workforce time with filtered time reports such as timesheets, attendance, time-off, etc. and track their work time through browsers or apps;
Track billable hours by setting hourly pay or bill rates for team members, which you can then use to invoice clients and pay your team;
Manage and send unlimited invoices from the app, or by exporting them, after customizing them with notes, expenses, logos, etc;
Manage payroll and employees with automated features for pay period payments, workforce scheduling and break policies, time and budget limits alerts, time off requests, and more;
Track budgets and expenses with dashboards for project costs based on hours, bill rates, and pay rates, while also uploading and categorizing receipts and expenses that can be connected to projects or client budgets;
Integration support for project management, communication, payments, CRM, and more (Zapier, Asana, ClickUp, Jira, Trello, Wrike, Slack, PayPal, QuickBooks, Wise, Salesforce, etc).
💡 What we think and Software pricing
This time billing software works well your business needs more payroll and team management capabilities. Despite this, some key features of the software are only available in some of the more expensive plans.
Hubstaff Time has four plans, with a 14-day free trial that can be canceled at any time. Plans are discounted for annual billing, while monthly billing is as follows:
Time Free ($0 for 1 user): Time tracking, timesheets, limited reports, and payments.
Time Starter ($7 per user/month + $5 monthly base fee): Free plan plus 1 integration, management roles, batch actions, export reports, etc.
Time Pro ($10 per user/month + $5 monthly base fee): Starter plan plus Unlimited teams and integrations, invoices, payroll, client and project budgets, expense tracking, etc.
Enterprise (Custom Plan): Pro plan plus VIP Support, ACH, HIPAA compliance, single sign-on, etc.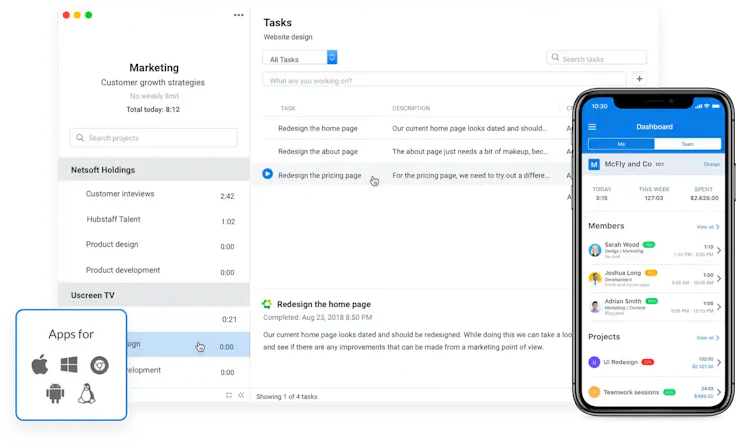 Nutcache
🤔 What is Nutcache?
Nutcache is primarily a project management program with billing, time tracking, and other features alongside it.
Generally, it is aimed at growing businesses, entrepreneurs, and freelancers to help them grow and manage project profitability. Although larger organizations can get additional security and support options.
⚙️ Main features
Task management with a workspace to create subtasks, priority tasks, and checklists, and organize them in one space. While also collaborating with team members through shared files, ideas, and comments;
Use Gantt charts to see project progress and track deadlines and task dependencies;
Run timers and track work hours on tasks which then you can easily add to client's invoices, while also getting overviews of billable time and project information. Team leads also have timesheet approval capabilities;
Manage expenses with assigned members, project linking for client billing, expense categories, and visual project costs through detailed reports;
Custom invoices in 6 formats which can be set up for recurring billing. You can also track overdue invoices and send late payment reminders;
Online and credit card payments through PayPal, Stripe, Authorize.net, or 2Checkout.
💡 What we think and Software pricing
Nutcache provides a simplified software option, making user adoption easier. In terms of integrations, they don't have very many either (Gmail, Google Drive, popular payment gateways, and Zapier).
This time billing software has a free trial and *three simple plans that have annual discounts:
Free (20 User Max.): Unlimited projects and tasks, board and list views, project overviews, and basic integrations.
Pro (5 User Min. - $8/user/month): Free features, plus Gantt charts, expenses and invoicing, advanced time tracking, task automation, project budgeting, and reports (project, time, invoicing).
Enterprise (5 User Min. - $16/user/month): Pro features, plus time and expense approvals, management for workloads, teams, and leave, dedicated account manager, etc.
*If you're a freelancer, there's a special plan starting at $8.95/month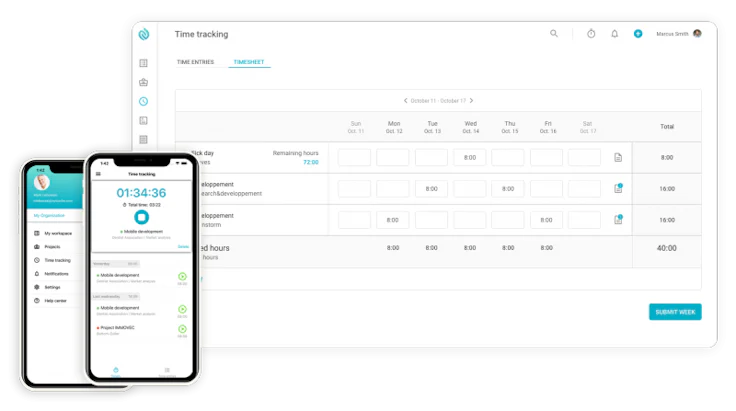 Paymo
🤔 What is Paymo?
Paymo is a work management platform with time and billing software functions. It has extensive features to manage projects and tasks, invoice and bill clients, collaborate with teams, and more.
The software is mainly for small to medium-sized businesses in marketing, social media, and web development, and is used by creative agencies, consultants, and even universities.
⚙️ Main features
Time tracking to manage teams with time trackers from any device, real-time views for active timers, timesheets that can be shared with clients, and reports for project insights;
Bill billable hours with project billing with online payments through popular gateways (Stripe, Square, PayPal, Authorize.net, etc.), create project estimates to be shared and approved by clients, tracks expenses with receipt scanning, set up recurring invoices, and more;
Manage projects and your workforce with Gantt Charts, custom workflows, project milestones, project templates for easy setup, project cost breakdowns and profitability, and a team scheduler to manage time off;
Collaborate with clients and team members by inviting them as guests, sharing files, and using task comments and discussions.
💡 What we think and Software pricing
Paymo does a good job of providing the essential features for time billing software with the extra focus on work management. Although they don't have as many integrations, they still connect with top tools like Google, GCAL, Slack, Xero, Zapier, and more.
Paymo offers a 15-day free trial, discounted annual pricing, and four plans for different business types. All plan pricing is per user, per month.
Free (1 user max.): Projects, 3 clients, 50 tasks, task views, time tracking, static time reports, 100 time entries, 3 invoices, 1 GB storage, etc.
Starter (1 user max. - $5.95): Free features, plus unlimited clients, 100 tasks, project templates, 500 time entries, unlimited invoices, estimates, and expenses, 25 GB storage, etc.
Small Office ($11.95): Starter features, plus unlimited tasks and time entries, recurring tasks, live time reports, active timers, proofing and versioning, 25 GB storage, etc.
Business ($24.95): Small office features, plus, Gantt charts, leave management, employee scheduling and workload, free onboarding and training, priority support, 500 GB storage, etc.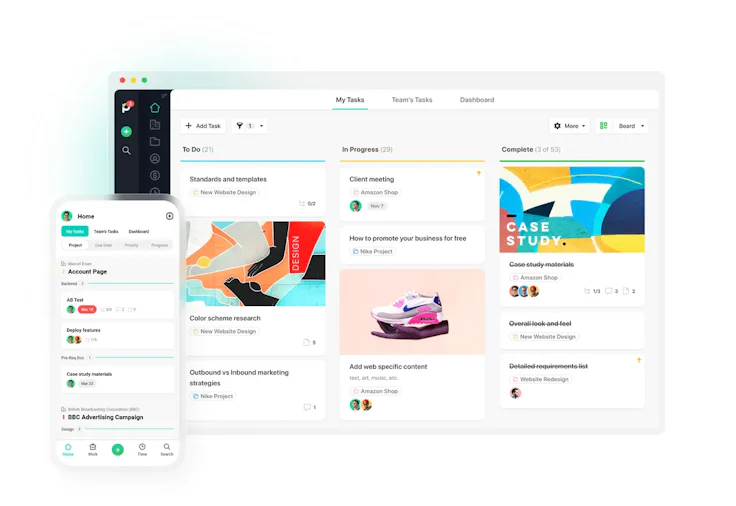 TimeCamp
🤔 What is TimeCamp?
TimeCamp is mainly a time tracker for your team that also has billing and invoicing capabilities in their more advanced plans. Beyond that, the software also provides reporting and collaboration based on your chosen plan.
This time billing software is used by over 18,000 teams primarily in marketing agencies, accounting, IT and software, and more.
⚙️ Main features
Track performance, productivity, and profitability by recording employees' time spent on projects and tasks, and what sites and apps they spend their time on. Also, get overviews of project costs and revenue to avoid overruns;
Use templates and custom reports such as detailed project or website reports, idle time reports, margin reports, etc. to gain business insights;
Manage timesheets and attendance with easily approved timesheets, attendance and leave reporting, overtime tracking, payroll calculation automation;
Optimize invoices with billable or non-billable hours with easy tracking and timesheet based invoices with adjustable tax rates that can be easily paid directly from documents with PayPal, or exported to QuickBooks Online or Xero;
100+ integrations for project management, collaboration, accounting and invoicing, CRM, Sales, and more.
💡 What we think and Software pricing
Time tracking is the key focus of TimeCamp. When it comes to bills and invoicing, this time billing software isn't as advanced as some other options, but it does provide the functionalities that smaller businesses could need especially with a lower budget.
With a 14-day free trial and annual discounts, you'll be able to try it out before purchasing. TimeCamp has four plans available:
Free: Unlimited users, projects, and tasks, and desktop and mobile app.
Basic ($7/user/month): Time rounding, custom reports, management roles, unlimited integrations, billable time and budgeting, etc.
Pro ($10/user/month): Basic features, plus billing rates, invoicing, timesheet approvals, custom user roles, etc.
Enterprise (Custom): Pro features, plus personalized training, private cloud implementation, and a self-hosted server.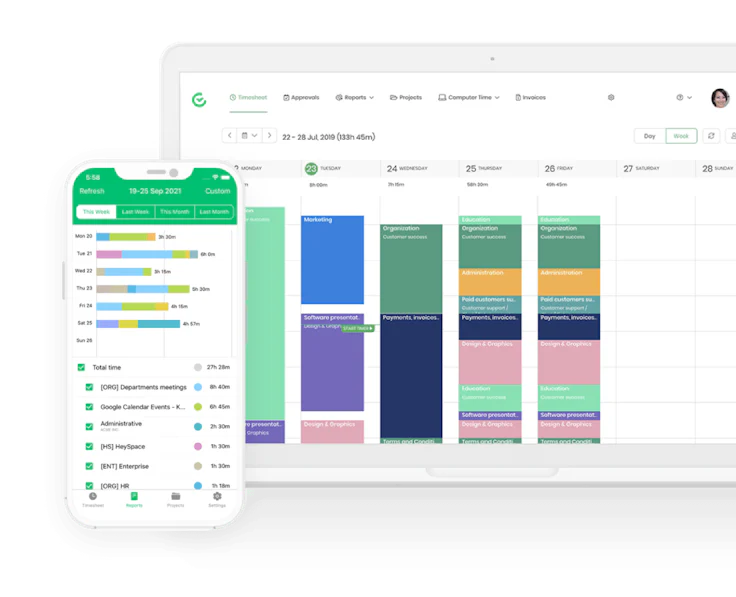 Zoho Invoice
🤔 What is Zoho Invoice?
Zoho Invoice is free invoicing software that is specifically offered for freelancers, entrepreneurs, and small to medium-sized businesses. All in all, with the features provided, it can be considered powerful time billing software.
Zoho Invoice includes features for invoicing, payments, estimates, time and expense tracking, and a client portal for easy client collaboration.
⚙️ Main features
Manage time spent on projects and tasks with timers that track billable hours, tracking for unbilled hours and expenses which can then be automatically added to invoices, and more;
Manage expenses by creating recurring spending profiles, viewing break-downs and reports of expense analysis, and photo captures of expense receipts;
Choose invoicing templates with branding customization with extra features like multilingual/multicurrency invoices, recurring invoice, digital signatures, real-time invoice reports, and more;
Use multiple payment gateways and use various payment collection methods with payment reminders, credit and refund management, and online payment reports;
Manage client estimates with professional templates that can be customized, turned into invoices, and tracked;
A client portal for collaboration with shared project details, client statements, estimate signing, feedback requests, and more.
💡 What we think and Software pricing
As an invoicing/time billing software, Zoho Invoice does a great job of offering a wide variety of features for the low cost of ZERO dollars. The software is limited to 1000 invoices per year and not really tailored to larger enterprises, but if your team needs any specific extras, you can contact Zoho support.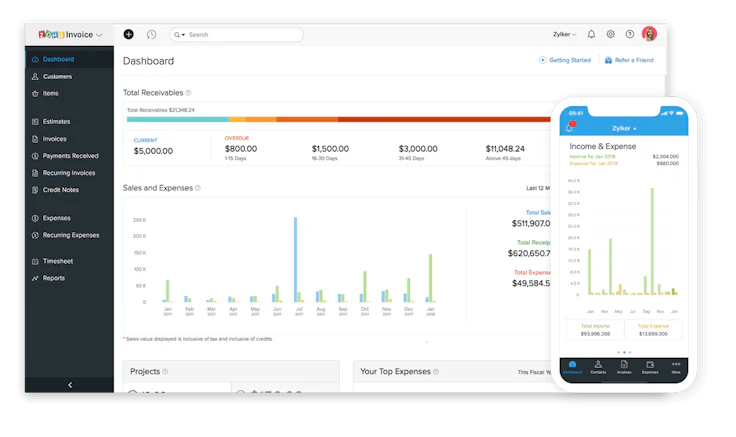 The top benefits of time billing software
✔️ Simplify time tracking and billing
The most obvious benefit is the simplification for HR departments or small business owners to track their employee's time on different work activities. With certain time billing software options, tracking expenses, overtime, and billing becomes a piece of cake.
✔️ Increase efficiency
Employees will no longer spend hours verifying time worked, recording individual data points, and manually calculating everything. With the time saved, employees can be more efficient and focus on other priority business missions.
✔️ Minimize payroll errors
Moving away from manual systems and data input minimizes the potential payment mistakes or payroll miscalculations that can come from human error. This way, you'll ensure that clients are billed correctly, and employees' pay is accurately reflected, saving you trouble down the road.
✔️ Less paperwork and unorganized data sheets
In transferring data to a centralized, organized, and digitally stored location, you can eliminate the paperwork or Google or Excel sheets that you've been using. Dedicated software tends to be less work, and more automated than other options, allowing for a more streamlined process.
Choosing the right software for your business
So, you're ready to simplify time tracking, but you still don't know which to choose. Above all, when choosing new software, it is key to think about your business needs.
Does the software fit the size of my business? (number of users, pricing, scalability, etc.)
What are the precise features required?
Will this software be easy to adopt and use?
Is this software available on all the devices and platforms we use?
What kind of integrations are available? Does the software work with other tools that we use?
By answering these questions before or during your decision-making process, your team will end up with a software choice that is more likely to help improve your business in the long term.
Best tools for you