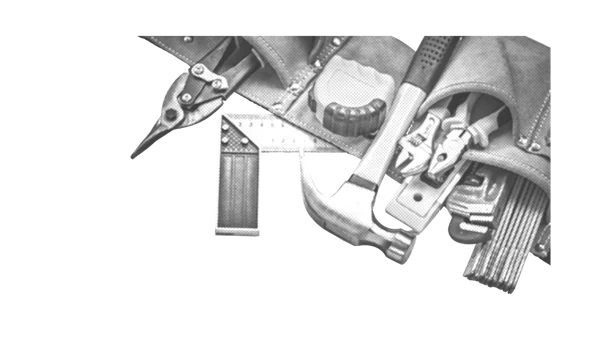 Finding qualified candidates for a small business can sometimes be very challenging. Because of their size, small businesses can sometimes feel left out of the opportunity to find qualified talent. That's why something like a recruiting software is perfect for small business owners looking to hire new employees.
Recruitment Software
We know that there are a lot of options out there when it comes to software, sometimes it can seem confusing and daunting even. However, we feel that the programs listed in this article will give you the best chance of finding the most qualified and experienced candidates for your small business. We based our selection on reviews, price, features, integrations and overall market position as compared with competitors.
Software

Features

Price

-Advertise your jobs

-Source candidates

-Collaborate on new hires

-Reporting and analytics

Rate on demand

-Source boosters

-Employee referral

-AI assistant

-Applicant tracking

-Resume management

-Free

-Standard- $25/month

-Professional- $50/month

-Enterprise- $75/month

-Applicant relationship management

-Cover letter and resume indexation

-Job interview invitation

-Pre-recorded job interview

-Public profile crawling

Rate on demand

-Follow up on applicants

-CV import

-Collaborative Recruitment

-Headhunter Management

-Job board integration

-Recruitment, tests and results

Rate on demand

-Social media management

-Career sites and job board management

Rate on demand

-Applicant follow-up

-Candidate pool

-CV import

-Career website

-Grammatical analysis of CV

-Recruitment alerts

-Recruitment process

-Launch- $222/month

-Scale- $399/month

-Lead- rate on demand

-Candidate sourcing

-Applicant tracking system

-Enrichment

-Recommendations

-Team collaboration

-Reports and analytics

-Professional Plan- $19/month

-Enterprise Plan- $39/month

-Custom Plan- rate on demand
Breezy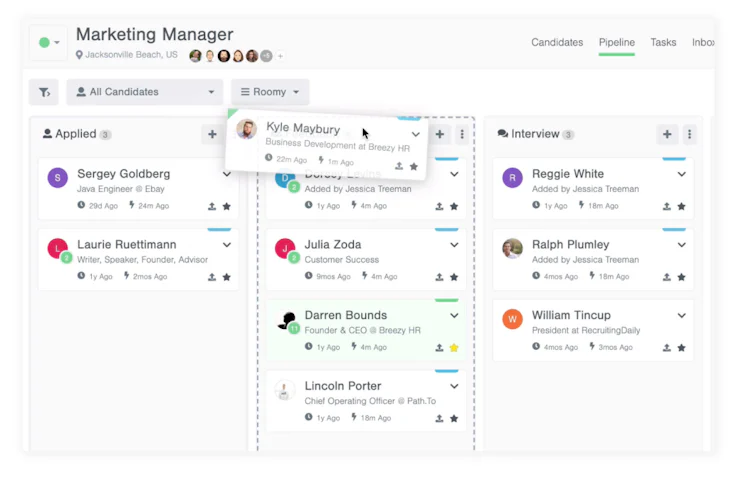 As we mentioned before, small businesses can sometimes have a hard time hiring. That's where Breezy comes in, Breezy helps you grow your business by helping you build a qualified team. Breezy optimizes the hiring process so you and your team can focus on more urgent and important tasks that impact your business. Breezy gives you all the tools necessary to build the best team possible.
Features
Reporting and analytics - get detailed reports and analytics that help you optimize and improve your hiring process
Candidate management - Track candidates, and stay on top of your recruitment procedure
Sourcing candidates - Breezy gives you access to databases of qualified candidates in just a few clicks
Advertise your jobs - Post your job offers on than 50 job boards in just a few clicks
Collaborate better- Easily discuss candidates with your team with Breezy
What We Like
Breezy is an all around good software for small businesses looking to hire the best candidates. It gives them access to all the databases and boards necessary to build better teams. Furthermore, even though the price is on demand some users have reported reasonable rates.

Modernize your recruitment
Learn more about Breezy
Zoho Recruit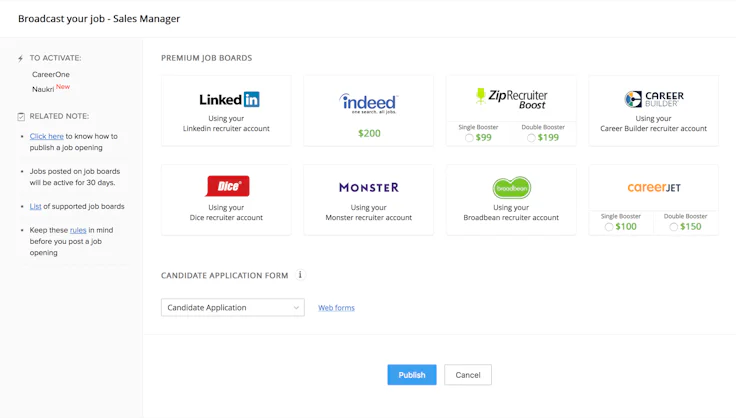 Zoho Recruit is a talent acquisition and applicant tracking system that's designed to allow businesses to hire faster and better. Zoho Recruit helps businesses source, track and hire candidates without having to jump back and forth between the endless amount of recruitment websites. Zoho also allows you to customize most aspects of the recruiting process, while receiving reports and analytics that allow you to constantly improve the hiring process.
Features
Some of Zoho Recruit's key features include:
The ability to publish job offers to key job board sites
Source quickly with source boosters
Create your company's career page
Make pre-screening assignments
Resume parsing and screening
Get reports and advanced analytics
Better candidate engagement
Candidate interview stage tracking
Numerous integrations
What We Like
Zoho Recruit is one of the most advanced softwares in this article. It includes features like an AI assistant that goes through resumes, screens candidates with assessments and more. And what we really appreciate about the program is that it offers a ton of features for a more than reasonable price for a business.

Applicant Tracking System(ATS) | Remote recruitment software
Learn more about Zoho Recruit
Workable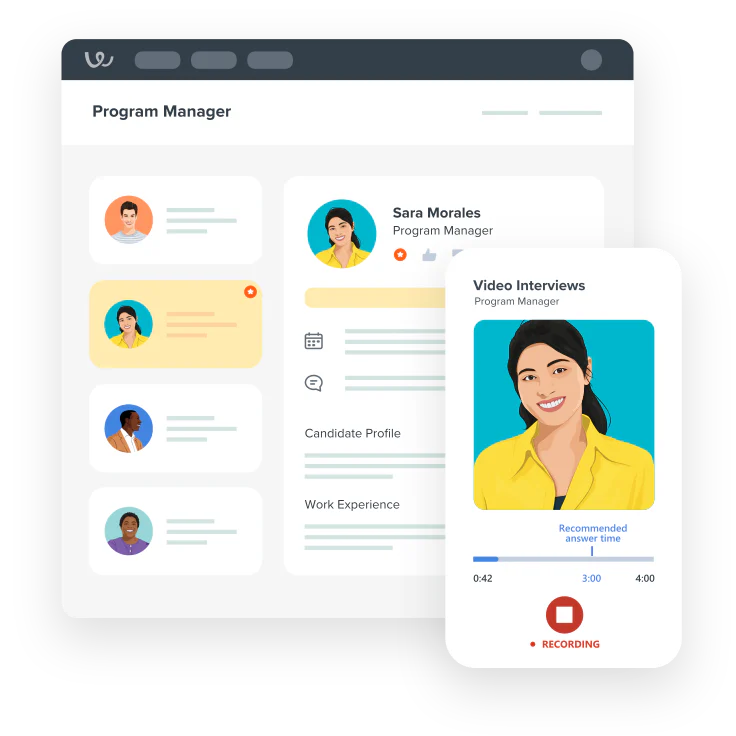 Workable is an efficient and time-saving web-based recruitment software which supports businesses in all talent acquisition tasks. All the related tasks are simplified to make the lives of recruiters a lot easier. Workable allows all recruiters to work and collaborate on hiring just with an internet connection.
Features
Some of the features that make Workable unique are:
Applicant relationship management- follow-ups and tracking
Cover letter and resume indexation- easily sift through and organize the numerous cover letters and resumes
Job interview invitations- easily and quickly set up interviews with qualified candidates
Pre-recorded job interviews- make candidates answer prewritten questions that could give critical insight into their profile before an actual interview
Public profile crawling
What We Like
Workable is an innovative solution to small business recruitment. Workable has been trusted since 2012 by over 20,000 companies who have hired over 1,300,000 out of 85,000,000 candidates using Workable. One of the testaments to Workable's trustability is the fact that major companies like Forbes, Ryanair, Sephora and others use Workable to find talent. If they trust Workable to find qualified candidates then it definitely can work for small businesses.

Talent Management Made Easy
Learn more about Workable
BambooHR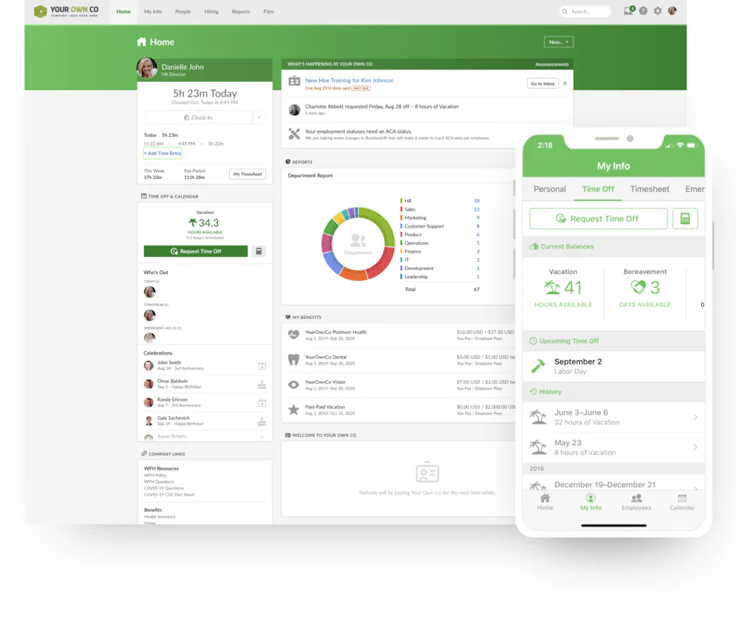 BambooHR is a tool used to automate and optimize general HR tasks, including recruiting. With features like the applicant tracking system (ATS), that allow companies to track and follow-up with candidates, BambooHR is designed to make hiring qualified leads more easily and quickly.
Features
Applicant follow-up
CV Import - manage numerous CVs easily
Collaborative Recruitment - with an easy-to-follow organization of candidates
Headhunter management - manage external actors who bring you candidates
Job board integration- find candidates easily with integrations with the biggest job boards like LinkedIn, Indeed, Glassdoor, etc.
Recruitment tests and results- evaluate the skills and profiles of potential hires with assessments
What We Like
We really like that BambooHR is dedicated to more than just recruiting, and but still does everything related to recruiting very well. It's a tool that you can not only use for recruiting qualified candidates, but use it for all your HR needs.
HR Software for SMEs
Learn more about BambooHR
Freshteam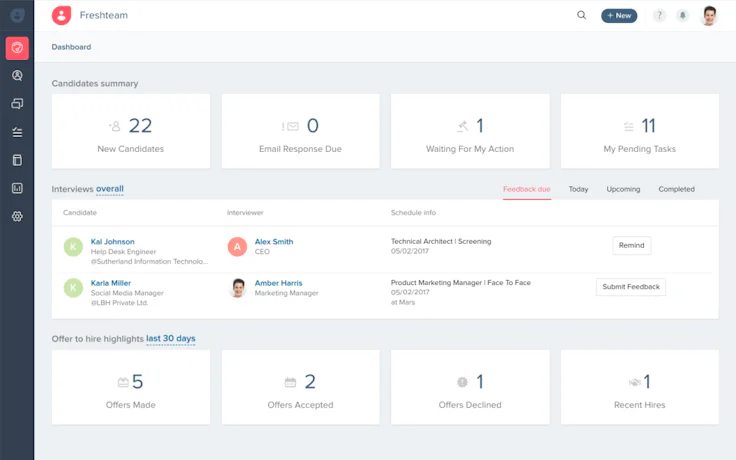 Freshteam, a program specifically designed for growing companies, is perfect for small businesses looking to hire new employees. Freshteam automates mundane tasks that take up recruiters' time and lets them focus on the things that really matter. Using it allows you to hire faster, automate smarter, and grow as a business.
Features
Some of Freshteam's features include:
One click posting to sourcing channels
The ability to make custom workflows
Screen candidates in seconds
Make and manage employment offers
Collect feedback about candidates based on set criteria
What We Like
Freshteam is a perfect tool for small businesses looking to hire effectively and quickly. With Freshteam, you can find the most qualified candidate for the job in record time, giving you more time to focus on what really matters.

The smart HR Software for growing businesses
Learn more about Freshteam
Recruitee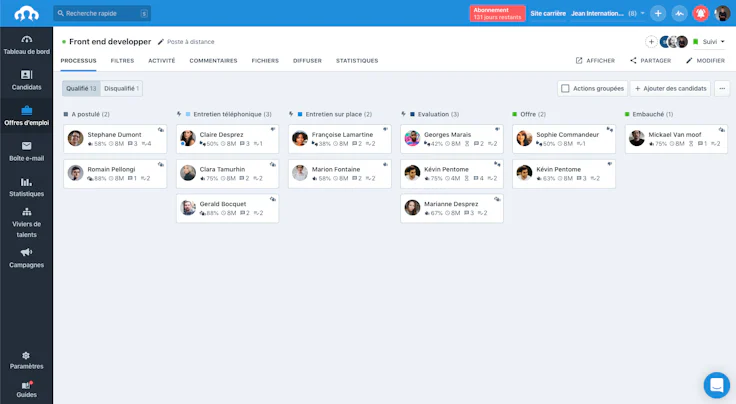 Recruitee is an integrated cloud-based recruitment management and applicant tracking system designed to help businesses scale and improve their recruiting process. With tools like job multiposting, candidate sourcing, applicant tracking recruitment analyzing, and more, Recruitee allows small businesses to grow with solid candidates.
Features
Some of the other features that make Recruitee so unique are:
Applicant follow-up
Applicant relationship
Application form
Application workflow
Candidate pool
Career website
Language assessment
Recruitment tests and results
Recruitment alerts
What We Like
Unlike many other programs, Recruitee is a fully inegrated, end-to-end recruiting tool. A lot of programs say they offer an all-in-one package, but might just focus on one aspect of the recruiting process, like sourcing. However, with Recruitee you can do anything, from sourcing to screening to scheduling an interview, Recruitee's got you covered.

Optimize and automate your recruitment process
Learn more about Recruitee
Manatal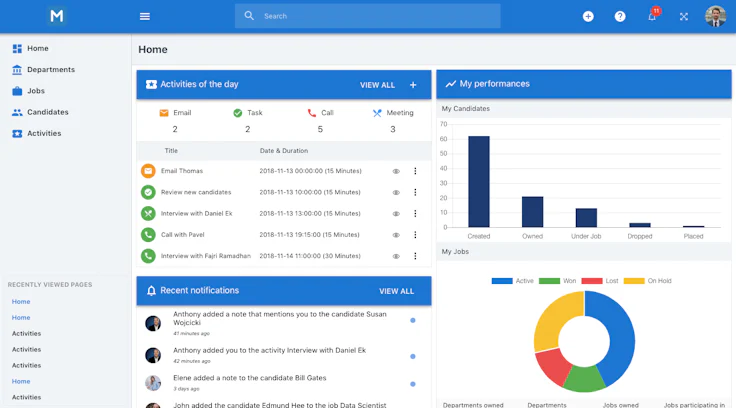 Like other similar software programs, Manatal uses AI to improve the overall recruiting process. Beyond AI, Manatal uses smart tools to transform the way you find, screen and recruit candidates.
Features
Some of these smart features and tools include:
The AI recommendation system- Manatal realizes that you can't remember everything about every single candidate profile. That's why they've come up with an AI tool that scans the job description and the profiles of the candidates to recommend you the best candidates applying.
Candidate sourcing
Applicant tracking system
Enrichment- Manatal goes beyond just scanning resumes, it builds a comprehensive profile by searching for additional information from sources like social media like LinkedIn
Team collaboration
Reports and analytics
Career page
What We Like
We, along with many others, think that AI is the future of professional software, and so does Manatal. That's what makes their program so unique. AI can do the work of an actual recruiter in a fraction of the time, saving the actual person hours to focus on things that are more pressing.

Optimize your recruitment
Learn more about Manatal
Recruiting Software for Small Businesses- The Logical Step
As we've said before, hiring talent can be hard for small businesses, so any tool can help. Therefore, it's only logical that you should go from manually searching for candidates by jumping back and forth between multiple sites, to automation. Automating the mundane parts of the recruiting process will allow your business to focus on the important parts of the process. Some of the programs will even help you be more prepared for the more important stages of the hiring process, like interviews. Through the smart features and tools that some of these software programs provide you, you'll actually get to know the most qualified candidates who will help your business grow.
Software Recommendations