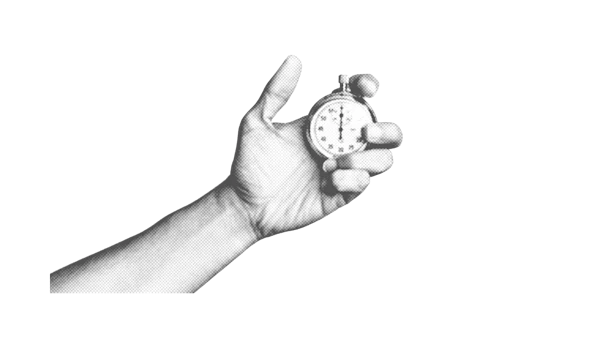 Benefits of effective project time management
Because the start of a project seems like it won't work or proves to be difficult, service businesses figured that the implementation of a project management system is essential for a timing follow up. You need to know how much time is spent on each project or task, in order to invoice accordingly - flat-rate or depending on the time spent.
Filling out Excel sheets for weekly monitoring is tedious work and time-wasting. This is why there are now software dedicated to this type of work, a.k.a. task. Discover their benefits on project time management and our panel of tools to help you grow.
What is project time management?
There is a very important word here, which is 'time' in project management. To understand how and why the both of them are interdependent, work and are essential for a successful project, let us start by defining time and then project time management.
What is time in management?
It is one of the major functions of project management. Time in management is to manage the time spent on the advancement of project tasks and activities. It helps team members, workers, get a clear picture of how much to do and by what time to finish. It also is the main benefit for organizations.
For example, if you were to say, you want to do some and renovate something in your house, but do not set an end date. Sure, it would make it seem like you have more time and no pressure, but what happens? You wind up not starting or ordering the necessary resources to accomplish the project, and it falls at the end of your to-do list.
Well, the same goes for a business project, especially, when you have stakeholders, customers or clients who rely on you to efficiently get the work done.
So, what is project time management?
Project management involves the analysis (tools, techniques) and development of a work schedule and timeline with tasks adjustments and resources allocation for the completion of a project.
As project work can become unpredictable due to bad weather, accidents and limited resources, project management is, in fact, the process of planning and adding buffers to tasks to prevent delays as much as possible.
What does project management include?
For a project time management to be completed, it must organized and include these processes:
Step 1: Plan schedule management
It is, if not, the most important phase in a project management. Without a plan there would be no schedule, and without a schedule there would be no time.
This is where you start to construct your project roadmap, so start by overseeing, brainstorming and classifying the essentials so that your schedule and tasks can start to take form.
Several ways exist to develop a project management schedule, but S.M.A.R.T, which stands for specific, measurable, attainable, realistic and timely helps verify your goals are achievable and C.L.E.A.R, which means collaborative, limited, emotional, appreciable, refinable are the most common.
Step 2: Define activities/ tasks
It is to assign each task of the project to the designated project team member. This is where you should focus on 'who' does what
Step 3: Sequence activities/ tasks
What different types of tasks will the project include? In this phase, you assign each task of the project to the designated project team member.
The project manager can still add modifications or break the scope of the project down into a work breakdown structure (WBS) to get a clear visual of the project deliverables for the team in sections.
Step 5: Estimate activity durations
Once the activities have been sequenced, then, you can estimate the duration that the activities will take to be achieved.
Step 4: Estimate activity resources
Assess if you have the sufficient resources to complete the project and keep additional time in case any additional resource would be needed.
Step 6: Develop schedule
As you have broken down the workload into sections, ironically, the big picture of the project starts to reveal itself. As you get an idea of the time each project member will take to achieve their tasks, you can develop your timeline.
Provide and add extra time to tasks, in case of any delays that workers may have.
Step 7: Control schedule
You're making sure and measuring in time that everything, such as the schedule, cost and scope, is moving according to the project baseline, the starting point.
When used, you can tell how delays will affect the cost and resources, to allocate them efficiently in the predefined schedule.
Why is time management important in project management?
There are many reasons why time management is important in project management. It improves team productivity when one has access to the tasks they need to accomplish and is effective for the respect of the project's deadline.
Monitor your project progress in real-time
With a time management solution you have an overview of all the projects you're working on with your team. This allows you and the team to immediately spot the projects (tasks and dependencies) which are about to exceed the time allocated at the beginning, hindering your work process.
Here is a tip: divide a complicated project into multiple tasks, or simply create a list of tasks. For each activity, indicate the goal and the expected time for its completion by team members. This then gives you and your managers, throughout the project, to be able to detect time-consuming activities, tasks and react quickly.
With time management software, your processes are simplified:
Assign tasks to a focal manager: head of the project, customer manager, etc.
Set a deadline for each project to be achieved by team members
Monitor the progress of the project at any moment, both by finding the person responsible and through the project deadline.
Increase your productivity
Monitoring the time and work spent on each task is a crucial step in the management of your project, for both internal activities optimization and to define how to charge clients. It is also important that your staff actively takes part in the monitoring of the project activities, tasks by:
Becoming aware of the time really needed to carry out a task. An employee following the time management of each task will be more focused
Understanding the budget issues. Knowing the time estimated for the completion of an activity or project deliverable allows you to visualize and quantify the financial impact on the client's bill
Giving teams autonomy. The implementation of such a project management system is a way to increase the autonomy of project managers and keep stakeholders happy.
But, how do you choose the best solutions for your project?
Project management software: an alternative solution
On the market, one can find a lot of time management solutions, but struggle to choose the one that works for them. But, don't worry, most project management include time-related features with all the help related to project management.
By choosing to implement an online project management to carry out the timing follow up of your company, your information entry process will be simpler and quicker.
Your employees note their working time throughout their day. The time entered is directly displayed on the web app interface.
A daily overview is carried out in order to make changes or implement a validation process.
This hindsight of the information entered permits you to reallocate the time to projects which need it.
Our selection of tools to better manage time
We talked about the profits of using a time management solution to save time, let's now focus on some platforms:
Freedcamp
Freedcamp is a solid cloud project management tool. It is offered through a modular structure to better meet any different need. Some of its features offer you the tools you need to boost your time management. It is provided for free for non-profit, teachers etc. In order to help them in getting collaborative and managerial software.
Among its features:
Time tracking
Gantt chart
Recurring tasks
Clockodo
Clockodo is a pure time management application. It grants the time tracking for both people and projects. Easy-to-use and transparent, this tool will help you issue your invoices faster: thanks to a precise time tracking, you know exactly what to invoice to your clients. It is available online or via a mobile app to achieve better flexibility.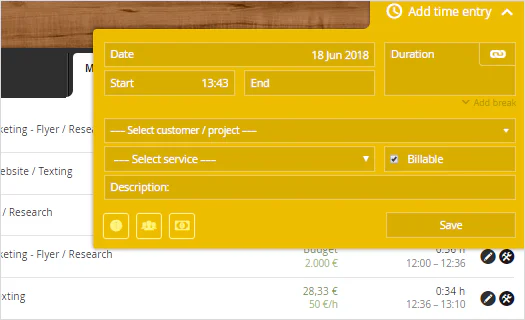 This software will allow you to:
Track time
Monitor of resources
Invoice your customers
Smartsheet
Smartsheet is a project management solution that will be easily integrated with your already existing tools. This program will boost your productivity thanks to its end-to-end work execution platform.
Smartsheet is also able to allow cross-team works.
With Smartsheet it will be possible to:
Monitor task statuses
Create and follow-up Gantt charts
Share agendas to monitor progress
Boost your time management with a little effort
Now that you have seen solutions and benefits you do not have any excuse, you just need to try our solutions and let us know your opinion!
Best tools for you