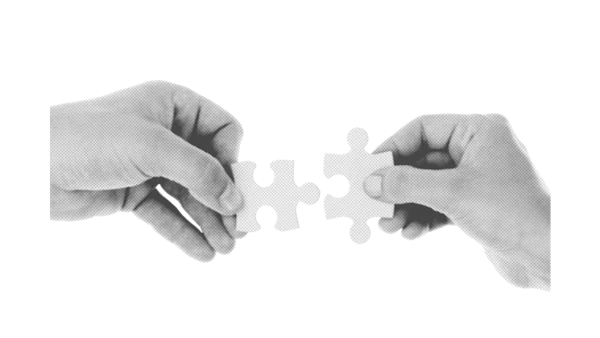 The ultimate guide to creating a perfect project roadmap
Today, many project managers use agile methods to break large projects down into easy, more manageable tasks called sprints.
A project roadmap is a visual tool designed to help them plan and track these tasks.
More than a simple Gantt chart or Kanban board, a project roadmap optimizes team productivity in real-time.
What are the benefits of using a project roadmap? How do you create one? And, what are the best tools to manage project roadmaps?
Here is a complete guide on project roadmaps:
What is a project roadmap?
Definition
A project roadmap is a visual tool that provides a strategic plan of a project's goals and deliverables over a deadline. It is a guide that lists all tasks of the planned schedule that must be completed for specific projects according to iteration and continuous integration.
Project roadmaps are used to detail steps and make realistic and logical projections of the main stages of a project, and its evolution.
Moreover, they should include objectives, milestones, deliverables, resources, and timelines for a breakdown structure of the steps to take.
Here is an example of a project roadmap: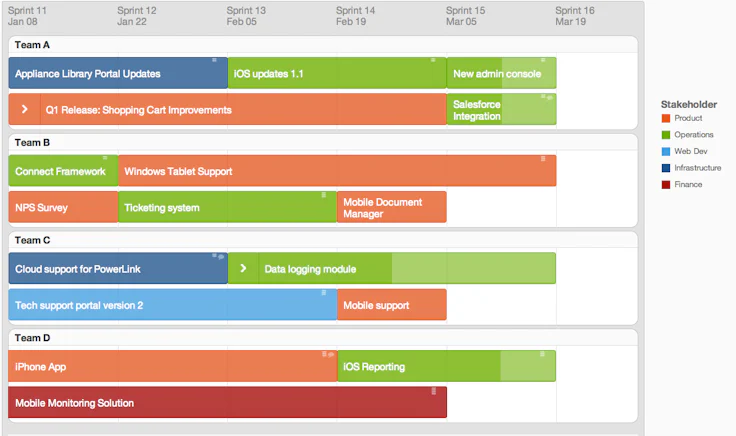 In agile project management, project roadmaps are designed according to the famous V-model. In the event of an incident or an anomaly, the V-model avoids going back to previous steps. In addition, project roadmaps are structured in iterative sprints rather than a simple static calendar methodology.
In scrum management, projects roadmaps can be used to anticipate and prioritize projects. This brings all stakeholders up to date on projects, with a logic of objectives and results rather than characteristics or deadlines.
Benefits of using a project roadmap
Both startups and large businesses can use project roadmaps. To build roadmaps allows businesses to improve their project portfolio management. And, in result, this optimizes:
Time management

, to have a clear vision of the project's progress and

due dates

,

Resource management

, to manage resources that are allocated to each deliverable,

Risk management

throughout the critical phases of the project,

Change management

with release-notes based on periodic reports.
Using a project roadmap implies setting up a systematic timeframe for each stage of the project. By doing so, you will have a higher chance of completing objectives before deadlines due to its effective way of resource planning.
This is only possible if the "backlog" is managed perfectly. The backlog can be described as a list of tasks (a need) that are fundamental to complete a project.
According to the type of project, your board of directors can monitor the feasibility of each project and set up guidelines. The backlog can then be used by teams to see what were the requirements and constraints of each project.
Difference between a project roadmap and a project plan
A project roadmap presents a high-level overview of a project's scheduling and deliverables over a timeline. However, it does not go in to the details of each task. It is simply used to show a project's state from a single view.
Whereas a project plan lists the details of each task of a project. Project plans are used by project managers to assign tasks to team members and track the details of a project up close. In project plans, you can find information such as: client names, specific training requirements and staffing schedules, for example.
How to create a project roadmap in 4 steps
1. Analyze what exists and key objectives
This first step consists of identifying the actions already in place. The involvement of all stakeholders is essential to ensure good project management and to ensure that your road map is part of a collaborative project mode. You also want to set goals for the project roadmap, in the hopes that they could be easily achieved on time.
For example, you can describe each project in the form of a sheet including :
the

stakes and objectives

,

the

resources

(internal, external) and the

budget

allocated,

the

people involved

and the

level of progress

,

the deliverables

the initial

roadmap

.
2. Analyze the risks
Even if not all, it is important to have an idea of the risks that the project could have, to respect the pre-planned timeline as much as possible.
If there is room for delays, it leaves space for flexibility, in case if one needs to rearrange the order of activities to create less pressure on stakeholders. Which leads to,
3. Prioritize projects
The third step is to anticipate future projects so that they can be integrated into the road map. New web projects or IT projects, product launches, change of services. Think in the short, medium and long term and prioritize on the basis of their projected and potential ROI (return on investment).
4. Create the roadmap
It is during this step that the project roadmap starts taking shape. Set up an agile method and a backlog for every team leader. This includes: a list of tasks, milestones, allocated budget and resources, sprints and objectives, due dates, and reporting steps, timing, etc…
The best software to manage project roadmaps
Today, there are many project management solutions that can be used to create project roadmaps. Here are 3 software that stands out for their agility in project management.
Wrike
Wrike is a cloud-based project management software that boosts productivity and collaboration. Wrike helps teams prioritize, manage, and report projects, delivering more work in less time.
Wrike provides roadmap templates that you can use to organize and prioritize development tasks by team, function, and quarter. Add custom fields to tag tasks with priority, projected revenue, team, or other filters. View the project as a Gantt chart to get an overview of the entire timeline for product development.

Versatile project management software that aligns teams
Learn more about Wrike
monday.com
monday.com is a cloud-based work management software that you can use to manage your project roadmaps.
Thanks to its system of customizable tables, you can manage your tasks and sub-tasks using a visual and intuitive tool. Once you have identified your projects, assign each of them the necessary resources and budget.
This project management tool goes one step further, by providing time management features (to meet the deadlines of your projects) and by offering different views of your tables, with a Gantt chart for example.

The most intuitive platform to manage projects and teamwork
Learn more about monday.com
Clarizen
Clarizen is a web-based project management software that connects employee conversations, tasks, and projects in a unique collaborative environment.
Clarizen's list of features include :
real-time task progress monitoring
reviewing, prioritizing, and validating a project portfolio
improved problem management
roadmap management, etc.
Connect Clarizen with Google Drive, Salesforce, SAP, Sharepoint, Excel, and other tools for even greater productivity.

The most comprehensive web-based project management tool
Learn more about Clarizen
Best tools for you