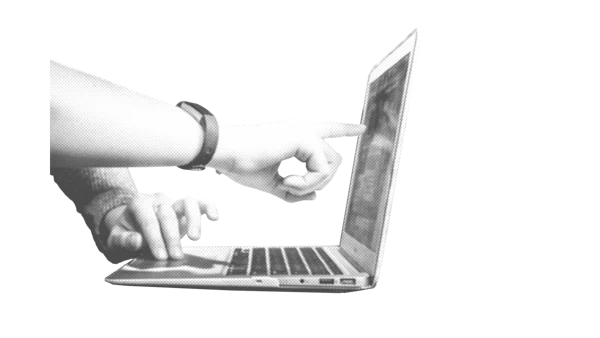 What is a Gantt chart and why is it important?
Are you new to project management? Do you want to know what is a Gantt chart and why is it important? Would like to equip yourself with dedicated Gantt software?
If you've answered yes to at least one of these questions, then, this article is for you!
A Gantt chart is an indispensable planning tool for efficient project management. From task creation to project follow-up, a Gantt chart offers a graphical and global vision of your projects.
To discover more about project management,Gantt charts to download our free template, keep reading!
What is a Gantt chart?
A Gantt chart is a project management tool that you can use to carry out your projects in the best possible conditions. It allows you to draw up a project schedule to visualize tasks that have to be carried out and those that are already completed.
There are many tools that you can use to create a Gantt chart, but its design is always the same:
left column: list of tasks and associated subtasks
header: time units
each line corresponds to a task, represented either by a rectangle, more or less long depending on the duration of the task, or by a diamond for a project milestone (punctual task)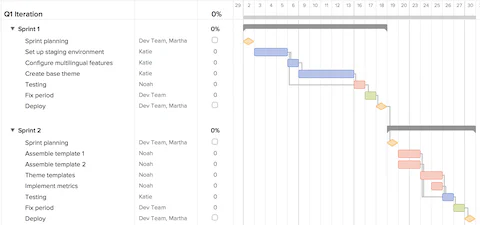 How is a Gantt chart used?
A Gantt chart is used to plan projects of all sizes and to visualize the start and end dates of a project in a single chart.
A Gantt chart also highlights the interdependence of tasks. In other words, to complete a task N, task N-1 has to be completed beforehand.
For example, a "sending the emailing campaign" task can only be carried out if the tasks of content creation, graphic design of the email and segmentation of the contact base are completed. Each task is linked with an arrow to show its interdependence from other tasks.
Benefits of using a Gantt chart in project management
1. Planning assistance
Managing and meeting deadlines is one of the most difficult challenges in project management. With a Gantt chart, you can create each task precisely along with, its start date, duration and/or due date. This allows you to have better control over the progress of your project, and therefore its costs.
2. Project structuring
A Gantt chart allows you to accurately define the tasks that have to be carried out and manage resources (time, budget, human resources) at each stage of a project. By using this tool, you will know where you are going, what your deadlines are, and you can move from one task to another in a logical way without wasting any time.
3. Adapting to each project
The advantage of using a Gantt chart is that it is suitable for all types of projects and industries. You can use one to plan the launch of a marketing campaign an IT project or to set up your communication strategy for example.
4. Having a visual overview of a project
The visual representation of tasks and milestones, the use of colors to define priorities or possible delays and the progress of tasks makes it very easy to visualize the progress of a project. In the blink of an eye, it is possible to have a clear idea of the project's progress and to make the right decisions in case of delays, for example.
5. Strengthening teamwork
All project members have access to the schedule, the task list and, in general, all information related to the project. Communication and cohesion are reinforced within all teams.
How to create a Gantt chart?
Here are the 5 key steps in creating a Gantt chart:
Step 1: Create a task list
To begin, it is essential to list all of the tasks of the project. In larger projects, you can define subtasks to further structure your project.
Keep in mind that the purpose of the Gantt chart is to give you visibility on your project; prioritizing or grouping them by task type can help you do this.
Do not hesitate to go into detail when listing your tasks. You should be very precise as this will allow you to have more visibility on your project and you will avoid delays due to unforeseen circumstances.
Step 2: List and allocate resources
For each task or subtask, one or more resources must be assigned. Resources are usually calculated as a percentage: one full-time person equals 100%. If a task requires two full-time people, the allocated resources will be 200%.
Step 3: Establish a project schedule
Your tasks are listed and you have identified all your resources. Now, you need to choose the start date and duration of each task. This step is crucial to control the progress of the project and perform a rigorous follow-up. It also allows you to visualize the possible overlapping of several tasks and to be able to anticipate the availability of resources, for example.
Step 4: Create links between each task
This step is just as important as the others because it helps you align the sequence of your tasks, and therefore helps you follow your project correctly.
You can create several types of links between your tasks:
task B cannot be started if task A is not completed

task B cannot be started if task A has not been started.

task B cannot be completed if task A has not been started.

task B cannot be completed if task A is not completed.
The link between the tasks is represented by arrows. A task can be linked to several previous tasks (all these tasks must be completed in order to complete this one) or subsequent tasks (the completion of this task conditions the others).
Step 5: Add milestones
Milestones mark important events and key dates in a project, such as the signing of a contract, for example. And, they help to visualize the progress of a project.
Are you wondering how to build a Gantt chart quickly? Well Excel is an excellent option for beginners, try our Excel template for free:
Top professional planning software
Planning software comparison table
Clarizen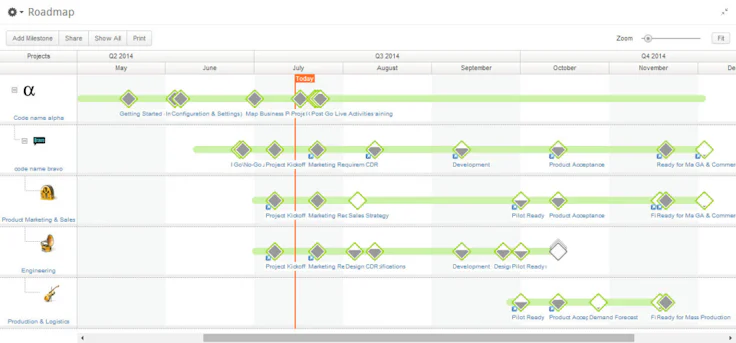 Clarizen is a market leader in project management software thanks to its very attractive price/performance package.
This solution connects employee conversations, tasks and projects in a unique collaborative environment. And, its notification system gives you alerts in real time to avoid any unpleasant surprises.
Clarizen's list of features include :
real-time task progress monitoring
reviewing, prioritizing and validation of a project portfolio
improved problem management
roadmap management, etc.
Connect Clarizen with Google Drive, Salesforce, SAP, Sharepoint, Excel, and other tools for even greater productivity.

The most comprehensive web-based project management tool
Learn more about Clarizen
Sciforma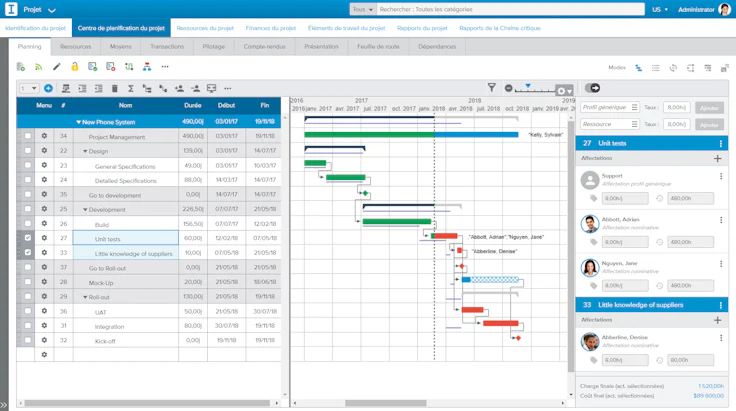 Sciforma is a cloud-based project and portfolio management software based on four values: robust & complete, scalable features, easy-to-use interface and out-of-the-box configuration.
The solution is ideal for teams that follow the agile method which makes it perfect for IT companies, service companies and R&D teams. With Sciforma, you can easily track and analyze projects to make relevant decisions.

Project portfolio management
Learn more about Sciforma
Planisware Orchestra
Planisware Orchestra is suitable for all types of projects: IT projects, strategic projects or R&D projects. It offers a clear overview of your roadmap: view the status of the key phases of your projects.
Its collaborative platform gives your teams access to task tracking and project progress.
Planisware Orchestra's interactive interface is practical and easy to use: a simple drag and drop allows you to reposition tasks in the tree structure. Compare your schedule with a reference schedule to track the progress of your project and anticipate delays or potential problems.

Project Portfolio Management
Learn more about Planisware Orchestra
Monday.com
Monday.com's easy to use, visually appealing, and simple software also includes the ability to make a Gant Chart. Like the rest of their interface, the Gant Chart function is intuitive and simply laid out for easy comprehension. It also already has built-in integration with tools, smart workflow automation and whole bunch of other apps. They also provide more than 200 ready-made project management templates so you hit the ground running on your next project.

The most intuitive platform to manage projects and teamwork
Learn more about monday.com
Which online planning software is right for you?
To find and choose the best software, start by carefully analyzing and defining your needs. The best tool for you will depend on the size of your company, your sector of activity, the type of projects you carry out, your clients, etc.
To get a clear idea and decide on the features you need, take advantage of trial periods.
Best tools for you