monday.com
Presentation of monday.com
monday.com is a cloud-based work management platform offering a simplified way for you to manage any team and any project while creating a more transparent work culture.
What's great about monday.com is it works for more than just digital project management.
You can also use monday.com software for:
Sales pipelines

Marketing campaigns

Recruitment processes

Video production planning

Tasks management

Progress tracking

Product roadmaps

Business processes

Design planning

Bug tracking

Event management

Construction planning
… and the list goes on and on.
More than 80,000 teams in diverse industries around the world rely on monday.com, from big companies like Wix and The Discovery Channel to small businesses just getting started.
Benefits of Using monday.com
Total Customization And Control
monday.com is totally customizable to fit your needs. This means you can build your workflows in any way that works for you and your team. This is one of the main reasons why so many teams across industries and oceans have embraced this platform.
So, how does it work?
It all drills down to monday.com's core components: Boards, Groups, Columns, and Items.
A Board is like a spreadsheet, but flexible, intuitive, and easily shareable – all of which traditional spreadsheets are not.
A Group is one or more sections on your board that represent anything you want, like "Weekly to-do's." Each group has one or more Columns that you choose how to label, such as Owner, Status, and Priority.
Each Group also has rows which are called Items, and you can add as many as you want. Inside each Item contains "whatever needs to get done" in that Group, i.e., your project's tasks.
monday.com is flexible enough to accommodate any changes to your project plans. You can easily add, edit, remove, and drag-and-drop Items, Columns, and Groups in your Board since few things are ever really set in stone.
If you rather not start from scratch, monday.com has 100+ different pre-made templates to help you manage anything from your budget to your sales pipeline. You can also customize these templates too, making them your very own!
Better Communication, Collaboration, And Visibility
Say goodbye to daily sync meetings and endless email threads; And to the frustration of not knowing where the right files and assets are; And to asking someone for the umpteenth time what the status is.
You know these are all time-consuming and inefficient ways of pushing things forward. Instead, you can have all your work live inside monday.com, making everyone's life so much easier, especially yours.
monday.com brings your team and work together in one organized place. You can also add team members to your Boards and delegate the work that needs to get done by assigning one or more team members to each Item.
5 Most Useful Monday.Com Features
Beyond customizable workflows, task prioritization, file sharing, drag-and-drop, communication in context, progress and milestone tracking, monday.com also offers:
1. Time Tracking
Knowing where your time goes is critical, especially if you're billing clients by the hour. According to a survey, 40% of the 500 respondents reported that they never track time spent on emails which takes up a significant amount of their time.
Having a real understanding of how much time is spent on each task leads to greater accuracy. This also helps you make better, smarter decisions on how you spend your time.
2. Dashboards
Dashboards are a great way to see what's important at a glance. It makes it easy to gain valuable insights, track project progress, estimate workload, and monitor budgets. It also keeps your team focused and motivated on the high-level goals that push work forward.
3. Integrations
Are you juggling multiple different tools to get the job done? Easily make monday.com your primary work hub with two-click integrations. Seamlessly integrate popular external tools from Jira and Slack to Gmail and Mailchimp, and further streamline your workflow.
4. Views
monday.com offers several ways to view the data in your boards from Gantt Chart View for your project plans to Chart View for tracking progress. Views allows you to see things a bit differently and gather valuable insights that you may not have gained otherwise.
5. Automations
Automations take care of the manual work involved in completing repetitive tasks. Need to notify someone every time a task is complete? monday.com takes that task off your hands so you can be more productive on the work that really needs your time and attention.
Advantages of monday.com
Powerful features and robust functionality

Impressive, modern user interface

Excellent support team and quick to respond

Certifications:ISO 27018, ISO 27001, GDPR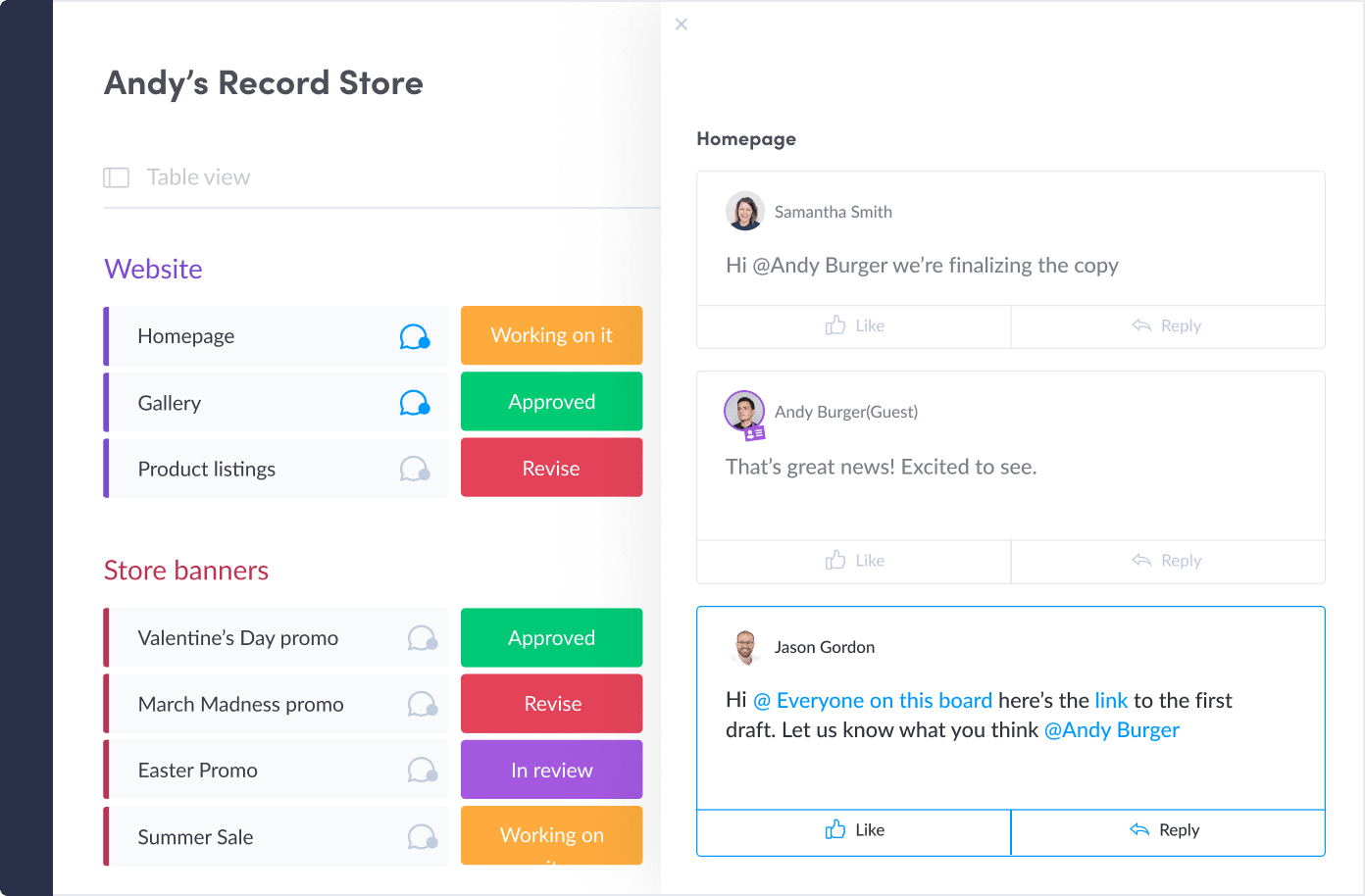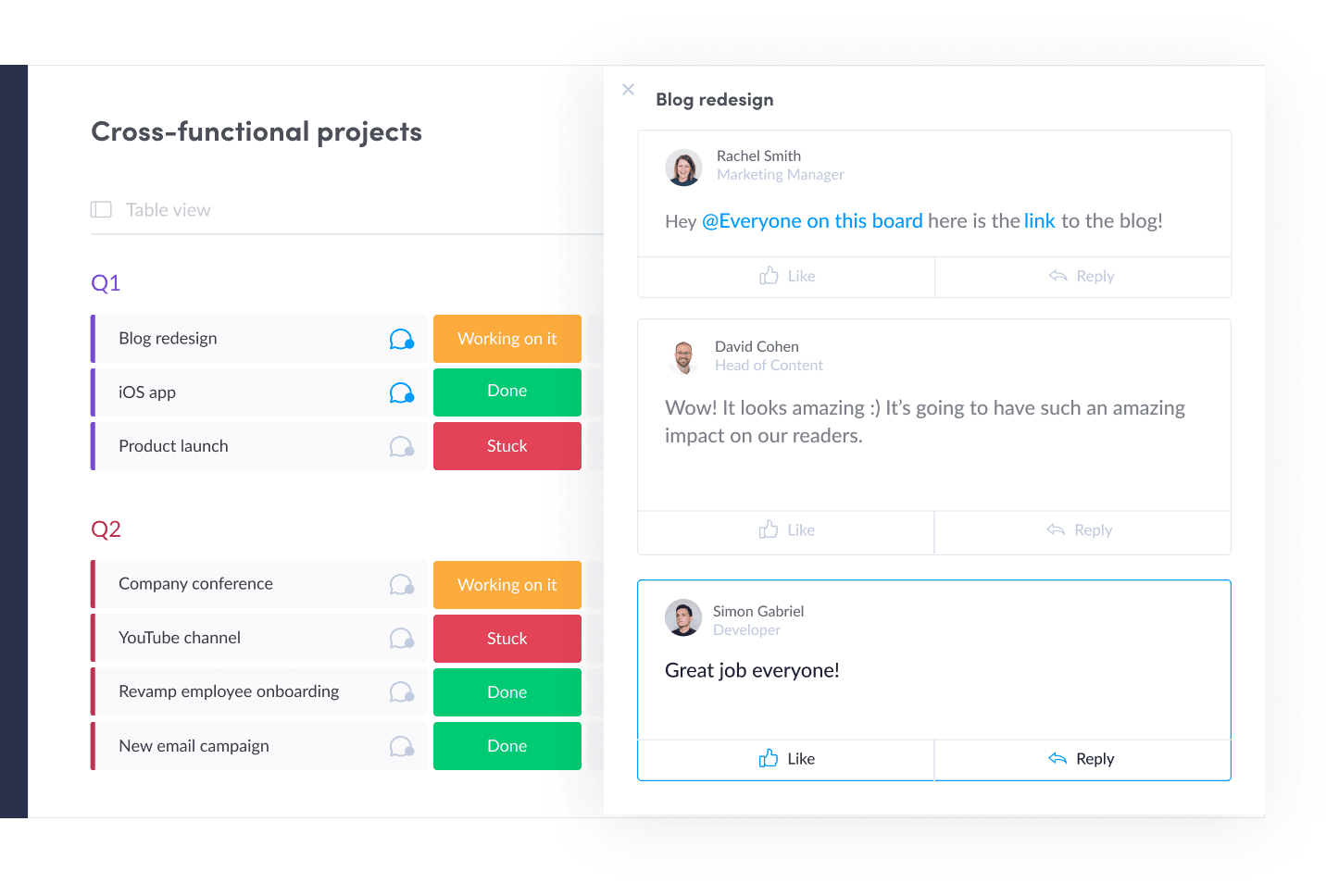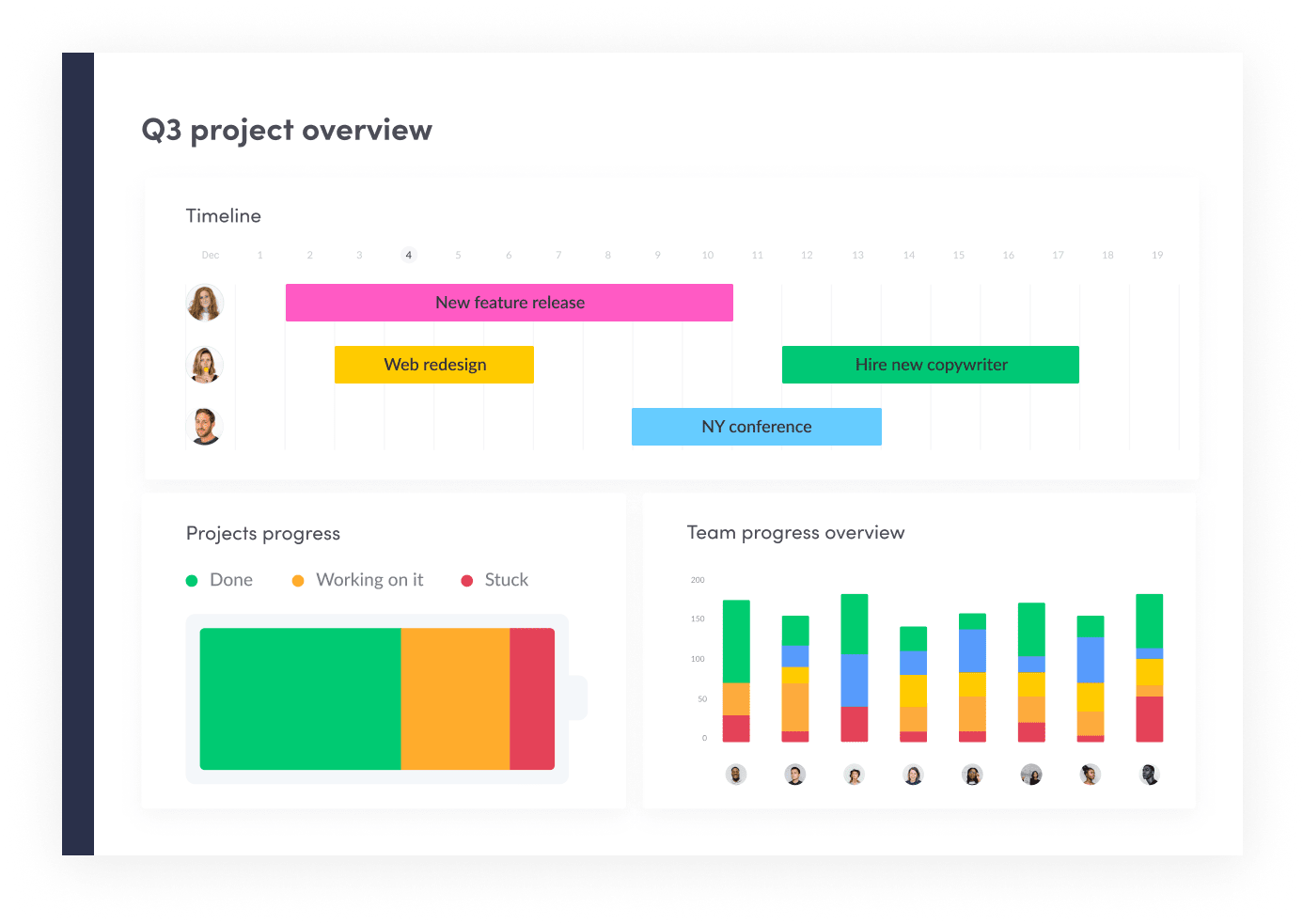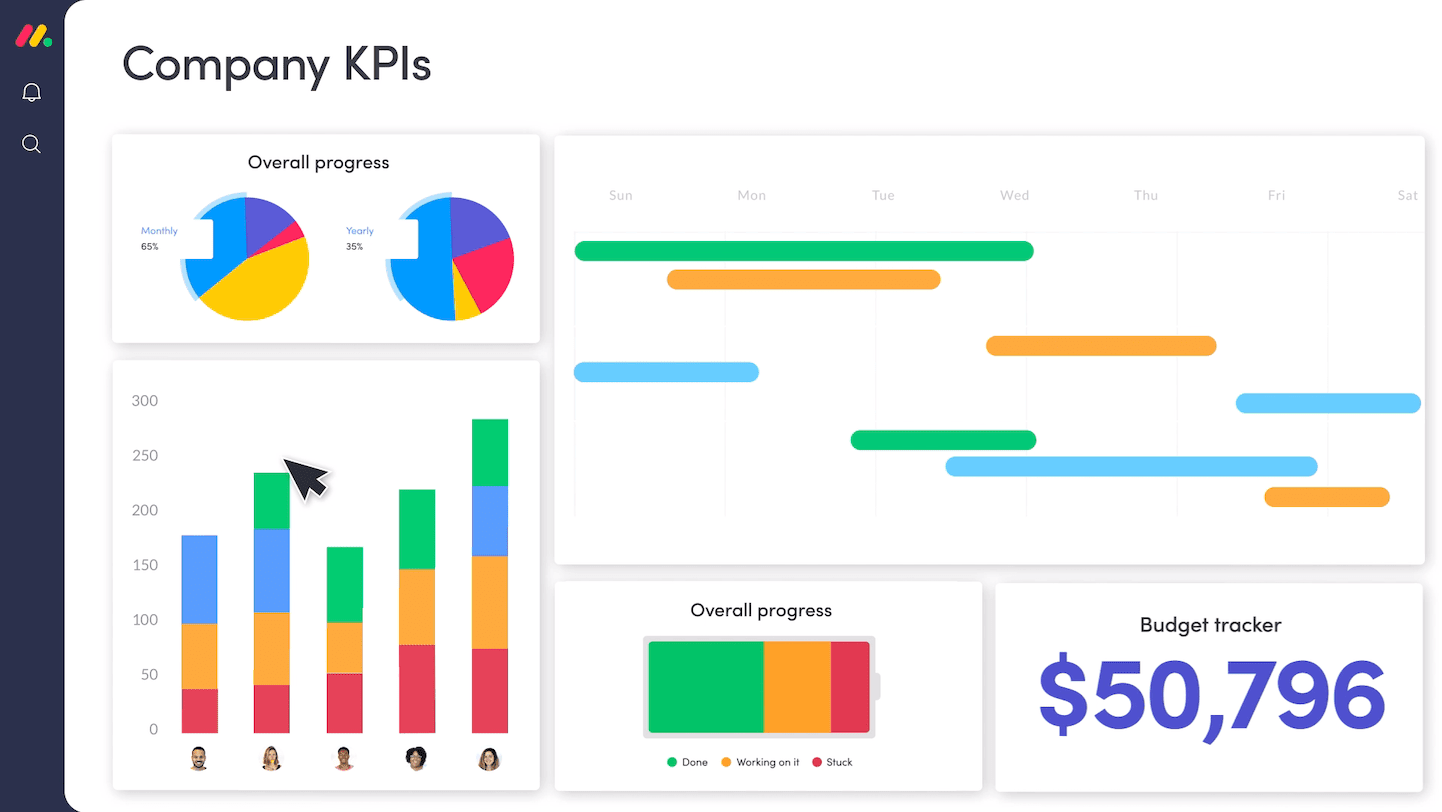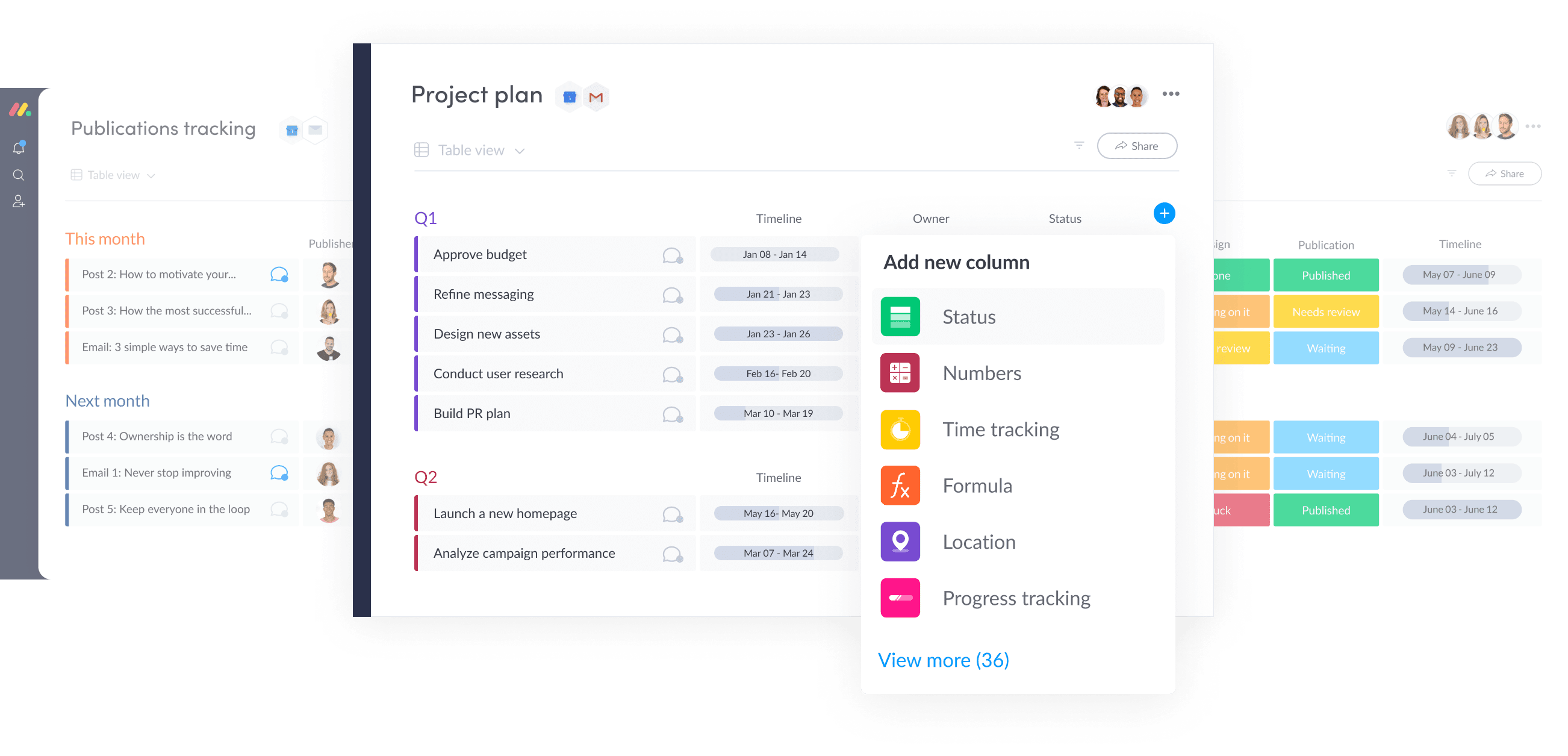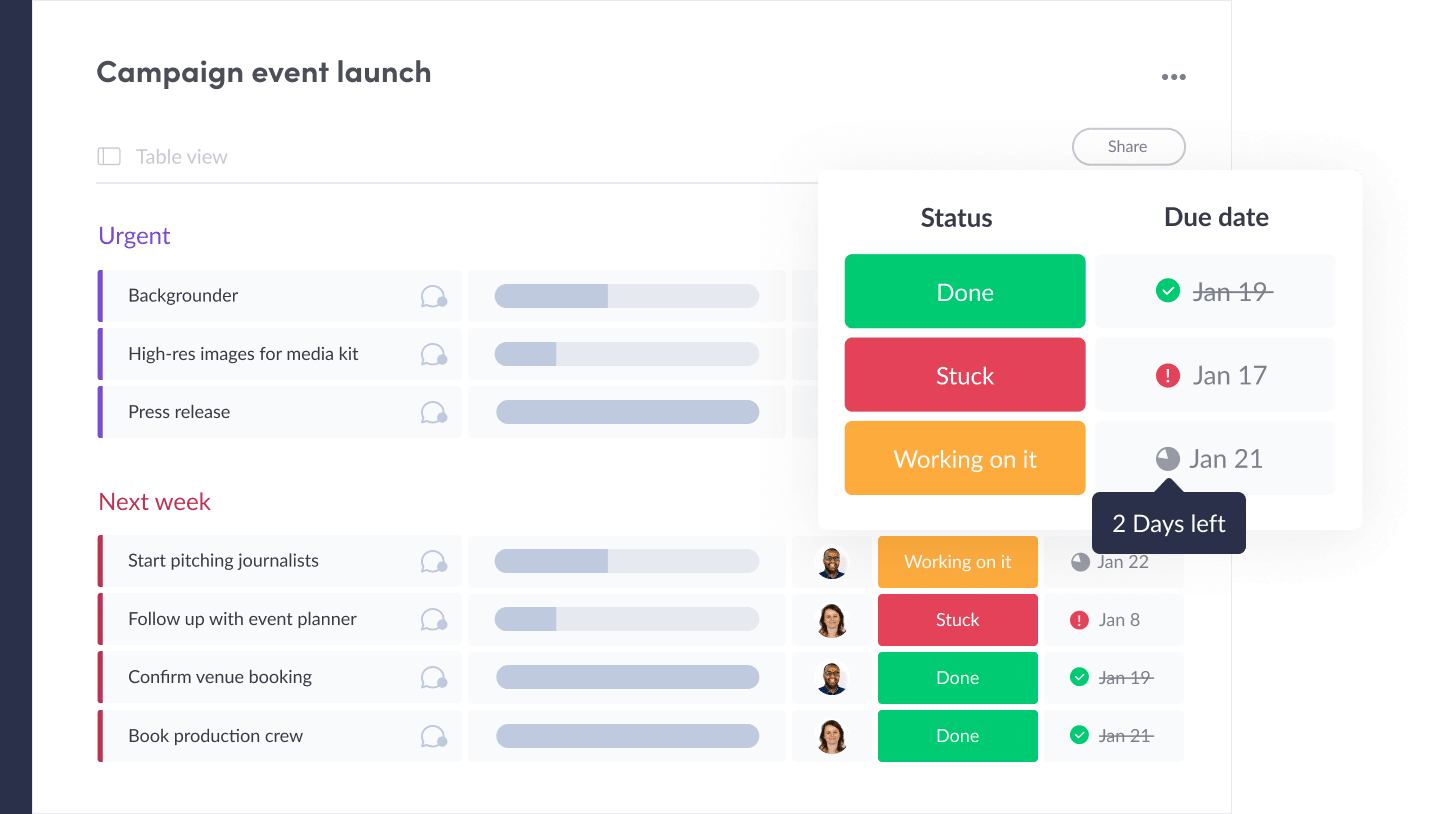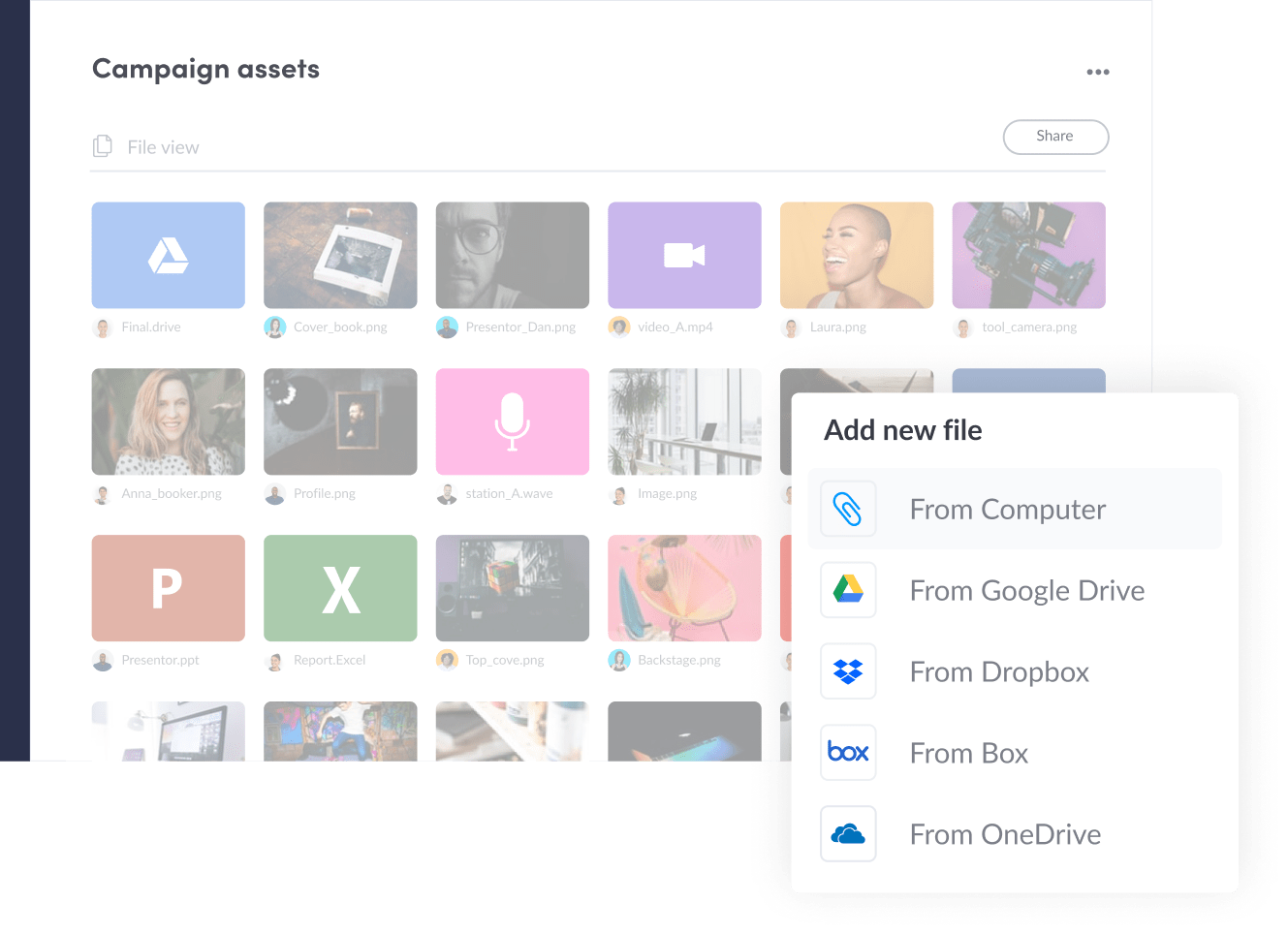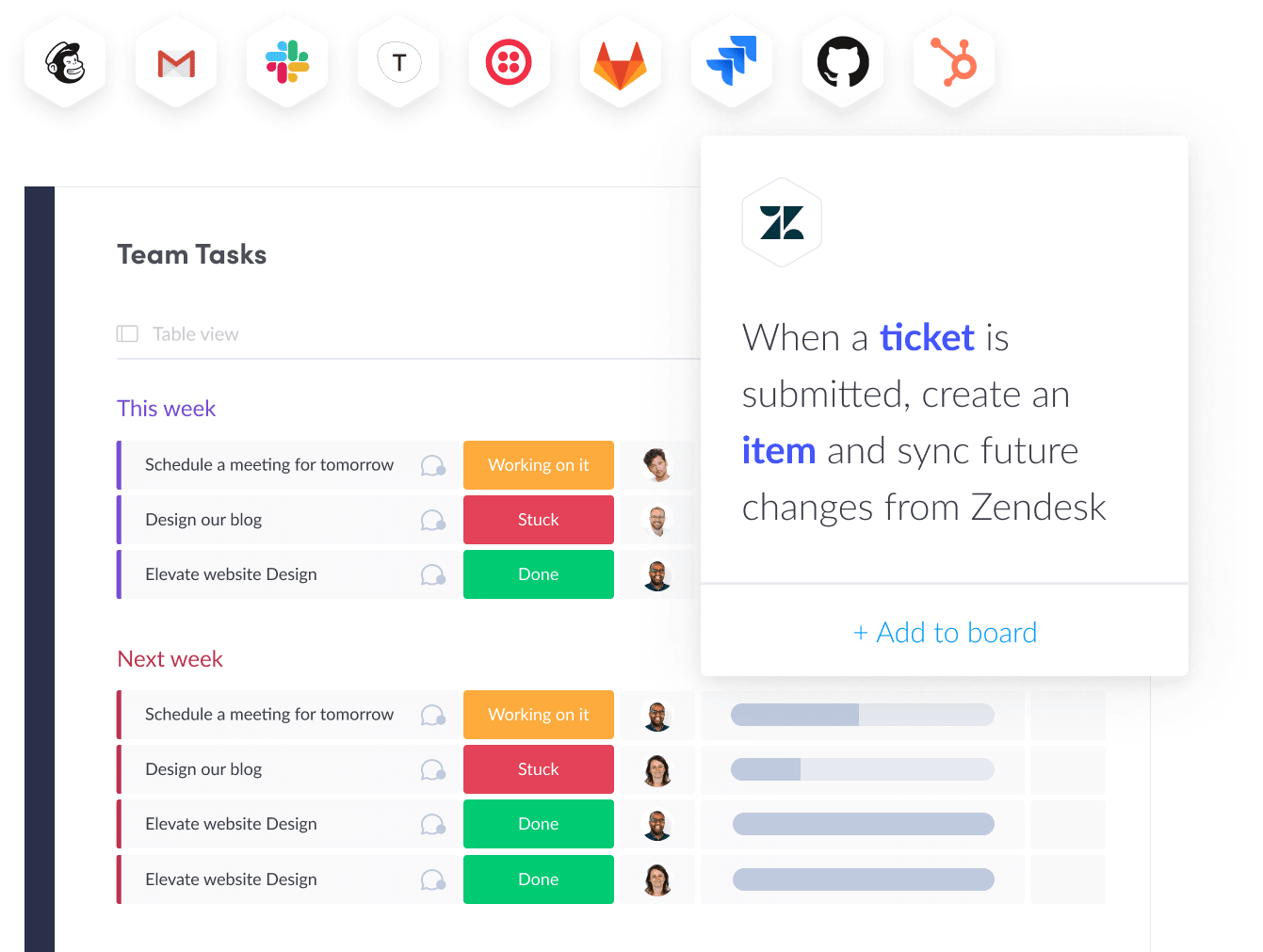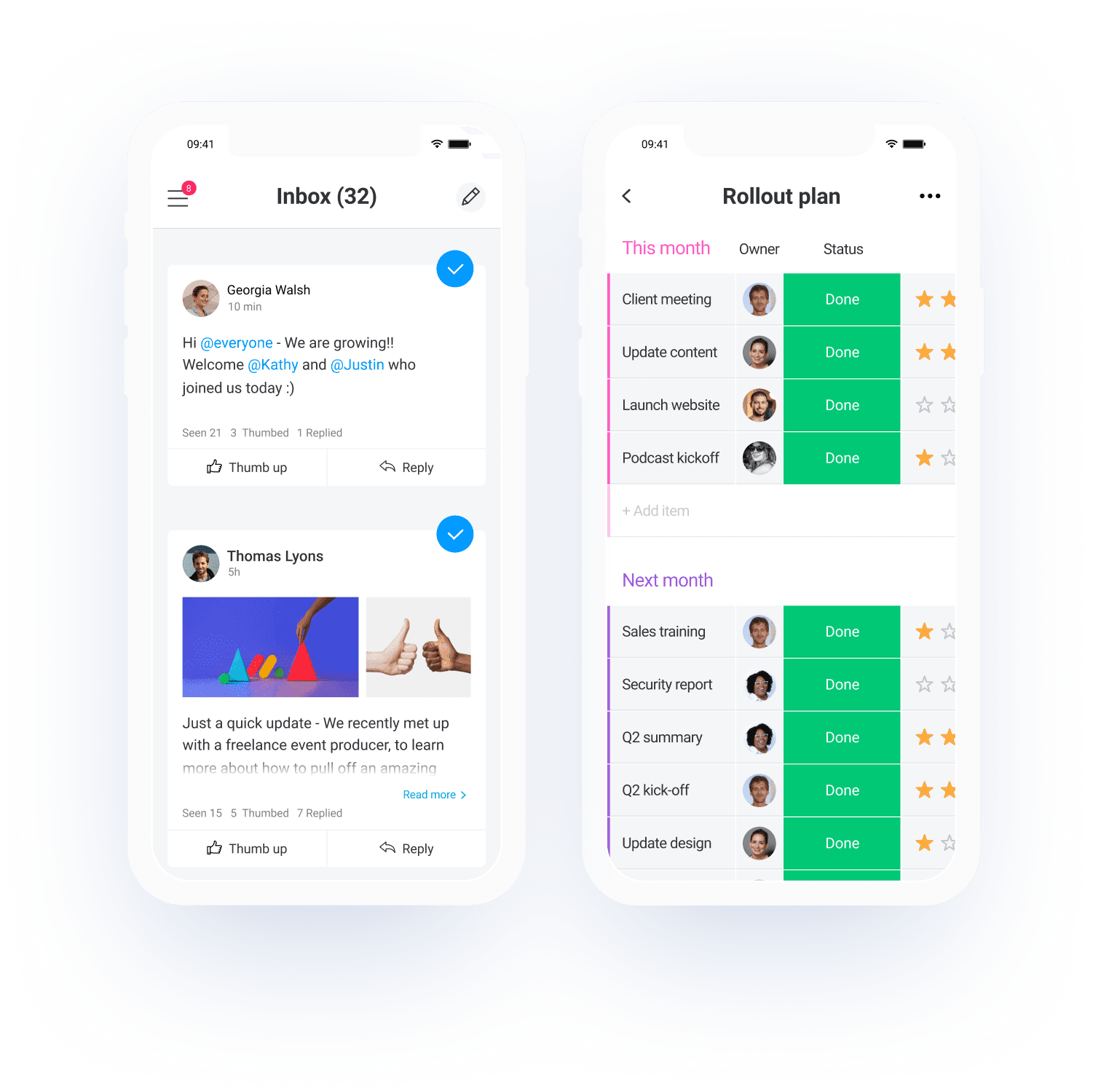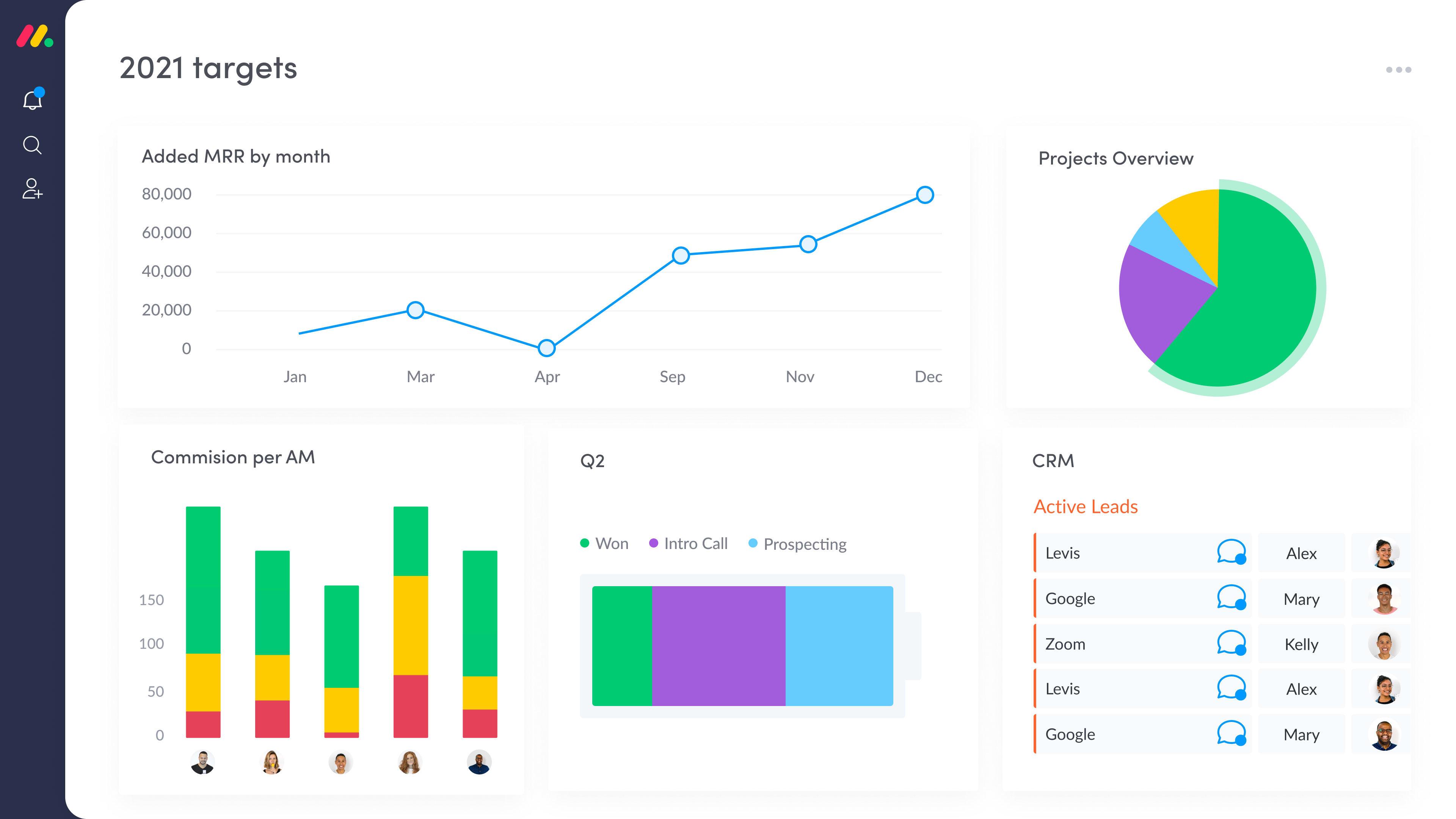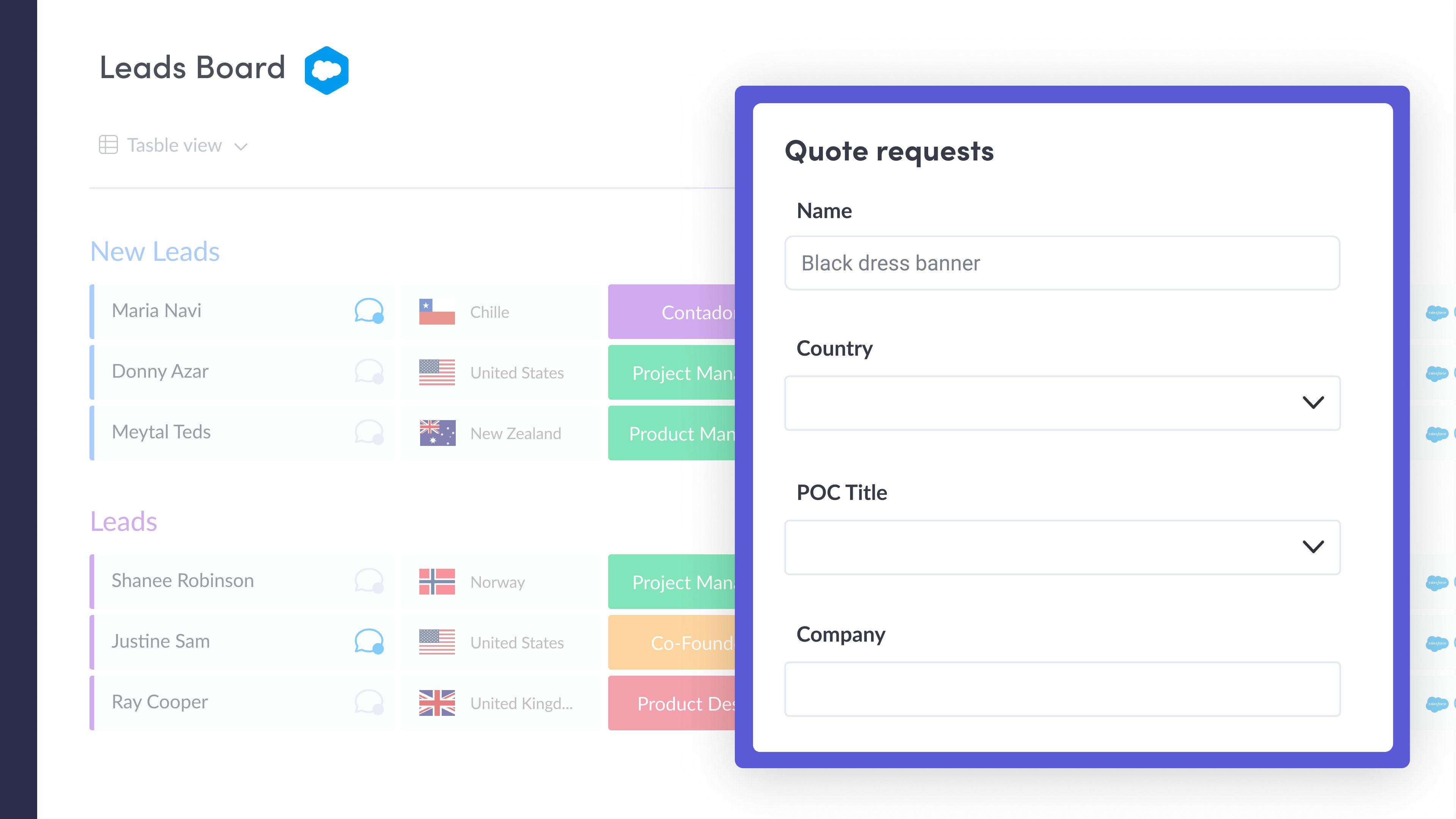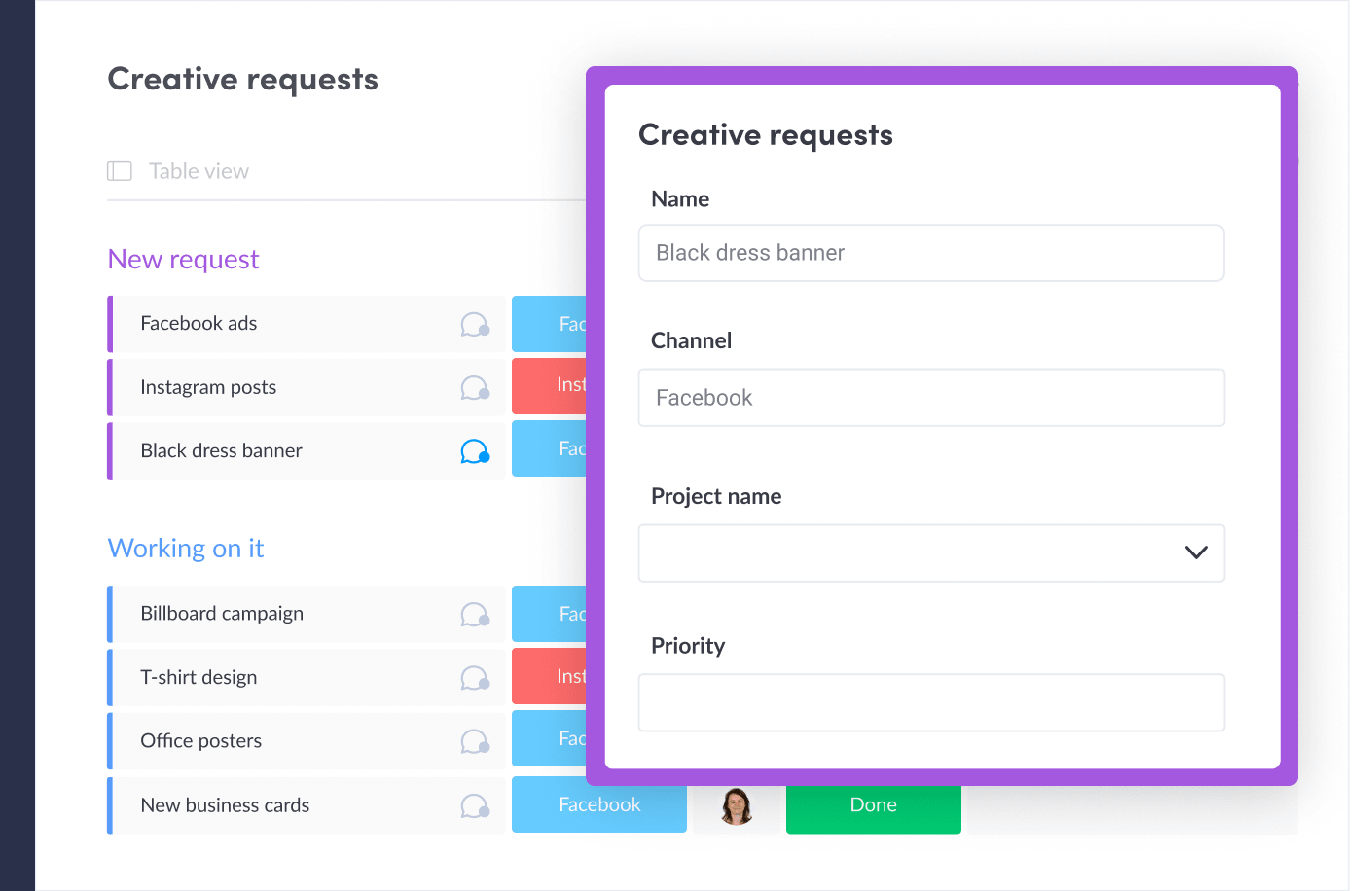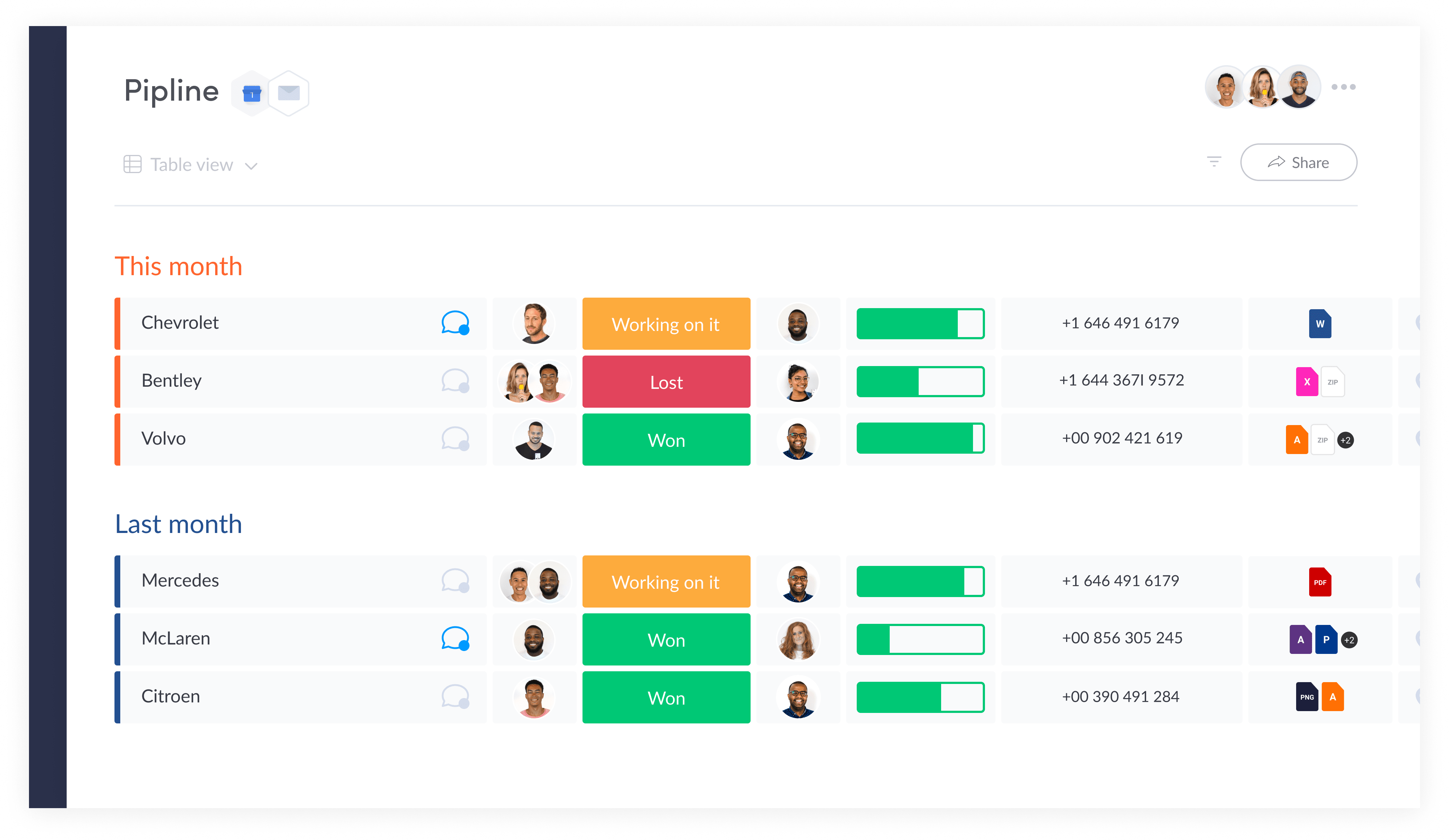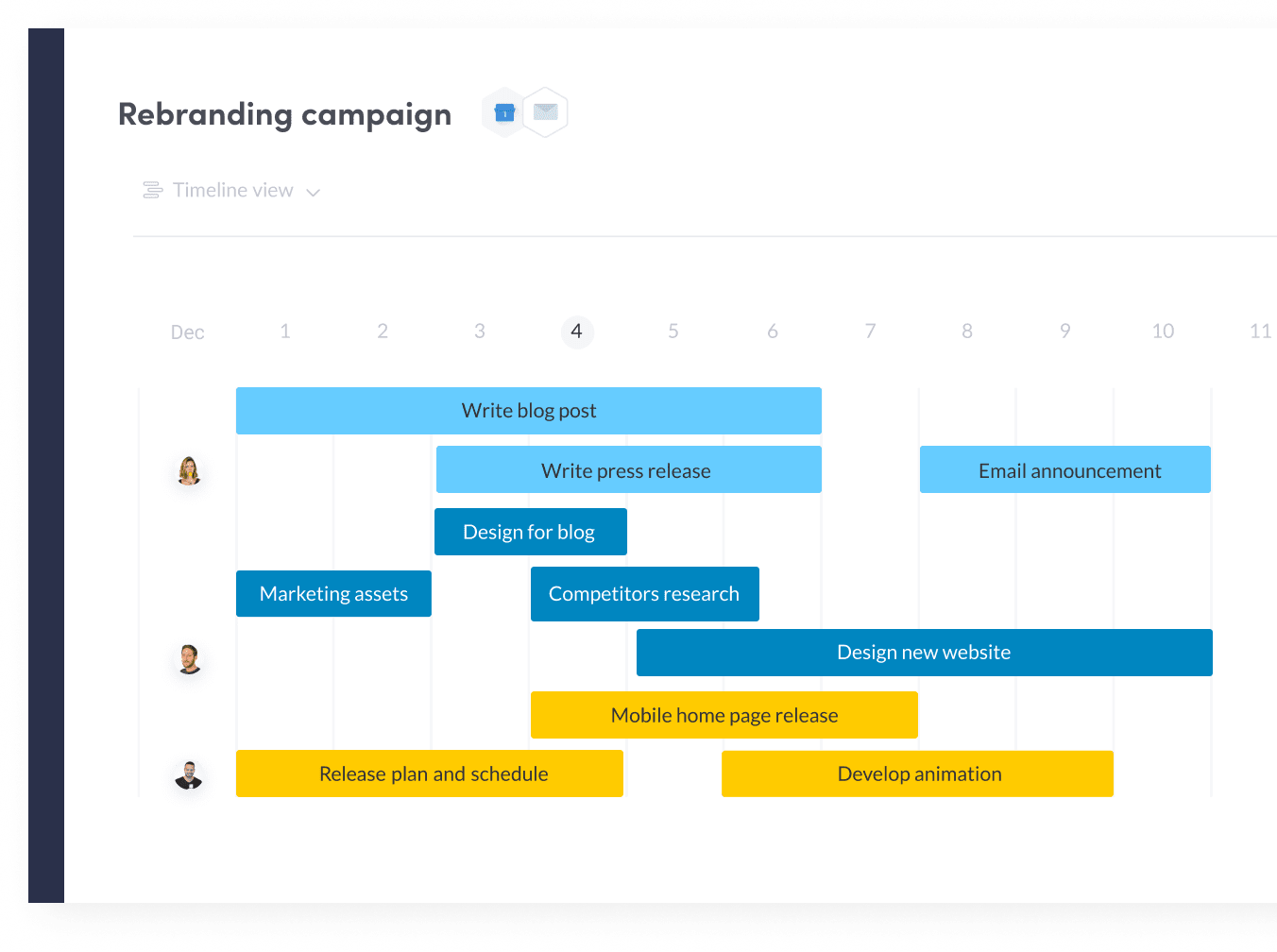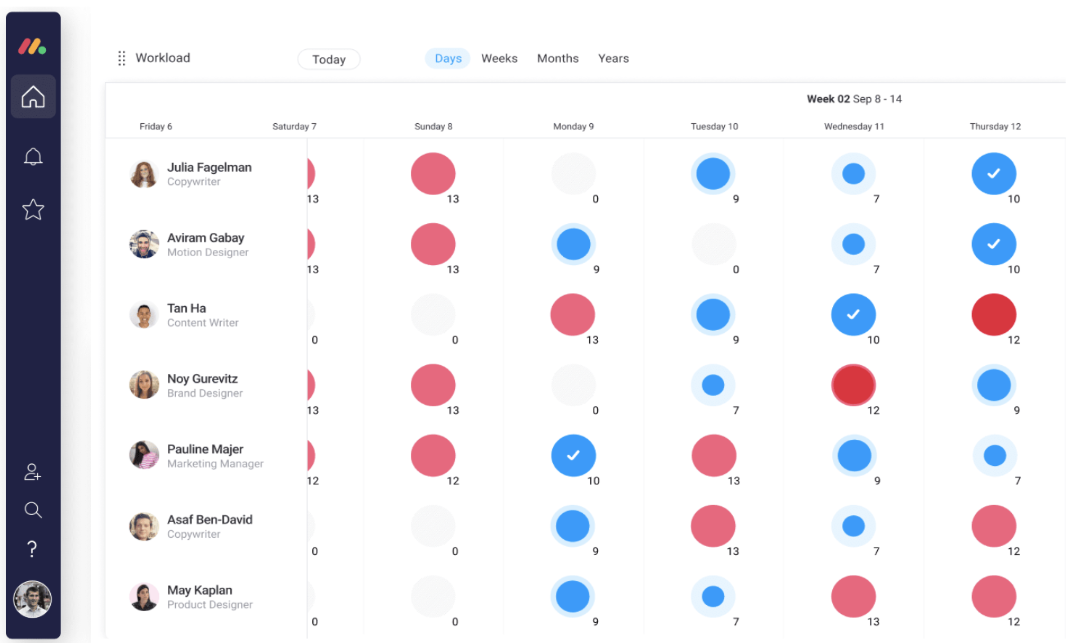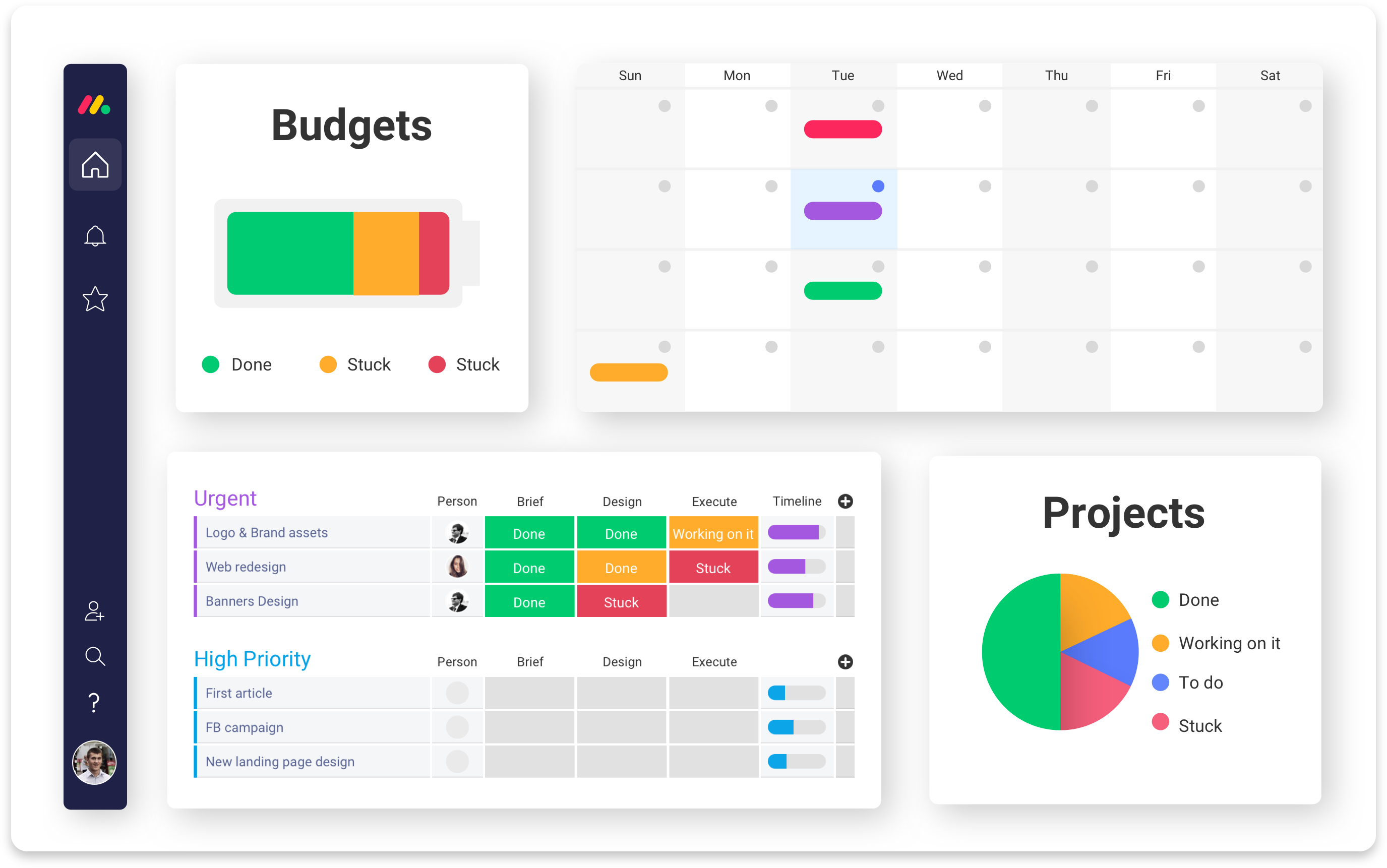 Prices and features of monday.com
Application Settings
Data Import & Export (CSV, XLS)
+ 30 other features
Application Settings
Data Import & Export (CSV, XLS)
+ 30 other features
Application Settings
Data Import & Export (CSV, XLS)
+ 30 other features
Application Settings
Data Import & Export (CSV, XLS)
+ 30 other features
Customer reviews about monday.com (0)
No reviews, be the first to submit yours.
Our test on monday.com
monday.com is a cloud-based work management software allowing you to facilitate digital project management. Based on their own experience and understanding the importance of improving the workflow, monday.com aims to digitize and simplify the project management, to make it ultra-intuitive and pleasant, so that your team can have more time for creative tasks.
Thousands of people gave monday.com an average rating of 4.6/5 on famous software review sites such as G2, Capterra, TrustRadius, and GetApp. As simple as Trello, but as rich as Asana, most users are happy with monday.com because of its ease of use and its powerful functionalities.
To try it is to adopt it. If you are looking for a CRM, monday.com is one. If you are looking for a Scrum tool, monday.com is one. If you're looking for a To-do List service, monday.com is one. monday.com can do just about anything, and the more you use the tool, the more you realize how powerful it is.
With more than 135,000 users worldwide, monday.com accompanies not only big companies but also small service businesses across different industries. They use monday.com, not for the same way but for the same purpose of increasing team productivity and improving project management.
These organizations have trusted the efficiency of monday.com: Wix, Tesla, Adidas, Adobe, Unilever, Coca Cola, Accor, The Discovery Channel,...
In terms of features offered, monday.com allows you to:
Customize workflows and view data from the dashboard
monday.com revolves around Boards, in which you create "Items" that are materialized by lines. You can also add owners, labels, end dates, priorities, but also tags, values, ​​or files. Furthermore, the dashboards allow you to have at a glance access to the information you need as well as your performance indicators and get valuable insights.
Collaborate with the team
The platform allows you to view the boards of all your projects on a team calendar view. This will help you observe which tasks are due weeks or months in advance. To facilitate communication in your team, monday.com to communicate directly on a task thanks to comments, as well as a tag system. File storage and file sharing features are present in every task.
In this way, all the users concerned will have access to the resources necessary for the project. As long as you're tagged in a project board, you'll receive email notifications about new files added to each task.
Track progress and time to have a better vision of your project
Boards can be segmented using Groups, which provide a more hierarchical view. Some columns (like Status and Deadline, for example) can be "linked". When a status changes to "completed", the due date is immediately validated. If you need to track the time spent on each task, monday.com gives you the option to add a progress column.
Integrate with other tools
monday.com integrates the most used services. For example, if you have a CRM like Hubspot or Pipedrive, monday.com will also make it easier to track the leads your sales reps have contacted. For after-sales service, you can connect your board with Zendesk Customer Service. Finally, integrations with Slack, Google Drive, or Dropbox will further facilitate collaboration between different users.
Automate the process and eliminate repetitive tasks
It is possible to automate certain operations with or without the tools listed below in order to save a lot of time. There are a bunch of templates for setting up task scenarios.
The greatest thing is that monday.com provides also management solutions for:
sales pipelines,

marketing campaigns,

HR processes,

product roadmap,

design planning,

progress tracking, and many more.
monday.com offers email support in English. The tool also offers many articles, webinars, tutorials, and a community space that users can explore. There are therefore many resources if you want to improve your skills, and the support is very responsive if you are stuck somewhere.
Software highlight
Total Customization And Control
monday.com allows you to customize your workflow that suits the working rhythm of your team. Furthermore, the interface is also customizable. It's a drag-and-drop intuitive interface with boards, groups, columns, and items very easy to modify, and edit. It's really simple to create a workflow or "board", add participants and track the progress of many tasks with ease. Using monday.com, you will benefit from 100+ different templates, and you can customize it too! Really amazing, right?
Don't worry if you don't know how to manipulate the tool! monday.com provides online training for your team to explain step by step how you can explore all its functionality.
Automate all the process
Do you have a gap in your work schedule and time management? monday.com is the solution for you!
In fact, this software will automate all your project management processes, remove repetitive tasks and boost your productivity. monday.com helps you reduce the number of missed tasks and thus shorten your project delivery times in general. Communication between team members has never been easier. monday.com is intuitive, it simplifies the assignment of tasks to projects as much as possible.
The search engine, the great strength of monday.com
You can filter by date, search in tables, files, tags and above all, it is super fast. Do you have a tracking table for your website and want to see at a glance which ones were scheduled last year? Nothing's easier. The search engine is, therefore, a great strength of monday.com, and the more information you have, the more useful it will be.
Another feature that works very well is filtering in a table. You can also configure everything, from the people in charge to the state, it's very practical. By clicking on a hashtag, you will also have access to all the information on the pulses containing it.
Lots of integrations
One of the best strengths of monday.com is its integrations with lots of different tools to help you synchronize the whole project. We can mention some of its integrations such as Hubspot CRM, Excel, Google Calendar, Slack, …
Other highlights of monday.com: Access to a complete mobile application with a good responsive design, free version, free trial, better communication, collaboration, visibility, client support, ...
Software inconvenience
Although monday.com has lots of advantages, it also contains some inconveniences that you have to pay attention to while using the software. First, the tool doesn't give users the possibility of exporting Gantt schedules. Furthermore, there is no possibility of estimating the effort required, whether in terms of time or costs. And the last inconvenience that you have to pay attention to is that there is no possibility of converting emails into tasks from a project email address. monday.com is working on these inconveniences to improve client experience in the future.
Different versions and subscriptions
monday.com offers 5 versions that suit the need and the budget of each company. It provides an individual pack that is free for life for 2 users. This version is very useful for small businesses that do not necessarily need all the features offered. You can also opt for this offer at first and thus discover the ergonomics of the software for free without obligation.
With large companies that have to manage lots of big projects, a premium plan is no doubt a good choice. You have to contact them and demand the pricing quote that suits your need and your budget the most. The 14-day trial is free and allows you to set up a monday.com test, to give you a definitive opinion on this SaaS tool.
Our opinion on monday.com
monday.com is a friendly and time-saving all-in-1 solution. You can easily manage all your tasks and team workflow on a single tool. Most of the users have chosen monday.com not only for its depth of features, business vision but also for its customer support system. In addition, although it has many assets dedicated to SMEs, it is ideal for companies with a large workforce. Its unlimited possibilities for customization, communication, and collaboration make it an essential tool. Let's try and let us know your opinion!