Asana: in summary
Asana is work management software that helps teams coordinate and manage their work, tasks, and projects. It helps organizations move faster by making sure everyone knows the team's plan, process, and who is doing what by when.
You can also use Asana to manage your work to-do list for the day, week, or month (in a "My Tasks" view) -- so you're never left wondering what to work on next. In Asana, teams can break down work into projects and tasks.
In Asana projects, you can set up your work as either a list or a board. Each project has the following features:
Calendar view: see any list of tasks on a calendar.
Files view: see a gallery view of all the project's attachments.
Project followers: add teammates to projects to keep them up to date on work.
Comment-only access: give certain project members "comment-only" access so they can't edit the project or tasks.
Progress view: send project status updates and see project progress.
Project conversations: start a discussion with all project followers to keep momentum going.
Within each project, you can create a list or board of tasks. You can also create tasks for yourself or another teammate that do not live in a project. Each task has the following features:
Assignees: give each task a clear owner so everyone knows who's responsible.
Subtasks: break up tasks into smaller parts with individual owners.
Start dates and due dates: specify a start and end date for tasks.
Attachments: attach files from your computer, Dropbox, Box, or Google Drive.
Dependencies: mark one task as waiting on another so work happens in the right order.
Task followers: add teammates as followers so everyone stays in the loop.
Comments: comment directly on a task to ask questions and @-mention teammates or other tasks.
Custom fields: keep important information front and center by adding custom fields to tasks.
Asana also connects with dozens of other apps and integrations. For example, you can add tasks directly from your email inbox by forwarding an email to Asana. The subject, content and attached files are then transferred into the newly created task. It is also possible to synchronize Asana with your Google calendar in order to view your weekly planning.
Asana boasts an extremely user-friendly interface and is great for teams of any size.
Its benefits
Certifications:GDPR, SSAE 16
Appvizer's opinion
Asana is, without a doubt, one of, if not, the best project management software programs out there. The sheer amount of features included, even in the free version, allow organizations, of all sizes, to effectively manage their teams better.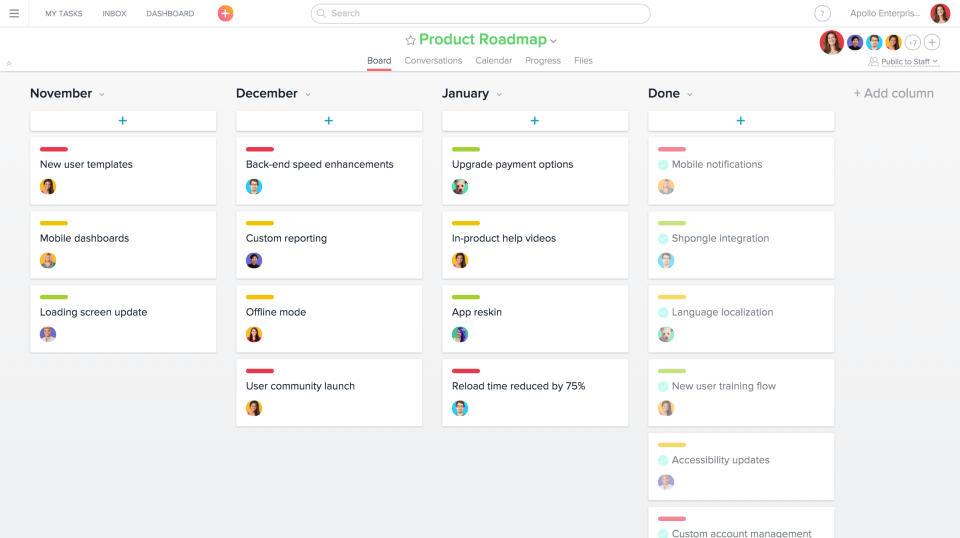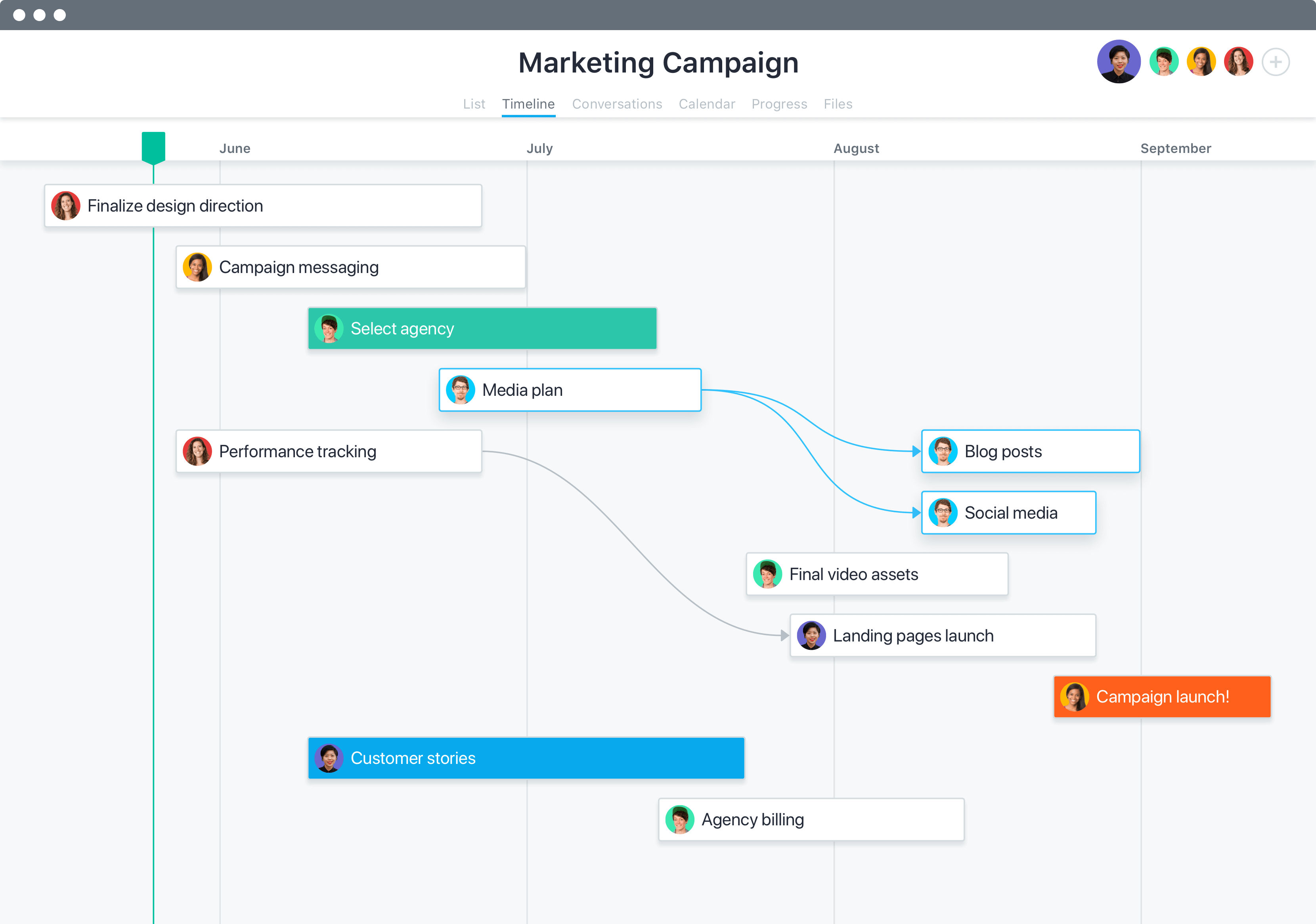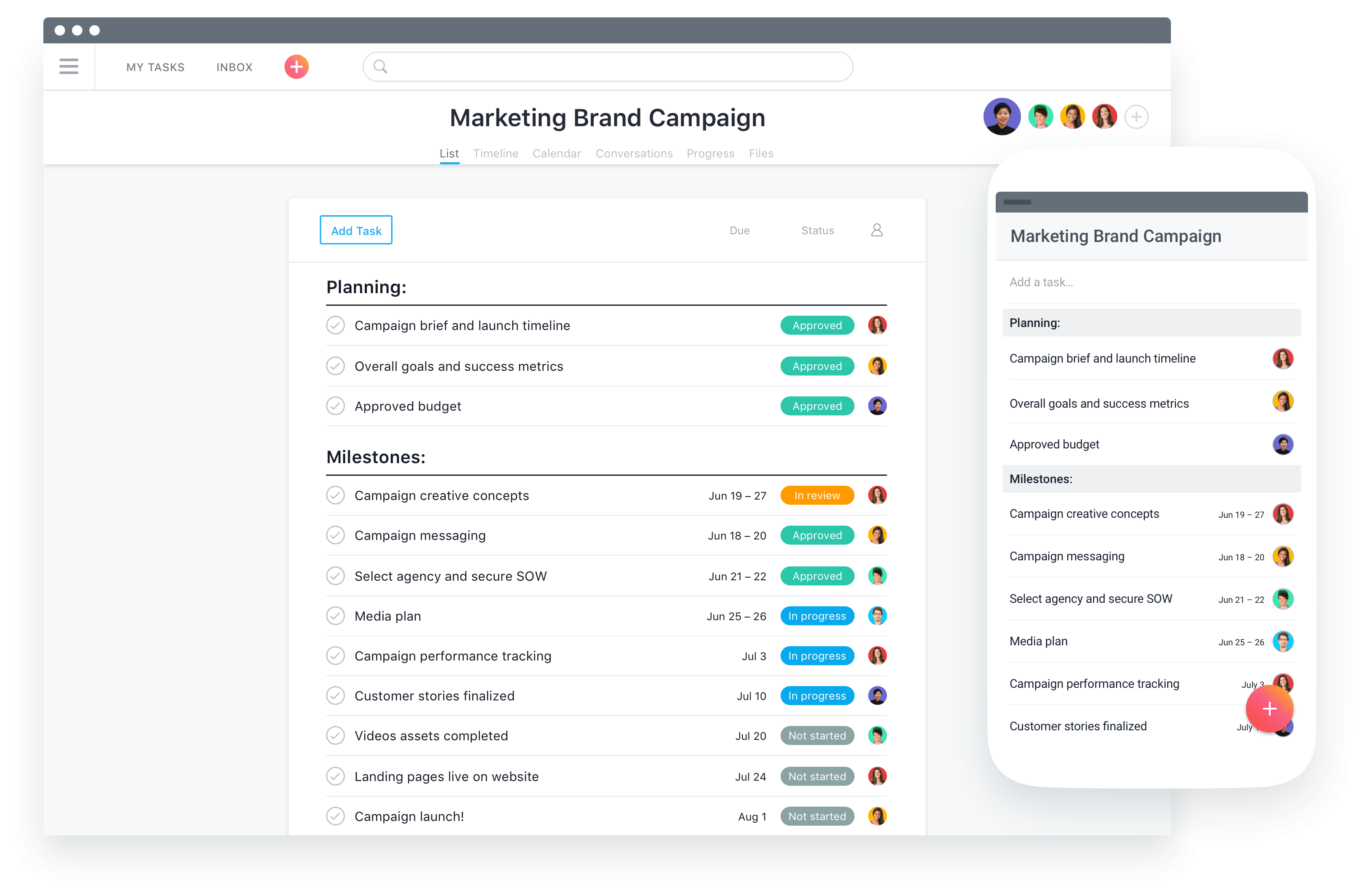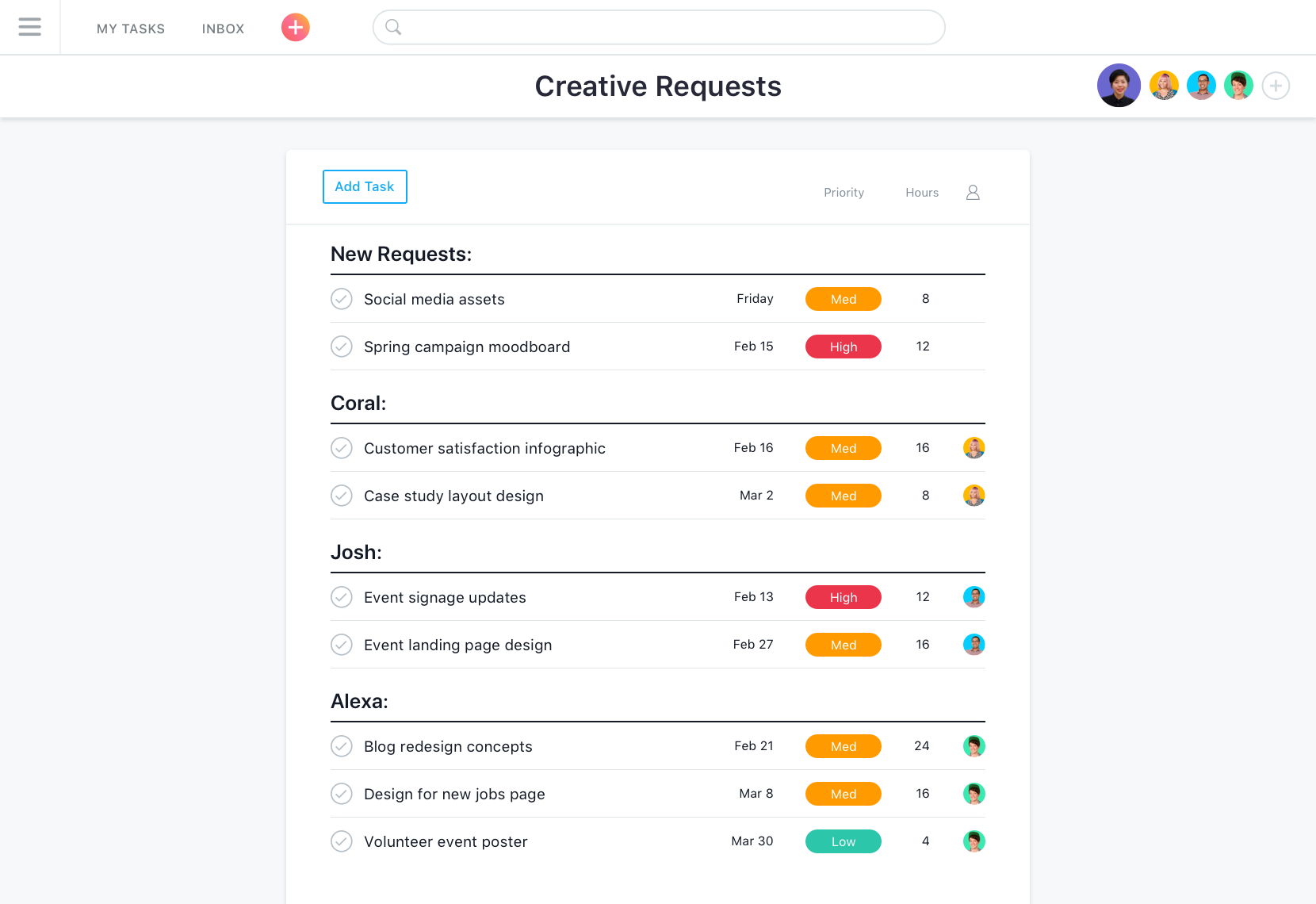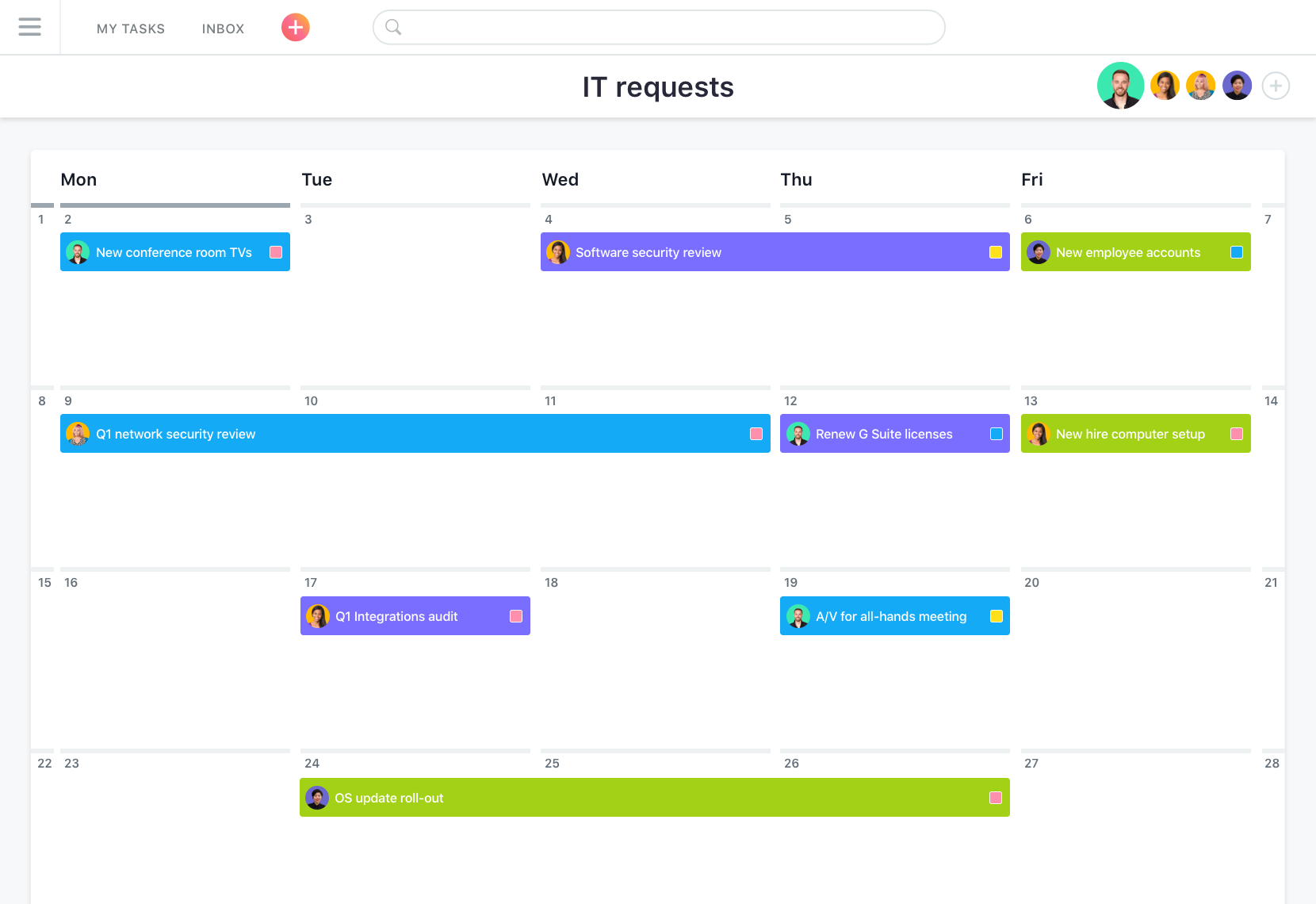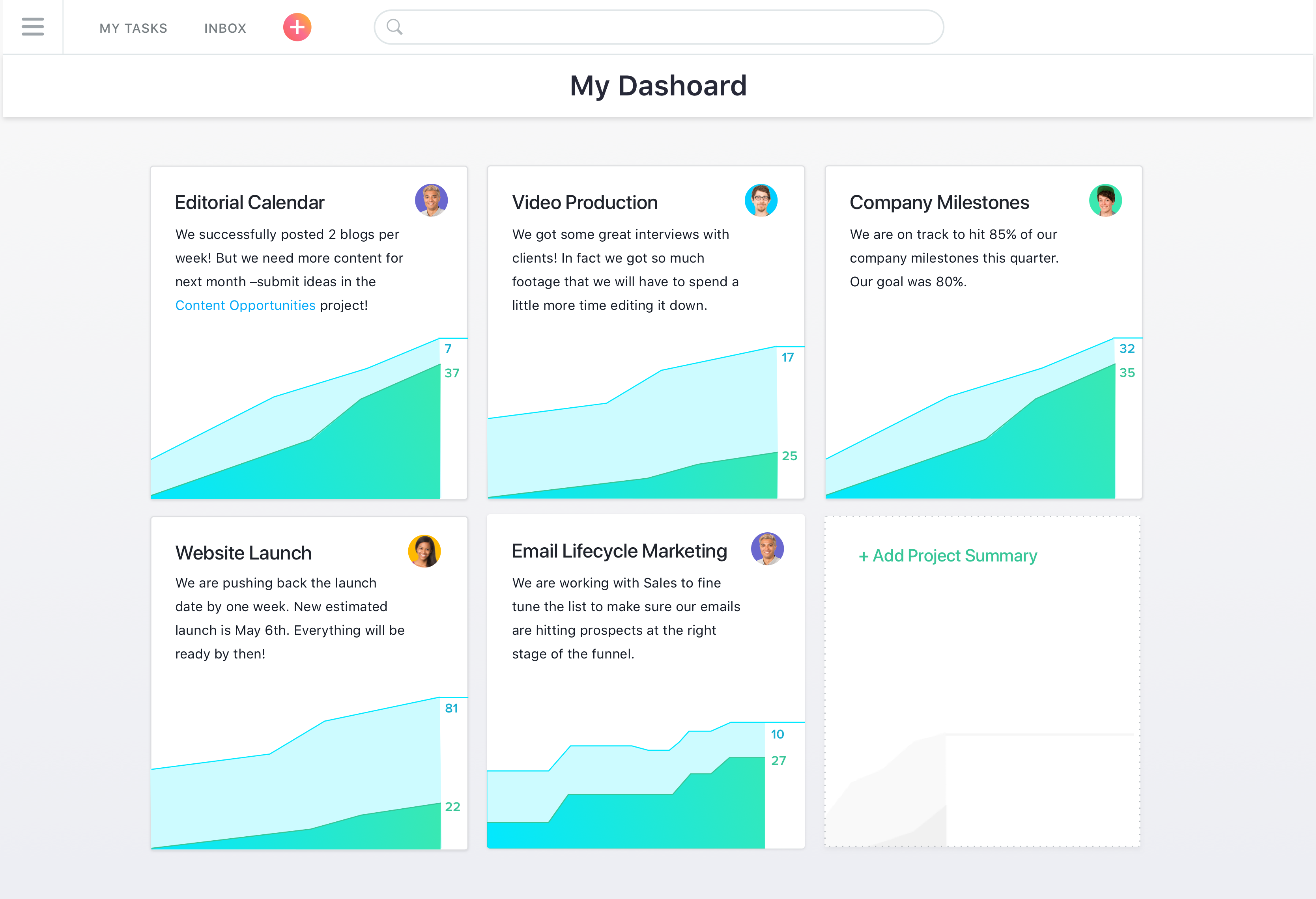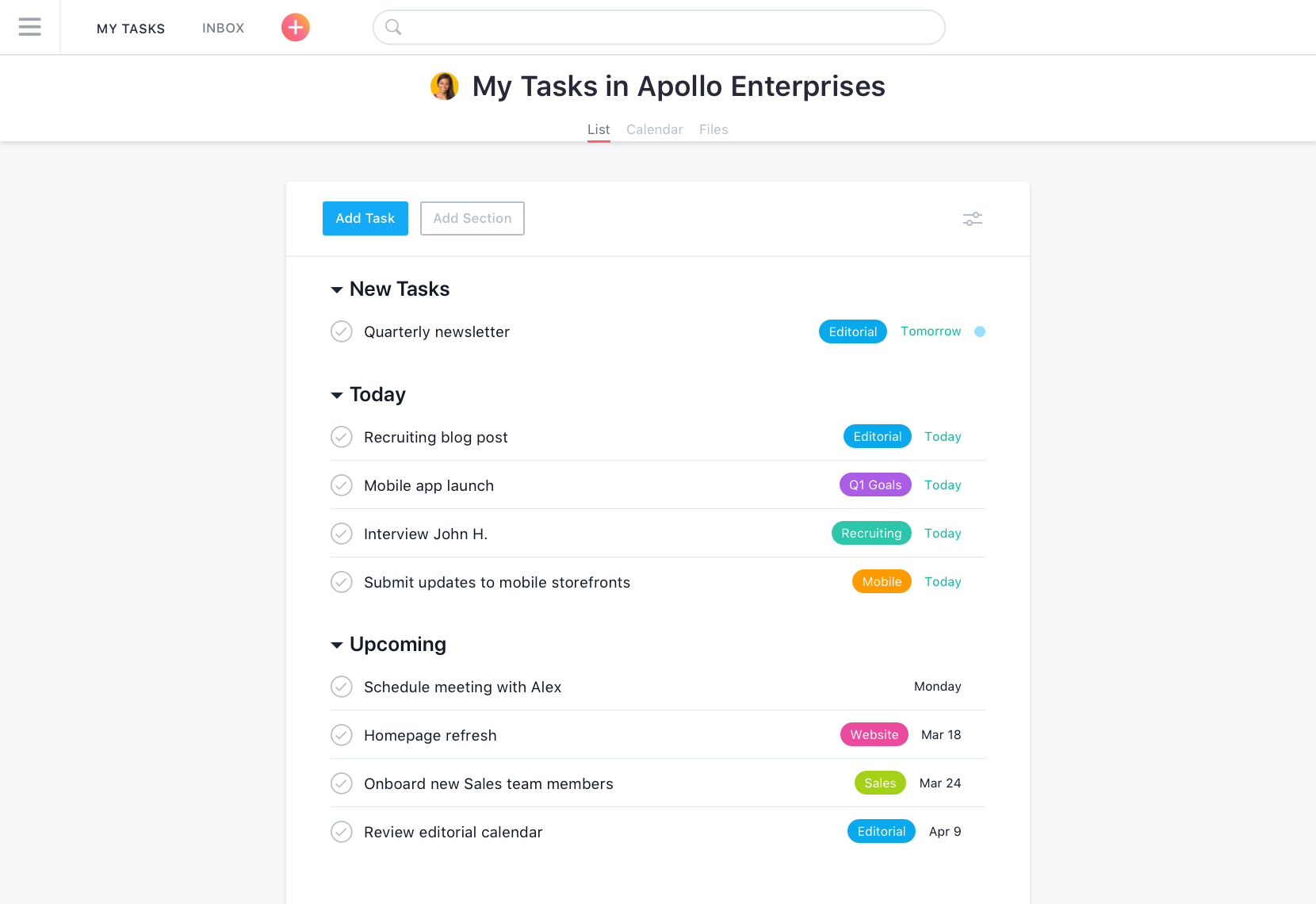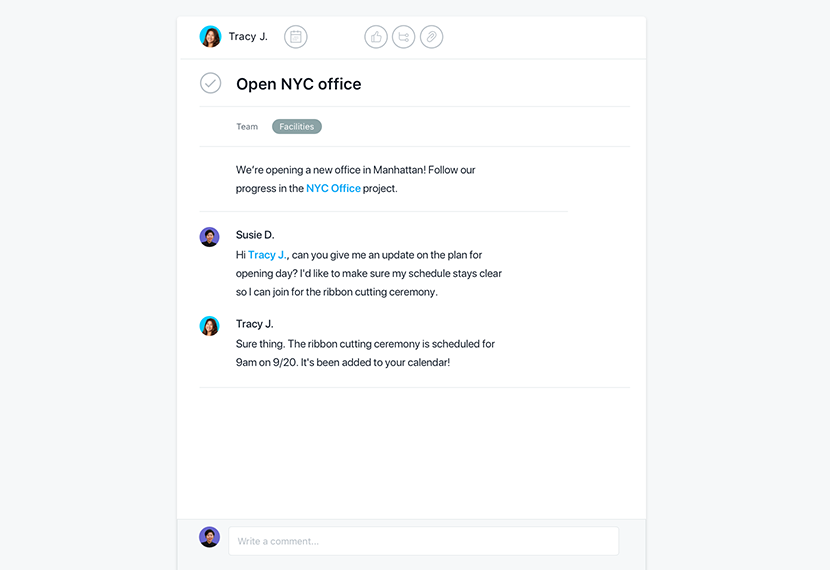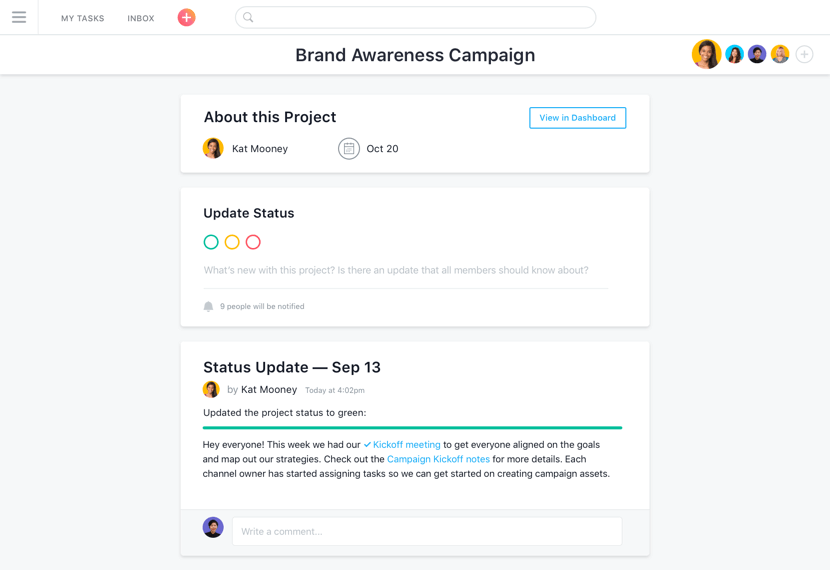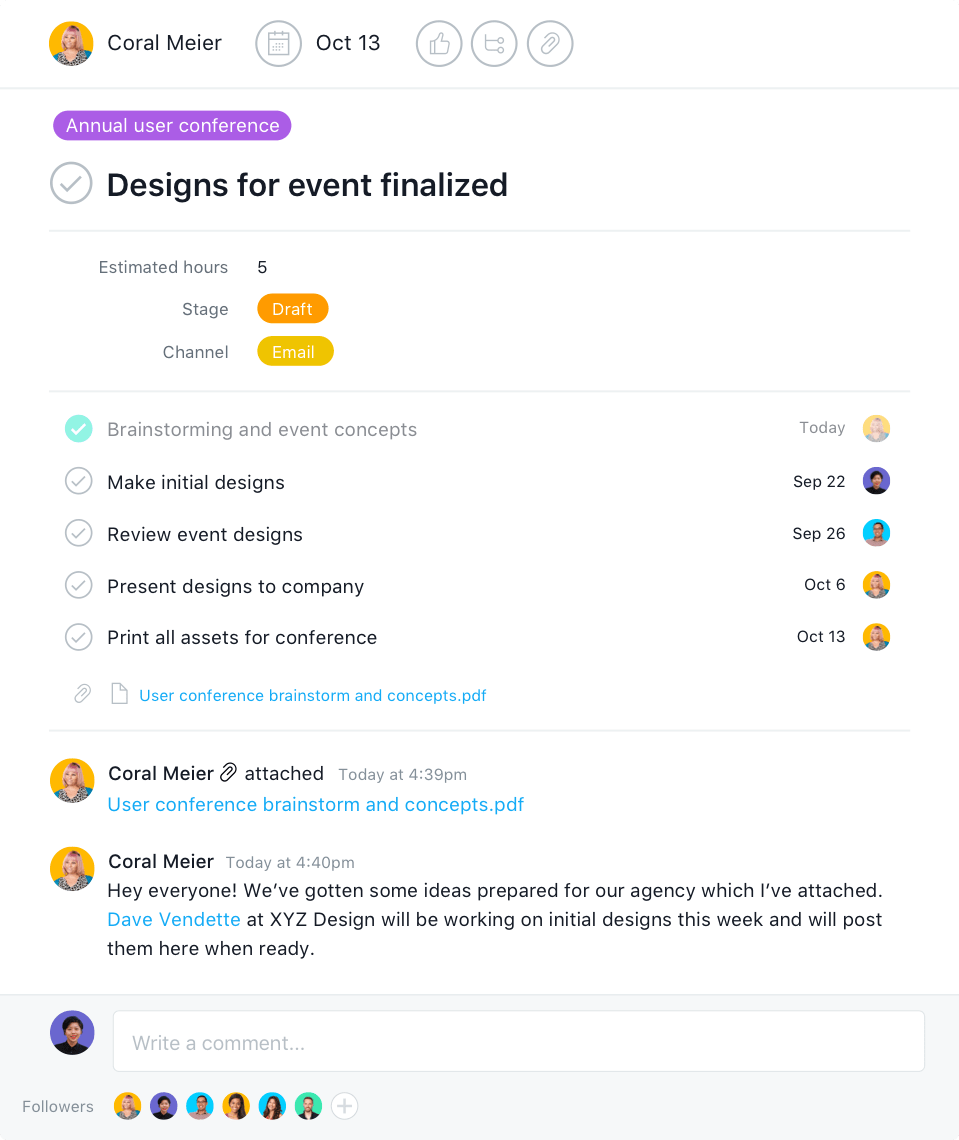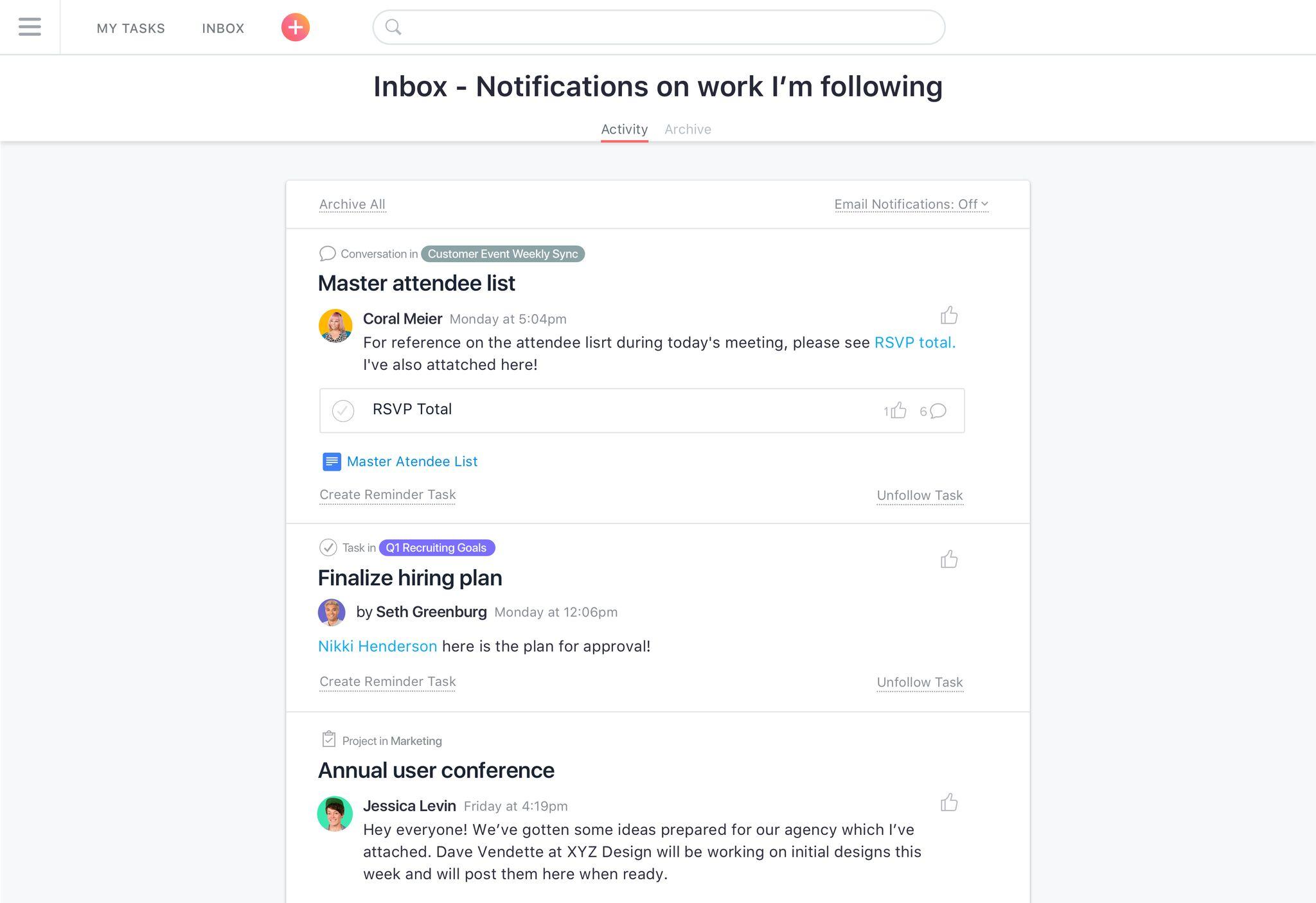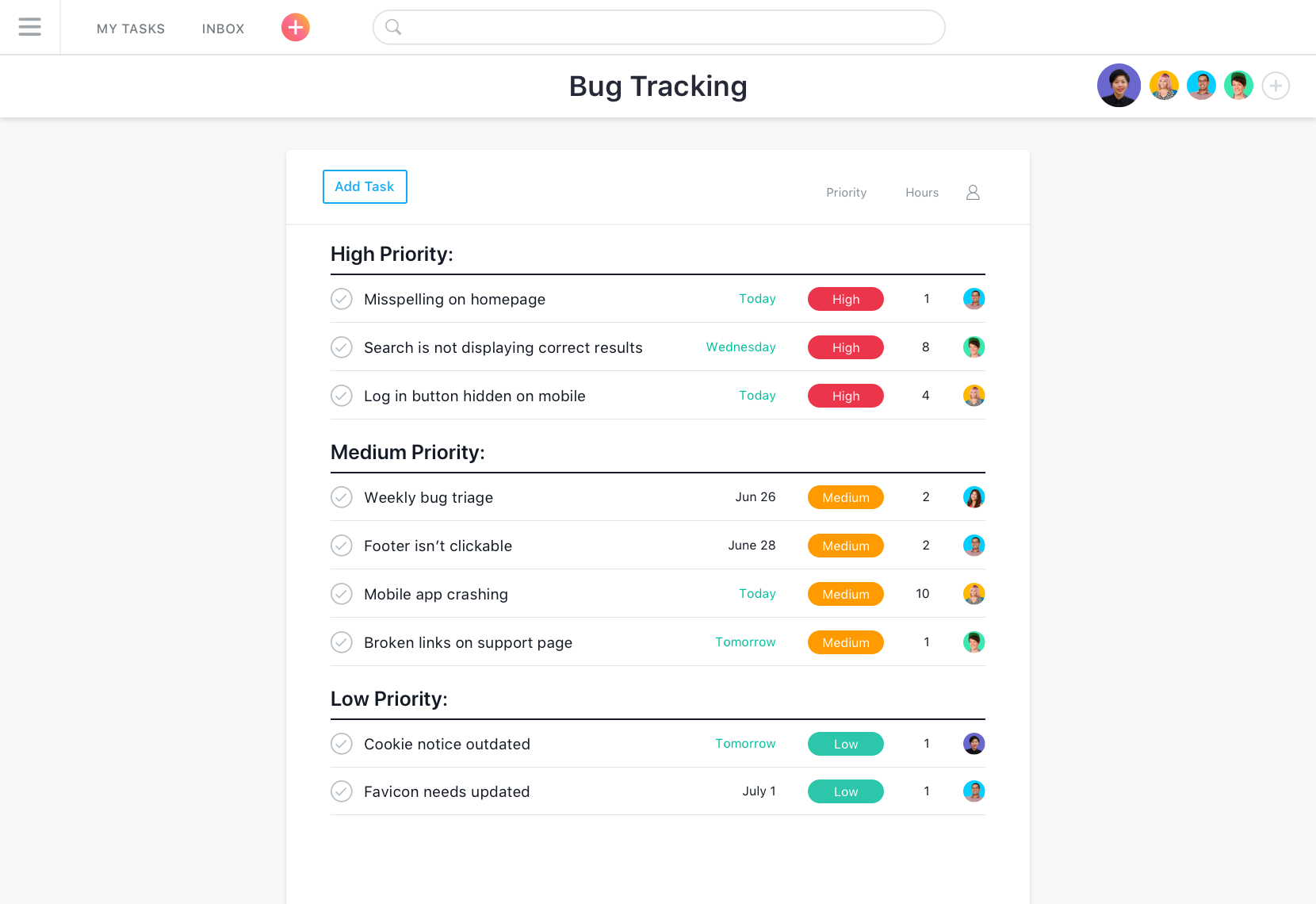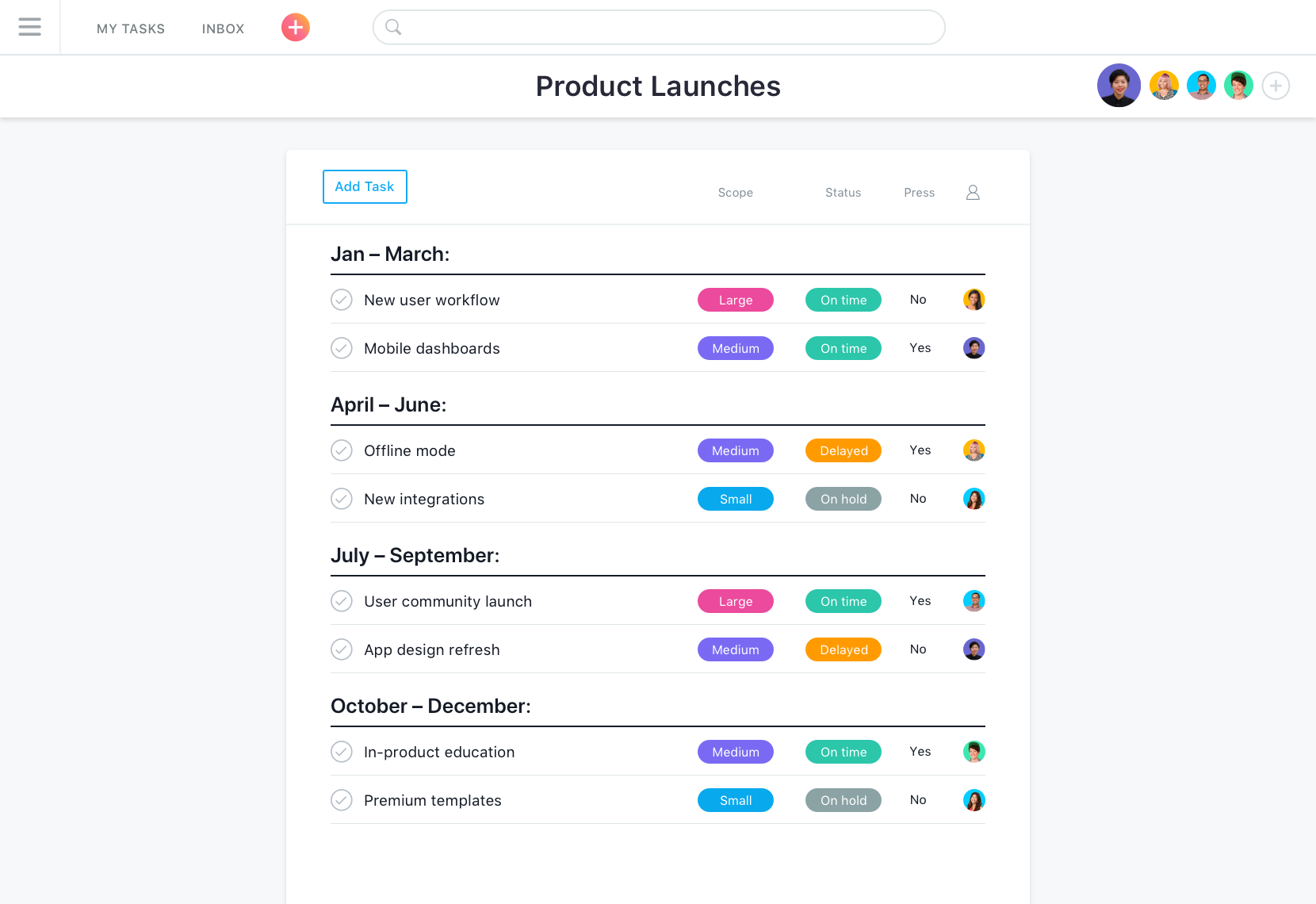 Asana: its rates and features
| | | | |
| --- | --- | --- | --- |
| | | | |
| Data Import & Export (CSV, XLS) | Data Import & Export (CSV, XLS) | Data Import & Export (CSV, XLS) | Data Import & Export (CSV, XLS) |
| | | | |
| | | | |
| | | | |
| | | | |
| | | | |
| | | | |
| | | | |
| | | | |
Appvizer Community Reviews (3)
The reviews left on Appvizer are verified by our team to ensure the authenticity of their submitters.
Do you manage projects? Do you manage people? Asana is for you.
RS
Do you manage projects? Do you manage people? Asana is for you.
Do you manage projects? Do you manage people? Asana is for you.Overall: Generally really great. Love how Asana helps me pull the lists out of my head and allows me to really focus on the tasks as opposed to remembering the tasks. A really solid addition to our team. Love being able to create projects with my team, organize tasks and schedule and create dependencies, etc. Even if not everyone I work with us actively using Asana, I can track items for them. It keeps me from having to hold all the details just in my head or on pieces of paper. Communicating within tasks is also so helpful - helps avoid things getting lost in people's emails. Incredible functionality and options to customize the experience to whatever your team needs. The paid version has some excellent functionality additions like dependencies and custom labels/tags, which can be really helpful. Can be a bit overwhelming to figure out how to set it up best for your unique systems, but once you get going it's great. Sometimes I just have to start somewhere and then adjust as I go through a project and figure out what elements and functions I really need. The price might put some people off, but the free version is very worthwhile. Switched From: TrelloReasons for Switching to Asana: Needed more options and functionality. Preferred the list view as opposed to the Kanban view.
Show more
Best for managing customer feedback
MA
Best for managing customer feedback
Best for managing customer feedbackOverall: We are very happy implementing Asana into our work system as it has help us greatly managing our work. Every team member has a very clear work description with this software especially when we are collaborating on project. What i really like with Asana that i have use is managing customer feedback and filter it to forward it the respective department. It help us to track the ticket opened by customer, and track the ticket progress either is has been taken action and can be closed. There are not many integration that can be linked with this software. I need a integration with Github and has making a request to the developer, but still has no respond for it. It will help so much for a Information Technology staff user like me to managing the Helpdesk between Asana with our current system.Switched From: Bitrix24Reasons for Switching to Asana: Asana has all tool our organization need for every department and has proven very helpful for us.
Show more
Practical way to manage my daily task and project
SK
Practical way to manage my daily task and project
Practical way to manage my daily task and project Overall: Overall, Asana is one of the most complete Project Management that i ever tried and use. Increasing our effectiveness in planning and tracking a project progress is never a issue with Asana. Deploying a complex project is possible with the help of Kanban method to help us plan the project carefully with visual aid. I really like that my team and I can collaborate on project and task easily. The Gantt chart let us to planning a project effectively as we can visualized the activities that related with the project. Resource space has unlimited size that we can add to the project and view which project is dependable or assign to the resource. There are not much downside that i can thinking while operating this software. The feature is well build and really responsive with my need in completing my project and daily task. The only thing that i think that they should improve is the video tutorial, there are some of the feature that not covered by the video tutorial.Alternatives Considered: TrelloSwitched From: WrikeReasons for Switching to Asana: Wrike need too much integration to have a complete project management. Asana is a solution for all-in-one software.
Show more