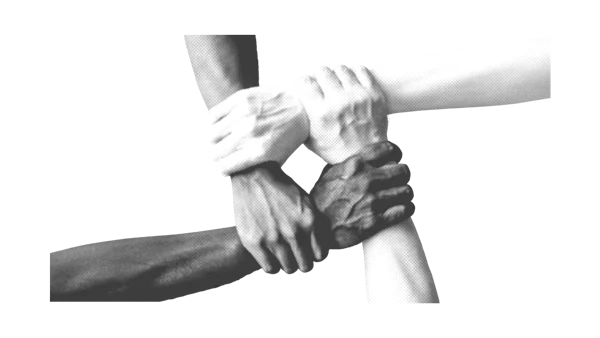 5 benefits of teamwork in organizations
What are the benefits of teamwork in organizations?
As a manager, the success of your projects depends on teamwork as you are in charge of making sure that your teams are productive and they achieve common goals.
In addition, you must also motivate each employee and encourage them to see their co-workers as teammates, rather than just colleagues.
So what are the benefits of teamwork? Throughout this article, you will discover 5 reasons why working in an environment that promotes teamwork can beneficial to your workplace and some of the best tools that you can use to help your employees work towards a common goal.
What is teamwork?
Before reviewing the benefits of teamwork, it is essential to understand what teamwork consists of.
Teamwork is when a group of individuals work together cohesively towards a common goal. This builds trust, shares the workload and creates an environment with a strong work ethic.
Knowing how to work in a team is a key asset in businesses today as project management and collaboration are becoming the new standards.
Now, that you are aware of what teamwork is, you will discover the benefits of using teamwork in business.
5 benefits of promoting teamwork in the workplace
Here are 5 benefits of teamwork that may inspire you to use this method in your workplace.
1. Give employees a sense of ownership
Working towards a common goal gives employees a sense of ownership of their company and their work. A sense of ownership will make them feel more invested in their teams' success and strive to be better.
To give your employees a sense of ownership, involve them in team projects. This will allow them to tackle obstacles and feel connected with their team members and the company. Moreover, this can make them feel empowered and increase their loyalty which can lead to a higher level of job satisfaction.
2. Build on the strengths of each team member
Working together allows employees to delegate tasks to one another and build on the talents of every team member.
For example, one employee might have organization and planning skills while another one might have exceptional leadership skills. By fostering teamwork in the workplace, you will be able to showcase the skill sets of every employee and share workloads efficiently.
This will also make employees feel valued as they are helping the team by completing tasks that they excel in.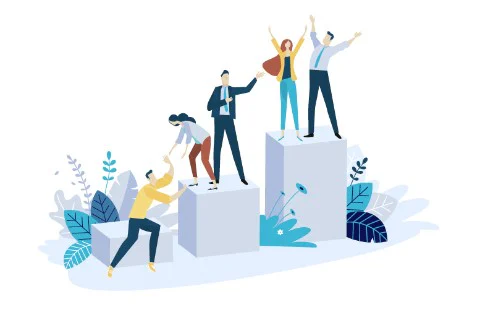 3. Build trust within teams
As team members get used to working together, they create bonds with one another and in result, this builds trust.
Trust is fundamental when forging strong teams because it provides a sense of safety. And, when team members feel safe, they feel comfortable to open up and encourage one another.
Without trust, it can be difficult for teams to complete projects successfully as there is less innovation and creativity since team members will focus on their interests rather than spending their time helping the team meets its goals.
Therefore, your company culture should promote teamwork as it will build trust and drive productivity.
4. Take the opportunity to co-create and innovate
If you are working on remodeling your communication strategy or looking to improve your products or services, you can make use of the collective intelligence of your teams to bring forward new ideas that you might not have thought of before.
Moreover, the combination of their individual experiences can be used to improve existing processes. Because collaborating on projects encourages innovation and creates an enthusiasm for learning that is absent when employees work alone.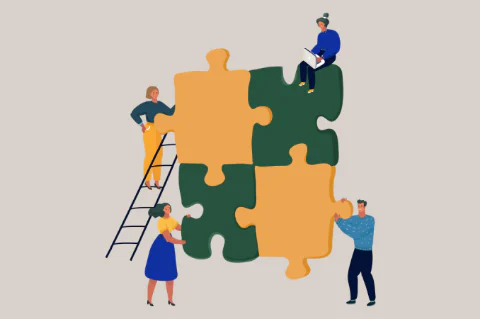 5. Share knowledge and skills
We recommend taking advantage of the different personalities, and therefore different affinities of each employee. If one employee is not comfortable with one type of task, but another colleague is, you should revise task assignments so that every team member gets as much pleasure out of their work as possible and in result, this will increase their efficiency.
Indeed, sharing knowledge and skills through complementary profiles will benefit your teams, and ultimately your entire company, to progress.
Tools that promote teamwork
💡 With the rapid increase of remote work today, it essential to equip your teams with the right tools in order to promote teamwork and remain competitive.
Manage teamwork with Asana
Asana is a work management software that helps teams coordinate and manage their work, tasks, and projects. It helps organizations move faster by making sure everyone knows the team's plan, process, and who is doing what by when.
You can also use Asana to manage your work to-do list for the day, week, or month (in a "My Tasks" view) -- so you're never left wondering what to work on next. Finally, with Asana, teams can break down work into projects and tasks.

Project, task, and work management software
Learn more about Asana
LastPass, the tool that remembers all of your passwords for you
LastPass is an ideal tool to promote teamwork in the workplace. With this password manager, you can save all of your passwords in a secure vault and offer a password-free experience to all of your employees, even if they are offline.
From protecting passwords to managing employee permissions, LastPass helps businesses of all sizes remove password obstacles and fix dangerous password behaviors. Moreover, the solution offers different plans that can be adapted to the size and needs of your business.

The tool that remembers all of your passwords for you
Learn more about LastPass
Improve collaboration with Teamwork
Teamwork is a work and project management tool that helps businesses promote teamwork by creating smarter workflows and centralizing project information.
Teamwork boasts a plethora of features including project planning, project viewing, project tracking, and Gantt charts, which can help your teams collaborate efficiently and achieve high-performance results.

Deliver better projects in less time!
Learn more about Teamwork
Work together to go one step further
"No one can whistle a symphony. It takes a whole orchestra to play it."
Your company has everything to gain by encouraging and facilitating teamwork, particularly through the use of collaboration tools.
Trust the members of your team and give them value through empowerment. In result, you will see an unequaled commitment from them and an increase in quality when completing tasks!
How do you promote teamwork in your business?
Best tools for you