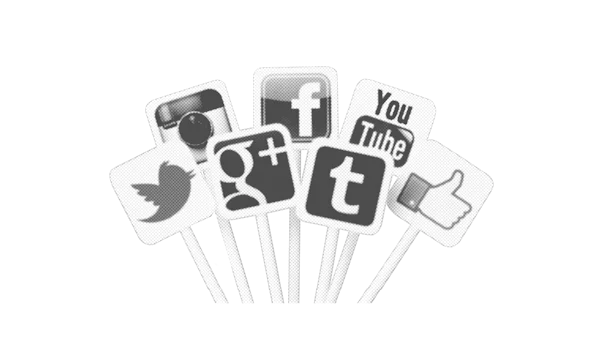 What is Effective Business Communication? Definition & Tips
Organizations are built on people and collaboration. To manage your activity and lead your projects to success, effective business communication is key. As technology has given us new communication channels and reduced the time needed to send and receive messages, it's important to take a step back and reflect on what works and what slows your business down.
This guide will help you know more about what business communication is and why it's so important to share information efficiently at work. What's more, we'll share our tips on how to communicate smoothly within your organization.
Definition & the types of business communication
Business communication refers to the process of sharing information at work, both internally and externally. When people communicate at work, they usually have a goal in mind, which sets it apart from daily communication outside the workplace.
Some challenges posed by business communication include:
Sharing best practices efficiently across business departments,
Making sure everyone is kept informed in time to avoid costly misunderstandings,
Choosing the right tone of voice, meaning keeping internal and external communications in line with the corporate culture and company values.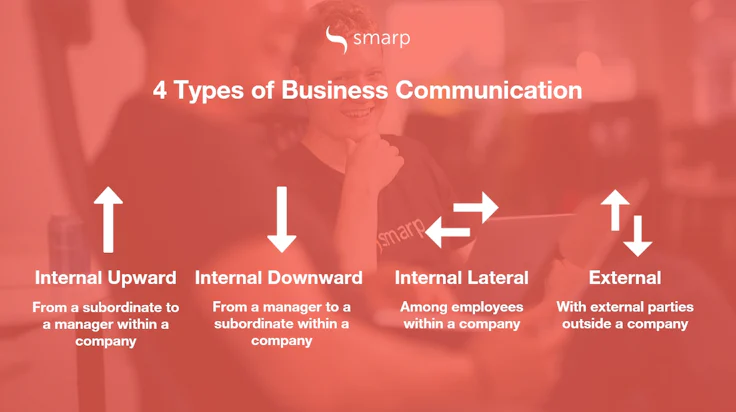 Communication at work exists in parallel to an existing hierarchy structure with different roles and responsibilities assigned to both internal and external actors. Thus, business communications can be divided into 4 types:
Upward communication: when a subordinate asks their manager for information or reports information to them.
Downward communication: when a manager communicates information to their subordinates or passes down a request.
Horizontal communication: this is communication happening between team members or colleagues within the company.
External communication: communication between the company and the outside world. This includes a wide range of external stakeholders, from customers to suppliers.
Why is effective communication important for your business?
Good communication is essential for several reasons. Managers have a responsibility to keep the staff involved and in the know: effective top to bottom communication correlates with engaged employees. Being clear and concise, as well as sending coherent messages helps employees be more productive and streamlines processes across the company.
On the contrary, without an effective communication strategy, it's easy to get lost in the details or side-tracked. Misunderstandings can lead to losses and delays, especially in project management. Poor communication creates silos within your organization: if business departments can't communicate effectively, collaboration becomes more difficult.
Communication should be inclusive, as working from home becomes more common, it's important to leverage diverse communication channels to promote a cohesive corporate culture and embrace tools such as video conferencing. Being able to share information without overwhelming employees also reduces turnover, particularly during the onboarding process.
From an external perspective, effective communication with customers is the basis of good customer service: be sure to send warm messages at the right time! Poor communication creates frustration and can lead to bad reviews or failed partnerships.
8 tips to communicate effectively
0. The basic rules of effective communication
A great rule of thumb for effective business communication is to keep in mind the 7 Cs of communication. Your communications should be:
Clear: express your goals and the objectives of the message in a straightforward way.
Concise: avoid filler words and make sure each sentence is informative and to the point.
Concrete: if necessary, don't hesitate to provide examples or concrete details.
Correct: think about your audience: who are they, what do they know? Will they understand your message?
Coherent: make use of logical connectors and structure your ideas.
Complete: don't overlook any crucial information (venue, call to action, deadline…).
Courteous: remain warm and friendly. Avoid pointed tones or rudeness.
1. Sort the information
One of the most important business communication skills is being able to recognise the types of information that circulates within your organization. This allows you to share the right information with the right audience. To avoid leaking confidential information while ensuring everyone has access to essential knowledge, sort information according to these criteria:
Their sensitivity,
Their urgency,
Their confidentiality,
Their target audience: are they intended for everyone, some departments or management only…,
Their scope of diffusion: are they external or internal communications?
2. Adapt your communication strategy to the size of your business
Companies come in many shapes and sizes: a start-up with 10 employees will communicate differently compared to a medium-sized business or large company. Your communication channels and style should suit the work environment.
Be sure to use the most appropriate support and frequency to be sure the information reaches your target audience: newsletter, reports, corporate events...
3. Use the information to manage collaboration
Communication techniques can also benefit human resources management. Below are a few common situations that require business communication skills:
The onboarding process after a new hire: communicating the culture of your company and its most important processes quickly is essential in the success of your recruitment.
The performance review process: these should be shared effectively between the HR department and managers.
The relationship between management and employees: teamwork is more efficient when managers can collect honest feedback from the staff, and if employees are engaged and valued.
4. Improve your internal communication
Making internal communication more effective is one of the key concerns of HR and communication professionals. Corporate newspapers, newsletters, emails and intranet are tools that companies have been using for years.
Nowadays, emerging solutions such as corporate social networks inspired by social media allow organizations to share information in real-time and to create real conversations between their employees.
5. Foster interpersonal communication
Make sure the workspace is designed to facilitate verbal communication between employees: body language and eye contact create a connection and reinforce collaboration while allowing information to be shared more dynamically and instant feedback.
However, while it's true that face to face communication remains one of the most effective ways to exchange ideas, you must also ensure that all collaborators feel comfortable and have a way to express their opinions. Some may not feel at ease during meetings, and remote workers are part of the team too! Thus, it's best to provide various communication channels, from group chats for written communication to easily accessible video calls.
6. Encourage creativity & experimentation
Working on your company culture can streamline communication and remove obstacles between team members. Promote the sharing of ideas and make sure no one is afraid to ask questions! People should feel comfortable sharing their thoughts and bouncing off the suggestions of others, thus management should provide the space needed for experimentation and creative thinking.
7. Prioritise the information
Are there too many ideas stored away on a platform? Do your employees send too many emails? Is information lost, hard to find or overlooked? Thankfully, most tools offer ways for you to segment the information (using threads, channels, groups…).
You could sort the information into different categories for your collaborators to know where to find it and where to ask for help on a specific task. Sort communications by:
Project,
Department,
Job,
Professional interests,
Goal (team building activities and after-works should be given a dedicated channel).
8. Use specialized software
There are many offers on the SaaS market dedicated to companies looking to streamline their business communications. These can provide companies with innovative forms of communication for added efficiency. These include solutions such as:
Get the flow of ideas going with effective communication
Effective business communication is the oil that makes collaboration possible. A smooth flow of information and ideas is essential to the success of projects and allows employees to feel engaged as part of the team.
Be sure to communicate the right information to all relevant parties in a clear and concise way, while choosing the tone of voice that suits your corporate culture. Leverage new forms of communication and use a diverse set of tools to cater for the needs of modern communication and streamline your activity as a whole!
Best tools for you