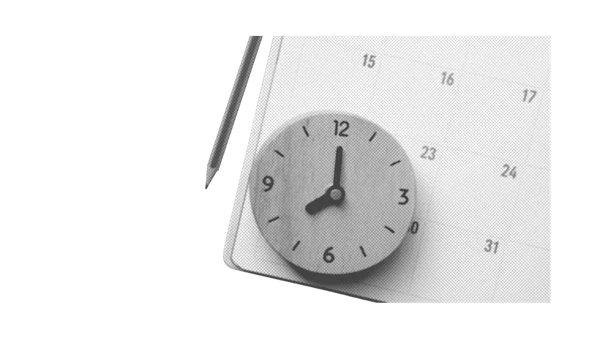 5 Steps to Getting Things Done (GTD) Method
Do you find it difficult to complete tasks on time? And, are you always putting off tasks until the last minute?
If you've answered yes to one of these questions, then the GTD method is for you!
The GTD method, also known as the Getting Things Done method was introduced by David Allen in his book Getting Things Done: The Art of Stress-Free Productivity.
Being in a work environment filled with tasks, requests and unpredictable events can be difficult to manage. Distractions or interruptions from devices or colleagues are obstacles that make you put off tasks and adjust your agenda. This is why it is important to manage your time efficiently.
So, how can you manage time and priorities more efficiently to increase your productivity and free your mind?
By following the 5 simple steps of the GTD method explained in this article!
What is the GTD method?
Definition
The GTD method, also known as the Getting Things Done method is a time management and productivity system introduced by David Allen in 2001.
By using this method, you will be able to:
prioritize tasks,
meet your goals, one by one,
clear your mind,
and relieve stress.
Advantages and disadvantages of using the GTD method
In his book Getting Things Done: The Art of Stress-Free Productivity, David Allen explains the fundamental steps of getting things done efficiently.
The GTD method helps to get things done by :
limiting requests that may interfere with your tasks,
keeping track of commitments and ideas externally, to free your mind,
prioritizing tasks to identify tasks that are actionable and tasks that aren't,
helping you regain control to focus on the right tasks at the right time.
☝️ However, you should keep in mind that: to get the most out of the GTD method, you will need discipline and you must keep following the key steps in the long term.
On a daily basis, you must be able to schedule urgent tasks and unforeseen events into your schedule. And, constantly review the prioritization of tasks so that you don't get overwhelmed, thus optimizing your work processing as well as omnifocusing on more important tasks.
The 5 steps of the GTD method
What are the 5 steps?
The getting things done GTD method is designed to manage workflows by following five steps:
collect tasks, projects, and ideas,
process ideas to set up actions,
organize tasks into measurable action plans,
keep track and adjust,
complete tasks.
Here is a simple explanation of the GTD method: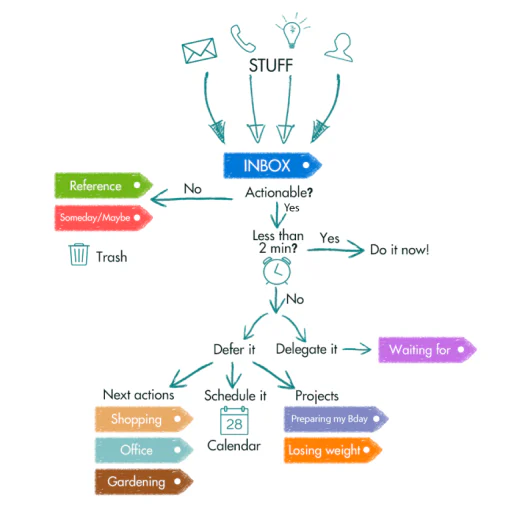 Step 1: Collect tasks
Write, record, or gather any and everything that has your attention into a collection tool.
This includes:
day-to-day tasks and projects,
uncompleted tasks,
any idea that crosses your mind.
The goal is to write down worrying elements to free yourself from them. The Inbox of the GTD method fulfills this role.
You can write down these elements on:
post-it notes,
notebooks,
agendas,
to-do lists on your phone, computer or tablet, etc.
Similar to a device in sleep mode, these background tasks use energy from your brain that you will need to use when completing important tasks.
Step 2: Task Manager
This step consists of defining the nature of each task or idea:
is the idea "actionable", in other words, can you link an action to each idea?
is that action a priority?
❌ If the answer is no :
remove it: take no future actions,
postpone it: you will complete that task one day when it is possible,
archive it: file the task for future reference in a specific folder or with a reminder in your calendar.
✅ If the answer is yes:
is there only one action?
are you responsible for it?
can you complete this task in less than 2 minutes?
If you've answered YES to all these questions, then you should complete the task immediately. If you've answered NO to them, then you should continue to the next step.
💡Here are some rules that you should remember :
start with the first topic,
analyze one subject at a time,
once you have started completing a task, you can not send it back to the collection system (see step 1).
Step 3: Organize tasks
Now, it's time to organize and prioritize the tasks that could not be completed in less than two minutes. In other words, here is how you can sort and prioritize these tasks into your action plan.
If the task is not assigned to you: delegate it.

If the task takes more than 2 minutes to complete, save it in :

a one day/maybe folder: for projects that are not urgent, but should be kept for future action;
a reference folder: for interesting things that do not require any action, but can be useful in the future;
a pending folder: for ongoing projects and tasks, when you are waiting for a response, delivery, etc., and you will need to schedule a reminder to the person in charge;
your calendar: for actions that have a specific deadline or a planned appointment, such as calls, meetings, etc,
your list of to do 's according to its priorities, by specifying an order of priority, the time needed to complete it, and the reason why you are completing it.
If you identify more than one action, turn it into a project. According to its priority :

put it in the "pending" folder,
create a schedule with a list of actions, and define the next action you must complete. And, follow the same pattern for each action.
If you consider the action neither a priority nor useful for later: get rid of it.
Step 4: Review actions
Some tasks are scheduled, some are now completed, and new tasks have appeared on your list.
It's important to check in regularly: every day, once a week, at the beginning or end of the week... it depends on each person. Why should you review actions?
to re-evaluate the list of tasks,
to prioritize tasks and set new deadlines,
to handle ongoing and urgent tasks,
but also check if your organization system is clear, complete, and up to date.
Do you feel lost in your tasks and projects? Are you confused about where you are and how to deal with new ideas without falling behind?
👉 Take the time to review your tasks to prioritize them and move forward serenely.
Step 5: Complete tasks
Your tasks are prioritized and planned: now it's time for action! It's time to carry out these tasks according to the schedule you planned. Always keep an eye on your to-do list so you know which tasks to complete according to the time and energy you have available.
In what order should you organize the tasks?
daily appointments,
tasks that are planned in your agenda,
other tasks.
👉 Do you not have enough time to deal with an urgent task?
Then, you should repeat this method from step 1. Assess how urgent this task is, the time needed to complete it and whether or not you can delegate or postpone it by planning it later. Procrastination can be a good thing!
And keep in mind: you have the right to say no! The level of urgency of this task is relative and varies from person to person. And, the success behind the Getting Things Done method depends on your ability to respect order and task management. If you feel that a task is not as urgent as you are told it is, it is up to you to choose how and when to deal with it... or what other tasks to postpone to deal with it.
Task management tools to support the GTD method
Trello, a visual collaboration tool
Trello is an online task management and project management system designed for businesses of all types and sizes. With Trello, you can create visual maps to organize tasks according to projects and progress.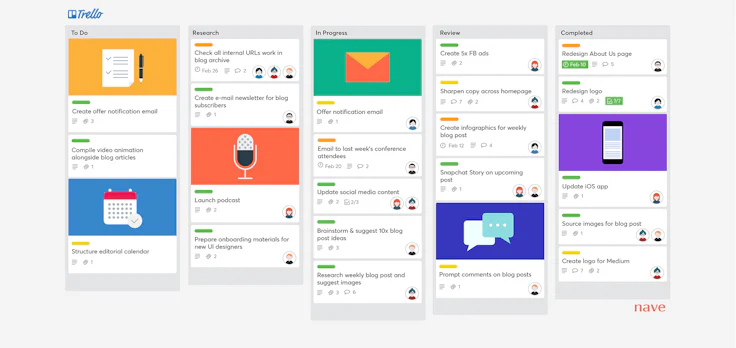 © Trello
The strengths of Trello include:
it is a collaborative tool, with integrated discussions and content sharing,
it notifies you when tasks are completed,
it provides an intuitive working environment.
it can be used from anywhere and from any type of device.
Task management with Asana
Asana is a work management software that helps teams coordinate and manage their work, tasks, and projects.
Asana will help your business work more efficiently by making sure that every team member is up-to-date on all tasks, projects, processes.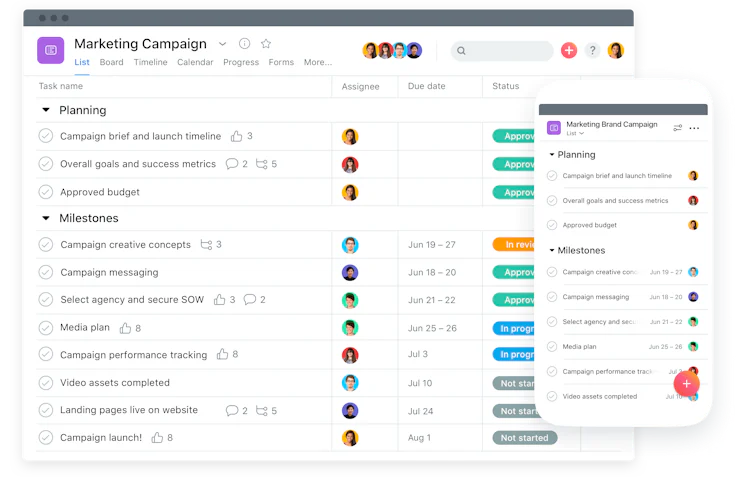 © Asana
You can also use Asana to manage your to-do lists for days, weeks, or months (in a "My Tasks" view).
The strengths of Asana include:
there is a free option available,
it connects with dozens of other apps and integrations,
it can be synchronized with your Google calendar.
Creating interactive notes with Evernote
Evernote is a handy tool for creating notes, to help you remember everything you might forget. You can create GTD-type lists and organize, prioritize and classify them into projects, and even share them.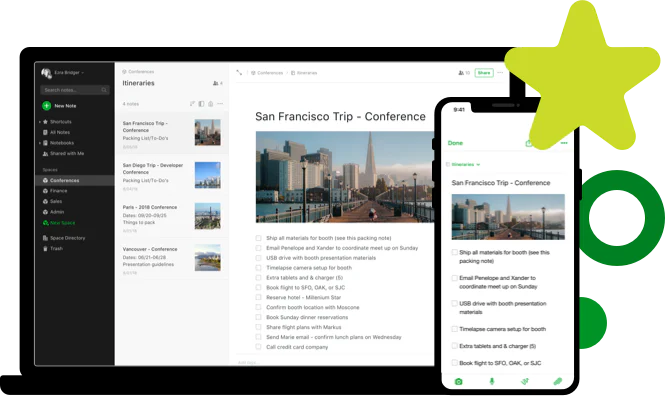 © Evernote
The strengths of Evernote include:
all your information is updated (computer, phone, tablet, etc.) thanks to synchronization,
your favorite web pages can be saved in your account with a single click,
note sharing for collaborative and simultaneous work.
Say goodbye to stress and get real results
The GTD method helps you improve your organization skills, accomplish your tasks one by one, and getting things done while having the satisfaction of crossing them off your to-do list.
You will free your mind and see your projects move forward. Are you ready to use this method and get things done?
*GTD® and Getting Things Done® are registered trademarks of The David Allen Company.
Best tools for you