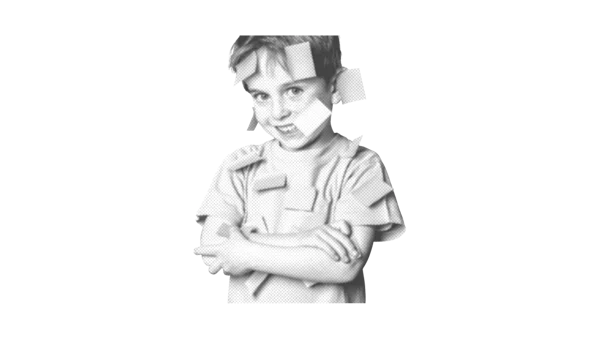 Are you looking for a Work Breakdown Structure example?
This method is frequently used in project management to break a project down into activities, tasks and subtasks. This helps to identify all of the elements and deliverables that are required to organize a project as a whole.
A Work Breakdown Structure is often presented in the form of a chart, it is a visual representation of all team management and project planning processes. This gives you a clear overview of your projects and, you can use it to plan your schedule and calculate your estimated budget.
But how do you create an Agile Work Breakdown Structure?
This article explains how a Work Breakdown Structure works and gives you the best tips and tools you can use to set up your WBS!
Keep on reading to find out more about WBS:
What is a Work Breakdown Structure in project management?
The Work Breakdown Structure is based on NASA practices. But it was introduced in 1987 by the Project Management Institute, through the PMBOK (Project Management Body of Knowledge) guide, with the aim of applying it to the business world.
The WBS method aims to break down work into several hierarchical levels, structures a project and identifies its architecture as a whole. A Work Breakdown Structure allows project managers to visualize and understand all the deliverables and tasks that have to be carried out, making sure that nothing is forgotten.
The WBS can take several forms:
a flow chart (the most common form of WBS),
a mind map,
a list,
a plan.
But regardless of the form chosen, the WBS method must show :
the entire project, also known as the parent project;
deliverables called child tasks;
sub-deliverables called sub-tasks;
the tasks at the lowest level, called "work packages" or "work units".
Here is a free WBS template: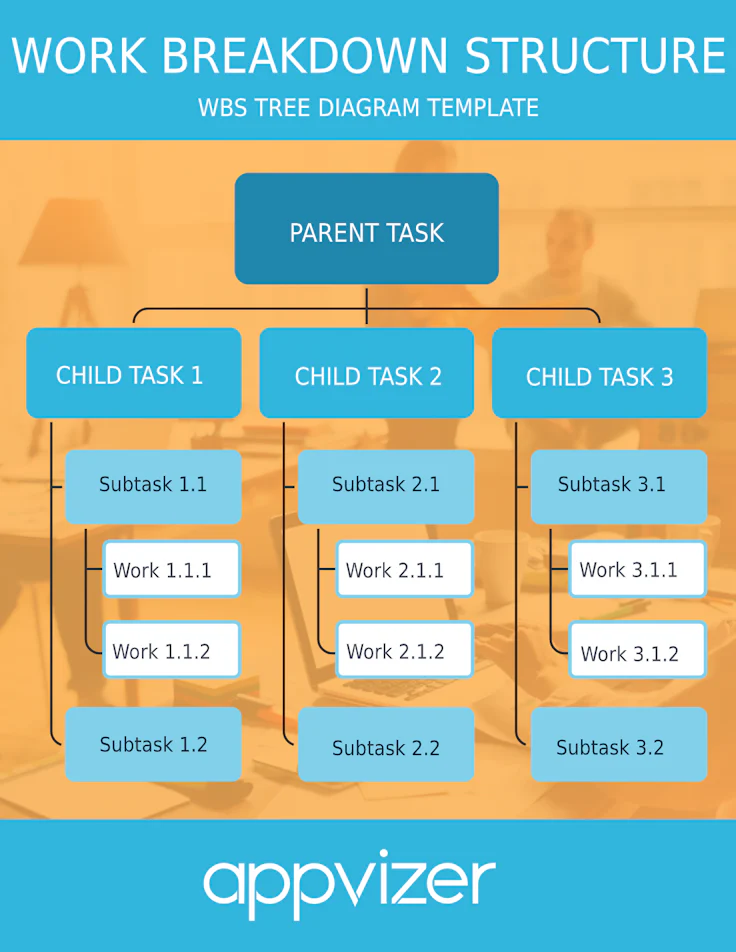 The benefits of using a WBS
If the WBS method is used so frequently in project management, it is because it has many benefits. Here are the 7 reasons why you should use a Work Breakdown Structure:
it is a visual tool that gives you an overview of all of the work that has to be done,
it helps teams to better identify the dependencies between different tasks,
it shows the project functions of the different stakeholders and establishes a spirit of trust to the client,
it can be used to distribute the total projected budget to underlying units,
it can identify future risks,
it helps anticipate possible delays,
it can be used to readjust according to the difficulties encountered.
How to set up your WBS
To set up your WBS, it is essential to plan your project from top to bottom:
Define the outlines of the entire project,
Identify the main timelines directly below the finished project.
Divide each deliverable into sub-tasks, and so on until the workloads at the last level can be sufficiently measurable (in terms of budget and resources).
The process described above may seem simple, however, it will only work properly if you follow a number of basic rules and principles.
WBS guidelines
Follow the 100% rule
This rule applies at all levels within the hierarchy: the sum of the work of the "child" tasks must equal to 100% of the work of the "parent" task.
Vice-versa, the WBS should not include any work that is not part of the project. Therefore, it cannot include more than 100% of the work.
Here is an example of the 100% rule: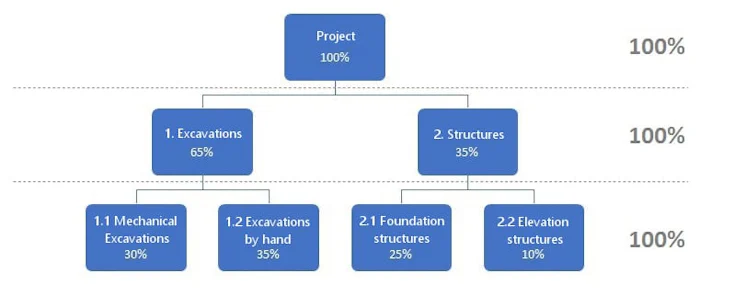 © biblus.accasoftware.com
Use exclusive units
When building your WBS, make sure that each unit is allocated and does appear in several branches at the same time.
By avoiding overlaps, this rule will prevent confusion about the responsibilities of each team and reduce duplicacy.
Be precise
You may find it difficult to decide how precise your WBS should be.
To help you, keep in mind the following rule: each unit must be associated with an estimate of the workload, cost and resources required to complete it.
This rule will help you timeline tasks: if a deliverable is very precise, it should not require any additional branches.
Create asymmetrical diagrams
Each branch of your WBS does not necessarily have to have the same number of levels because, as we have seen, if a deliverable is very precise, it should not require any additional branches.
Therefore, the final shape of your WBS may be "asymmetrical".
Use project deliverables rather than actions
Finally, the best way to understand the project is according to results and not according to organizational or functional elements.
In other words, we recommend that you define your various units according to deliverables and not according to the actions required to achieve them. This makes it easier to execute each task.
Here is an example of a WBS organization chart based on deliverables :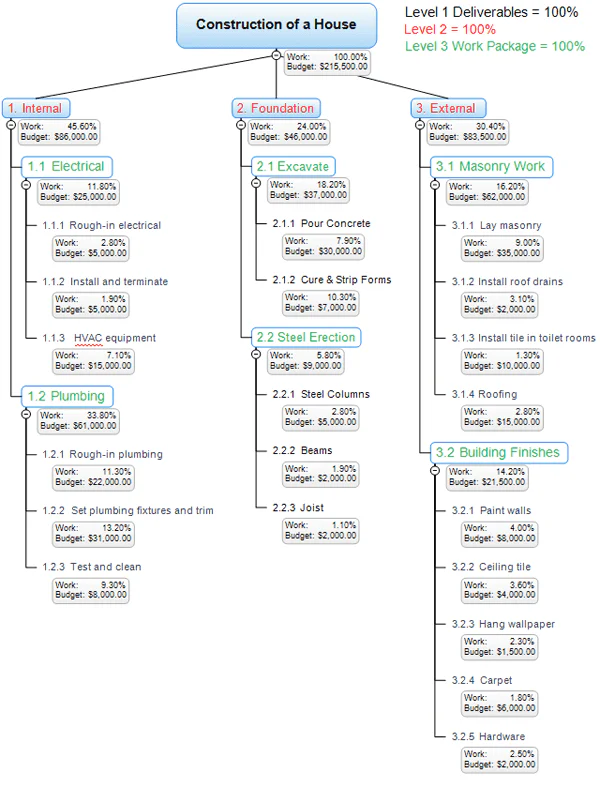 © workbreakdownstructure
How to create a Work Breakdown Structure
All you need to build your Work Breakdown Structure is a simple sheet of paper, a whiteboard or even post-it notes. These type of tools are useful for collecting and writing down ideas from different participants and to define a list of tasks during brainstorming sessions for a better scope of the project.
Nevertheless, for large-scale projects, or when teams are dispersed, it is more practical to use a software that allows you to create and especially enhance the visual quality of the WBS (one of the most important prerequisites for its effectiveness).
Moreover, if there are any changes, it will be easier and faster to make modifications using this type of software.
Best Software for your Work Breakdown Structure
Lucidchart: to create simple diagrams
Lucidchart is an online diagram software that allows you to visually build your WBS.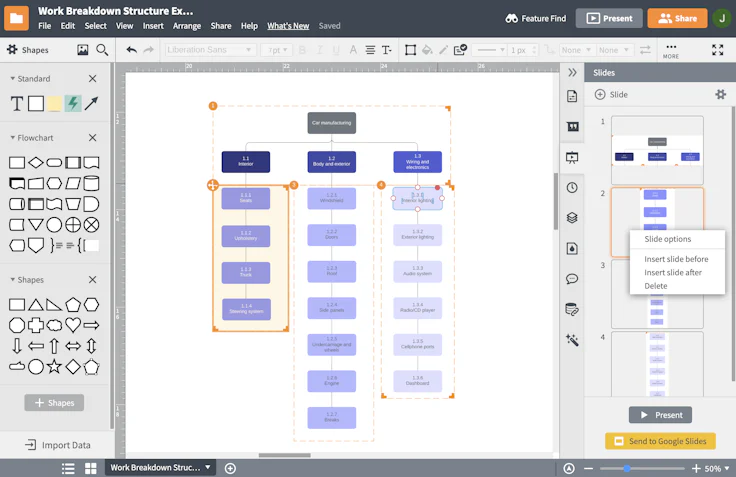 © lucidchart.com
Thanks to an easy-to-use and intuitive interface, you can use Lucidchart to create charts and diagrams: drag and drop shapes in the work area, then complete them with your information (you can import your data from a CSV file). Then, all you have to do is customize your diagram to your preference.
Moreover, Lucidchart promotes collaboration: work with others in real-time on your WBS, or simply share your work with others by using integration tools such as Slack.

Online Diagram Software
Learn more about Lucidchart
monday.com: an all-in-one project management software
monday.com is a team management tool that you can use to manage your WBS.
Thanks to its system of customizable tables, you can manage your tasks and sub-tasks using a visual and intuitive tool. Once you have identified your projects, assign each of them the necessary resources and budget.
This project management tool goes one step further, by providing time management features (to meet the projects lifecycles) and by offering different views of your tables, with a Gantt chart for example.

The most intuitive platform to manage projects and teamwork
Learn more about monday.com
The next steps after a WBS
The WBS method is a key step to kickstart any type of project.
However, despite the many benefits it offers, it is not the only tool that a project manager should rely on, especially for the execution of important projects. The WBS does not, for example, make it possible to precisely identify the time that has to be allocated to the completion of each task. Nor does it define their order of execution. This is why this method is always used before the use of other tools such as PERT and Gantt charts.
Therefore, we recommend using project management software to complement the method. It offers project managers both the flexibility and agility required for complex projects, but also the opportunity to deal with the steps occurring after the WBS in the project follow-up.
Software Recommendations