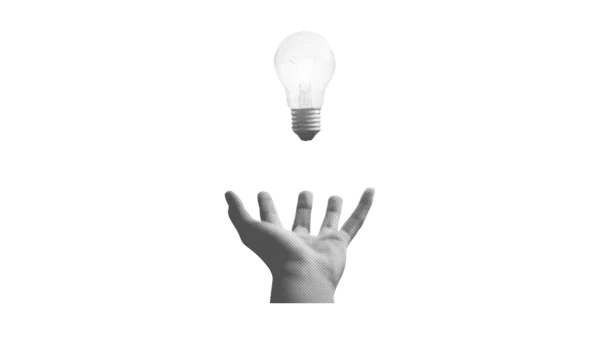 Urgent or Important? Use This Eisenhower Matrix PDF Template to Prioritize Tasks
If these words sound familiar, maybe the Eisenhower matrix rings a bell, too. This simple yet efficient time management tool can help prioritize tasks both at work and out of the office.
One of the favorite tools of project managers, the urgent important matrix is a powerful ally from the planning stage and throughout the development of a project. It's praised for boosting productivity and ensuring all team members are on the same page.
What form does the Eisenhower matrix take? And, more importantly, how to use this model? Learn how to prioritize and accomplish your tasks effectively, and get started with our free Eisenhower matrix PDF template!
How to create an Eisenhower matrix? Template (.pdf) and tools
Eisenhower matrix PDF template
You can use our urgent important matrix template to organize yourself or your team. Print it out or fill it out directly using any PDF reader. This customisable template will help you be even more efficient with your project planning and get you started right away!
Download your Eisenhower Matrix!
Download
Tools for efficient project management
To improve productivity and collaboration, you can use project management software. These solutions offer innovative, interactive tools such as online Eisenhower matrices.
These open possibilities such as:
creating custom labels and custom settings
editing the matrix in real-time, anywhere to foster collaboration even in the case of remote working
track the progress of tasks and keep an eye on KPIs
share comments or documents related to the project
What is the Eisenhower matrix?
Definition and principles
The Eisenhower matrix is a management tool designed to help prioritize tasks based on two criteria: urgency and importance.
It was named after Dwight D. Eisenhower, a World War II hero who served as the supreme commander of US armed forces who liberated Europe, and later became the 34th President of the United States. He was well-known for his outstanding efficiency and robust productivity.
This tool takes the form of a grid divided into 4 sections called quadrants.
Why use the Eisenhower matrix?
The Eisenhower method can be used in a variety of situations to prioritize tasks, whether it be in your professional or personal life, individually or with a team.
This matrix lets you:
manage time more efficiently
organize workloads and gain in productivity
assign priority levels to your tasks based on added value and/or urgency
decide which tasks to delegate
These benefits are not limited to time managers: the Eisenhower matrix can be helpful to all kinds of project stakeholders, including project managers, team members and more.
The 4 quadrants of the Eisenhower matrix explained
How to use the Eisenhower matrix?
Above all else, it is essential to differentiate between urgent and important tasks.
Urgent tasks are activities that require immediate attention and should imperatively be dealt with in priority
Important tasks are activities whose results are required to progress towards the completion of other objectives. They should not be overlooked.
Once you've understood this principle, using the Eisenhower matrix is easy: all that's left to do is organize tasks according to urgency and importance levels, by placing them in one of the 4 quadrants.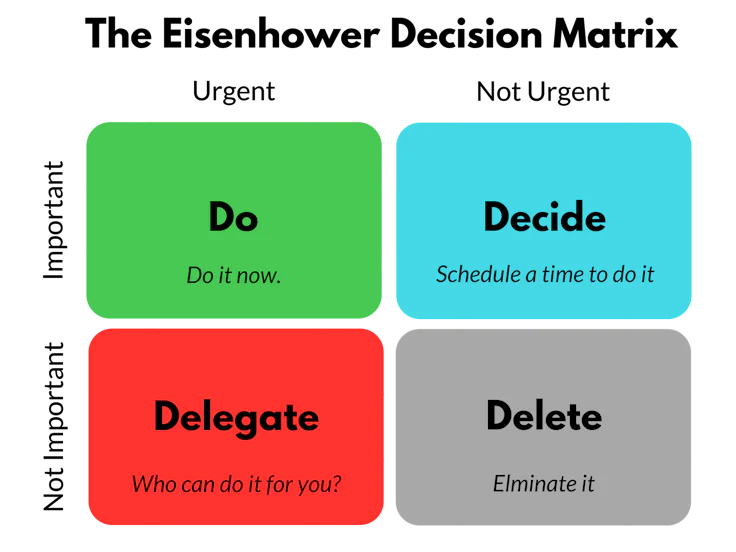 Quadrant 1: Urgent, important tasks
🎯 Strategy: Do. You should do these tasks immediately.
💡 Examples:
important files to submit soon
reports on which other tasks are dependent
high-value-added emails
Quadrant 2: Important but not urgent tasks
🎯 Strategy: Decide. Schedule a time to accomplish these tasks yourself soon.
💡 Examples:
reaching daily objectives
defining a strategy
tracking budgets or KPIs, training
Quadrant 3: Urgent but less important tasks
🎯 Strategy: Delegate. Assign these tasks to someone who could accomplish them quickly.
💡 Examples:
responding to emails or phone calls
answering punctual solicitations from external parties
Quadrant 4: Tasks that are neither urgent nor important
🎯 Strategy: Delete. Discard these tasks, as they bring low-value and are often useless.
💡 Examples:
browsing social media
answering mundane chat messages
What are the limits of the Eisenhower matrix?
However clear, efficient and simple this tool might be, it also suffers from some limitations, including:
its subjective nature: urgency and importance criteria aren't always easy to define clearly. It is necessary to communicate within your team to evaluate and prioritize tasks using common standards. Otherwise, you run the risk of not reaching your collective goals.
its lack of nuance: the matrix is based on a prioritisation system using only two variables, without no way to refine urgency and importance levels or divide them into tiers. A more granular approach would allow for a finer prioritisation of tasks.
Using the Eisenhower matrix for project management
To keep your project on the right track, the Eisenhower matrix can help you collectively decide which kinds of problems should be assigned to which priority level. You can plan a meeting to sort and evaluate your actions with the group.
For example, you could have the project to publish a thematic issue on your blog to showcase your expertise. The different tasks required to reach this goal would need to be planned and prioritized efficiently.
In practice, you could:
List the relevant tasks and gather your team
Explain what is the Eisenhower matrix, how each quadrant works and how it would help plan the development of the project
Find a common definition for the Eisenhower principles of urgency and importance and define workloads and delays quantitatively (using days, hours…)
Review the list of tasks together and find an agreement on which ones are most essential or time-sensitive by placing them on the matrix collectively
Take a final look at the completed matrix, and ensure everyone agrees unanimously
☝️ To go further and plan the launch of your project carefully, you could use other useful project planning tools.
Our last tips
Once you've mastered the Eisenhower matrix PDF template, you can start using it in a more proactive way.
Don't let an urgent task distract you from your long term goals! It might not be as important as you think. Getting things done means discerning what will truly affect the outcome of your project from the mass of signals and distractions you encounter along the way.
Ensure you're spending the most time on activities from the 2nd quadrant. Paying attention to these important tasks will help you take back control of your project and reach your long term goals.
Be proactive and anticipate new tasks, so you can schedule them as soon as possible, meaning you will avoid unnecessary urgency.
Enrich the urgent important matrix with other evaluation and planning methods, by taking into account the resources needed to complete a task or the results it should bring. You could use the Pareto principle to better prioritize your actions.
Reduce the time spent on low-value-added tasks to a strict minimum. Automate or postpone unnecessary tasks that don't directly contribute to the realisation of your goals.
With these pieces of advice in mind, you should make the best decisions and manage your time effectively. The Eisenhower matrix can really help you see urgency differently!
Do you use Eisenhower's principles for your projects? Has it helped you change your approach to project planning? Let us know!
Free content
Download your Eisenhower Matrix!
Download
Best tools for you