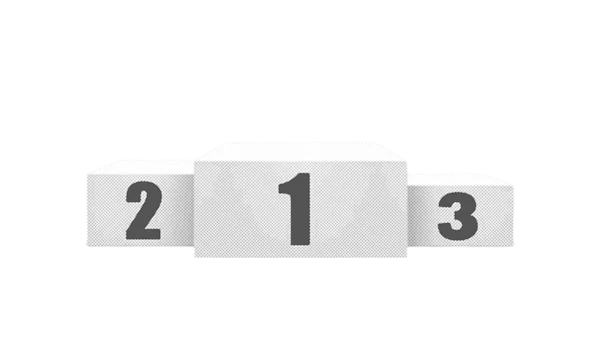 Top 5 Free & Open Source Task Management Software to Better Handle Tasks
Task management software is becoming more innovative and less limited. They have a valid place in the comparisons of project management tools made by managers and directors. Whether you are a developer, marketer, sales representative, or creative person, this tool will allow you to increase productivity and become less stressed.
Task tracking apps allow you to manage all of your workflow activity in one platform. Doing so can be extremely beneficial to you and your company, as you will be more organized and have an improvement in team collaboration.
Are you limited by time and budget? Don't panic, there are dozens of free task management tools. You can find all the best online free & open source task management software within budget on appvizer; below is a limited selection of the favourites.
Difference between free and Open Source task management software
Contrary to popular belief, Open Source does not mean free. This term means that everyone can freely dispose of the program and its source code.
However, hosting, installation, maintenance, and updates are the responsibility of the user. These last points require competent servers and people to manage the tool. You can estimate this cost at several hundred or even thousands of dollars per year. Free software can either be open source or proprietary. They are made available to you free of charge with limitations or counterparties, such as the possibility of using your data for advertising purposes.
Advantages and disadvantages of free tools
Free online task management tools allow many companies to structure themselves at no cost. However, they are not flawless. Here are the major advantages and disadvantages of these tools:
Advantages
They are free.
They immediately incorporate technique and structure to your plans.
Disadvantages
The negative return of gratuity is often hidden.
Security and confidentiality of data is not guaranteed.
Functionalities are often limited.
The number of users is often limited.
Technical and user support is not included.
Why and how to choose a free software
Opting for a free software allows you to coordinate your teams and structure a project without start-up costs. However, this does not mean that there will not be any later because the vendors of these management solutions will do everything they can to ensure that you take a paid version by limiting the free version.
Free project management platform is therefore limited, so you should rank your requirements according to collaboration features you would need before you even test it. Here are some key points to consider in your selection:
What is your requirement regarding the confidentiality of your data?
Publishers do not guarantee that your data will never be lost, damaged, or resold as part of free solutions. If this doesn't stop you, then you can start with free tools. If this is an impediment, choose an Open Source app to host on your servers.
Task or project management?
A task management tool is often enough for adaptable marketing and sales teams. Unlike when you assign tasks to yourself or your collaborators, the notions of time spent, budgeting, and creation of a Gantt chart are not relevant.
On the other hand, task managers are too limited for actual IT projects. For example, it is impossible to do invoicing, create milestones, and integrate a project management system.
Do you need planning or collaboration tools?
Working in project mode does not necessarily mean project planning. In many agile task management teams, the main task is to centralize information in order to collaborate and move forward together. Having a project plan consists in a work breakdown, meaning breaking down all the variables and stages of a project in order to build a retro-planning. In task management, planning makes it possible to control the delivery of a project.
What do you want to evolve towards?
The issue of your need's development should be raised immediately. If your free collaboration tool blocks the progress of your organization, then you will have to migrate your data to a more suitable instrument. The migration is then very complex, time-consuming, and costly without any guarantee that you will be able to move all of your data.
How many users and how many projects?
The limitations of free task management programs not only relate to functionality. Zoho Projects, for example, limits the free version. Other tools such as Asana limits free use to a number of users. Take the most demanding scenario (e.g. 5 parallel projects and 30 users maximum) and see what the cost will be at that time.
Managing your tasks with Excel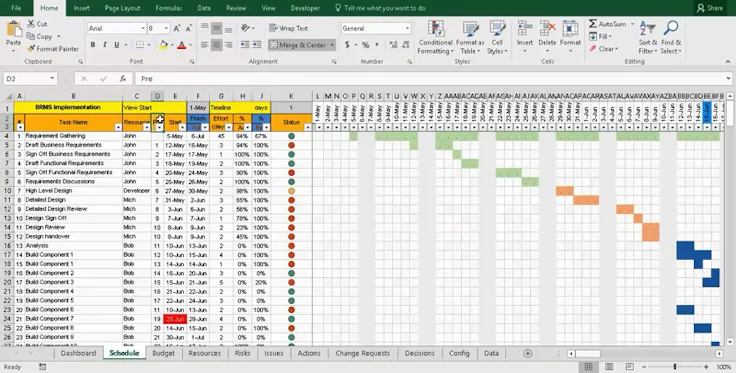 Excel is not free, but since all companies have it, we can consider that it does not have a cost. Excel has the benefit of not adding a new tool and being able to do almost anything you want. In return, Microsoft Excel is not sufficiently structured to control a project. The risk of errors is not inevitable (calculation of availability, margins, costs, time), even if starting from an Excel model of project management.
Moreover, item deletions have no safeguards and the traceability of the actions is non-existent. Microsoft Excel is therefore recommended for small projects as long as they are based on a proven model and in the scoping phase.
Comparison: Free project management software
This selection only takes into account online platforms (also called SaaS or Cloud-based). On-premise one does not allow for the collaborative uses essential for effective task management:
Asana: the collaborative task manager of startups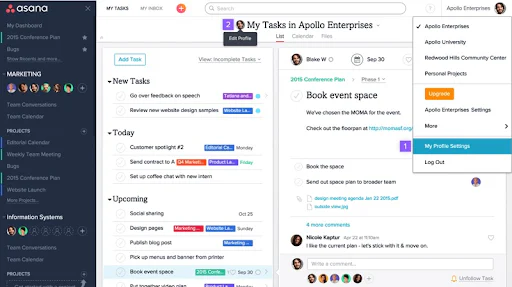 Asana is an excellent work management tool that can be spread across multiple projects. The free version is so complete in terms of features that it is useless for most companies to upgrade to the paid version. Asana allows above all to manage and track tasks and divide them to be done between all the collaborators, to collaborate, and to exchange in order to work more efficiently and be on the same page.
Everyone knows what to do when they arrive at the office or when they leave the meeting: no more to-do lists on the corner of the office or meetings that do not lead to concrete actions.
Asana, on the other hand, is not the best tool when it comes to the easy deletion of tasks (with the impossibility of recovery) or the impossibility to personalize the fields of the tasks. Asana is therefore excellent at getting things done and managing collaborative projects for small teams, but not to manage complex ones.

Project, task, and work management software
Learn more about Asana
Bitrix24: Free for an unlimited number of users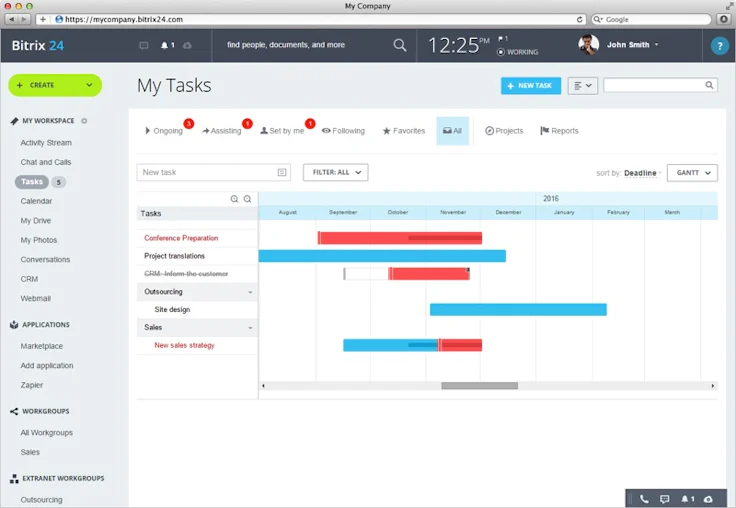 Bitrix24 is used by more than 2 million companies and organizations worldwide. This success is due to the quantity of free and relevant functionalities addressed to all employees of a company because Bitrix24 is not only a project management tool. It's a CSR, a CRM, a document manager, agendas with reminders, a messaging system, HR tools, etc.
Bitrix24 is free for an unlimited number of users knowing that its powerful features are largely restrained in this version: no customizable fields, no time management, only five on task dependencies, etc. Beyond these limitations and the relatively unclear data privacy, Bitrix24 allows you to efficiently manage your projects without spending 1 cent.
Redmine: Open Source solution
Redmine is an open-source solution. It is free, globally recognized, and offers all the necessary functionalities to work in a project mode whatever the configuration of your team.
Be careful, however, Redmine requires to be hosted on your servers and be maintained by a competent team (backup, security, SSL). Its use is therefore not free because of the operating costs generated. Redmine is particularly suitable for development, but its use is suitable for all types of projects thanks to its wide range of features. This solution is appreciated for its simplicity, custom ticket formats and workflows. On the other hand, the users criticize it for its simple interface (there are however themes) and its rigidity.

Free Open Source project management software
Learn more about Redmine
Trello: the most visual and collaborative tool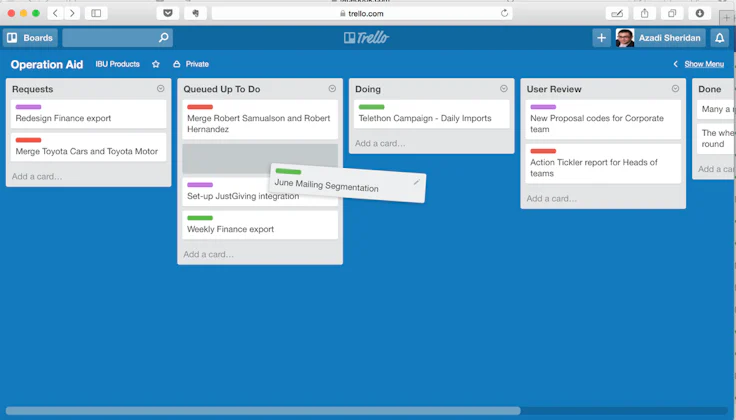 Trello understood that task management primarily features are about collaboration and visualization of the progress of ongoing tasks. As the screenshot above shows, Trello allows you to create projects that take the form of tables in several custom columns. In each column are the tasks or ideas (visualized in the form of cards) that the collaborators advance from left to right as they progress.
Trello is completely free in its first version and has a very well designed mobile application. However, this free version poses a problem of privacy and data security. The publisher admits itself to propose "more security" in the paid offer. Finally, Trello is more of a task manager than a project management tool in the sense that it skips costs, times, budgets, Gantt chart, and administration functions.

Innovative and Collaborative Project Management Tool
Learn more about Trello
Zoho Project: complete and free tool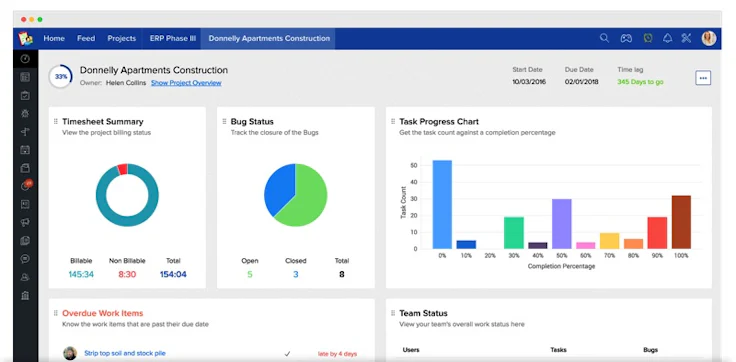 Zoho Projects offers a complete set of online tools at unbeatable rates. This solution is the perfect example: the free trial allows an unlimited number of users to work on one (and only one) project with all the essential features. These include the management of tasks, documents, human resources, budgets, time tracking, file storage space, and other tools.
Zoho does not stop there: it has integrations with G Suit, and DropBox. Zoho hopes you will upgrade from a free account to a premium plan as soon as you want to create a second project. Even at this price, Zoho Projects is the cheapest online software on the market thanks to its developments in India, allowing you to keep your plans on track.

Simplify Project Management and Increase Productivity
Learn more about Zoho Projects
Conclusion
Free task management software makes it possible to better organize tasks and collaborate without asking for a budget. Programs vendors, however, limit the functionality and associated services or exploit user data for advertising purposes to generate revenue.
Two types of solutions are clearly distinguished: task managers who respond to collaborative issues and management tools which address issues utilizing planning tools. Between paid and free platforms, a third option emerges with Open Source software that requires technical skills to install and maintain the software.
What is your take on this? Have you ever tried one of these task management software?

Best tools for you