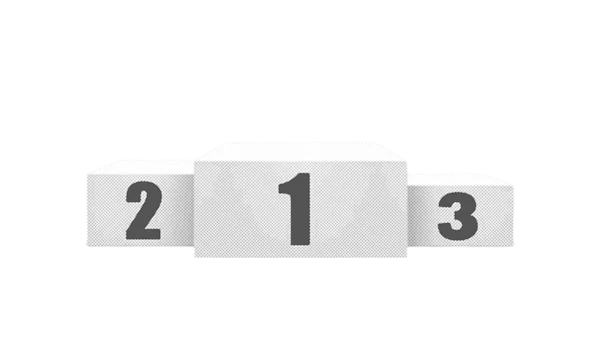 Top 4 best project management programs in 2021
Successful project management relies on using the best project management programs for your company.
But the offer on the market is wide and it can be difficult to make the right choice.
"Which solution best meets your business needs?"
"What functional coverage do you need?"
"What degree of collaboration seems necessary for the proper execution of missions?"
These are all questions you are probably asking yourself.
To help you make the right decision, we have selected high-performance solutions suitable for different types of projects and teams. Find the one that best suits your needs by checking out our comparison of the best project management programs 2021.
What are the selection criteria?
There are many ways to manage a project, and the methodologies adopted differ from one organization to another (Agile, traditional methodology, other).
After having clarified that point, we can say that a good project management program is able to align itself with the way your company works, and evolve with it.
However, we have identified some essential features that have guided our choice. These include, for example
Task allocation,
filtering and sorting tasks,
setting deadlines, etc.
In addition, a good software package must offer at least one of the following possibilities to be complete:
Kanban board view,
Gantt chart view,
Scrum view.
Finally, completing a project requires optimal collaboration and communication. This is why features such as file sharing and chat are welcome. Reports and other roadmaps are appreciated for reporting on the progress of the project to the various stakeholders, during steering committee meetings, for example.
Basecamp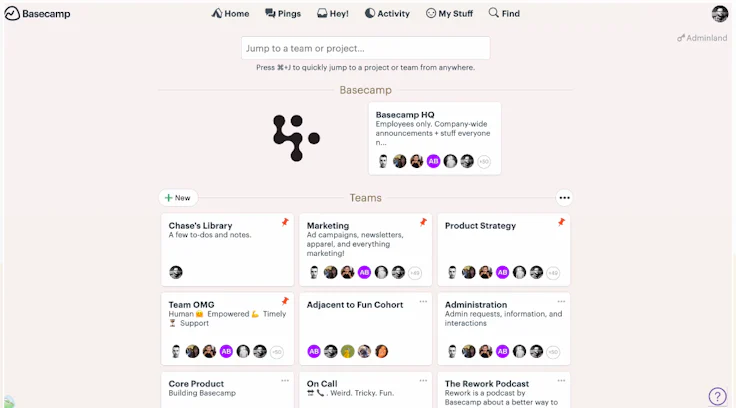 Who is Basecamp for?
Basecamp is a project management program available on the Internet and as an app for smartphones. It is used by millions of professionals worldwide and is appreciated for its ease of use. It is mainly aimed at SMEs and large companies. Its objective? To be as complete as possible while remaining easy to use. That is why it is also available to self-employed people or freelancers working independently.
The strengths of Basecamp
Basecamp has 6 characteristic features that make a difference to your way of project management:
Campfire: Campfire is an informal discussion space for brainstorming and creating the best ideas. This feature works as a social network where employees can vote and comment on the best ideas. This space also allows sharing of documents, links and requests from all company staff.
Message Board is a space for official announcements such as the launch of a product, the start of a new project, and for proposing an important new idea.
To-dos: the to-do list is a shared task manager that links the employees who are assigned the task and the project milestones that are part of the task.
Schedule is an agenda presented in a "planning" format that allows you to plan immediate events as well as more distant ones (meetings, interviews, deliverables, etc.)
Check-ins is an intelligent tool that lists all the good ideas appreciated by the team. It is up to the project team to select them and put them into practice in a project.
Finally, the last space is dedicated to sharing documents within the project team: images, spreadsheets, text documents, etc.
Why choose Basecamp?
Its simple interface makes managing multiple projects a breeze. Marketers, for example, can see everything, from a product launch to its creative development, even in the case of a larger team working on a wide range of projects.
With Basecamp's interactive interface, it's easy to monitor a project's progress and make changes in one click, with all other collaborators able to keep track of the changes. The aim of Basecamp is to minimise the exchange of e-mails between employees. The system of emailing does not allow everyone to participate in the conversion and very often the e-mails are not read. With Basecamp, however, your team will be informed in real time.
In addition, the customer service of the software is excellent. They are quick to respond, have a personal approach with everyone and propose really smart alternatives to increase your productivity.

The All-In-One Toolkit for Working Remotely
Learn more about Basecamp
Trello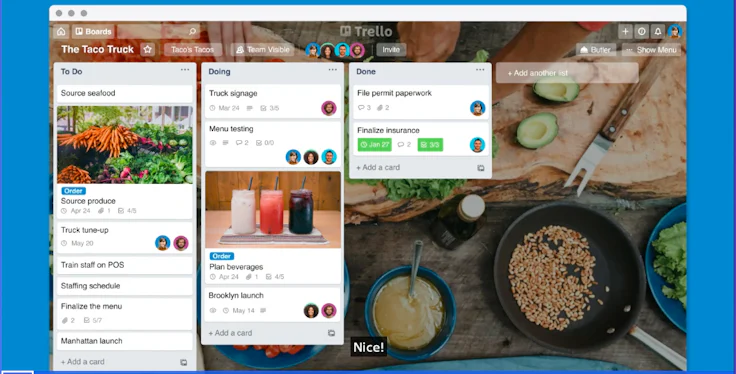 Who is Trello for?
We know that Trello is used in large groups such as Google and Ebay who have decided to use Trello to simplify their project management, but what about small companies?
In reality, Trello is perfectly suited to any company or group of students who want to manage a project. The tool is extremely flexible, and this is reflected in their sales offer.
What are the features of Trello?
Trello is an ever-evolving application with workflow automation features that allow teams to work effectively both remotely and in person.
Designed specifically to facilitate team collaboration, the tool can be customized to accommodate the workflow of collaborators in many professions. The Kanban board view is the most popular and well-known section of the platform. It allows the use of other visualisation tools such as timeline and calendar views to anticipate possible delays in the roadmap.
Trello is divided into 3 areas:
Boards: these are workspaces dedicated to a particular project, they are shared between users, and can change form according to the needs expressed: from the map view, to the timeline view or the more general dashboard view.
Lists: these are simply spaces that can accommodate a number of cards, making it easier to move them around, archive them and organise them in general.
Cards: these are simply the tasks to be carried out, to which we add all the necessary information and documents, the deadlines, as well as the parties involved in the resolution of the task. All the information passed to the employees will be grouped in a series of cards belonging to different display boards. These cards can then hold documents, checklists or attachments. Trello cards can also be used to receive feedback from other employees and project managers, thus reinforcing the adoption of positive management practices.
Why choose Trello?
Trello is an easy-to-use software that allows you to keep track of every single element. The workspace is divided into notice boards, which in turn are divided into lists, which contain tabs. We can compare Trello to a kind of blackboard where you can create lists of tasks and reorder them at will.
Trello can be used with any browser and there is also a mobile application (iOS and Android) that offers the possibility of accessing your documents and working on your project from anywhere at any time.

Innovative and Collaborative Project Management Tool
Learn more about Trello
Clickup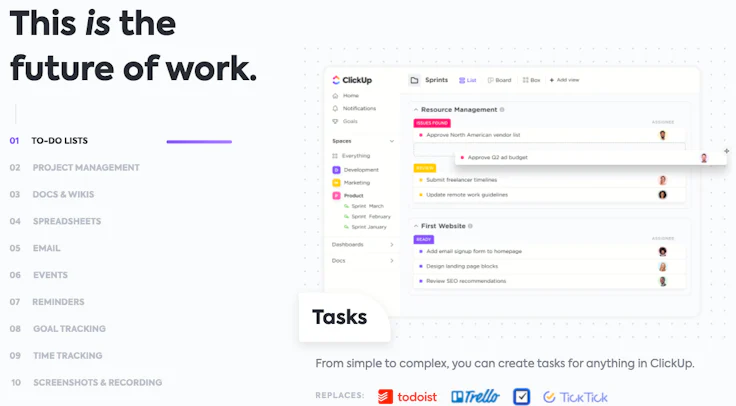 Who is Clickup for?
ClickUp is a project management software that combines the features of several applications. In fact, the motto of this software is: 'one app to replace them all'. It proves to be an excellent project management solution for SMEs and large groups. This software includes all the classic functionalities expected in this category of software, particularly in terms of task management available in SaaS mode, but with an interface and features that go well with teams working according to Agile and Scrum methodology.
The strengths of Clickup
Creation of simple and complex tasks with reminders;
Creation of documents, spreadsheets and knowledge bases to share with your co-workers;
Chat module that allows you to discuss projects with interested collaborators;
Planning tasks and activities using calendars, timelines and Gantt charts;
An easy-to-use customised application;
Ability to choose the most relevant view to display the different tasks to be done during a defined time: list view, counting view, calendar view and more;
Customisation of the digital workspace: choose the different functions you want to use, change the colours to make tasks more easily identifiable and use the different statuses to classify your tasks and gain efficiency.
Why choose Clickup?
Clickup is the perfect software for all teams working in agile mode who want to have customised design and control over product development on a single platform.
The platform allows for deep modularity thanks to multiple additional tools, like 'ClickApps', offering the possibility to use the software according to personal needs.
ClickUp also features essential functionality such as Assigned Comments, LineUp™, and the Box view for unprecedented staff management.
ClickUp's flexibility, simplicity and ease-of-use place it at the top of the category defined as the 'next generation of business programs'.

A Comprehensive Project Management and Productivity Tool
Learn more about ClickUp
Monday.com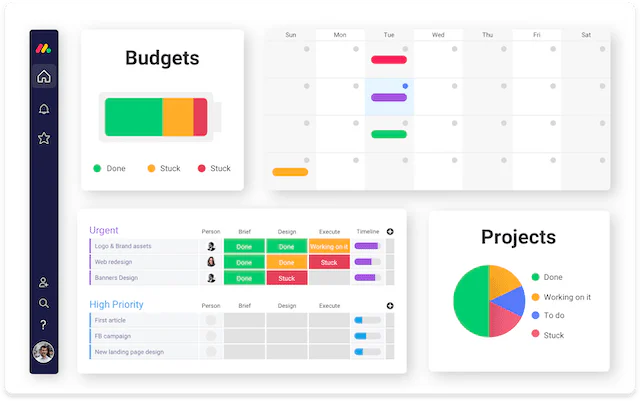 Who is Monday for?

Over 80,000 teams in diverse industries around the world rely on Monday.com, from large companies like Wix and The Discovery Channel, to small businesses just starting out.
Monday.com is a work operating system (Work OS), a cloud-based software platform where teams can build custom workflow apps. It allows teams to plan, and track projects, and every day work. It is a project management platform which helps you easily manage simple all the way to complex tasks, and everything in between.
Monday.com is perfect for all sized businesses. Information is collected and centralised in one place, making it easy and accessible for all parts of your business. Monday.com allows your teams to be efficient and flexible, by speeding up the time your tasks get done, and allowing them to be shared with the whole team.
The strengths of Monday.com
Easy to use: It's easily adaptable, and no coding is required. It's interface is colourful and easy to navigate. An easy design that demonstrates how to add contacts and columns to your list, and how to edit and move your contacts.
Whether you're tracking leads, managing sales pipelines or onboarding customers, Monday.com is fully customisable, so your team can get started instantly. It is very user-friendly, but if you have any issues, Monday's customer support team is available via chat 24/7.
Multiple project views: You can get a look at the big picture of your tasks with visually appealing dashboards. They'll update you on deadlines, organisation and allocation. You can even switch from Gantt Chart View to regular Chart view to get a different angle.

Integration: You can easily connect external apps or data to your Monday workspace, such as Google Drive, Excel, Jira, Slack, Gmail and Mailchimp etc. or synchronise your data on a central platform by connecting monday.com to the tools you already use.
Task automation: Almost everything can be automated, which reduces the risk of human errors for repetitive tasks. Set up alerts and reminders, so you are always up-to-date. If a task is overdue, Monday notifies the project manager in real-time.
Customisable templates: Monday offers an array of templates for contact management, customer onboarding as well as events management
Great reporting: The reports are flexible, and personable. You can create reports which focus on workers' performance and check the detailed progress of a single or multiple projects at once.
Why choose Monday?
Monday has extreme visibility, meaning all parts of your team can see the status of tasks and related information, making it one of the top visual management software programs. it provides board views with numerous features like Gantt and Kanban which motivates workers.
Collaboration and communication are made easy. Employees can tag or comment on the boards for everyone quick reactions, and for everyone to see. It keeps everyone from any team member or department in the loop. With centralisation, vital information is not missed. Which brings us to delegating tasks, once a task is briefed, with the necessary information, you just have to add the worker. He will automatically see what needs to be done, or any other for that matter.
Mobile: Access dashboards and all your information from any device, even your phone

Multiple integration are accepted, making synchronisation easier.

The most intuitive platform to manage projects and teamwork
Learn more about monday.com
Software name
Target
Project management methodology
Major strengths
Prices
Basecamp

SMEs and large companies

Traditional and agile methodologies, with excellent integration with the Scrum framework

1.Collaboration Tools

2.Creation of Subtasks

3.Customizable Templates

4.Milestone tracking

Free trial for 30 days

Full version: $99/month for the whole company

Trello

SMEs and large companies

Agile methodologies with Scrum integration

1.Calculation of budgets

2.Bug Tracking

3.Business Process Automation

Free version

Business class version: $10

per user per month billed annually

Entreprise versione: contact sales

Clickup

SMEs and large companies

Traditional and agile methodologies, with excellent integration with the Scrum framework

1.Assignment Management

2.Audit Trail

3.Automatic Time Capture

4.Backlog Management

5.Budget Management




Free version

Paid Version: $5/per member per month

Monday.com

SMEs and large companies

Agile methodologies with Scrum integration

1.Information synchronization

2.Backlog management

3.Task management

The monthly price depends on the number of users
Some tips for choosing your project management software
To choose the right project management software, it is essential to understand your needs beforehand.
To get started, identify how you want to work, which project management methodology you are planning to adopt. The agile methodology? Or on the contrary, do you use classical methods such as the V-cycle? Maybe both, depending on the type of task?
This series of questions to be asked in the preliminary phase will allow you to define the features you need, such as :
the Kanban method,
the Gantt chart,
the Scrum method,
the management of backlogs, etc.
Next, you must consider the question of the goals of the projects. Indeed, the requirements will not be the same from one company to another.
Thus, structures that carry out small projects will probably find the ideal solution in software that manages simple managerial tasks, such as:
creating tasks and defining their deadlines,
assigning them to the right collaborator,
monitoring progress.
However, larger and/or more complex projects will require broader functional coverage, including budget and resource management. Larger companies will also opt for project portfolio management software, which allows them to compare and prioritise projects.
Finally, as your business evolves, it is important that your ambitions enter the equation. To avoid switching to a new solution as soon as your needs change, we suggest you study the possibilities for evolution and customisation of each software, and put them in perspective with your growth opportunities.
Best tools for you