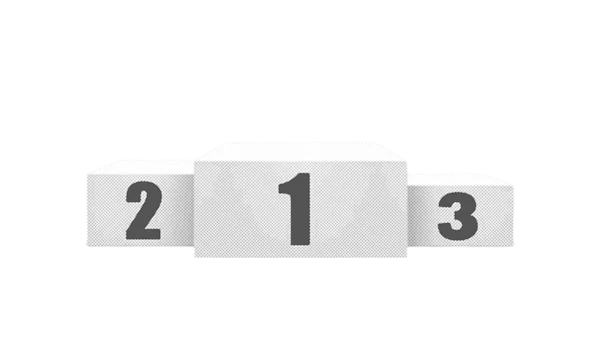 The 9 Best Free Software for Agile Project Management in 2023
Implementing Agile project management successfully is a goal many businesses across industries are trying to pursue. This method, as opposed to more traditional ones, allows project teams to adapt more effectively to changing environments. But achieving this goal requires using the right tools.
Do you need help to choose the best free software for agile project management? Let Appvizer guide you through some of the most popular solutions available on the market!
Learn more about the specificities of the various agile methodologies (Scrum, Kanban…) and some of the most important features to be included in the software for it to truly become an agile asset to your organization. Our list of the best free agile tools will help you decide for yourself which one would suit you best, complete with a comparison table to sum everything up.
What is Agile Methodology?
The agile approach was originally created with software development in mind. It works best with small teams and can use a variety of agile methodologies (SCRUM, Kanban, Xtreme Programming…). What unites these different frameworks is their iterative approach to project development: the final product only comes after several project releases, following the principles of continuous improvement.
This way of working allows for changes to be made along the way: the client and other stakeholders are more involved and kept in the loop throughout the project life cycle. This means they can express concerns or clarify their needs, ensuring the project will meet these requirements.
Most agile methodologies also adopt a customer-centric approach, with tools such as user stories and story points, which help distribute the workload and focus on real-life problems your service or product should solve. Other well-known agile tools include Kanban boards, which are a visual representation of the tasks at hand. It often plays a key role in keeping things running smoothly, as contrary to traditional methods such as Waterfall, multiple parts or phases of the project can be tackled simultaneously.
What is the best Agile project management tool?
Is there free Agile project management software?
There sure is! This list wouldn't exist without the hard work of developers offering a free version of their project management app. Some are completely free and open-source, while others offer a limited free edition with premium features.
While free, open-source project management software may be your first choice, you shouldn't overlook the free tiers of paid solutions. Indeed, 100% free software often has hidden maintenance costs, not to mention it is often less user-friendly or up-to-date. Some solution's free plans are really complete while offering support and a way to grow with your business.
1. Asana
For businesses looking for a straightforward tool without losing strength or functionality, Asana is a solid option. Even though it has a ton of functionality, getting started and onboarding your team just takes a few minutes.
Businesses with any budget may easily purchase Asana thanks to its affordable pricing point. Without spending a dime, you may combine Asana with your preferred time tracking applications. Users of Asana have access to a variety of tools for viewing projects and managing tasks, including Kanban boards, lists, calendars, portfolios, workloads, and deadlines.
Changing between views also provides project managers with a broad overview of where the project is at. Automating procedures, routine activities, and workflows that affect your other company software is simple with Asana.
Asana is a versatile and adaptable project management program that can be used with a wide range of management approaches, company sizes, and industries. Over 100 well-known third-party applications, including Slack, Dropbox, Google Drive, Zapier, Tableau, Zoom, and Salesforce, are integrated with Asana.
Pros
The limitless teams, projects, communications, activity logs, file storage, and other features are all included in Asana's free plan. You won't ever need to upgrade if you manage simple projects and have less than 15 users.
Kanban boards, lists, calendars, portfolios, tasks, and timelines are among the available views. In order to have a comprehensive overview of the project, you can even design scalable project dashboards that update in real-time.
File sharing with Asana is possible with PDFs, JPGs, Google Docs, and more. Teams may work around one other's schedules and keep informed of any new developments with the help of calendar view.
Cons
Many notifications creating email clutter.
Asana doesn't allow tasks to be assigned to more than one user; you can add collaborators but the task will only be for one person.
Asana performs best in a full screen mode; it is not a good fit for mobile devices.
2. Bitrix24
Bitrix24 is more than a project management solution: it's an all-in-one solution, with integrated CRM, CMS, eCommerce and collaboration tools. This allows your business to enjoy maximum efficiency across diverse teams.
It offers a very comprehensive free edition that gives you access to a SaaS platform from which you can manage all kinds of agile projects. An advanced task management system with dependencies and reminders, interactive Kanban boards and Gantt charts are all provided at no cost for unlimited users and tasks.
This solution goes even further with a full set of collaboration tools: conduct polls, make video announcements to your agile teams, send chats and even enjoy group video calls for free. You also have access to 5 GB of free online storage to share files and keep important documents accessible to everyone.
Pros
A unique 360° approach to managing your business: all your teams can work together on this platform, with functionalities going way beyond project management.
A uniquely comprehensive free plan, with access to advanced task management, Kanban, Gantt charts and even collaboration tools like video calls and file sharing.
Can help you manage web projects like launching a website or adding eCommerce functionality.
Cons
No time tracking or templates in the free plan.
It may be overkill if all you're looking for is a simple project management tool.
Doesn't have many features for software development.
3. ClickUp
ClickUp is a cloud-based project management solution. It provides shared task-setting and communication features for teams, along with project updates and status notifications. One of the greatest project management software solutions, it offers excellent visibility into every project and task and is extremely configurable. Small and big teams may both benefit from ClickUp's real-time collaboration and communication optimization tools. The business offers some of the most reasonable and competitive prices on the market.
The creation, pulling, and customization of reports is made simple with advanced real-time reporting capabilities. ClickUp provides 15+ views so you may see your projects, timeframes, and team composition anyway you choose. The app's user-friendly features and intuitive UI make it simpler than ever to add new tasks to projects.
Pros
Flexible time tracking features make it simpler to manage your time at work by allowing you to concentrate on your job and enhance time management.
Create bespoke dashboards and keep tabs on your team's performance with the budget tools. In addition to reporting on the success of each individual team member, you can construct high-level overviews of each job and the whole project.
ClickUp enables you to approach your projects personally, giving teams from various sectors the option to select the organizational structure that works best for them.
Cons
Before feeling at ease using ClickUp, users will require extensive training.
You will need to input a lot of information throughout the onboarding process, which is also rather drawn out and comprehensive.
The setup and usage of the program requires meticulous planning on the part of the user, which takes time and can be frightening.
4. Jira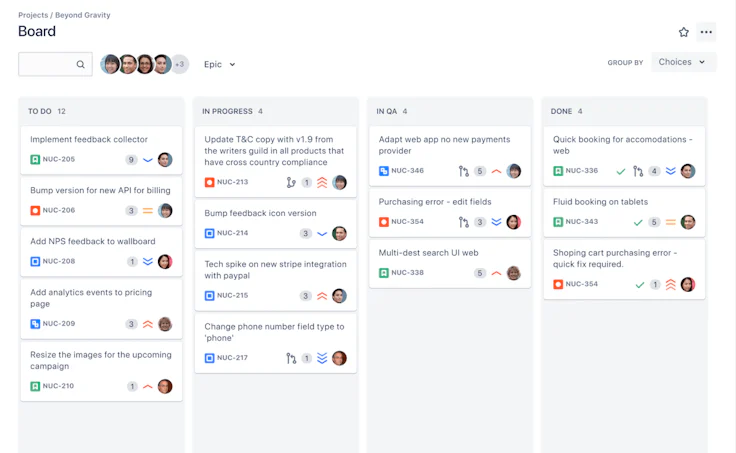 Jira is probably the most compelling free offer for agile software development. This popular platform is built with Agile principles in mind and meets all the needs of software development teams.
Project planning and collaboration are made easy, with Scrum and Kanban boards and clear visual roadmaps. Agile reporting is at the heart of the solution, with all the main charts (burnup, burndown, sprint report…) included. Adopting Agile processes has never been easier, with native backlog and sprint management tools.
Developers can access code branches in real-time and enjoy advanced bug-tracking and version control. Automation is also included in the free plan for one project. Jira is perfect for small agile teams, with the free version offering most features for up to 10 users, with 2 GB of cloud storage included.
Pros
One of the most complete agile platforms, with backlog management, sprint and Kanban at its core.
Built with the needs of software developers at its core.
A comprehensive free plan to accommodate small teams at no cost.
Cons
The paid version is required for more than 10 team members.
Project roles and capacity planning are only available in paid tiers.
May not be as useful for organizations that need to cater to the needs of diverse departments, such as marketing and sales.
5. MeisterTask
MeisterTask is a task management and collaboration tool. It strives to provide teams with an attractive, adaptable environment that is simple to use for work management. MeisterTask, according to the vendor, is appropriate for managing everything from software sprints to editorial calendars since its project boards adapt to the workflow of each team.
The web-based task and project management application MeisterTask is ideal for managing agile projects. MeisterTask is appropriate for managing everything from software sprints to editorial calendars since its project boards adapt to the workflow of each team. It is an obvious choice for project teams because of its beautifully designed interfaces, simple functionality, and easy connections with other products.
Pros
The program displays the amount of work finished, the quantity of tasks added, and other patterns so you can observe how they change over time. A calendar of impending due dates is also provided.
The app is simple to use and offers plenty of flexibility. It integrates with the majority of widely utilized platforms.
It includes versions that are tailored to any sort of business or if you want to give a personal usage.
Cons
A process calendar would have given a more complete view of a project's productivity, but it is not included.
Lack of tools for cost control and budget monitoring.
MeisterTask's desktop version is utilized more frequently than its browser counterpart. The desktop software switches you to the browser if you attempt to access Preferences or Statistics from there.
6. Odoo
Odoo is a popular open-source ERP system that is utilized by millions of business users worldwide. Accounting, inventory, marketing, sales, CRM, billing, eCommerce, warehousing, project management, and other company needs may all be handled by it. All of these procedures may be smoothly integrated with this application, increasing a business' overall effectiveness.
Odoo is a genuinely all-encompassing piece of software. It can handle a wide range of company needs, including project management, manufacturing, eCommerce, CRM, billing, accounting, inventory, marketing, and sales. For companies on a low budget, this open-source solution may prove to be quite useful.
Odoo has several options for connecting to other applications, including Whatsapp, QuickBooks, Google Maps, eBay, and Amazon.com. Users can deploy Odoo in one of three ways, each of which they can carry out independently.
Pros
Organizations may set up, organize, schedule, and analyze team performance using the Project and Timesheet capabilities in Odoo. Users may then more effectively prioritize and resolve client tickets with the aid of the helpdesk tool.
There is a significant chance that the information you wish to copy from several databases may not be the most recent version. It leads to erroneous conclusions without Odoo.
The availability of all firm data in one place enables greater cooperation and more efficient execution of difficult tasks.
Cons
The adoption process might result in significant time and financial losses since it affects how personnel carry out their regular tasks.
The staff must go through training and learning sessions in order to comprehend the system and become accustomed to it .
Odoo cannot be customized without a committed group of experts. You cannot produce a professional perspective by using Google or YouTube lessons.
7. Shortcut
Shortcut is a project management tool made especially for teams working on software. It provides a clutter-free experience for greater team communication with a straightforward Kanban-style interface. The Silo Effect, or the limited flow of information that slows down software development initiatives, was addressed by Shortcut. A software team will have a ton of tasks to complete. You may divide jobs into three categories using Shortcut: Features, Bugs, and Epics.
Shortcut was created by the Shortcut team to speed up the software development process. It offers a variety of connectors to facilitate cross-platform communication, data archiving, event planning, and other tasks. The majority of the functionality is located in the left sidebar of the Shortcut home screen for quick access.
Pros
You may quickly examine the status of your key efforts thanks to Shortcut's bird's-eye view feature.
It works for bigger, more organized enterprises transitioning from Jira as well as for smaller, more adaptable teams.
The work of your firm is all on one page. You get an exceptional degree of visibility across teams and projects thanks to the special filtering mechanism.
Cons
Lack of creative features and inability to personalize the dashboard.
Insufficient (remote) team management tools.
Gantt charts and the project timetable are absent.
8. Trello
Trello is a user-friendly project management tool. Trello entered our list of the top project management tools due to its straightforward design and emphasis on usability. Trello's automation options are plentiful and simple to set up despite their straightforwardness. Butler makes it simpler than ever to build up rule-based triggers and desired actions.
Power-Ups for file management, communication, analytics and reporting, and more are available inside Trello. Slack integration within the app further facilitates team cooperation and communication. Trello connections may be pasted into Slack to view key statistics like assignees, task descriptions, and comments.
Pros
Without leaving the app, managers may see assignees, task descriptions, and recent comments. Users may also keep chats core to each task and exchange papers to keep everything in one place.
You can discover Power-Ups for file management, communication, analytics, and reporting inside of Trello.
Butler, Trello's automation bot, makes it quicker and simpler than ever to set up rule-based triggers and desired actions.
Cons
The additional project views offered by Trello are restricted to similarly priced project management tools.
Trello does not come with reporting and analytics out of the box, in contrast to other project management systems on the market.
Due to its difficulty to establish roadmaps or tie tasks to subtasks, Trello is not the greatest choice for agile teams, complicated projects, or software developers.
Wrike
Wrike is a standout among popular options for small and medium businesses. It is one of the most comprehensive and flexible project management solutions available on the market. This tool provides a wide range of add-ons to adapt to all kinds of organizations, from proofing tools, suited to creative teams, to a complete resource management extension.
A generous free plan allows your company to get started with a Kanban board, advanced task management and file-sharing. You'll even get access to the mobile app to work on the go. The interface can be customized by users to adapt to their personal needs and preferences and conversations can be filtered to always see the most relevant information.
Make collaboration a breeze: share information in real-time and bring down the walls between your different departments. Everyone can share their progress and reach out to project team members without using endless email threads.
You'll never outgrow this project management platform: Wrike offers advanced features including permissions management, time-tracking, Single Sign-On and more. Project managers can use custom dashboards to have a 360° view of all projects. Tracking and reporting have never been easier.
Pros
Generous 2 GB storage and integration with popular cloud services included in the free plan.
Diverse add-ons and plans to suit teams of all sizes and all backgrounds.
An agile and collaborative tool to modernize your processes.
Cons
Limited active tasks and Gantt chart not included in the free plan.
You may need help when choosing the best plan and add-ons for your business.
Advanced integrations and automation require the Business plan.
The key features of Agile project management software
Any solution wishing to call itself agile should include some functionalities and tools frequently used by the most common Agile frameworks. Thus, for your new project management software to truly accommodate this approach, it should include at least some of the following agile project management tools:
Sprint management: the SCRUM methodologies and all iterative methods rely on sprints. To help organise your sprints, the solution should have a way to assign roles such as Product Owner. Sprints may be repeated throughout the course of the project, so features like task or project templates are nice to have.
Backlog management: an essential part of sprint planning is knowing which backlog items to prioritize and implement for a sprint. Few solutions offer a dedicated solution, but Scrum and Kanban boards are a great way to visualize potential features and their progress. Some even have swimlanes and advanced filters for a more granular approach.
Automation features: Agile focuses on speed and efficiency. The ability to automate your workflow can help you save time. Automation can be done with simple or advanced logic and formulas within the software. There is also integration with other solutions such as Zapier or third-party tools.
Agile reporting tools: there are Agile ways to track projects. Some well-known tools include the burnup and burndown charts, velocity charts and others that allow you to keep track of the story points completed and the remaining workload.
💡 If you're looking for agile software development platforms, they should also include release management tools, forums, wikis… as well as specific integrations, to GitHub for example.
Make your business more agile… for free!
Your organization may need a little nudge to take the path of Agile project management. But the good news is, the tool that will make you switch probably has a comprehensive free version to help you try it out or start out your business! Did you find the best match in our list of free software for agile project management?
Feel free to browse our full list of project management software to explore your options further. Have you found a tool that revolutionized the way your company worked? Feel free to share your experience below!
Best tools for you