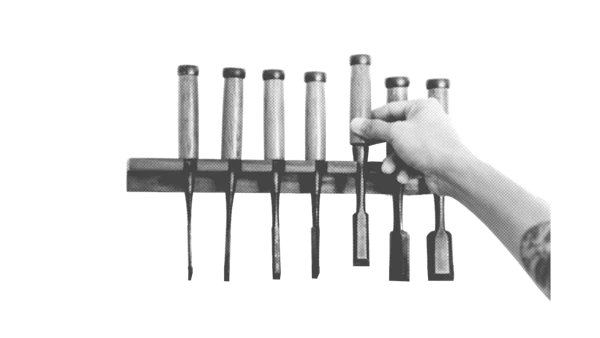 SME? VSE? Yes! Even you need an ERP!
ERP software is not just for big structures. It stands out as a true Swiss Army knife for your small or medium-sized business in addition to assisting you in managing your commercial and logistics activities.
As a result, it helps you manage performance and expand while saving money.
Now, what exactly are the benefits of an ERP, and why should you be using one?
You will find out more on how to select the best ERP for small business in this article. You will also find our choice of ERP solutions adapted to your needs based on your industry of operations.
The advantages of an ERP for medium or small business
A modular approach
Enterprise Resource Planning (ERP) software consists of a number of modules that interface with one another and allow the management of:
The manufacturing,
The supply chain management,
Inventory,
Purchase and sale orders,
Supplier invoice,
Human Resources,
Accounting, etc.
ERP also provides:
A single database with standardized, centralized, contextualized, real-time updated, and always available data;
A comprehensive understanding of the business's operational activities that enables more effective management.
A fostering growth
VSE and SME often give each department the tools they need as they expand, such as inventory management software or accounting software.
The result? A collection of uncommunicative software is what we will see. Information is sometimes entered multiple times in various ways, making it difficult to access. All of this increases the likelihood of mistakes and wasted time, which can lower the company's productivity.
Why implement an ERP for your TPE or SME?
Centralized data management helps you optimize your management procedures;
For all of your teams, the information is accurate and updated across all platforms;
The information system is integrated and unique;
Communication, whether it's external or internal, will be facilitated;
You will lower the cost of information management;
Using one tool at a time is quicker;
As a result, productivity is raised;
You have better control over your activity's costs and deadlines.
How to choose your ERP? Selection standards
This is not a question that should be handled lightly because the answer will determine your business' operational effectiveness, productivity, profitability, and competition.
Find the management solution that will suit your goal and budget by taking the time to evaluate the market. The following selection criteria can help you.
Criteria
Explanation
Free or paid ERP and open source ERP
- An ERP that is open source allows individuals with a basic understanding of IT development to modify the code.

- Free does not equate to open source. Both the proprietary ERP and its opposite, the open source, can be obtained for free or at a cost. Frequently, a free version is available, but it has a set amount of users or features.

- Additionally, you must pay to host free on-premise open source software (installed locally) on your servers. So, beware of the alluring but frequently fruitless pursuit of free things.

Functional coverage
- Carefully, examine the software's features if you want the most features possible or just a few more sophisticated ones.

- Moreover, if you are deployed abroad, you will require a tool that has been multilingually translated and market-adapted (currency management, etc.).

Interoperability with other software
- You already use CRM, accounting software, HR management … and you would like to be able to connect it to your ERP?

- You'll have to check the latter's availability of the APIs (application programming interface) required for this connection.

Modularity
Your company is distinctive; unique. Setting requirements is helpful for outlining the requirements that you ERP solution must satisfy in accordance with:

- Your sector of activity: Is a generalist ERP sufficient, or do your need a specialized ERP, adapted to your activity?

- The size of your structure: How many simultaneous users will there be at most?

- Your financial situation and other limitations: For a SME, and even more so for a VSE, an ERP software that promises savings in the medium term may require a sizable investment. What specialized features or modules do you require now and in the near future ?

Mobility
A mobile app that is integrated with your tool might be a crucial factor for information exchange and real-time data processing if you have teams working in the field.
Data reliability and protection
- The management data for your business is priceless. You must confirm the dependability of the software before leaving them to it.

- Data security is another concern: Is access to the back office restricted? What servers do you use to store your data? What promises are made?

Ease of handling
- Software that is not at least user-friendly and ergonomic is swiftly abandoned. You must be able to simply navigate the interface, identify the features you're interested in using, and do so without difficulty.

- The ERP must also have an easy setting process. To make it simpler to get started, several publishers provide training and tutorials.

Customer support
The service of a support team, preferably free of charge, is very valuable to ensure you have the answers to all your queries in the event of a problem (bug, loss of data …), or confusion about the use itself.
What is the best ERP for SMEs and VSEs? Comparison
Discover our ERP comparison to assist you in locating the management software that will match both your needs and those of your industry.
In order to relieve you of hosting concerns, we have decided to only provide you with softwares in SaaS form.
Additionally, a subscription that is often paid monthly satisfies your demand for flexibility.
Take advantage of the free trial versions that many services provide as well!
Which ERP system is most used in business?
1. Acumatica
Acumatica is an ERP that matches customers with a local VAR partner who knows their industry and market. This is an opportunity to get expert advice on streamlining business processes. Their VAR partners have the business knowledge and technical skills to help tailor software to meet the needs of growing businesses.
💪 We love the fact that you can access data from any device and the ease of integrating tools and systems.
2. Axelor
Axelor is an open source low-code ERP for SMEs, that provides a wealth of native features. The platform is made to completely meet your demands, whether they are for ERPm CRM, accounting, HR, supply chain and more.
Because of the integrated BPM, the tool also enables you to design and edit your own business applications without writing any code. As a result, your ERP is ideally tailored to your requirements and workflows.
💪 Strength: Its adaptability! Each module is capable of independent operation and unrestricted intercommunication.
3. Dolibarr ERP
Dolibarr ERP is an open source ERP and CRM that can be downloaded for free. As it is very popular, it is frequently updated, and in the event of a technical issue, its user forum is quite active.
Dolibarr will finish managing your inventory, orders, margins, and shared agendas. Additionally, it enables the management of commercial possibilities, the sending of bulk mailings, accounting management, invoicing, or even the management of interventions, the monitoring of leave and absences, expenditure reports, etc.
💪 Dolibarr is available for free via open source, however a SaaS membership is required.
5. Dynamics 365 Business Central
Dynamics 365 Business Central can manage your emails, calendars and contacts in a familiar interface. You will also have access to the share point portal, which allows you to create a group site. This administration solution is fast and easy to use thanks to the perfect integration of Microsoft Office 365.
💪 We love that Microsoft NAV allows you to administer and manage business management, financial management, supply chain management and decision-making and reporting tools.
6. Holded
Holded makes sure that you access all of our invoicing, accounting, CRM, team, project management and inventory modules from a single platform that is continually updated by a team of technicians based on client input.
Holded is a smart, intuitive solution with a streamlined design that is especially suited for VSEs, allowing you to concentrate on growing your business and automating administrative procedures.
💪 To accommodate your unique requirements and financial constraints, there are five packages.
7. Netsuite
Netsuite supports the development of international structures with a wide range of functionalities. Netsuite is a cloud-based ERP that enables you to manage all aspects of your business in a single location. All data, including finances, accounting, customer service, stocks, purchases, sales, and e-commerce, is centralized and available at any time.
Your performance is enhanced, operations are streamlined, and decision-making is done more quickly and accurately thanks to the 360° vision.
💪 Netsuite accelerates the growth of your start-up, VSE, or SME by being adaptable and scalable.
8. Odoo
Odoo offers 45 essential functions that are broken down into 8 primary modules: finance/accounting, sales/CRM, marketing, website/e-commerce, inventory/MRP, human resources, services/projects and productivity.
You can choose your custom modules and only pay for the amount of chosen applications and users. The tool is innovative, user friendly, open source and simple to set up.
💪 Odoo, affordable and customizable, enables connections to thousands of professional business applications.
9. Ooti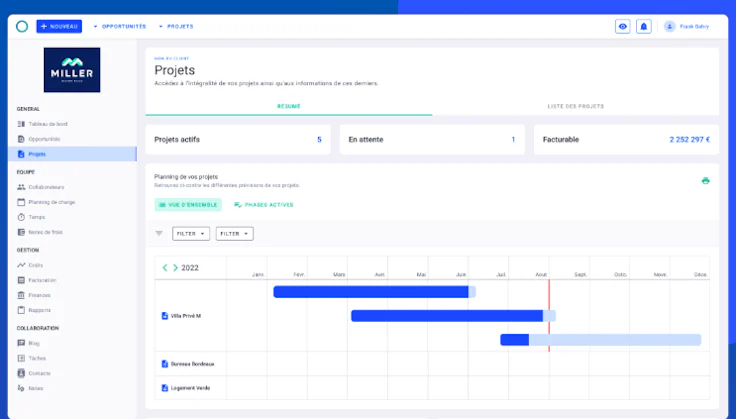 Ooti is an ERP that adapts to your management needs. Whatever your position is at work: salesperson, manager, accountant, project manager etc.
It enables the processing of administrative and commercial data, the administration of project progress and invoicing, the supervision of budgets and the time spent on assigned tasks. Ooti also administers the payrolls, expense reports and more!
💪 The program has a mobile app and is safe in terms of access and permissions.
10. SAP ERP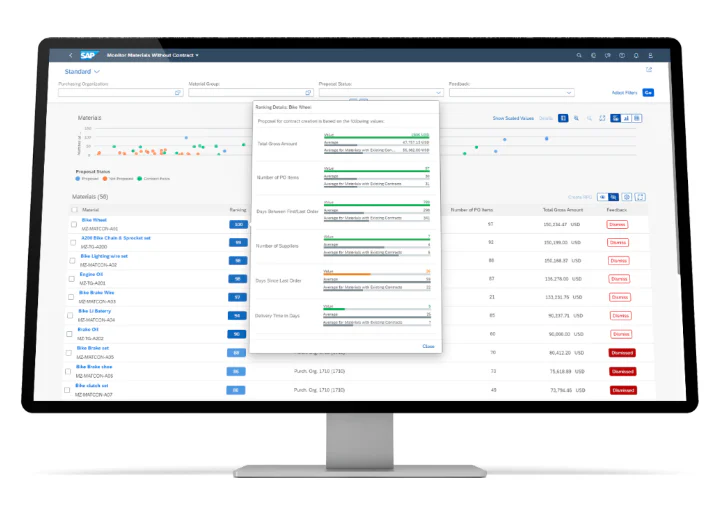 SAP ERP is one of the biggest software businesses in the world and the global leader in ERP. Founded in Germany in 1972, SAP has developed a sophisticated product line to meet the demands of companies of all sizes.
With SAP, small businesses can concentrate their data and reach their full potential. SAP will automate corporate procedures, look for new prospects and boost productivity. In order to hasten your growth, it also makes planning, automating, and decision-making easier.
💪 You may manage all of your activities using its user-friendly interface on a computer, mobile device, tablet, including accounting, financial analysis, sales, customer journey, etc.
11. Striven
A group of highly skilled software engineers and entrepreneurs came up with the idea of Striven. Businesses can use Striven to automate crucial procedures and increase employee efficiency. Striven is a top-tier ERP system with all the capacities you'd expect, but priced reasonably.
💪 Striven improves information sharing between departments and job roles, assisting in the process optimization that reduces costs, time, and promotes business expansion.
12. Syspro ERP
Syspro ERP has a focus on simplifying success by providing an outstanding user experience. Their ERP software empowers customers to take the next step - whether it is expanding into new territories or transforming business processes, or driving innovation.
Using Syspro ERP can help manufacturing and distributors simplify their operations. It can be accessed via any mobile device, on premises, or in the cloud.
💪 Syspro ERP provides many knowledgeable people for customer service. They are very quick to respond to any sort of needs or questions.
Which is the best ERP for small business?
✅ Nothing prevents you from subsequently developing your ERP in accordance with your development; choose and construct it in accordance with your needs and budget!
Therefore, our final piece of advice is to choose an ERP that can scale with your business.
Best tools for you