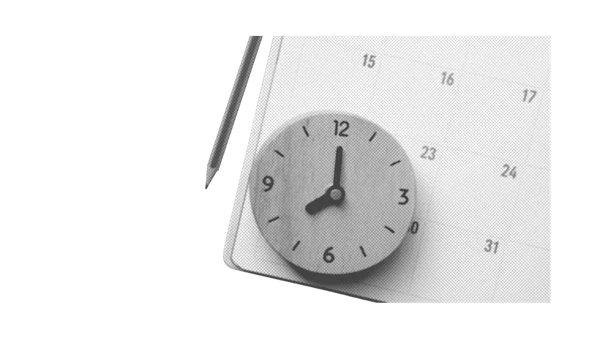 What is Total Productive Maintenance (TPM) and Why you should Implement It
Total Productive Maintenance (TPM) is a method aimed at maintenance management. It consists of a series of recommendations, grouped together by the Japan Institute of Plant Maintenance, which seek to avoid system failures and to optimize processes.
Although it was initially aimed at plant maintenance departments, the truth is that this methodology is applicable to other sectors of the industry.
We will tell you what it is and why implementing it contributes to the good organization and planning of your company.
What is meant by Total Productive Maintenance?
TPM: meaning
Total Productive Maintenance (TPM) is a methodology applied to maintenance management, which focuses on:
prevention (zero accidents, zero breakdowns, zero defects, and zero equipment failure),
optimization of the equipment,
maximum production.
Objectives of TPM
The implementation of a series of partial revision and planning activities mainly pursues the objective of maximizing the efficiency of production processes.
More specifically, it seeks to ensure the proper functioning of the company by:
avoiding failures,
implementing incremental improvements,
reducing non-conformities,
increasing the efficiency of the systems,
facilitating the implementation of an "on time" way of working.
Benefits of TPM for your company
TPM implementation leads to better efficiency, as you identify quality defects in time and reduce maintenance costs.
Since TPM is a philosophy, it is clear that one of the business areas that benefits most is the way the company's staff works, since it focuses on creating committed small working groups.
As a result, several business areas are positively impacted, such as
business culture,
internal communication,
quality management,
operational control,
work environment.
The 8 Pillars of TPM
There are eight pillars on which Total Productive Maintenance rests, each one made up of a series of actions to be carried out, which seek to ensure the effectiveness of the procedure.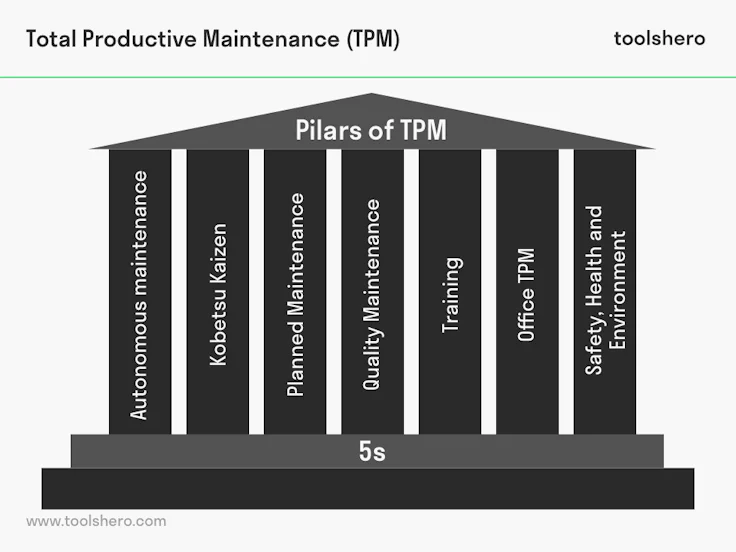 1. Autonomous maintenance
It involves the implementation of a series of incremental and continuous upgrades that aim to improve equipment operation and effectiveness, extend its life, as well as to optimize the system's processes.
This requires:
a clear definition of the problem and its causes,
establishment of objectives for improvement,
formulation of an action plan,
evaluation of the results of the actions taken.
2. Focused Improvement (Kobetsu Kaizen)
At this stage, the operations team (machine operators) intervenes during the establishment of a maintenance system, which aims to carry out inspection, cleaning, conservation, control, and maintenance tasks.
The so-called Kaizen events take place during this stage, not only in order to optimize the equipment but also the general administrative management of the system.
3. Planned maintenance
Planned maintenance seeks, through preventive and improvement actions, to eliminate problems in the system's equipment and installations. When you have a schedule with all the production process plans, it significantly reduces unplanned downtime and increases production rates.
4. Quality maintenance
The establishment of a quality plan allows the delimitation and standardization of processes with the aim of reaching defined standards and minimizing non-conformities.
There are tools and systems that allow you to measure and monitor all the processes. It is necessary to:
identify the problematic situation,
carry out an analysis of the resources available to them,
analyze the corrective actions to be implemented,
evaluate the results, according to established standards.
5. Early equipment management
Unlike corrective maintenance, preventive maintenance seeks to anticipate eventual failures to mitigate their negative impact during the design and assembly phases of the equipment or procedures.
What is sought, in addition to ensuring quality, is to reduce the costs arising from the need for the maintenance phase.
6. Administrative & office TPM
Although this pillar is not actually part of the production process, its importance lies in being a complementary support to it. The information and results obtained in the previous stages need to be clearly communicated to the other departments, so as to ensure their efficiency.
7. Education and training
Since one of the objectives of the TPM is to get everyone in the working group involved, this pillar focuses on improving their skills and competencies.
Based on people's performance and the organization's goals, the aim is to acquire, retain, and transfer knowledge.
8. Safety, Health, Environment
This last pillar also has the individual at the center of its actions, seeking to ensure good working conditions and a safe environment to perform in.
It also seeks to mitigate the possible negative impact that the actions carried out may generate. Thus, this transversal pillar acts under the principle of zero accidents and zero pollution.
TPM implementation phases
#1 - Define goals
Before deciding to introduce TPM, it is helpful to define the goals that are expected from this measure by means of KPIs. This is usually done with the help of the Overall Equipment Efficiency (OEE) ratio.
# 2 - Define the pilot
It often makes sense to first introduce TPM in a clearly defined area of the production/plant. This could be, for example, a machine.
# 3 - Conduct training
Now that both goals and scope have been defined, employees need to be actively involved in the process. Since TPM aims to actively involve all employees (both maintenance and non-maintenance) in the process, this means that all employees must have the relevant knowledge and skills to carry it out.
# 4 - Gather experience and measure results
In a fourth step, the experience can be gathered over a fixed period of time (often 4-6 weeks), which can be directly incorporated into the process in the sense of continuous improvement.
# 5 - Universal rollout
If the pilot project was able to achieve the desired goals, TPM can be rolled out and implemented in the entire production/plant.
TPM enterprise: how to achieve it?
In addition to a series of phases to follow in order to implement structural changes in your company's culture and optimize your processes, relying on adapted tools is what will allow the process to be successful and ensure greater productivity.
And don't forget about good practices:
promoting a non-hostile workspace,
motivate and involve your teams,
provide them with the necessary tools and knowledge.
Best tools for you