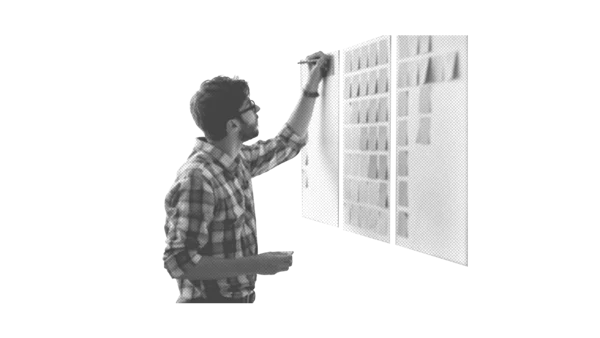 How to organize and run an effective project meeting?
Project meeting: Definition & Objectives
A project meeting consists of bringing together different participants in order to achieve certain predefined objectives.
A meeting is only necessary when there is a need for exchange when a group dynamic is required. Except in special cases, avoid organizing a meeting with the aim of passing on information in a "top-down" manner. In this case, a simple email may suffice.
Once you have clearly defined your objective, you are in a better position to understand the direction your project meeting will take, what type of meeting it will be.
Different types of project meetings
The content of the meeting determines its type. Some of the most common ones are the following:
Kick-off meeting
Status meeting
Problems-solving meeting
Brainstorming
Milestone meeting
Project Review Meeting
How to prepare a project meeting in 6 steps?
Because a successful team meeting is a well-prepared meeting, take the time to follow the simple steps below for effective project management.
1. Select the right participants
There is nothing more frustrating than the feeling of having lost time with a project meeting for which our presence was not required.
This is why you need to select the participants carefully. Always ask yourself the question: Which employees will be essential to achieve the previously defined objective?
You should also make sure that you collect confirmations of attendance from all participants well in advance. This will enable you to anticipate possible absences and reorganize accordingly.
2. Plan the meeting effectively
Find a date that suits everyone. And avoid, as far as possible, meetings between 2 p.m. and 4 p.m.: because of digestion, the brain is much less receptive in this time slot. It is better if a meeting starts in the morning.
3. Choose a suitable location
Just as you have chosen a suitable time slot, make sure you select a suitable meeting place. It must offer sufficient capacity for all participants.
We also recommend that you avoid blind rooms, as artificial light is much more tiring on the brain than daylight. It becomes more difficult to solve problems and perform at a high level.
4. Set up a project meeting plan
Organizing an effective and fluid working meeting necessarily involves drawing up a plan. This is similar to a meeting preparation sheet.
We suggest that you build it in this way:
highlight your agenda on your document, i.e. the list of topics to be dealt with, discussed, voted on, etc. It should lead to the achievement of the objectives defined beforehand;
prioritize the topics to be addressed;
allocate a specific amount of time for each phase. In this way, you will avoid going overboard on certain points, and thus running out of time to deal with the next ones;
consider including extra time for questions at the end of the meeting;
if necessary, include the names of the participants, as well as the place and date of the project meeting in your document.
5. Involve the participants
At this stage in the preparation of your meeting, and if you feel it is necessary, call on a project team prior to the meeting to work on the themes to be discussed. Plan the agenda in advance. Make the purpose of the meeting clear for every participant.
To do this, send them your agenda, and indicate the topics for which you would like them to take the lead in the meeting.
6. Prepare working documents and materials
Finally, take the time to carefully prepare your working documents. They are the ones that make the meeting more dynamic and efficient.
If you wish to use more impactful work supports, turn to presentation software.
Also, always check in advance the availability and functionality of the equipment you plan to use (pens, flipchart, extension cord, etc.). Who has never lost precious time because of a video projector that wouldn't turn on?
Finally, if you know that the meeting is likely to drag on for a long time, the presence of a snack or bottles of water for team members is always appreciated.
There you have it, you've taken the time to organize this working meeting. Now it's time to take an interest in how it goes.
How to run a project meeting?
Running a working meeting requires the implementation of a certain number of good practices:
Introduce the meeting correctly
The introduction is important. In order to do it well, you must :
start on time;
recall the agenda and objectives of the meeting;
give a quick update on the role of each participant, and remind of the rules and time to be devoted to your meeting;
if necessary, appoint a secretary to take notes (to prepare the minutes) or even to manage time.
Make sure the meeting runs smoothly
Has your working meeting started? As the organizer, it is up to you to ensure that it runs smoothly by following these few tips:
make sure the meeting is going in the right direction. To achieve this, make sure that the agenda is respected and that the discussions are properly directed;
make sure that there is a fair division of the time between speakers, and encourage all participants to speak;
anticipate and defuse conflicts;
make good use of working documents and facilitation tools;
if you have not delegated this role, be careful to keep to the timetable.
Conclude the meeting
Time to finish your team meeting?
Conclude it by summarising the discussions and recapitulating the decisions taken.
Make sure you always send a report to the participants of the meeting afterward: it is based on your notes or those of your secretary and summarises the progress and conclusions.
Best tools for you