Insightly
Presentation of Insightly
What is Insightly?
Insightly is a lightweight online CRM that meets all the needs of small businesses (VSEs and self-employed entrepreneurs). This solution allows, among other things, to centralize your contacts in one place, and is accessible from any device. Its perfect integration with Google Apps (Gmail, Calendar, Contacts, Drive) makes it an incredibly efficient tool for your internal organization and the management of your external relations.
Insightly also allows you to manage the entire sales chain from lead acquisition to lead conversion and sales opportunity management. The software also offers a very nice interface inspired by Google Apps. The contact profiles are complete and the event management is clear. In the end, you can create marketing campaigns to send personalized emails to your contacts in mass.
Features
Contact and company management

Multi-criteria search, filtering, and segmentation

Viewing of interaction history

Tasks, reminders, and appointments

Customizable pipeline

Automated scoring

Email campaigns (optional)

Email automation

Quotes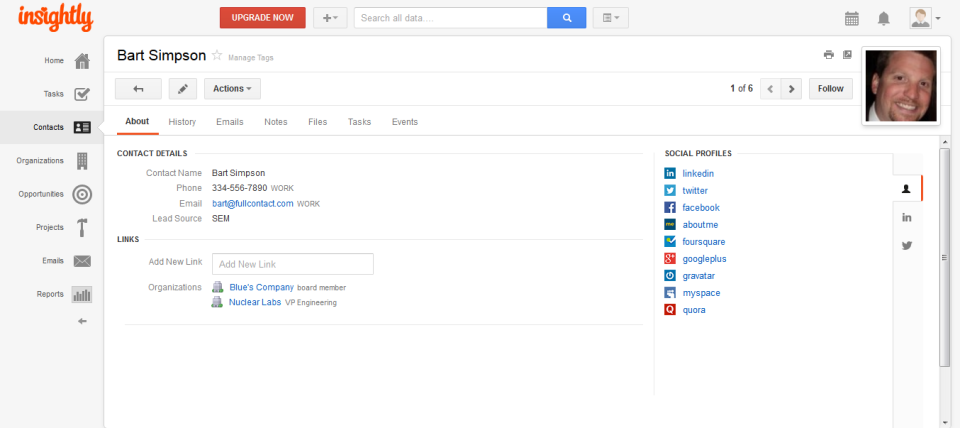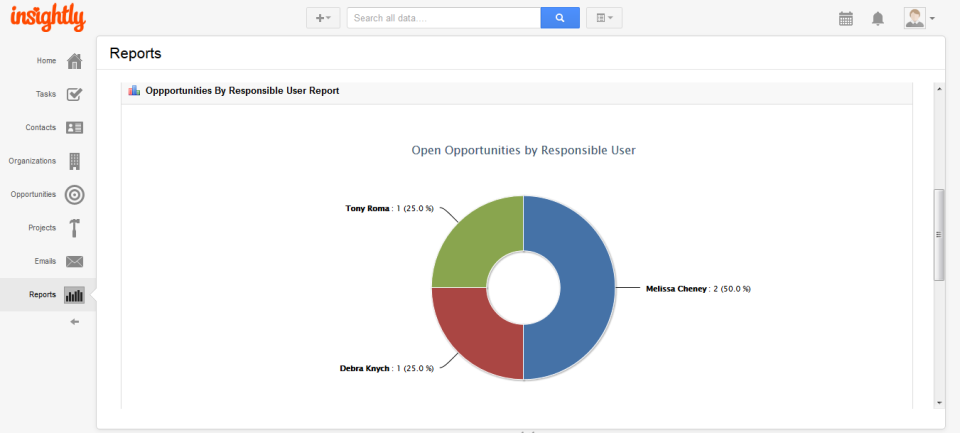 Prices and features of Insightly
Application Customization
+ 15 other features
Application Customization
+ 15 other features
Application Customization
+ 15 other features
Customer reviews about Insightly (0)
No reviews, be the first to submit yours.
Our test on Insightly
Created in 2009 in California, Insightly is an online CRM software for all sizes of companies, and caters to a wide range of sectors: industry, consulting, services, media, technology... Originally, Insightly was a very simple tool, designed to integrate natively with the Google suite. But over time, it has evolved to cover all facets of customer relations within a company: sales, marketing, project management, and service!
Insightly is a SaaS software, accessible from your web browser. You don't have to install anything, and you don't have to worry about hosting.
Today, Insightly is clearly targeted at fast-growing SMEs and SMBs. But we think it is also a good product for a small team of 10 to 50 employees. Its advanced functionalities allow it to be adapted to all processes and all sectors of activity.
Here are the powerful features that make Insightly different from other CRM software:
CRM & contact management
Insightly is above all a complete CRM software, which allows you to easily manage contacts and companies. By default, you have many fields to qualify your contacts, and you can create custom fields.
A contact can be associated with opportunities, projects, companies, or even files. From a contact sheet, you can view all their past and future activities: appointments, tasks, emails sent...The contact sheet can however seem a bit heavy if you compare it to other software like Pipedrive, which is more ergonomic.
Email synchronization
Insightly can connect to your email tool (Gmail, Office 365, Outlook...): this will allow you to send emails directly to the CRM, and find them on each contact's record.
The integration with Gmail is particularly complete, thanks to an Add-On that you can install: it will allow you to not only save the emails sent in Insightly but also to create and view contacts directly from your inbox.
Pipeline and opportunity tracking
Like any good sales CRM, Insightly allows you to track your opportunities and their progress thanks to a customizable pipeline system, representing each stage of your sales cycle. The management of prospects is quite classic: each prospect can be associated with a budget, an estimated closing date, their company, contact details...
Data analytics and reporting
One of Insightly's strong points, which sets it apart from other players in our CRM comparison, is the power of its statistical tools.
First of all, each user has one or more dashboards that can be completely customized thanks to a widget system, allowing them to see the status of their activities at a glance (current leads, sales forecasts...).
Review on the web
Overall, Insightly has a rating of 4.2/5 on most software review websites. The positive points that come up most often are the customizable aspect and the integrations (Gmail, Calendar, etc.) that are very much appreciated by users. Disappointed users point to the lack of reactivity of the customer support and the lack of project management features.
Integrations
Insightly is perfectly integrated with the Google suite: Email, Calendar, Contacts, Calendar. But it also connects to 250 SaaS applications, such as Quickbooks for accounting, Dropbox, Evernote, Slack, Mailchimp... You can also create your own connectors with Zapier, or opt for AppConnect, the optional integration builder marketed by Insightly.
Project management
Insightly is not only a CRM software, but also a project management software. This is one of the advantages of Insightly over other CRM software: it allows you to follow the customer relationship after the sale, thanks to its project management features.
Each project is assigned to a manager and associated with tasks, emails, and appointments... Thus, Insightly can be very well adapted to the activity of a service company.
Our opinion on Insightly
What do we think about Insightly? Insightly is a good CRM software for medium-sized teams that want to streamline and centralize their entire customer relationship in one tool. The numerous integrations allow businesses to set up powerful processes to follow the whole life cycle of their contacts. The statistics and reports are also very complete, as are the configuration options.
For an SME with a sufficient budget, Insightly can be a very good alternative to heavyweights like Salesforce or Hubspot, especially if you are also interested in the Marketing and Customer Service modules.