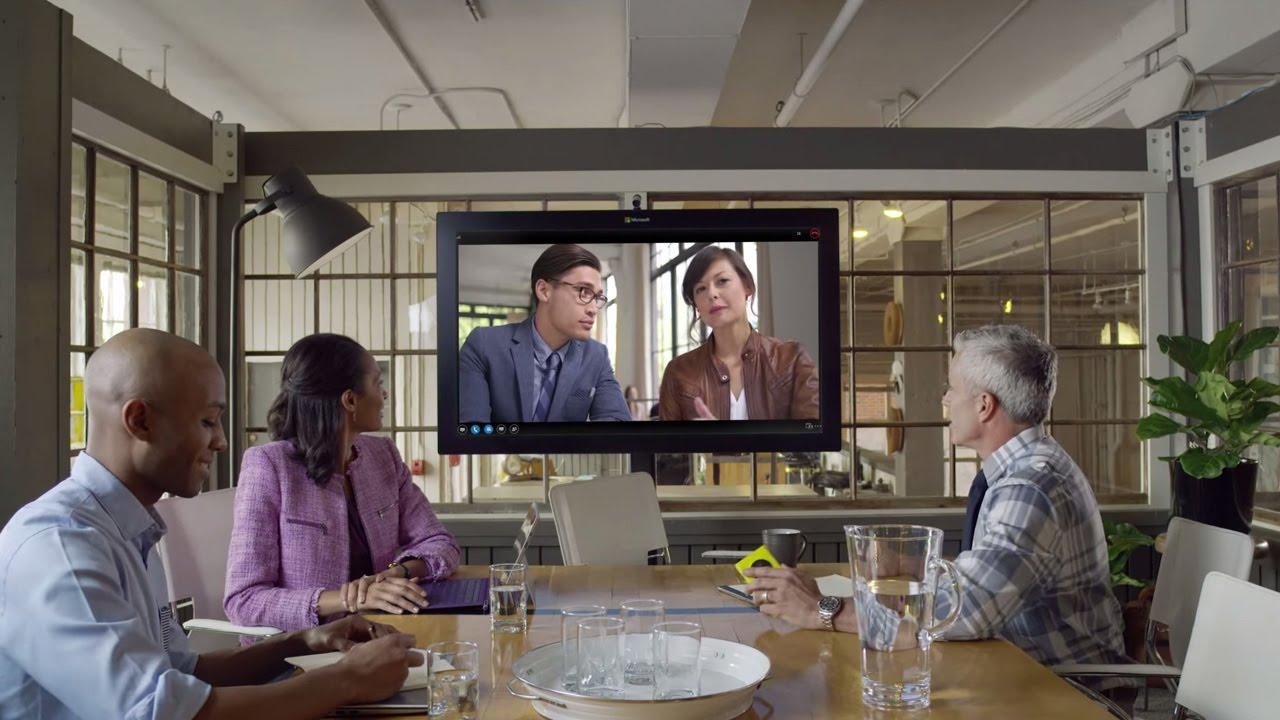 Microsoft Dynamics 365
Presentation of Microsoft Dynamics 365
CRM: Sell more and sell better with Microsoft Dynamics 365
Microsoft Dynamics CRM is a suite of applications that help your sales team to be more efficient in an increasingly complex environment. With the right advice, information and tools, they will be able to target clients and priorities more easily, close deals more quickly and encourage customers to make solid commitments. Thanks to optimized team collaboration, sales will also be faster.
Microsoft Dynamics 365 CRM features
Microsoft Dynamics 365 is a highly collaborative CRM with a range of features to help you increase your sales performance. Main distinctive features include highly adjustable dashboards, automatic analysis of social media in order to enhance your contact files, and instant information sharing amongst co-workers so you can engage more efficiently with your customers.
Commercial activities (sales process, relaunches, cross-selling) and customer service (support, case management, escalation) can even be automated. The Microsoft Dynamics 365 software offers a variety of applications to make sure to respond to the needs of your business.
Automation of marketing campaigns
Marketing activities and sales or email campaigns can also be integrated into your software. This allows you to target up-to-date contacts in order to achieve your ideal conversion rates. Microsoft Dynamics 365 offers mobile access to the CRM and an application availability rate of 99.9%.
Microsoft Dynamics 365 Pricing
Due to the wide range of applications that make up Microsoft Dynamics 365, the pricing depends on which applications that your business chooses to purchase. The range of applications spans from Customer Data Platform, Market, and Sales, to Customer Service, Supply Chain Management, Project Management, and more.
Some Dynamics 365 applications offer various add-ons and extras if your company needs just a little more. Also, if your business chooses to purchase subsequent applications, many of them will come with lower prices.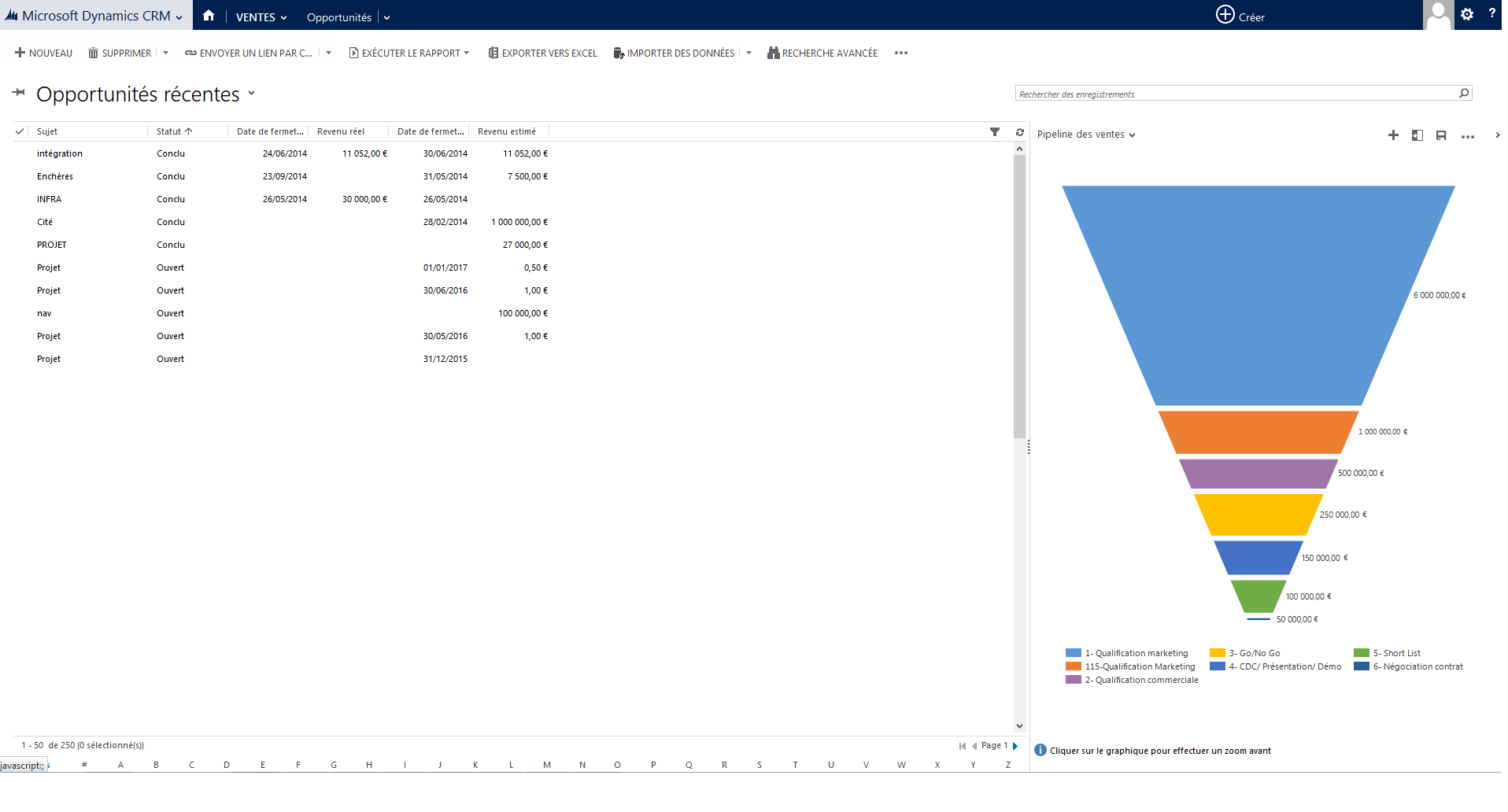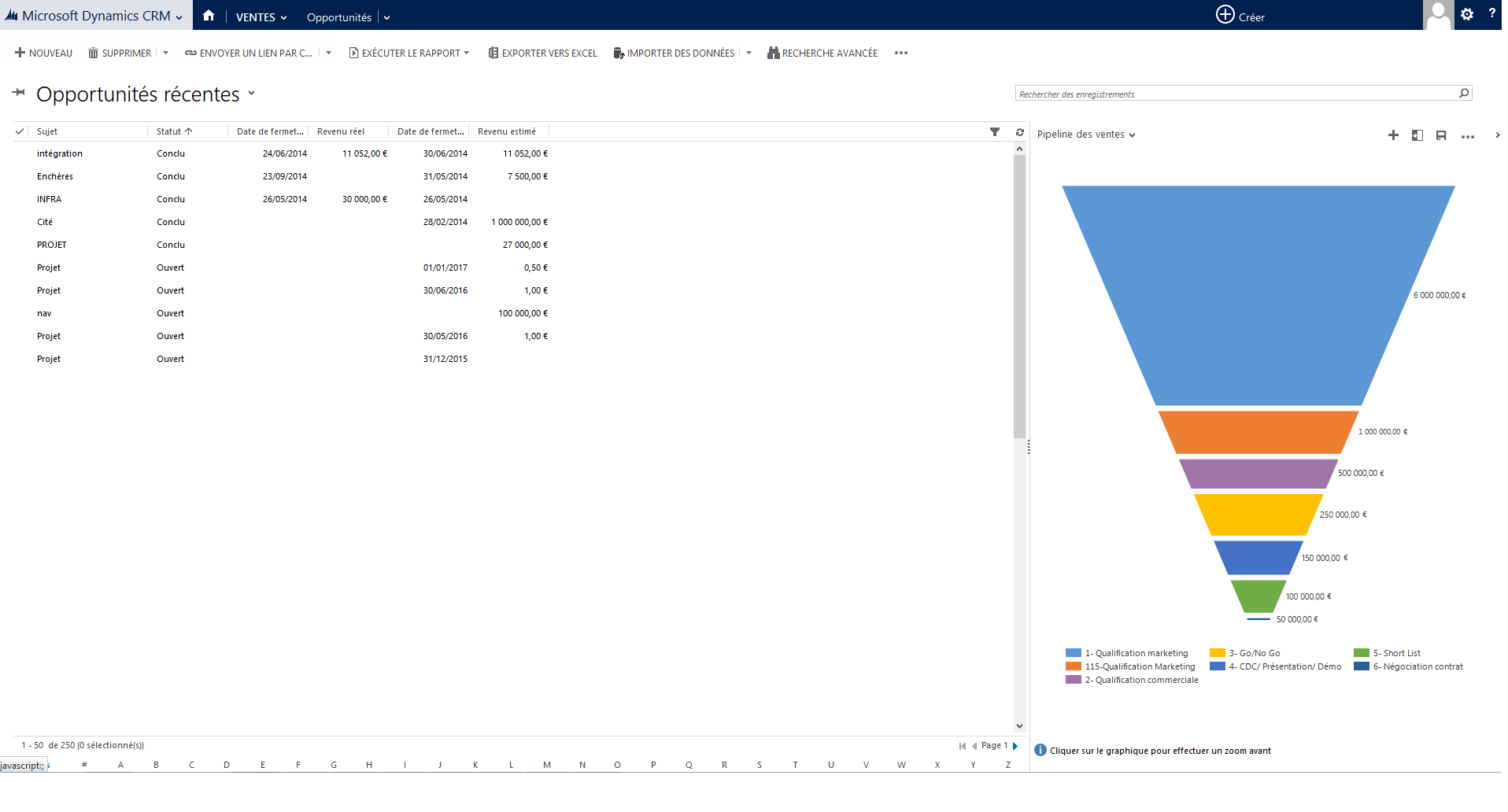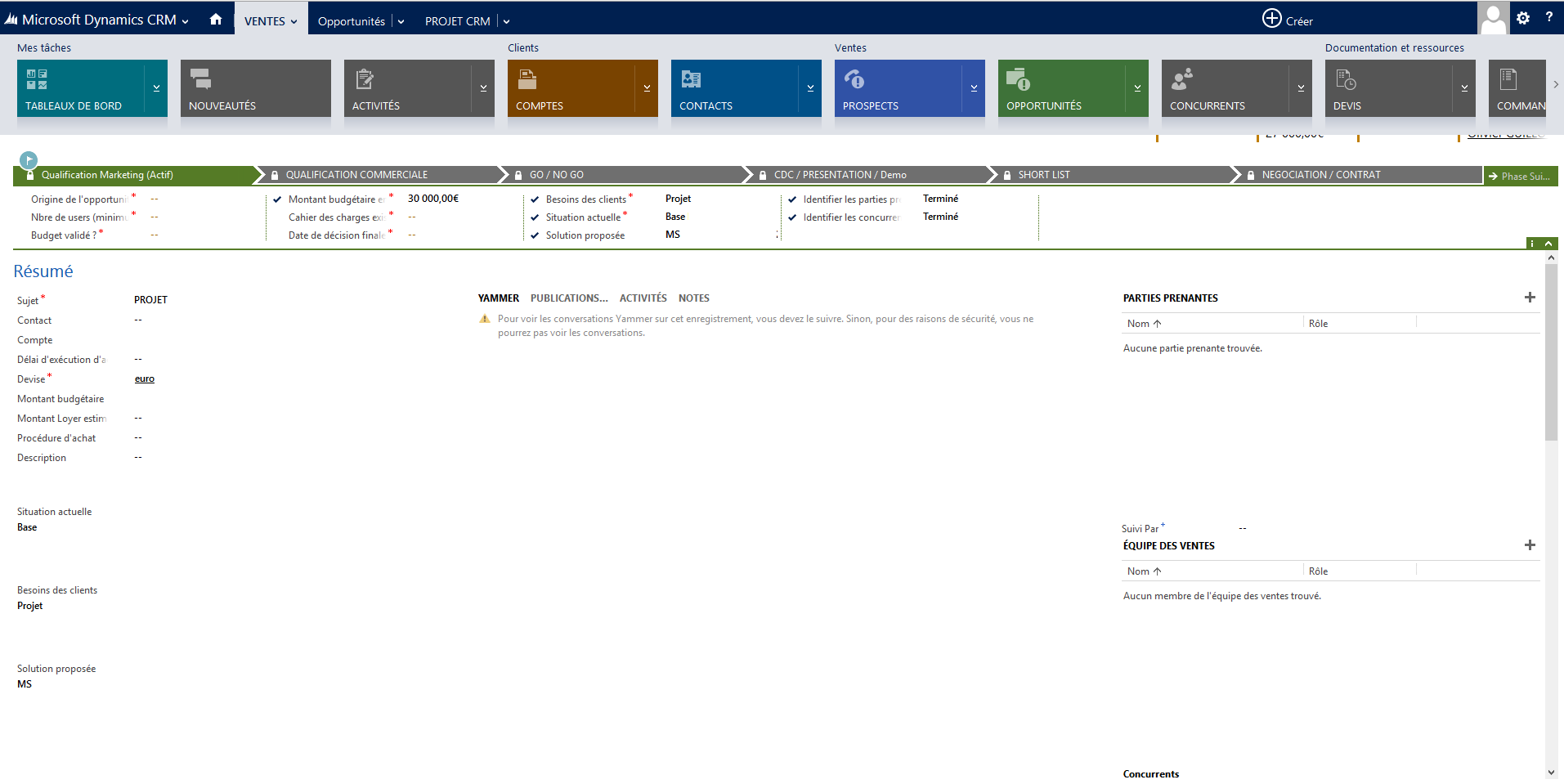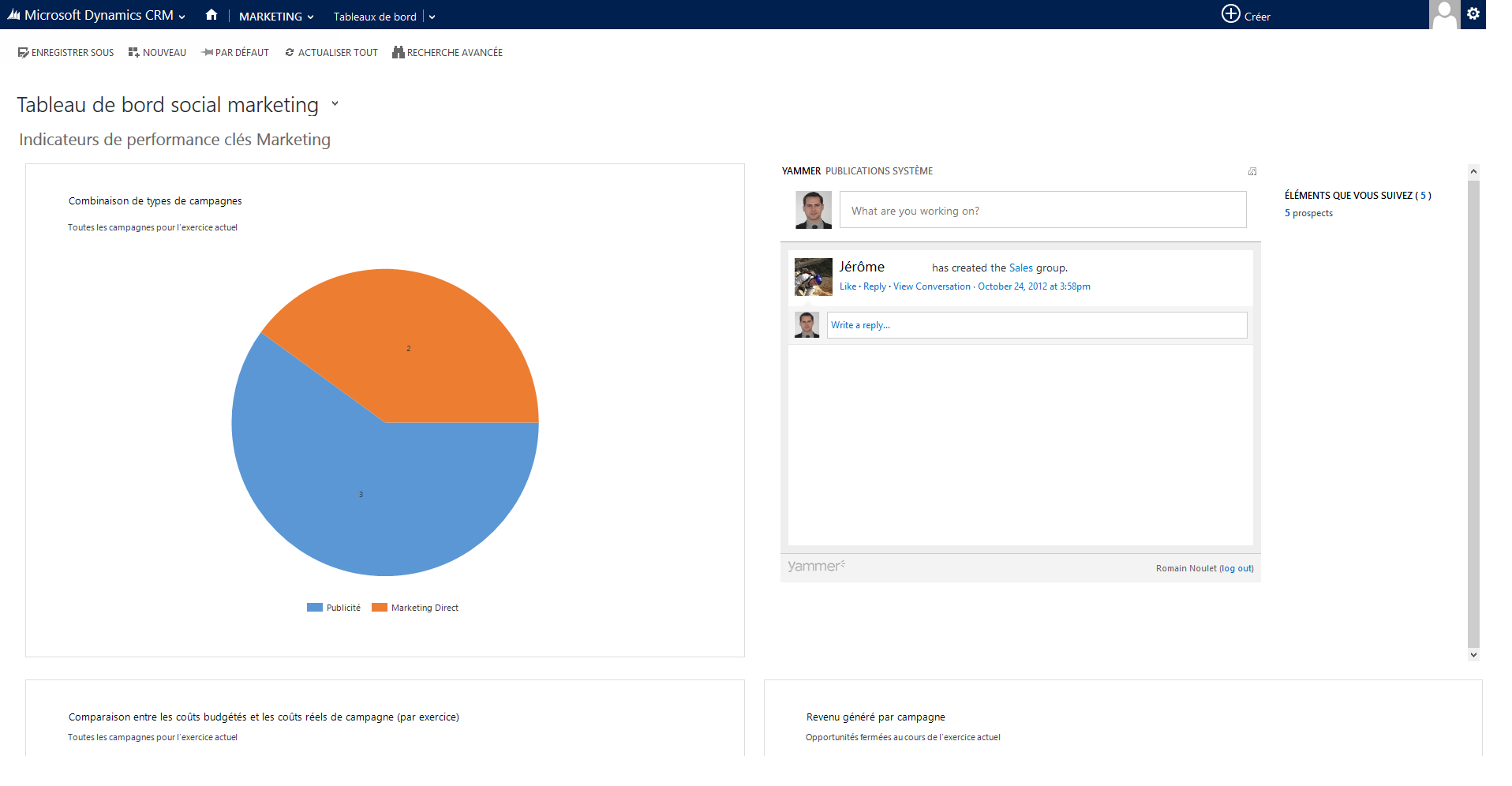 Prices and features of Microsoft Dynamics 365
Analytics
Connection to Live Data Sources
+ 93 other features
Efficacité des ventes
€97.00
Analytics
Connection to Live Data Sources
+ 93 other features
Analytics
Connection to Live Data Sources
+ 93 other features
Customer reviews about Microsoft Dynamics 365 (0)
No reviews, be the first to submit yours.
Our test on Microsoft Dynamics 365
What is Microsoft Dynamics 365?
Microsoft Dynamics 365 is an ERP with a suite of applications that are used to connect the primary aspects of your business. The applications that are offered provide solutions for sales, marketing, customer service, finance, commerce, and even your supply chain.
The tools that exist within Dynamics 365 are meant to work together with other existing systems, but that doesn't mean that you need to get everything. Companies can pick and choose from the list of applications to respond to their specific business needs.
Microsoft Dynamics 365 is a versatile platform that a wide variety of businesses can use. Some common industries that might use this software are manufacturing, financial services, healthcare, and retail. Despite this, it can be used in any service or team that focuses on sales, marketing, customer service, finance, commerce, or supply chain management.
How does Microsoft Dynamics 365 work?
Microsoft Dynamics 365 as mentioned previously works through a vast list of interconnected applications. The various categories that their applications fall under include being used for your Customer Data Platform, Sales, Service, Marketing, Commerce, Supply Chain, HR, Finance, Project Management, and even applications that work for small and medium businesses specifically. We'll go over the central applications and some of their main functionalities to help you understand how your company can use Dynamics 365.
Customer Insights:
Bring together customer data to give deep insights that you can use and enrich customer profiles with audience intelligence, customer surveys, and sentiments

Use AI models and recommendations to predict customer lifetime values and churn, identify selling opportunities and define customer segments
Customer Voice:
Track customer experiences with detailed surveys that can be automated to gather multichannel feedback

Get insights from user data and create and track satisfaction metrics to help decision-making
Sales:
Use AI to speed up sales cycles with the next best actions or to track risky deals while receiving recommendations to improve at-risk accounts

Track your pipeline with forecasting, revenue fluctuations, and reporting

Onboard new sellers with feedback and real-time insights about the market
Customer Service:
Make use of self-service options with ai-powered virtual agents, direct access for customers to the correct content, and community portals

View customer profiles and interaction history with omnichannel support, automatic AI-assigned agents, and AI suggestions to quickly and effectively respond to customer needs

Use the Internet of Things to identify and monitor device issues and remotely fix them
Marketing:
Use AI recommendations to interact with customers, setting triggers along the way to follow the customer journey through its different touchpoints

Target your contacts and leads with a segment builder and nurture those leads and accounts by setting up newsletters, emails, notifications, and events to improve engagement and loyalty

Create email content with AI recommendations and A/B tests to find the content that works for your customers
Commerce:
Connect multiple channels on a centralized platform where you can manage promotions, make use of connected ordering and fulfillment tools, and more

Create a better customer experience by offering access to product catalogs and tailored product selections

Make and launch websites with easy page builders that can respond to B2C or even B2B e-commerce through partner-specific catalogs and custom pricing

Use AI recommendations to help customers find products, increase selling opportunities, and improve conversion rates
Supply Chain Management:
Manage and centralize your product information and product revisions

Follow resource planning with datasheets and use AI predictions to forecast supply levels

Use a central location to collaborate and streamline vendor processes with workflows, automatic supply redundancy options, and vendor data (performance, lead times, etc.)

Centralize warehouse data and management and provide accurate inventory information for workers and customers
HR:
Create detailed employee profiles and use self-service tools to give access to training, performance tracking, and time-off requests

Give training and track certifications for employees while tracking team performance and feedback

Integrate various tools such as payroll, talent management, recruiting, and more

Create and manage tasks with automated workflows

Manage and develop compensation plans and benefits packages with self-service, automation, and more
Finance:
Improve decision-making by monitoring cash flows, trends, customer payments, and more with support for various legal entities and currencies

Create intelligent budget proposals with historical data

Monitor complex billing with different billing types and automate reporting for recurring revenue streams
Project Operations:
Improve project management with dashboards, task management, scheduling, Gantt charts, and work breakdown structures

Manage and track project expenses, materials, and labor with tools to distribute workloads to employees with the necessary skills

Use business intelligence to easily share project data with your team and track various KPIs to help make project decisions
This list isn't completely exhaustive, we have gone over some of the useful functions among the vast array of features that these applications provide. Other useful Dynamics 365 applications that Microsoft offers include Field Service for improved customer experience, Remote Assist to assist first-line workers, Fraud Protection using AI technology, Guides to assist employees, Intelligent Order Management to manage the order lifecycle, and Business Central to help various aspects of running a small to medium-sized business.
Microsoft Dynamics 365 Pricing Model
The Microsoft Dynamics 365 pricing model depends on each independent application. You may equally find applications that offer add-ons or extras to respond to growing business needs in a specific application.
The majority of the pricing is paid on a per user per month basis although some of the applications (Marketing, Customer Insights, and Customer Voice) are per tenant per month instead.
To give a small idea of the pricing we'll go over the first-time costs for the applications mentioned above. The prices for a majority of the applications are reduced if they qualify as being a "subsequent Dynamic 365 app". Full pricing may also be found on the Microsoft Dynamics 365 website.
Customer Insights

($1,500 per tenant/month)
Customer Voice

(From $200: 2,000 survey responses per tenant/month)
Sales Professional

($65 per user/month)
Sales Enterprise

($95 per user/month)
Sales Premium

($135 per user/month)
Customer Service Professional

($50 per user/month)
Customer Service Enterprise

($95 per user/month)
Marketing

(From $1,500 per tenant/month)
Commerce

($180 per user/month)
Supply Chain Management

($180 per user/month)
Finance

($180 per user/month)
Project Operations

($120 per user/month)
Reviews
The Microsoft Dynamics 365 software has an average rating of 4.2/5 on major testing platforms. Users, in particular, enjoy the vast amount of features and functionalities at their fingertips. Despite this, some users also complain about some performance and support issues.
The Advantages of Microsoft Dynamics 365
Vast Offering of Applications
One of the advantages of this software is the number of applications and tools that businesses have at their disposal. The application list that Dynamics 365 offers can respond to the primary needs of most businesses whether in finance, marketing, sales, or more.
Integration with other Microsoft Tools
The fact that Microsoft has a vast environment of tools and applications beyond Dynamics 365 is a bonus here. Integrating and working with the other Microsoft services greatly improves the usage and functionalities of Dynamics 365, especially when combining them with other Microsoft Platforms. Microsoft APIs can even allow some third-party integrations to fully complete the offering.
Disadvantages of Microsoft Dynamics 365
Interface Usage
The interface for Microsoft Dynamics 365 can have a slightly higher learning curve. The usage of the different applications, customizations, and settings can also take some time to get used to. Despite this, if you're well-acquainted with other Microsoft solutions, this may be easier for you.
Costs and Pricing
Although in comparison to some other online solutions it can be cheaper, that doesn't mean it'll be cheap for any business. Depending on the applications you get, and the size of your company, the overall cost of applications may become quite expensive. This makes it useful when picking and choosing between the different Dynamics 365 apps since your team can decide on what they need to complete work effectively.
Our opinion on Microsoft Dynamics 365
Microsoft Dynamics 365 is a leading CRM and ERP offering that can respond to the needs of the majority of companies. Although it can be costly depending on what you choose, this software can be customized to suit your business needs and therefore a good choice for those who know what services they require.