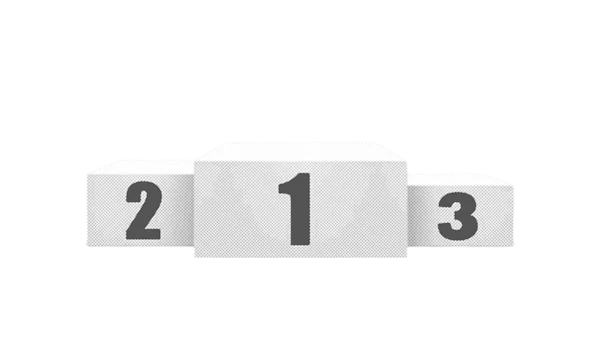 Business owners, it's time to change your vision of ERP ecommerce and grow your online business!
Are you an ecommerce business owner and you feel that you could be more efficient by eliminating time-consuming tasks? Have you already heard about ERP ecommerce, but the term scares you and you think it isn't compatible with your online business?
Don't worry, in this article, we will explain the definition, the features, the advantages of ERP ecommerce, and why you must change your vision. If you also want to find the best ERP ecommerce solutions for your online business, this will interest you even more.
Let's get into it right now!
What is ERP Ecommerce?
ERP which stands for Enterprise Resource Planning, is a company's internal resource management system. In many cases, it includes:
Customer Relationship Management (CRM),
invoicing,
order control and tracking,
raw material procurement,
supply chain management and inventory,
accounting management,
and other modules.
True management solutions for connected companies, ERP Ecommerce integration allows companies to centralize their management flows of a multichannel activity (online and in-store sales, etc.).
To make processes more reliable and to gain efficiency, it's important to think about the integration of an ERP system in your ecommerce site.
ERP features for Ecommerce
CRM (Customer relationship management)
Whether you're in BtoB or BtoC, some of your customers have made their first purchase from you via your website. In this case, they have created a customer account by filling in a certain amount of information online. It is important to integrate this information into the ERP system for the overall management of this new customer relationship and to build customer loyalty.
Shipping/ Distribution
The orders of each customer have been recorded: the references purchased, the quantities, the frequency, etc. This information, consolidated with other channels (store visits, etc.), makes it possible to set up communication and personalize promotional products through the marketing department.
Moreover, as soon as an order is processed in the ERP system, its status is updated in the customer area of the website so that the customer can consult the progress of the order processing.
Inventory levels and replenishment times
The connection between your ERP and your website allows an update of the inventory levels from the ERP system to the ecommerce site and vice versa.
When a customer's order is placed online, the inventory level is automatically updated in the ERP. You know in real-time the quantity of products actually available for each reference. Inversely, when inventory is replenished, the quantities are updated in the ERP system and simultaneously on your ecommerce site. This optimized management of inventory levels limits customer frustration when products are sold out.
Billing and payments
After validation, and eventually payment, of an online order on your ecommerce site by a customer, the billing information is transmitted to the ERP platform to be processed by the accounting department. Any reminders for non-payment will be managed directly in the ERP platform.
Advantages of ERP Ecommerce
In this part, let's come back to the main advantages of connecting an online sales site with an ERP ecommerce platform.
Automatically updated information
When connecting an ecommerce site to an ERP system, the flow of information can be done in both directions: from the ecommerce site to the ERP system and vice versa. The information is always updated automatically.
For example, some data will be updated on the ecommerce site directly by the customer such as a change of delivery address, new email address, etc. This information must be taken into account in the ERP system because it's useful to several internal departments of the company: the e-mail address is used by the marketing department for communication campaigns, by the accounting department for reminders of unpaid invoices, etc.
We can see here that not updating customer information in real-time can have an impact on the quality of the customer relationship.
Data reliability
As the data is updated automatically, there is no manual entry on your ecommerce site. There are no possible data entry errors. The information is unique, reliable, and centralized: it is exactly the same for all departments of the company.
Time-saving
Thanks to real-time data synchronization, you can free up your employees' time for more rewarding tasks than re-entering and checking data, with real added value for the company. In other words, this helps your online business eliminate repetitive and manual tasks to focus more on customer service improvement.
Improved customer satisfaction
ERP ecommerce platforms help your online business improve customer satisfaction:
There is no customer frustration linked to a badly managed stock shortage.
The fluidity of the information flow between the ecommerce site and the ERP solution allows for optimization and personalization of the customer relationship.
The customer knows the progress of their order via their space on the ecommerce site. They don't need to call customer service for that. This frees up time for employees who can devote themselves to other tasks.
Order processing is accelerated, the product is delivered more quickly and the customer is satisfied

⚡To help you understand more about the benefits of integrating an Ecommerce ERP system in your business, Odoo and Appvizer have prepared a mini-book for you.
Discover why equipping yourself with an ERP for the management of your e-commerce makes you gain in performance
Free download
Top 11 Best ERP solutions for Ecommerce
If you are looking for the best ERP solutions for your ecommerce, here is the comparison of the top 11 best ERP systems for you!
Aptean
Aptean ERP is a cloud-based ERP (Enterprise Resource Planning) software for businesses and professionals. The Aptean ERP system is particularly recommended for administrative, accounting, and business management in ecommerce. This ERP software is commonly used by SMEs and VSEs.
Features
Aptean ERP software includes:
ERP Accounting
Business Intelligence
Customer Relationship Management
Human Resources Management
Inventory Management
Manufacturing
Supply Chain Management
Purchasing Management
Business Tax Management
Detailed Statistics
Customer order statistics
Aptean ERP includes APIs to integrate with other IT applications such as a CRM. These integrations allow you to connect to a database, to exchange data, or to synchronize files between several computer programs.
Pricing
An Aptean ERP subscription is available on request (this software has a free trial version) but this subscription is likely to evolve because various options are proposed by the publisher of this SaaS system to meet the needs of its users: number of licenses, additional functions, add-ons, etc.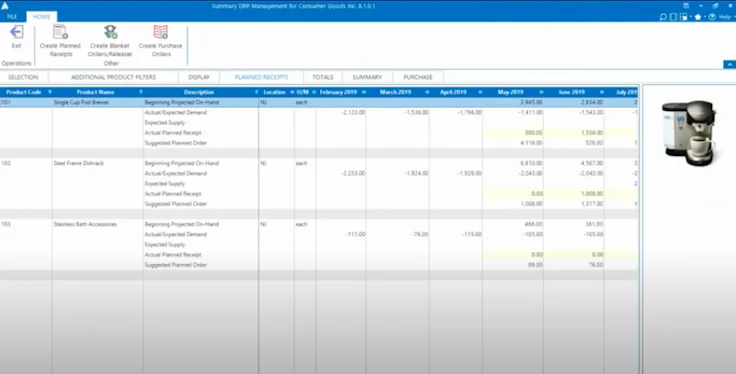 Aptean ERP ©

ERP Software for your e-commerce
Learn more about Aptean ERP
Brightpearl
Brightpearl is the cloud-based omnichannel retail management system that brings your orders, inventory, financials, point of sale, and CRM together in one place.
Brightpearl software is recommended for accounting, sales, marketing, web, and multimedia tasks in ecommerce. This system package is commonly used by small and medium-sized companies, and also large enterprises.
Features
Brightpearl solution includes:
Inventory management
Customer order management
Shipping & fulfillment
Warehouse management
Retail accounting
Ecommerce analytics
CRM (customer relationship management)
High scalability
The software is combined with real-time reporting on inventory, cash flow, product profitability, channels, customers, and more, enabling you to make data-driven decisions and execute an effective strategy to grow your online business.
Brightpearl can connect to other systems such as Shopify, Magento, NetSuite, QuickBooks, and other CRM cloud-based software.
Pricing
Brightpearl has a transparent pricing policy, you pay for what you use! You have to get a quote to find the rate that meets your needs and your budget. Brightpearl ensures that cost includes what you need to grow your online business, unlimited users, and no extra surprise costs at the end.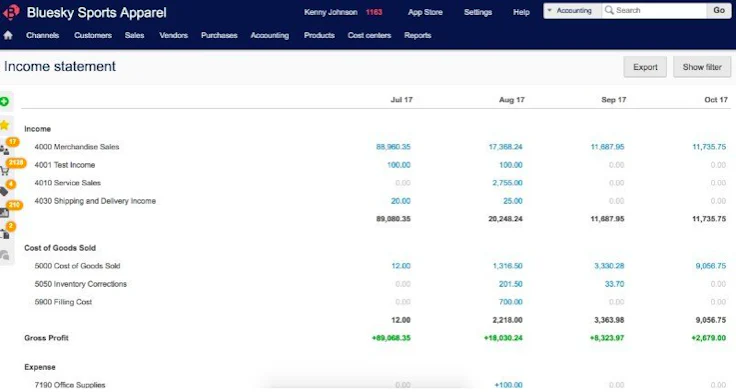 Brightpearl ERP ©

Retail Management Systems Software
Learn more about Brightpearl
Acumatica
The Acumatica Cloud ERP solution is an integrated suite of financial management, customer management, distribution management, e-commerce, and manufacturing system for mid-sized companies.
Acumatica Cloud ERP solution is web-based and works with all popular browsers, allowing users to manage their online business from any computer or mobile device. The cloud-based software includes report writing tools, customizable dashboards, and personalized query screens so users get real-time information in the format they need.
Features
Acumatica Cloud ERP solution includes:
Online assistance (forum, tutorials, etc.)
Technical support (phone, mail, chat, etc.)
APIs
Cloud-based CRM
Consumption-based licensing
Mobile Access
Purchases and receipts
Alerts/Notifications
Real-time Analysis
Financial Analysis
Customer order management
Acumatica Cloud ERP solution provides web-based customization tools and a fully documented API and system development kit. Customizations are managed separately from the application's business logic so they aren't affected by system upgrades.
Acumatica Cloud ERP solution also allows documents to be linked directly to financial transactions, help files, input screens, and reports, or organized using a business wiki to simplify information sharing and reduce auditing costs.
Pricing
The rates of Acumatica Cloud ERP solution are available on request but the cost is likely to evolve because various options are proposed by the publisher of this SaaS cloud-based software to meet the needs of its users.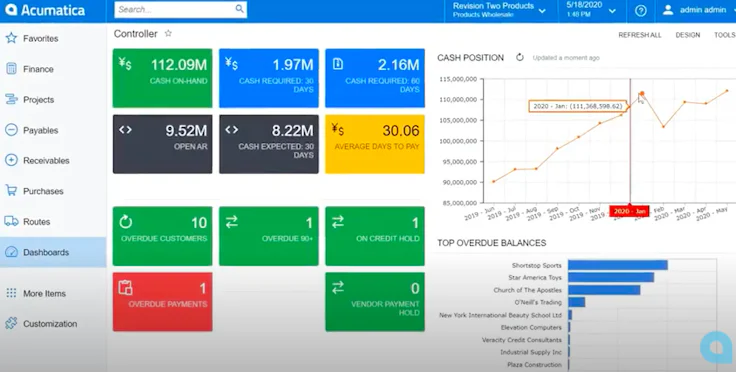 Acumatica ERP ©

Cloud ERP Software for your business
Learn more about Acumatica Cloud ERP
DDI System
DDI System is an ERP (Enterprise Resource Planning) distribution management system that provides CRM, ecommerce, and reporting all in one system for businesses and professionals. This platform is specially designed for SMEs and VSEs. DDI System Inform software can connect to APIs & plugins.
Software in SaaS mode, the DDI System platform is therefore compatible with most corporate information systems as well as with most operating systems (OS) such as Windows, Mac OS, and Linux, and accessible from a web browser (Chrome, Firefox, etc.).
Features
The special functionalities of the DDI system include:
ERP Accounting
Business Intelligence
Customer Relationship Management
Human Resources
Inventory Management
Manufacturing
Supply Chain Management
Purchasing Management
Business Tax management
Detailed customer order statistics
This software package can also be accessed remotely (office, home, on the move) from mobile devices such as a tablet or a smartphone such as an iPhone (iOS platform), or Android. There is a mobile application available on the Play Store/App Store. To use it, you'll need a proper Internet connection and an updated browser.
Pricing
DDI System platform rates are available upon request. It has a free trial for you to try before making a decision.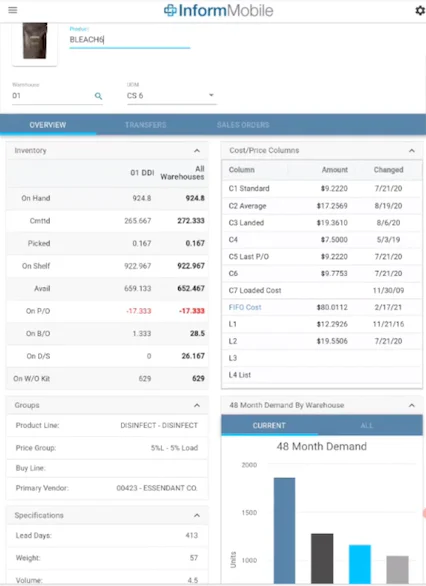 DDI System ©

Cloud ERP for e-commerce
Learn more about DDI System
Epicor
Epicor Software is a global leader in providing enterprise software solutions. With more than 45 years of experience, the Epicor ERP platform provides flexible, industry-specific business software that meets the precise needs of manufacturing customers.
With this deep understanding of each industry, Epicor ERP software will help your online business improve performance and profitability while simplifying complexity and allowing your online business to grow more quickly.
Features
All the functionalities of the Epicor ERP ecommerce platform include:
Logistics Management
Inventory Management - Stocktaking
Detailed customer order statistics
Project Management
Resource Management
Graphics Management
Database Management
Training Management
Human Resources Management
Commercial Management
Invoice Management
Sales Management
Online customer assistance (forum, tutorials, etc.)
Technical support (phone, mail, chat, etc.)
Driven by the needs of today's users, Epicor ERP is a comprehensive ERP solution that provides the choice, flexibility, and agility to drive growth and opportunity across your online business.
Pricing
The price is $175 per user, per month which is affordable for the various functionalities your company can access.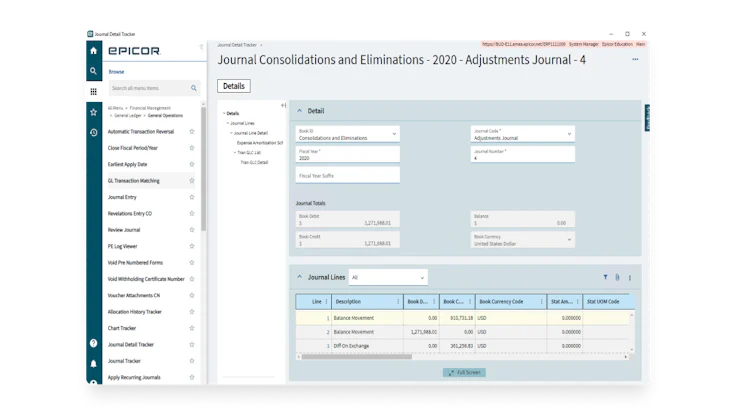 Epicor ERP ©

Complete ERP Software
Learn more about Epicor ERP
Magento
Launched in 2008, Magento is one of the most complete ecommerce solutions on the market. It is also the most used ecommerce CMS in the world, with a 20% market share.
Magento is an open-source ERP software (like Prestashop and WordPress), free to download, mainly aimed at medium and large companies.
Magento allows your company to create ultra-customized ecommerce sites and presents rich functionality. The other side of the coin of this functional richness is that Magento is probably the most complex ecommerce CMS to handle. The configuration and customization of a Magento website require some programming skills, unlike turnkey solutions like Wix or Shopify. Magneto allows the creation of efficient and effective websites.
Features
What are Magento's specialties? Here they are!
Coupon management, with the ability to set up promo codes for offline customers
Customer segmentation, based on geographic or demographic criteria
Display of recently viewed or complementary products on your product sheets
The shopping cart is saved when the customer leaves the site so that the customer can find it again when he returns and continue his shopping journey.
Emailing
A wide range of SEO tools to manage your content
Fine-tuned management of access and permissions.
Possibility to import or export your product catalog in CSV format.
Integration with Google Analytics
Newsletters, etc.
Your company can manage several sites from your Magento interface. The creation of product sheets is relatively intuitive.
Pricing
Officially, Magento is free for every company. You can download the software from the official website without paying a single cent. But just because the software is free to download does not mean that creating a Magento ecommerce website is free.
Creating a Magento ecommerce website involves several costs such as the domain name, the extensions, the site maintenance, etc.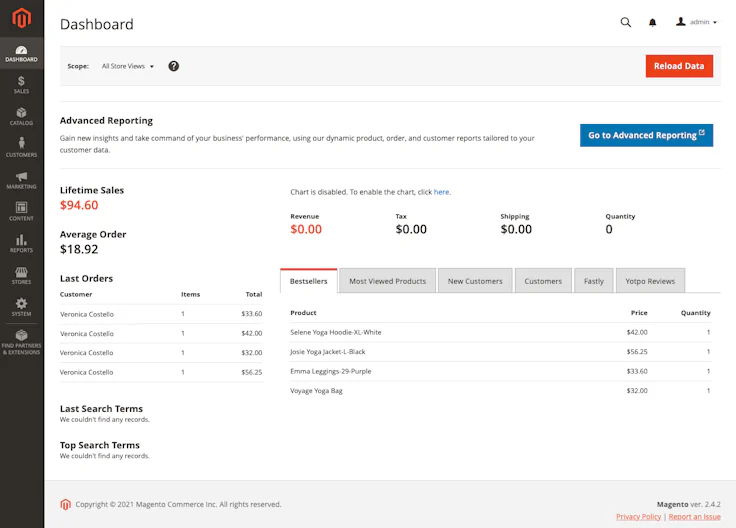 Magento ©

ERP Software for e-commerce
Learn more about Magento
Microsoft Dynamics 365
More than software, Microsoft Dynamics is a range of business management software created by Microsoft to equip companies of all sizes and digitalize all operations: sales, marketing, customer service, operations, HR, etc.Microsoft Dynamics is therefore both a CRM and ERP ecommerce software with very advanced functionalities.
Features
The functionalities of Microsoft Dynamics 365 include:
Customer order management
Multi-criteria search, filtering, and segmentation
Viewing of interaction history
Enable AI-driven intelligent commerce
Modernize retail store
Email campaigns marketing module
Email automation
Quotes
Invoices
Customer service management, support tickets
Chat with customers
It includes a very complete and powerful work environment to structure the work of sales representatives, optimize their productivity and manage sales activity. The most expensive packages even include automation tools based on artificial intelligence (machine learning).
Pricing
To begin with, Microsoft Dynamics does not offer free software. However, you can test the software for free for 30 days. To do so, you must already have a business e-mail address associated with a Microsoft business account.
The prices of Microsoft Dynamics are difficult to summarize since they depend on many criteria: modules used, the number of users, functionalities,etc. So it is difficult to estimate the total cost of Microsoft Dynamics.
Microsoft Dynamics Sales is among the most expensive CRM software of our selection (starting at $150). But this can be explained by the richness of the features offered and especially the companies for which the software is intended.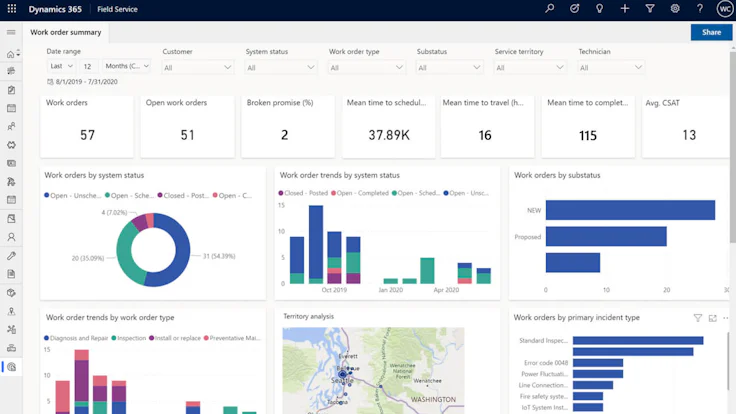 Microsoft Dynamics 365 ©

Cloud-based CRM and ERP combining 200 apps
Learn more about Microsoft Dynamics 365
Odoo
Created in 2004, Odoo is an open-source management solution. The international company, present in 120 countries, includes a series of applications covering a large majority of business functions: CRM (customer relations), accounting, invoicing, inventory management, website creation, HR management, project management, and many others for your ecommerce business. Odoo includes services for all types of enterprises and all sizes of businesses.
Features
Odoo is a complete and adaptable solution to grow your ecommerce business. You can therefore complete your package with the functionalities that allow:
the creation of a website
ecommerce site management
HR management
event organization
inventory management
marketing
and more.
The creation of invoices is fast. They are sent by email to the customer, who can then pay online via different online payment platforms such as Paypal for example.
Pricing
It's possible to group all the tools you need to manage your online business under a single software.
Even if this is a great advantage, it obviously comes at a cost! The prices go up quickly when you start adding up the applications.
Odoo is a pay-per-use software so the price is based on :
the number of users
the number and type of applications chosen
Odoo provides a subscription starting at $24 per user, per month.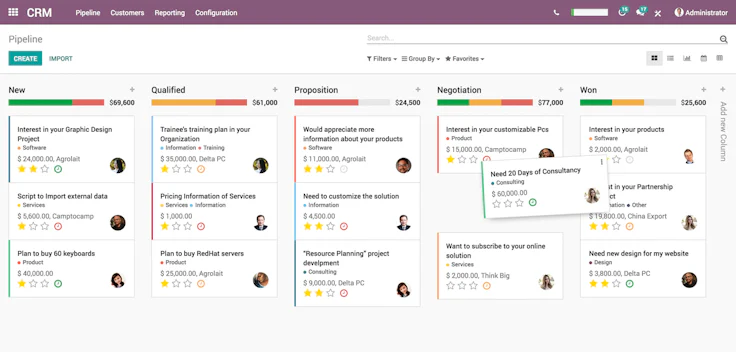 Odoo ©

The most complete modular ERP on the market
Learn more about Odoo
Oracle Netsuite
Created in 1998 in the United States, NetSuite is one of the very first Cloud software. Originally it was a simple accounting software, but it has evolved into a complete ERP software enriched with CRM and ecommerce specialties. Acquired by Oracle in 2016, NetSuite is now a leading software in its market, claiming 22,000 customers in 160 countries.
NetSuite ERP ecommerce integration can adapt to any size company. Originally, NetSuite was targeted at growing small and medium-sized enterprises, but today it's a leader in its market and also provides service for large businesses.
Features
Unlike some ERP software, NetSuite can be used in any industry. However, it particularly meets the needs of the retail and commerce sector thanks to its point-of-sale, warehouse, and ecommerce site management functionalities.
NetSuite's ERP ecommerce integration enables companies to go omnichannel with unified management of customers' orders, warehouses, stores, and online stores.
CRM (customer relationship management)
Categorization
Inventory management
Multi-store management
Mobile access
Returns
Shipping
Social media integration
Pricing
In short, it is impossible to tell you how much NetSuite ERP ecommerce will cost you: you have to contact the sales team or a distributor to get a personalized quote. In any case, expect a budget of several thousand dollars per month at least.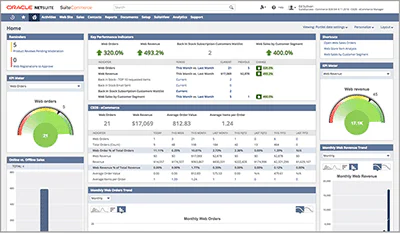 Oracle Netsuite ERP ©
Sage
Sage is a world-renowned ERP Ecommerce software publisher. It provides a 100% online version of an accounting and invoicing management tool for online businesses.
The Sage ERP ecommerce software is designed for professionals who wish to grow their ecommerce independently, whether they are self-employed, professionals, or small and medium-sized enterprises.
Features
Sage ERP ecommerce integration provides:
Real-time reports
Connect online to offline sales
Site configuration
SEO tools integration
Shipping for customers
Tax calculations
Data security
The integration is quick. When you first open the application, the home page includes integration guides for configuring and using the software, which is very useful. The rest of the application is intuitive. The menu is clear and the different actions are easily accessible.
Pricing
Sage ERP ecommerce integration provides 3 months free and you can cancel it anytime you want. The paid plan starts at $12 per user, per month.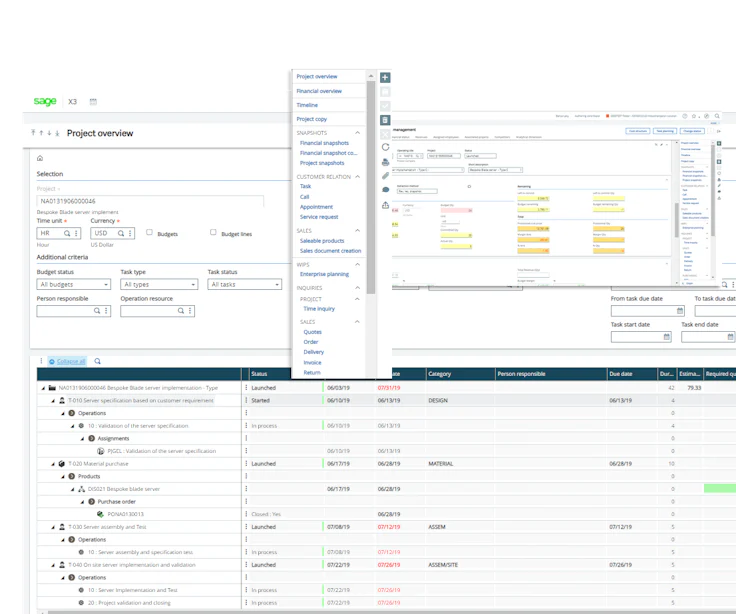 Sage ERP ©

Cloud ERP for e-commerce
Learn more about Sage X3 ERP
SAP
SAP ERP ecommerce platform is the world leader in ERP software for ecommerce and one of the largest business software companies in the world. Founded in Germany in 1972, SAP has built a complex offering to address the needs of all sizes of business, from small and medium-sized to large enterprises.
Features
SAP ERP ecommerce integration includes:
Commercial management: estimates, invoices, customer orders
Customer purchasing and suppliers
Inventory management
Production management
Warehouse and logistics management
CRM (customer relationship management)
SAP ERP ecommerce provides a platform to help companies optimize their purchasing processes and manage the entire supplier relationship through :
purchasing management: orders, goods receipts, return;
real-time inventory and manufacturing process tracking;
supplier and customer tracking.
Pricing
SAP ERP ecommerce software prices are not public: it's difficult to give a price range as the integrations are so varied. The cost of SAP ERP ecommerce software depends on several factors:
the number of users for each module ;
the choice of hosting: on your infrastructure or in the Cloud;
the associated services: implementation, support, training, etc.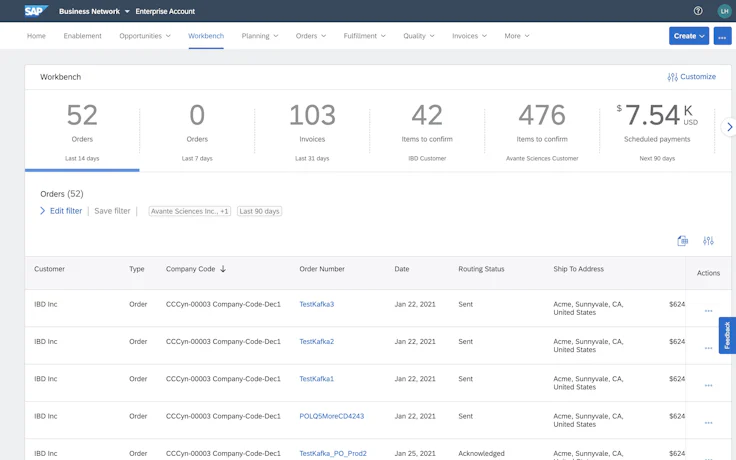 SAP ©

ERP Software for your e-commerce
Learn more about SAP ERP
In conclusion, connecting your ecommerce site to an ERP system allows you to improve the customer service of your company, and build customer loyalty. This is what will help differentiate your ecommerce business from the competition.
Free content
Discover why equipping yourself with an ERP for the management of your e-commerce makes you gain in performance
Free download
Software Recommendations