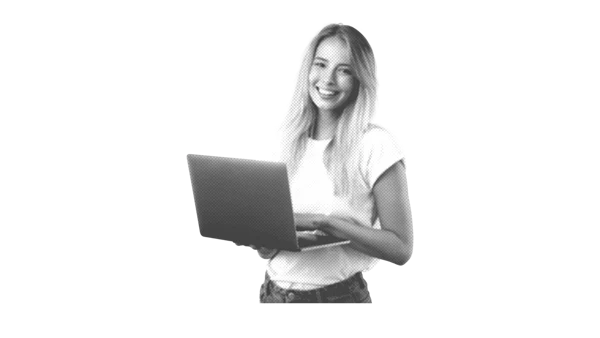 Seeking a Good Customer Relationship? Follow these Top 10 CRM Best Practices
Customer relationship management (CRM) software is a vital tool for businesses looking to build and maintain strong relationships with their customers. They provide a centralized platform for storing and analyzing customer data, enabling all companies to personalize their interactions with each customer and deliver an exceptional customer experience.
However, implementing a CRM system is not enough on its own; to get the most out of your CRM software, you need to follow CRM best practices that will help you make the most of its capabilities. Find out which ones businesses should consider when using CRM software.
From defining your CRM strategy to analyzing customer data and automating routine tasks, here are 10 actionable tips and insights to boost customer satisfaction, increase revenue, and achieve your business goals. 🚀
CRM Best Practice 1: Your software should match your business needs
CRM programs should match your business needs because every business has unique requirements when it comes to building and maintaining customer relationships.
A CRM program that is tailored to your specific business needs can help you achieve your goals more effectively by providing you with the tools and functionalities that you need.
💡 For example, if your business focuses on e-commerce, you may need a CRM program that integrates with your online store and provides you with insights into customer behavior on your website. On the other hand, if you run a service-based business, you may require a CRM program that helps you manage customer support interactions and track customer satisfaction.
By matching your CRM solution to your business needs, you can avoid unnecessary features and functionalities you don't need, saving you time and money.
✅ A tailored CRM program will enable you to provide more personalized customer experiences, allowing you to collect and analyze customer data that is relevant to your specific business.
CRM best practice 2: Don't cut corners during implementation
Cutting corners when implementing a CRM system can lead to a host of issues that will ultimately harm your business. Here are some reasons why not cutting corners is a crucial CRM best practice:
Incomplete data: Implementing a CRM system without proper planning can lead to incomplete or inaccurate data and poor decision-making, hindering your ability to manage customer relationships.
Inefficient processes: Skipping important steps in the implementation process can waste valuable time and resources, frustrating both employees and customers, and increasing your churn rate.
Poor user adoption: If your CRM system is not implemented correctly, employees may be reluctant to use it or may not understand how to use it effectively.
Inability to scale: A poorly implemented CRM system may not be able to handle the growth of your business, resulting in the need for costly upgrades or even a complete overhaul of the system.
Risk of security breaches: Skipping necessary security measures during the implementation process can leave your system vulnerable to data breaches, which can result in costly fines, damage to your reputation, and loss of business.
Take the time to properly plan and execute your implementation process and follow CRM best practices closely to ensure the long-term success of your business.
CRM Best Practice 3: Automate routine work
Automating routine work can bring a range of benefits to your business. It's an important CRM best practice because it ensures the following:
Time savings: Free up valuable time for your employees to focus on building relationships with customers or developing new products or services.
Consistency: Ensure routine tasks are performed consistently and according to established processes to reduce errors and improve customer interactions.
Efficiency: Streamline your business processes, making them more efficient and reducing the risk of bottlenecks or delays.
Scalability: Help your business scale more effectively by reducing the need for additional staff as your business grows, managing costs, and maximizing profitability.
Data analysis: Collect and analyze data more effectively, providing valuable insights into customer behavior and preferences.
⚙️ When you automate your routine work via your CRM software, you are ensuring efficiency, consistency, and scalability. You're also creating more space for your employees to focus on what matters: generating and maintaining customer relationships.
CRM Best Practice 4: Create a set of precise rules
Implementing CRM without precise rules is like walking with no direction. As a CRM best practice, creating precise rules for your CRM software can provide:
Consistency: Creating precise rules can help ensure that your employees follow established processes systematically, reducing the introduction of errors and boosting customer satisfaction.
Efficiency: Rules help your team manage your workload more effectively and meet customer expectations for timely responses and service.
Automation: Precise rules can be used to automate routine tasks and workflows.
Compliance: Ensure that your business complies with industry regulations and internal policies, reducing the risk of fines or other penalties.
Data analysis: Collect and analyze data to make better business decisions.
By taking advantage of the rule-creation capabilities of your CRM system, you can optimize your operations, improve customer satisfaction, and achieve your business goals more effectively.
CRM Best Practice 5: Measure, Examine, and Improve
One of the most important CRM best practices is to systematically (and regularly) measure the success of your CRM implementation. You want to make sure that you are meeting your goals and making the most out of your investment.
Measuring the success of your CRM implementation means tracking:
Customer satisfaction: Use surveys or other feedback mechanisms to assess whether the CRM implementation has improved the customer experience.
Customer retention: Track customer retention rates over time to keep your customers engaged and loyal.
Sales metrics: Monitor lead conversion rates, deal size, and sales cycle length to determine whether your CRM strategy is impacting your sales and revenue.
Customer data: Understand purchase history, demographics, and behavior patterns to spot trends and opportunities for improvement.
User adoption: Tracking how often your CRM is being used and how effectively team members are using it.
ROI: Compare implementation and maintenance costs with the benefits it has generated.
By regularly measuring the success of your CRM implementation using these metrics, you can identify areas for improvement and make adjustments to ensure that you are achieving your business goals and maximizing the benefits of the platform.
CRM Best Practice 6: Proactively Get Used to Changes
Adapting to changing workflows related to your CRM platform can be challenging, but here are some best practices for your team to stay responsive to data reports and adjust your workflows accordingly:
Clearly communicate the changes: Make sure everyone on your team is aware of the changes that are being made, and clearly explain the benefits of the new workflows, and how they will boost efficiency.
Provide training: Offer CRM training sessions or tutorials to ensure that everyone on your team is familiar with the new workflows.
Encourage feedback: Encourage your team members to provide feedback and identify areas that need improvement.
Start with a CRM pilot program: Consider implementing the new workflows in a pilot program before rolling them out to the entire team.
Celebrate successes: Celebrate successes along the way to keep your team motivated and engaged. This also allows you to identify CRM superusers.
Remember, staying agile in the ways your team interacts with its CRM platform will make all the difference in getting the most out of your CRM platform.
CRM Best Practice 7: More CRM features should be used for better customer experiences.
Another CRM best practice is focusing your CRM capabilities on enhancing your customer experiences. Here are some ways to use your CRM platform to achieve this:
Personalize customer interactions: Use the customer data stored in your CRM platform to personalize customer interactions. This can include addressing customers by name, referencing previous purchases or interactions, and making product recommendations based on their preferences.
Use automated email marketing: Set up automation triggered by specific customer behaviors to offer personalized recommendations, special offers, and other incentives to encourage repeat business.
Offer proactive customer service: Proactively reach out to customers to anticipate pain points.
Use customer feedback to improve experiences: Regularly make changes to products, services, or customer support processes to better meet customer needs.
Provide consistent communication: Send regular newsletters, respond to customer inquiries in a timely manner, and offer support through a variety of channels.
Focus on customer retention: Track customer engagement and purchase history to identify inactive customers and offer incentives or promotions to encourage them to return.
By using your CRM platform to enhance customer experiences, you can build stronger relationships with your customers and increase customer loyalty and retention.
CRM Best Practice 8: Utilize opportunities for collaboration to the fullest
One benefit of CRM software is that it enables efficient collaboration among team members. Here are some CRM best practices to collaborate with your team:
Set up shared access: Make sure all team members can access your CRM and view and edit relevant customer data.
Define roles and permissions: Ensure team members can only access the information needed to perform their job functions.
Use task management: Assign tasks to team members and track progress so that everyone is working towards the same goals and deadlines.
Collaborate on customer interactions: Track customer interactions and collaborate with team members on how to best respond to customer inquiries, concerns, and feedback.
Analyze data together: Identify patterns and trends in customer behavior, preferences, and interactions.
Provide training and support: Ensure everyone is able to maximize the benefits of your CRM for collaboration and customer management.
If everyone is working toward the same goal, then you've applied the principles of CRM best practices to benefit your growth and revenue stream.
CRM Best Practice 9: Making use of social listening
Social listening refers to the monitoring and analyzing of social media to get a better understanding of your brand, industry, and competitors. Here are some ways to use social listening as part of your CRM implementation:
Monitor brand mentions: Track sentiment and identify areas for improvement.
Engage with customers: Respond to comments and questions and thank them for positive feedback.
Identify influencers: These influencers can help you reach a wider audience and increase brand awareness.
Track competitors: Analyze their social media strategy and engagement levels to see what works and what doesn't.
Identify trends: Adapt your CRM strategy accordingly. If customers are using social media to communicate with businesses, consider integrating social media into your CRM.
Analyze feedback: Make data-driven decisions about your CRM strategy.
Incorporating social listening in your CRM implementation strategy can help you gain valuable insight into customer behavior and the knowledge you need to improve customer service.
CRM Best Practice 10: Provide Instruction for the Use of CRM
Training your team to use your company's CRM platform is essential to ensure the platform is being used effectively and to its full potential. Here are some tips for training your team:
Provide comprehensive training
Train your team to enter and update customer data, create and manage customer interactions, and generate reports and analytics.
Use real-world examples
Demonstrate how your CRM can be used to improve customer interactions and customer experiences. This will help team members understand the practical applications of the platform and how it can benefit both the business and the customer.
Encourage hands-on practice
Encourage role-playing exercises or work on real customer interactions to help team members gain confidence in using the platform and identify any areas where additional training or support may be needed.
Assign a superuser
Assign a superuser or point person who is responsible for overseeing the implementation and use of your CRM within the team. This person can serve as a resource for other team members and can provide additional training and support as needed.
Provide ongoing support
Provide ongoing support for team members as they continue to use the CRM platform. This can include regular check-ins, additional training sessions, and access to online resources and support materials.
Set performance goals
Set performance goals for team members related to the use of the CRM platform, such as the number of customer interactions logged, or the percentage of customer data updated. These goals can help motivate team members to use the platform effectively and ensure it is used consistently across the team.
By providing comprehensive training, hands-on practice, and ongoing support, you can ensure your team uses your company's CRM platform effectively and to its full potential.
What you should remember about CRM best practices
Implementing CRM best practices is critical if you are looking to grow your business and develop life-long bonds with your customers.
By adopting a customer-centric approach, investing in technology, training employees, and collecting and analyzing data, you can develop a more effective and successful CRM strategy.
Regular communication with customers and personalizing interactions can enhance their experience and build brand loyalty. It's important for you to continually assess your CRM best practices and make adjustments as necessary to keep up with changing customer needs and preferences.
By implementing these CRM best practices, your business will undoubtedly improve customer satisfaction, increase sales, and ultimately, achieve long-term success.
Best tools for you